John: One of the things I love about judging Automation April is seeing the wide variety of problems people use Shortcuts to solve and their creativity in solving them. This year's Automation April Shortcuts Contest was no exception. We judged well over 100 shortcuts in the following categories.
Best Everyday Shortcut
Best Productivity Shortcut
Best Health Shortcut
Best Media Shortcut
Best Mac Shortcut
Best Overall Shortcut
The shortcuts we reviewed ran the gamut from simple shortcuts with a few actions to complex systems for automating elaborate workflows. What all of the shortcuts we judged had in common is a dedication to problem-solving. That's reflected not just in the ingenuity of the shortcuts created by participants but also in their willingness to work with others in the Club MacStories+ Discord community and elsewhere to work together and learn. The Shortcuts community is a vibrant and generous group of which we're fortunate to be a part.
Like last year, the quality of submissions to the contest made it exceptionally hard to pick the top shortcuts, but with the help of Simon Støvring, Jack Wellborn, Christopher Lawley, Matthew Cassinelli, Jason Snell, and Rosemary Orchard, we have come up with winners in each category. We've also included a handful of honorable mentions to showcase some of our favorite shortcuts that didn't win a category. There are some real gems among the honorable mentions, so don't forget to check them out too.
With that, we give you the 2023 Automation April Shortcuts Contest winners and the shortcuts they've created.
Table of Contents
Best Everyday Shortcut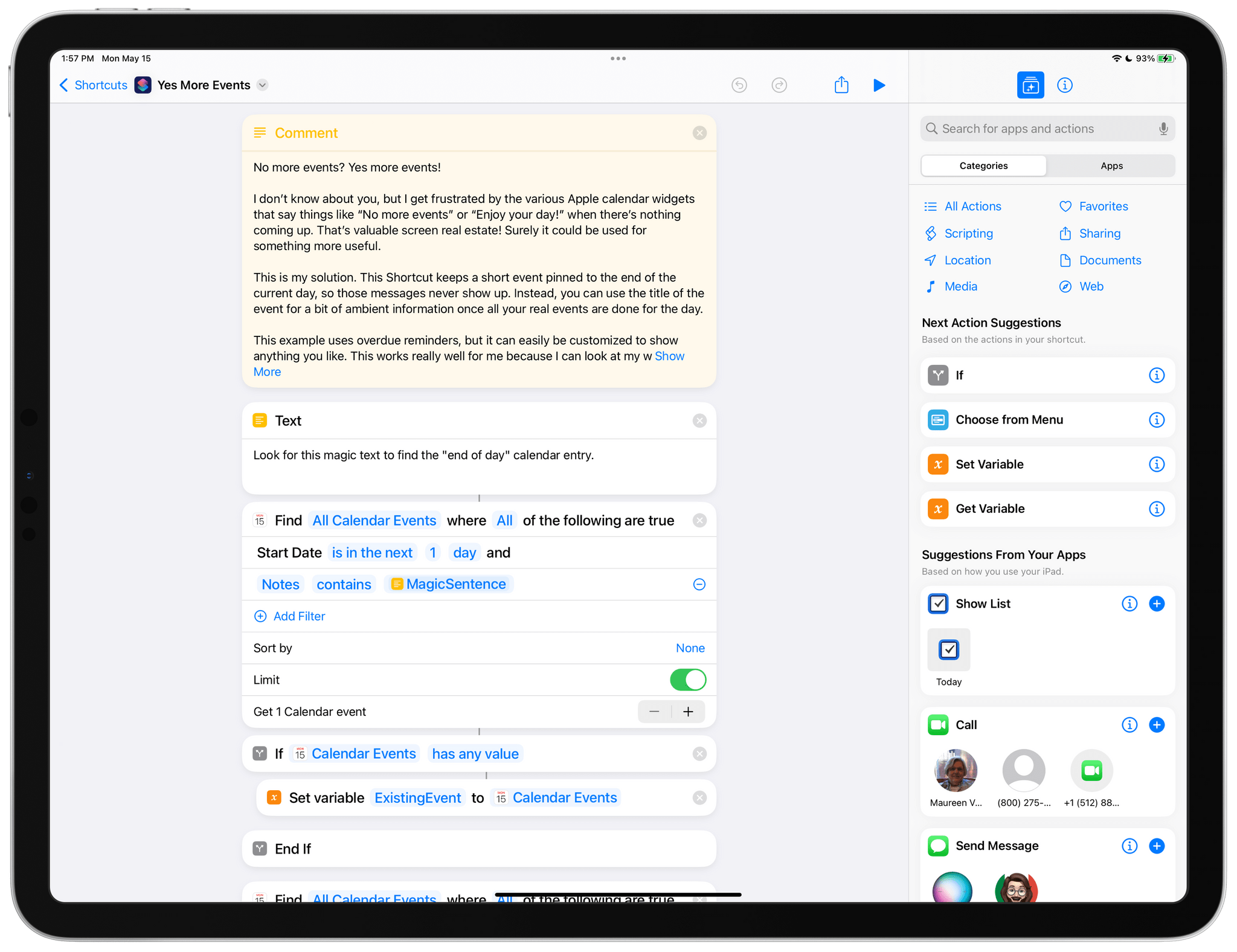 John: The Everyday Shortcut category is for those shortcuts that solve the kind of annoyances that creep into everyday life for a lot of people. Most of us just deal with those daily productivity paper cuts, but some people set out to solve them with Shortcuts.
That's what Jason Biatek did with Yes More Events, a tongue-in-cheek reference to 'No More Events,' the message that is shown on the Apple Watch's Calendar complication and iOS, iPadOS, and Mac widgets when you have no more events left for the day. The message is accurate, but with limited complication and widget space, it's not a very good use of space either.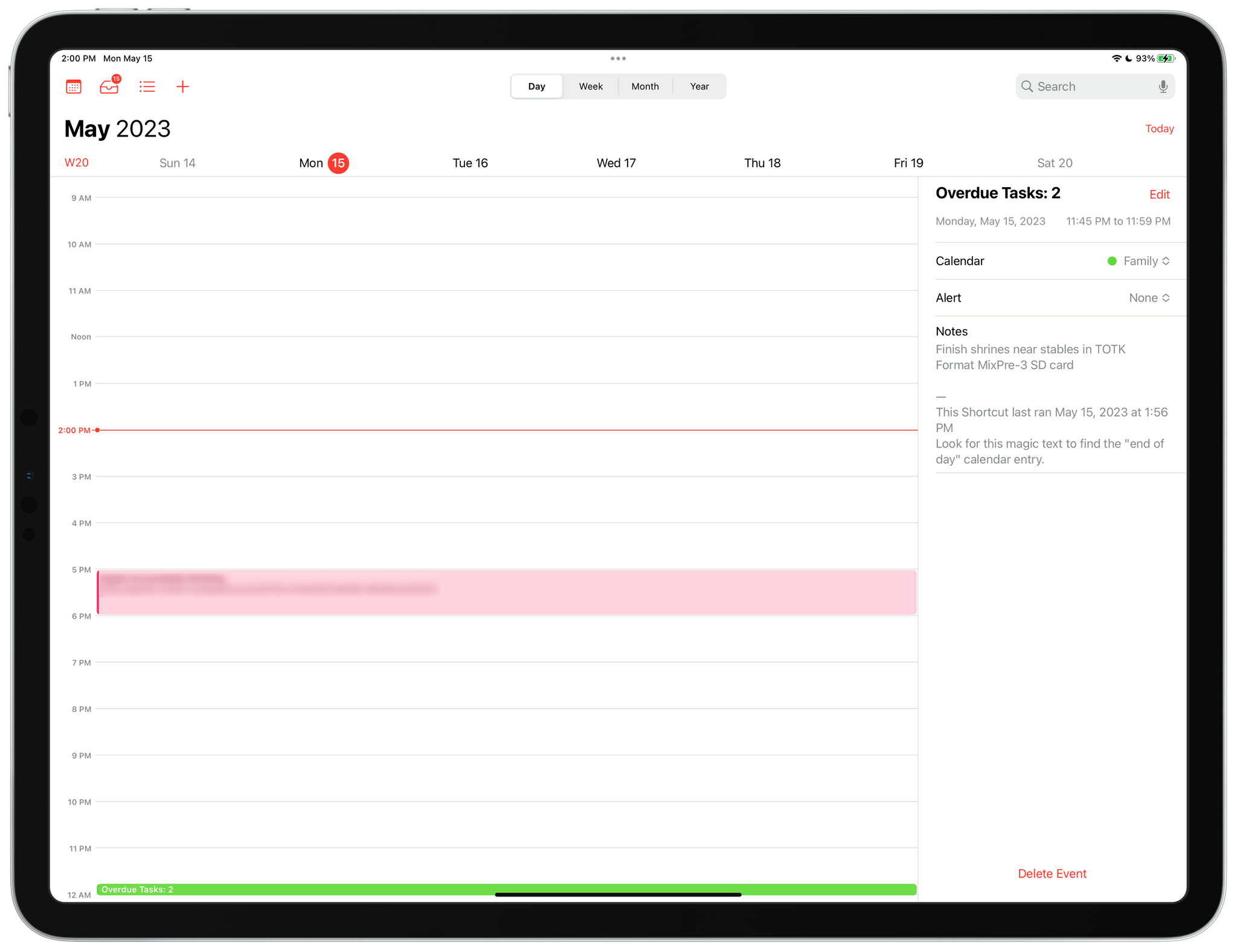 What Biatek did to solve this daily annoyance was to create Yes More Events, a shortcut that looks at your overdue tasks in Reminders and adds an event to the end of your day that starts at 11:45 pm and ends just before midnight. The event lists how many overdue events you have and includes the task titles in the event's notes field. That way, if you finish your events for the day and find yourself with a little extra time, you can jump right into the shortcut-created event to pick a task or two to complete.
As Biatek notes in his write-up of the shortcut, Yes More Events doesn't have to use Reminders. The shortcut is using the title and notes fields in Calendar to list tasks, but you could just as easily drop in an inspirational quote or text from other sources if you prefer. Another aspect of this shortcut that I like a lot is its clear organization and use of variables to make it easy for a first-time user of the shortcut to understand what it's doing. If you've ever found yourself frustrated by the 'No More Events' message in Calendar complications and widgets, be sure to give this shortcut a try.
Congrats to Jason Biatek for winning the following prizes:
A 1-year subscription to Club Premier (or membership upgrade and/or extension for existing Club members)
A special Discord category winner role
Induction into the Automation April Category Hall of Fame (coming soon)
Best Productivity Shortcut
John: Meeting Notes for Obsidian by Jan Dammshäuser is a great example of how Shortcuts can extend apps in interesting ways. Obsidian includes powerful automation tools, including a templating system, but with Shortcuts, you can expand the data that's readily available to Obsidian in new and unique ways.
If you participate in a lot of meetings, it's handy to keep a record of when it was, who participated, what was decided, and follow-up actions. Meeting Notes for Obsidian does just that by combining Calendar data with a meeting template to create the skeleton of a note, so you can hit the ground running when your meeting starts.
Meeting Notes for Obsidian asks for the name of your Obsidian vault and the folder you want to use for meeting notes up front. The shortcut also requires the Advanced URI community plugin for Obsidian, which is a plugin that uses an extended set of URL scheme parameters to generate notes with pre-defined content in your Obsidian vault.
When you run Meeting Notes for Obsidian, the shortcut asks you to pick a date and then an event. The rest is handled by the shortcut and the Advanced URI plugin, which generate a note with a file name that references the date, time, and name of the event. The body of the note is titled based on the name of your event, along with a link back to a note for the date of your event using Obsidian's Wikilink-style double brackets. The remainder of the note includes the attendees, details from the notes of an event, and a space for taking notes.
What I love about this sort of shortcut is that it does more than just facilitate the creation of a note using a template system. By drawing on sources like Calendar, you can be assured of having a consistent format for your notes every time too. That may seem like a small thing, but when you're pressed for time and reviewing multiple sets of notes, having a format you can rely on being the same makes working with them easier, which I love. I don't attend a lot of meetings, but I've developed templates for Club newsletter sections, podcast show notes, and common MacStories posts. Shortcuts is perfect for that sort of automation.
Congrats to Jan Dammshäuser for winning the following prizes:
A 1-year subscription to Club Premier (or membership upgrade and/or extension for existing Club members)
A special Discord category winner role
Induction into the Automation April Category Hall of Fame (coming soon)
Best Health Shortcut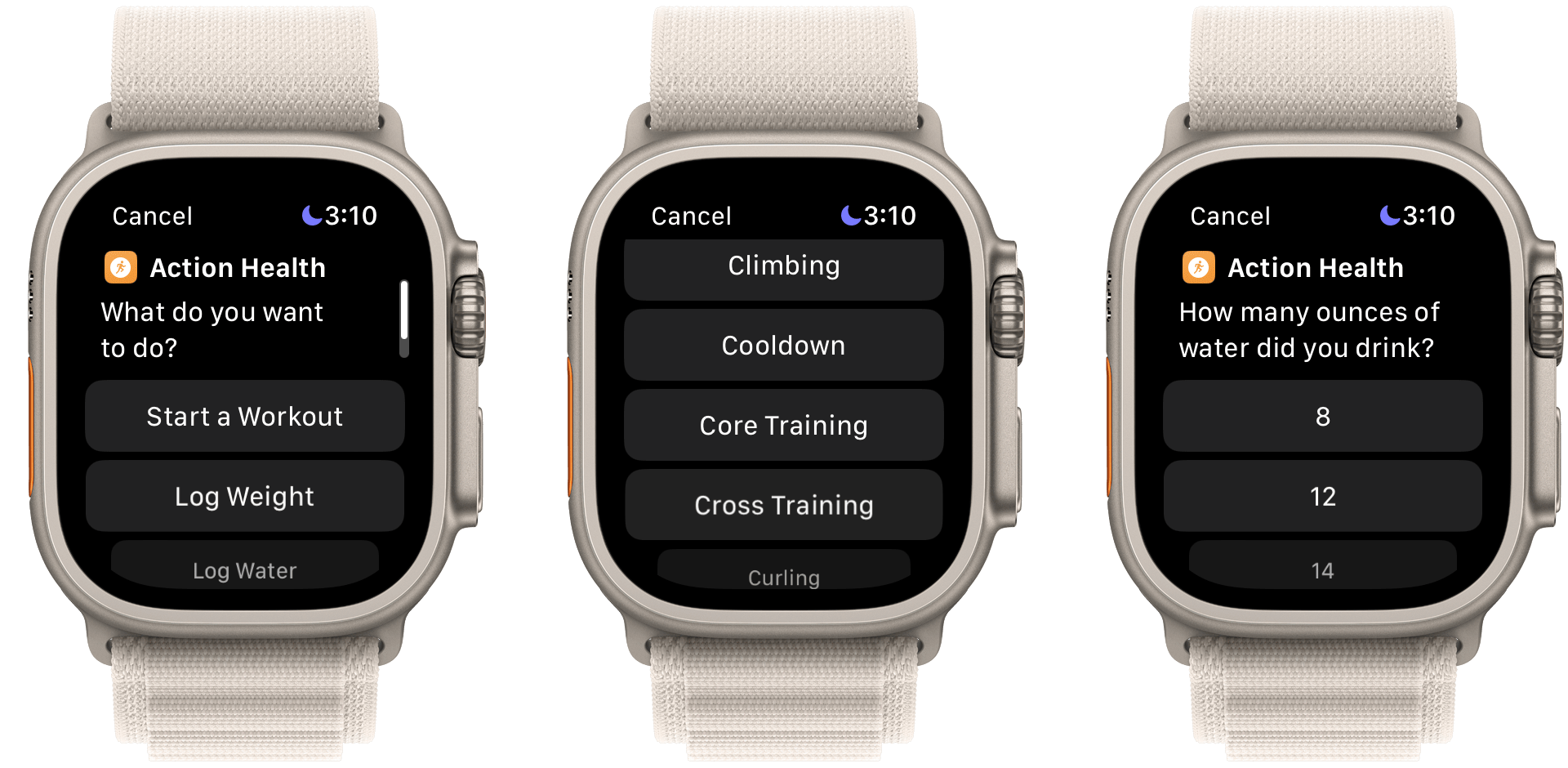 John: Early on, I was a skeptic when it came to the Apple Watch Ultra's Action button and Shortcuts. That had more to do with the limitations Shortcuts imposes on the actions that can run on the Apple Watch than on the promise of the Action button itself. Because of the constraints imposed on shortcuts for the Apple Watch, Tim Nahumck deserves a round of applause for his excellent Action Health shortcut.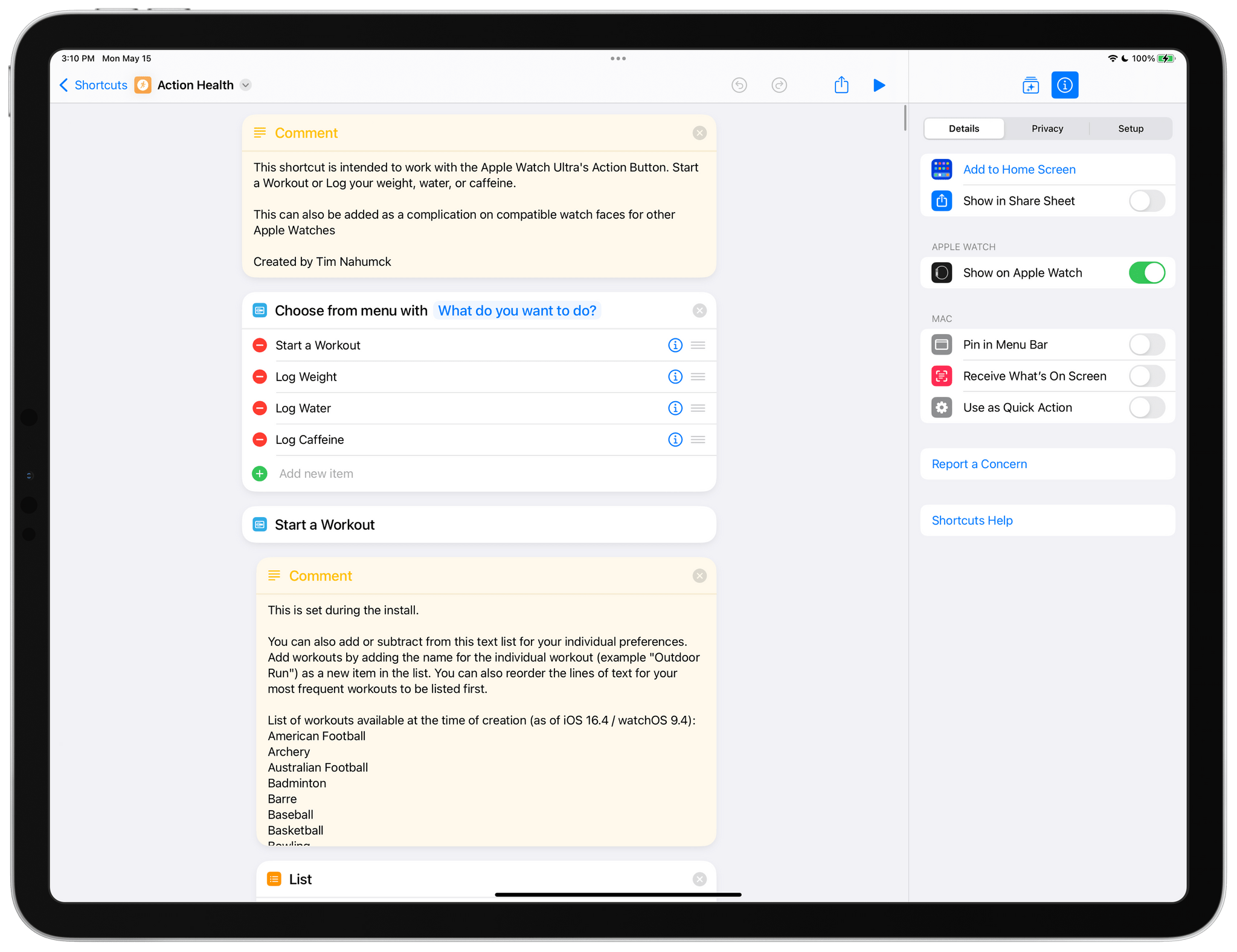 Action Health is an all-in-one Apple Watch shortcut that works particularly well with the Apple Watch Ultra's Action button, but it works from the watchOS Shortcuts app on other models too. When you install the shortcut, Action Heath presents you with a long list of fitness activities that you can pare down to just the activities you typically do.
Then, when you run the shortcut, you're given four initial choices. You can start a workout, which opens up your list of activities. Once one is chosen, the Apple Watch's Workouts app starts the corresponding workout. The other options available are logging your weight, water intake, or caffeine consumption. The water option is pre-programmed with preset quantities that can be edited, and the caffeine option includes three popular coffee drinks along with sizes for each. The weight, water, and caffeine tracking options all take your input and save it directly to the Health app.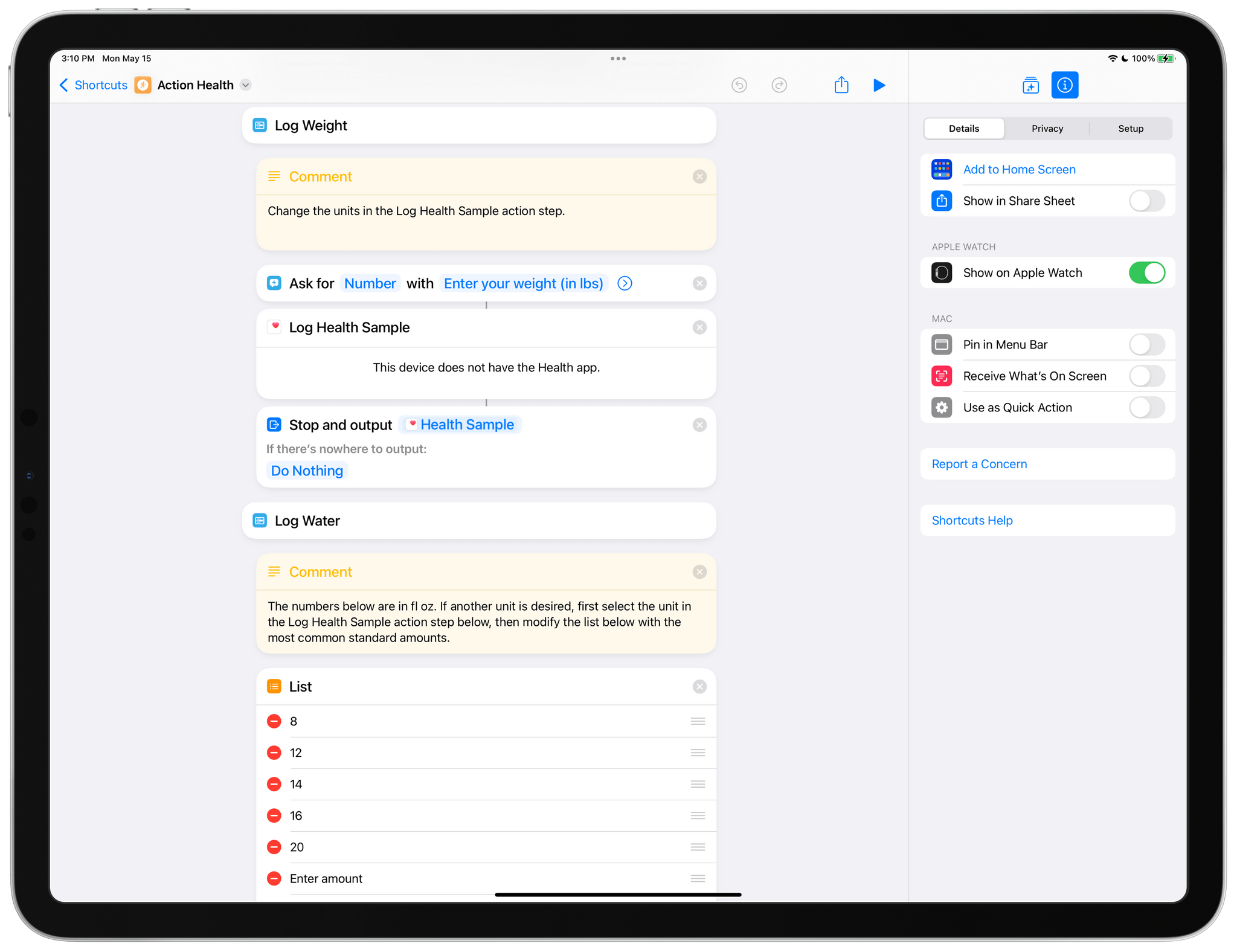 I love Action Health's time-saving ease of pre-defined workout, water, and caffeine options. It's the sort of shortcut that I'm sure took a while to create but used regularly for workouts and logging, the time savings can be significant, which is a big part of what automation is all about. I also appreciate the ingenuity Nahumck's shortcut shows in light of the limitations inherent to Apple Watch shortcuts. Let's hope some of those limitations are removed in watchOS 10.
Congrats to Tim Nahumck for winning the following prizes:
A 1-year subscription to Club Premier (or membership upgrade and/or extension for existing Club members)
A special Discord category winner role
Induction into the Automation April Category Hall of Fame (coming soon)
Best Media Shortcut
Federico: I'm a big believer in the idea that useful shortcuts don't have to be complex to have an impact on your everyday workflow. A perfect example of this idea is Queue Media, created by Joshua Dick and the shortcut we selected as the winner of the Media category this year.
Queue Media takes advantage of native Shortcuts actions for Play and MusicBox, two apps we love at MacStories, to either let you save videos or music into those apps. The idea is that rather than using two separate share sheet extensions for Play and MusicBox, you can use this one shortcut to save all kinds of media and let the shortcut figure out whether it's dealing with music or video content.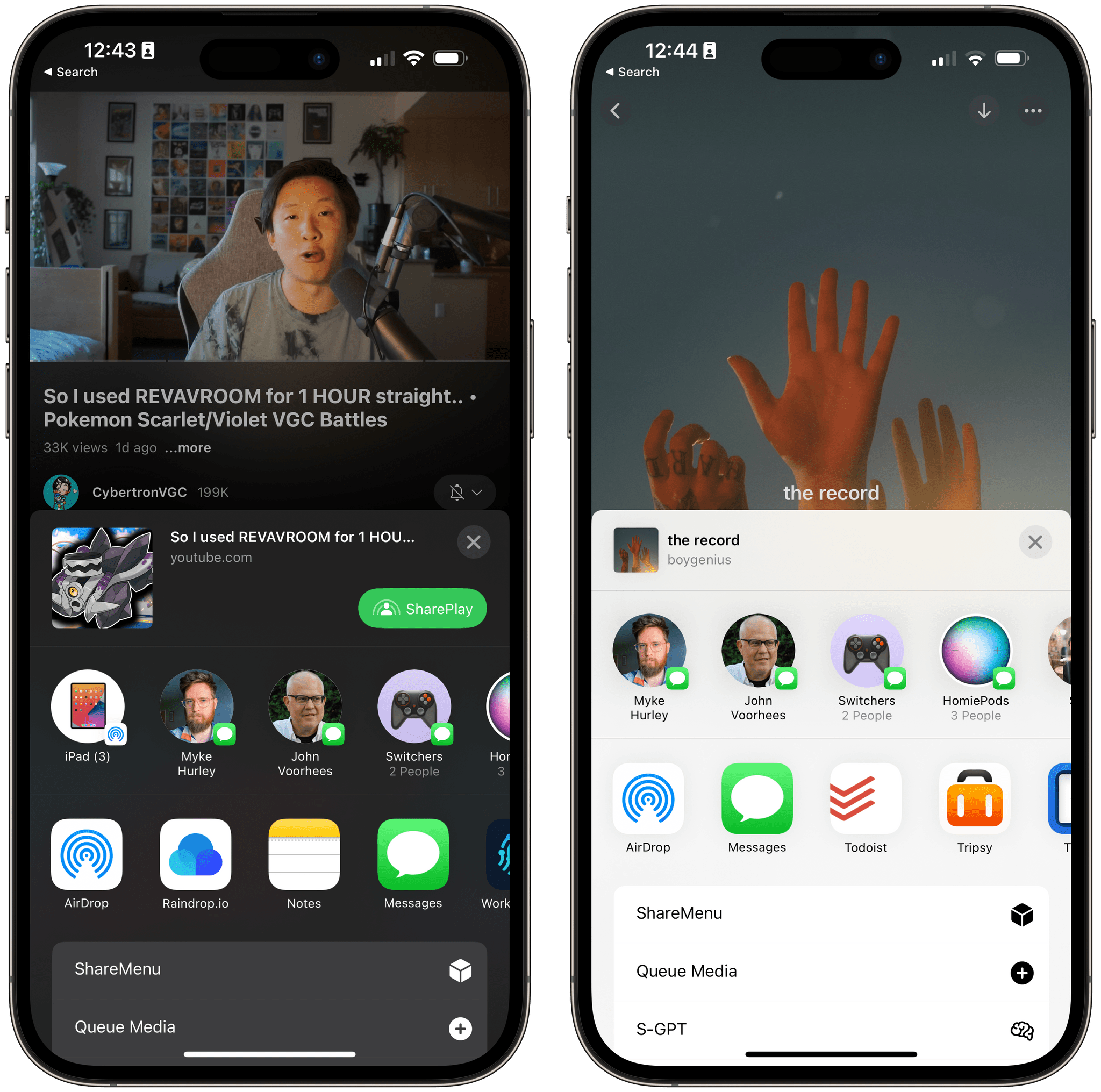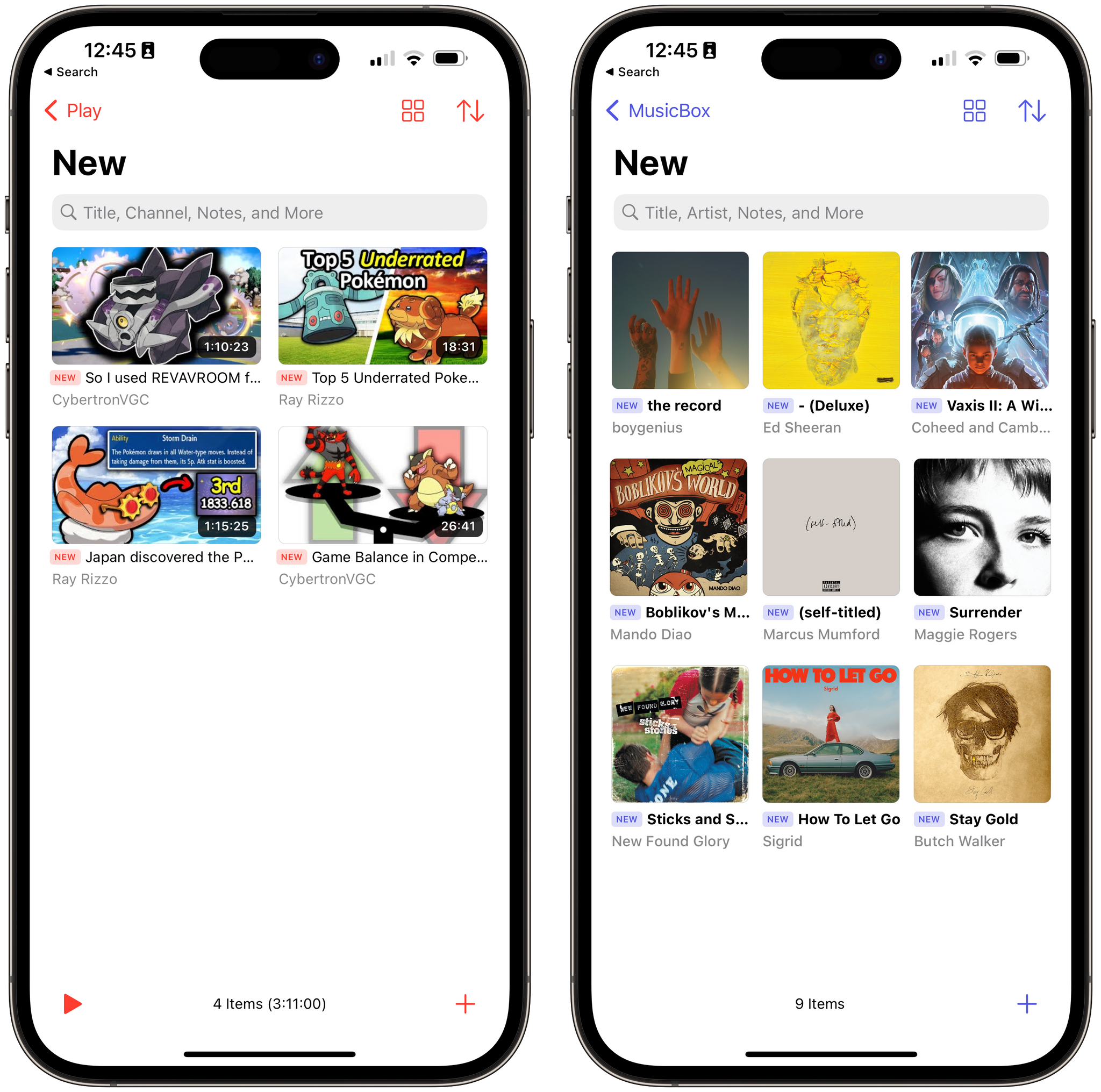 To accomplish this, Joshua Dick devised a simple, yet clever system based on regular expressions that checks whether URLs passed to Queue Media are from YouTube, Vimeo, Twitter, or Nebula for video, or Apple Music, Spotify, Bandcamp, and Deezer for music content. The RegEx is easy to understand and modify, and Joshua used repeat blocks to support multiple URLs shared at once with Queue Media.
We liked Queue Media because it's a good demonstration of how you can build an effective "read-later, but for media" catch-all shortcut that uses native actions from third-party apps, is built to be flexible, and can be useful on a daily basis.
Congrats to Joshua Dick for winning the following prizes:
A 1-year subscription to Club Premier (or membership upgrade and/or extension)
A special Discord category winner role
Induction into the Automation April Category Hall of Fame (coming soon)
Best Mac Shortcut
Federico: In this year's edition of the Automation April Shortcuts Contest, I've seen a lot of Mac shortcuts that were, effectively, shell scripts wrapped inside a single 'Run Shell Script' action. There's nothing wrong with those, but, as a judge, I tend to gravitate toward shortcuts that blend the old world of Mac automation (AppleScript, shell scripts, GUI automation, etc.) with the modern reality of Shortcuts. As we'll see below with the Best Overall Shortcut winner, that was one of our driving principles this year, which we also applied to the winner of the Mac category: Scan QR Code On Screen.
You probably don't think about QR codes anymore: when you see one, you just grab your iPhone, point the camera at it, and tap the yellow link to open whatever link's associated with it. The Mac, however, doesn't have a camera to quickly recognize QR codes, which is why Aidan Maurin-Jones built a shortcut that grabs a QR code's image in the most obvious way: by taking a screenshot of it.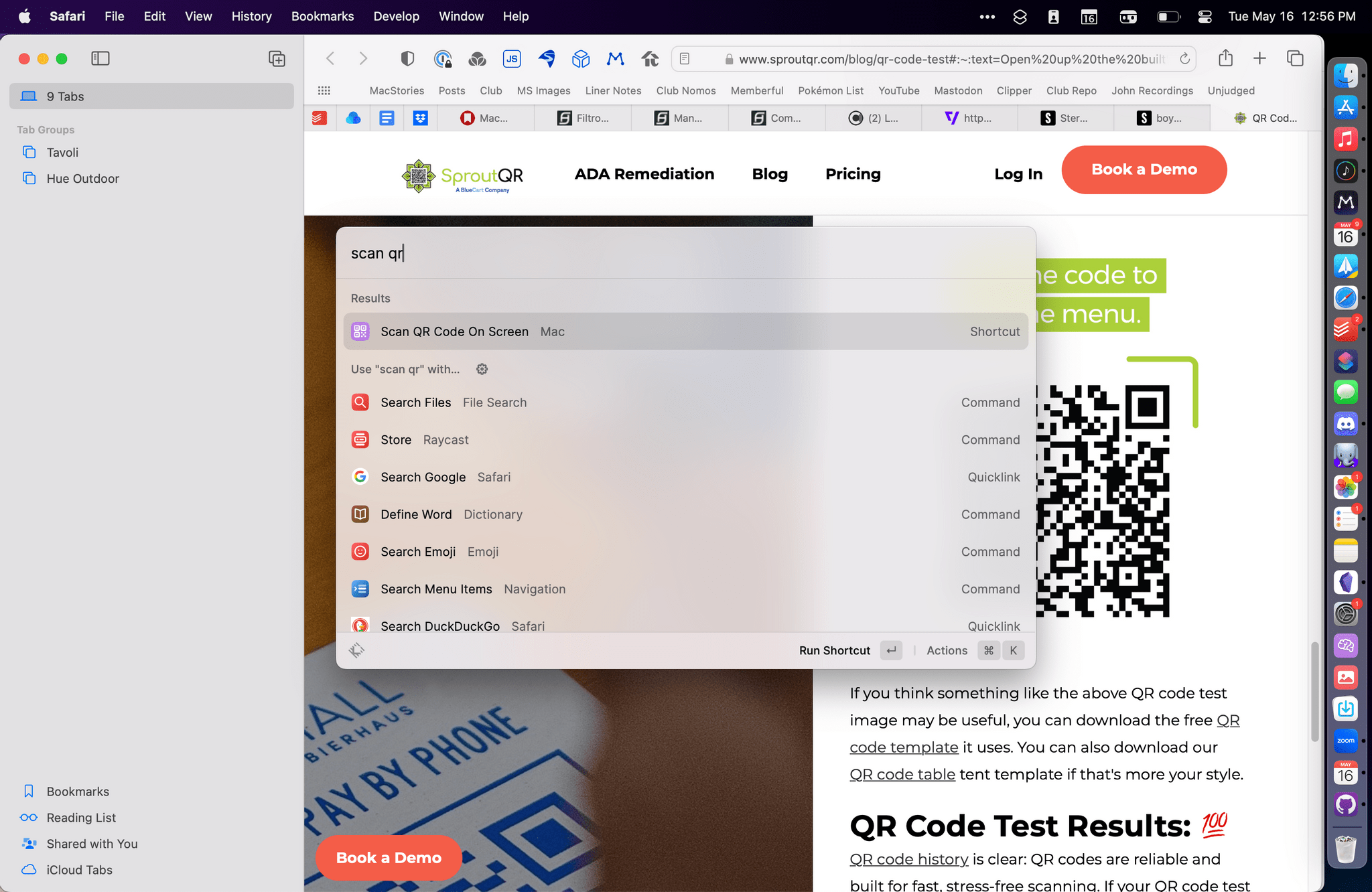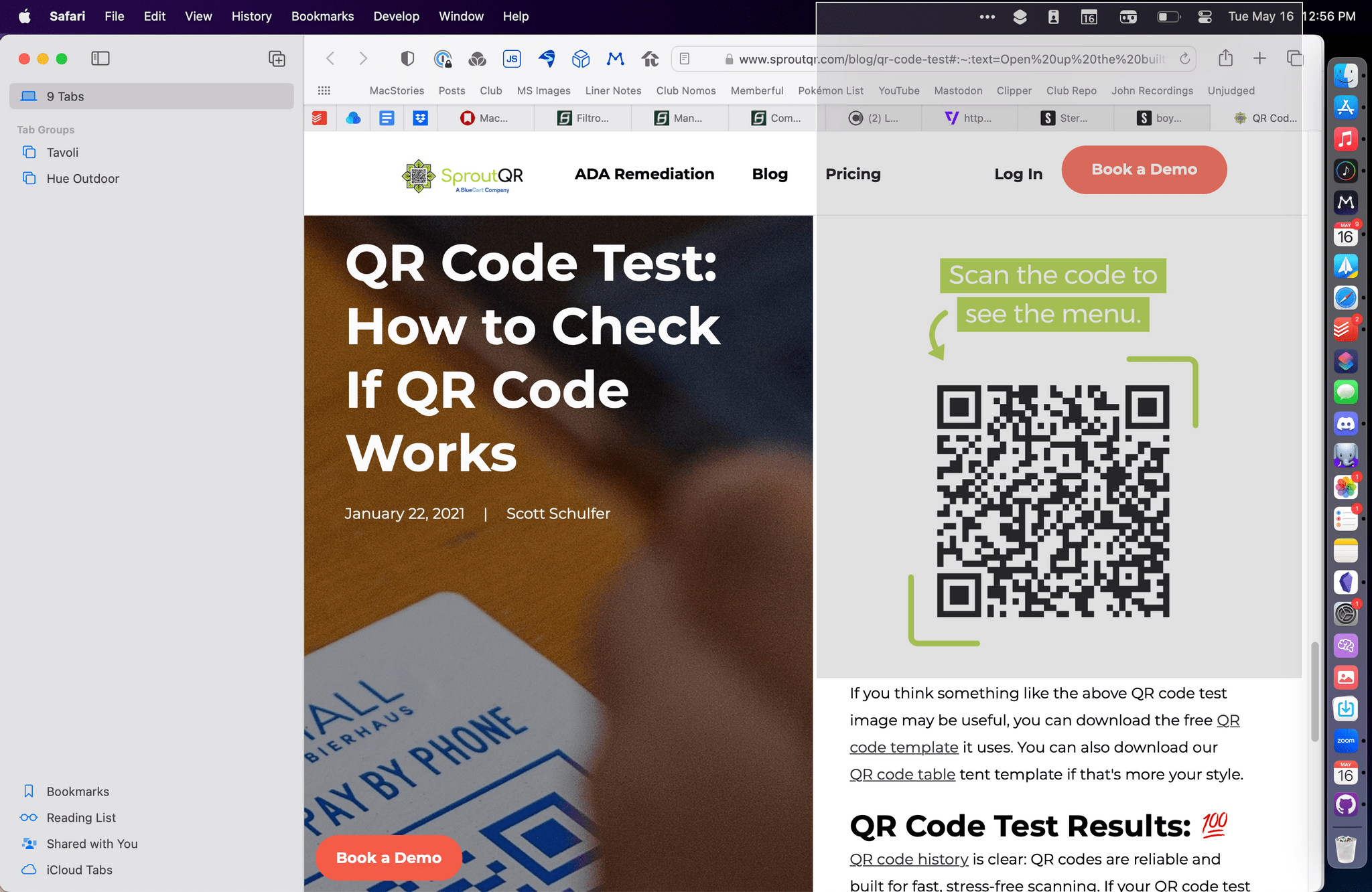 The beauty of this shortcut is that, on macOS, the 'Take Screenshot' action can display the native screenshot tool's crosshair anywhere on the system, allowing you to capture any region of the screen in seconds. Once this shortcut has been assigned a keyboard shortcut, you'll be able to quickly take a screenshot of the QR code – it doesn't have to be precise – and, a few seconds later, its link will open in a new Safari tab. To make this possible, Aidan used the QR Code Generator API, which is free to use and allows you to decode the contents of a QR code by sending an image with a POST request.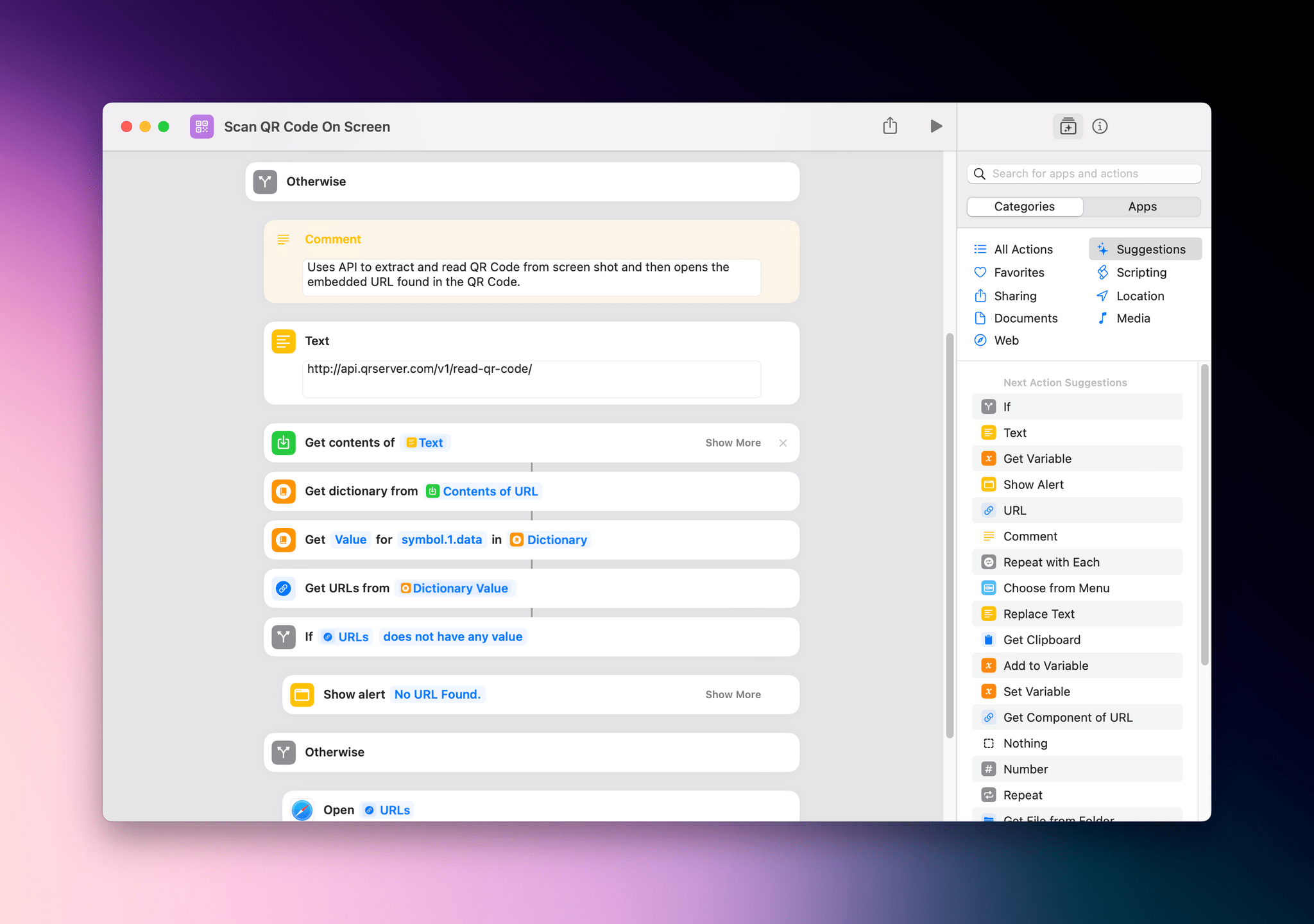 I've often found myself taking a picture of my Mac's screen with my iPhone to scan QR codes, ending up with tabs in Safari for iPhone even though I'm using a different computer. It doesn't have to be like that, which Aidan has shown with Scan QR Code On Screen – a well-designed, effective solution to a common problem that can be fixed with Shortcuts.
Congrats to Aidan Maurin-Jones for winning the following prizes:
A 1-year subscription to Club Premier (or membership upgrade and/or extension)
A special Discord category winner role
Induction into the Automation April Category Hall of Fame (coming soon)
Best Overall Shortcut
Federico: One of my favorite additions to iOS and iPadOS last year was inline unit conversion – the ability for the system to automatically and intelligently convert units in messages, selected text, notes, and other places inside apps. Built on top of Apple's existing system for smart data detectors and integrated with Live Text across the system, the feature has quickly become one of my favorite quality-of-life improvements in recent years (alongside suggestions in the keyboard for one-time codes received on iMessage). The only problem: inline conversion wasn't brought over to macOS.
That's where Dillon Mok comes in. Dillon, who participated in Automation April last year and won the Best Everyday Shortcut category with Meme Maker, saw an opportunity for a macOS shortcut designed to replicate the inline unit conversion feature of iOS, and he got to work. The result is Inline Converter, a shortcut that is best experienced on the Mac – but which I also love to use on my iPad – that lets you select any text anywhere on the system and instantly converts recognized values for distance, volume, temperature, weight, and angles.
We loved the idea behind Inline Converter and, perhaps more importantly, the technical implementation and choice of actions behind the scenes. As Dillon explained in the shortcut, Inline Converter shines when used as a quick action on macOS. Select any text you want in any app you may be using, run Inline Converter and, if the text contains one of the supported units, you'll get an alert right away showing you converted values for your selection. Simple and effective.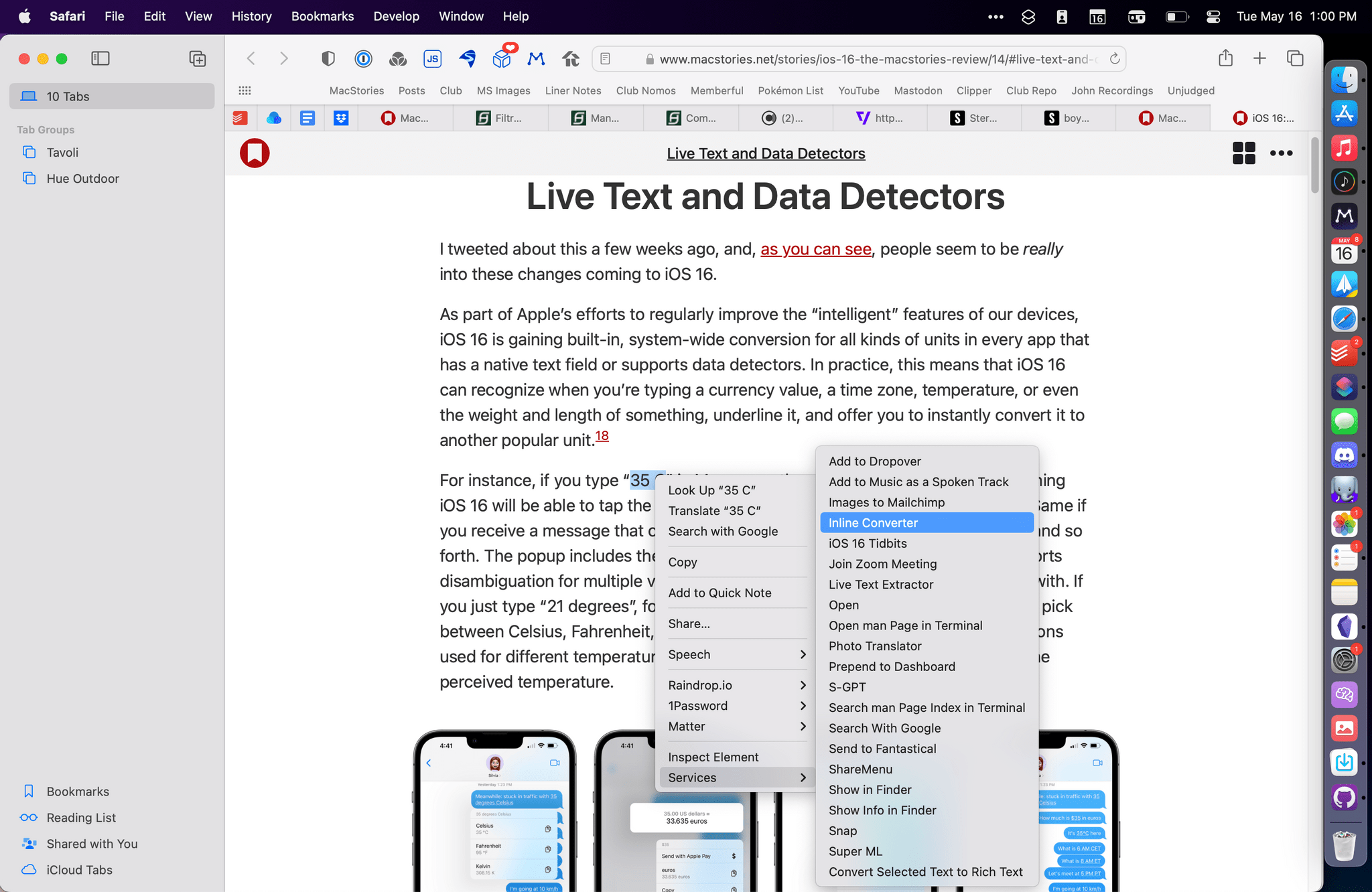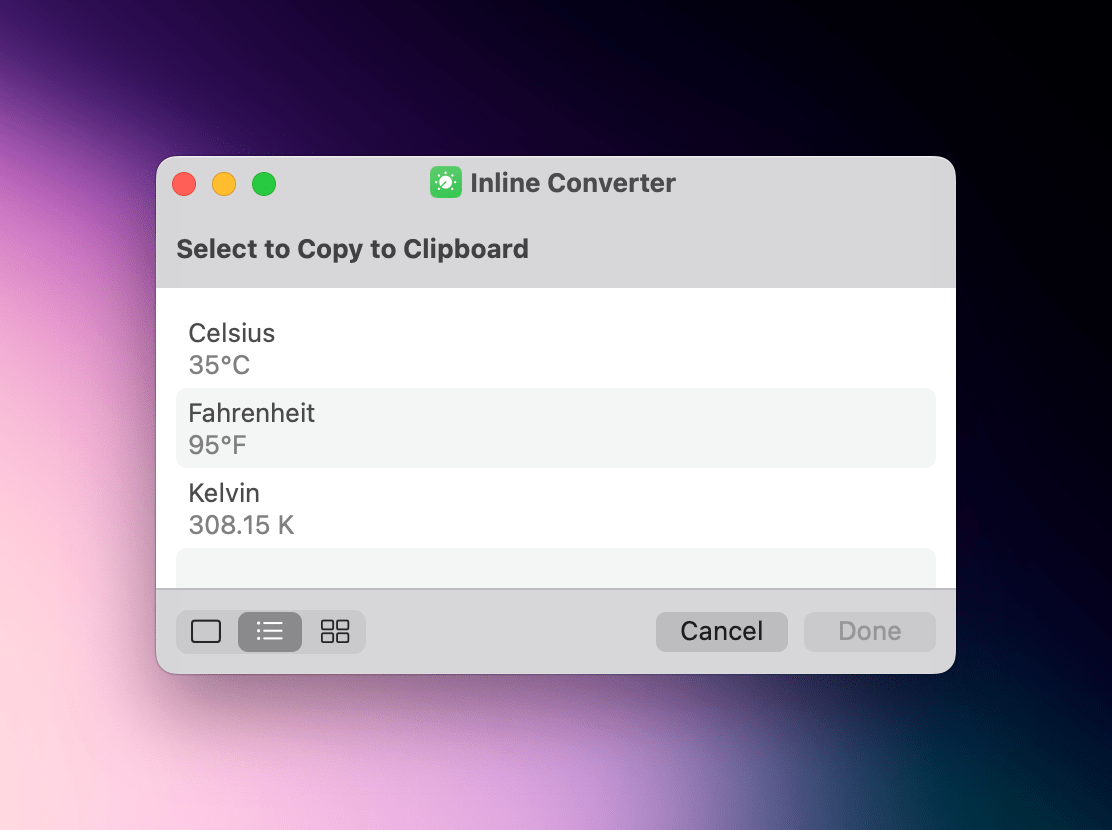 If no text is selected – or if you're using Inline Converter on a platform that doesn't support quick actions, like iPadOS – you'll be asked to manually type some text you want to convert instead. Personally, I like doing this with Inline Converter pinned to my iPadOS dock since I find its unit recognition more reliable than Apple's in Spotlight.

That's because Inline Converter was built with a fascinating technique that combines Shortcuts' native 'Convert Measurement' action with regular expressions that check for various possible ways to spell out degrees, length, weight, and more. Just looking at the shortcut's code, we could tell this was a lot of work, and it's been beautifully abstracted in a shortcut that never shows any of its underlying complexity to the user.
Inline Converter isn't the most intricate shortcut we ever judged for Automation April, but it achieves something rare: it combines a sound understanding of Shortcuts' underpinnings with a clear vision for a feature that should "just work" with no additional setup necessary. Using Inline Converter feels like using something Apple built into its operating system: it's the kind of automation that recedes into the background, saving you valuable time and making you more productive without demanding any attention or knowledge from you. For all these reasons, Inline Converter by Dillon Mok is the Best Overall Shortcut of the 2023 edition of Automation April.
Congrats to Dillon Mok for winning the following prizes:
A 3-year subscription (or membership upgrade and/or extension) to Club Premier
A Loupedeck Live S
A CalDigit TS4 Thunderbolt dock
A special Discord contest winner role
Induction into the Automation April Hall of Fame (coming soon)
Honorable Mentions
Like last year, we wanted to share some of our other favorite shortcuts from the Automation April Shortcuts Contest. These shortcuts didn't win their category but are nonetheless impressive demonstrations of what is possible. So, in addition to sharing the following Honorable Mention shortcuts, we're providing each of their creators with a free three-month subscription to Club MacStories Premier.
Add Portrait Effect, A Shortcut to Add Background Blur to Any Photo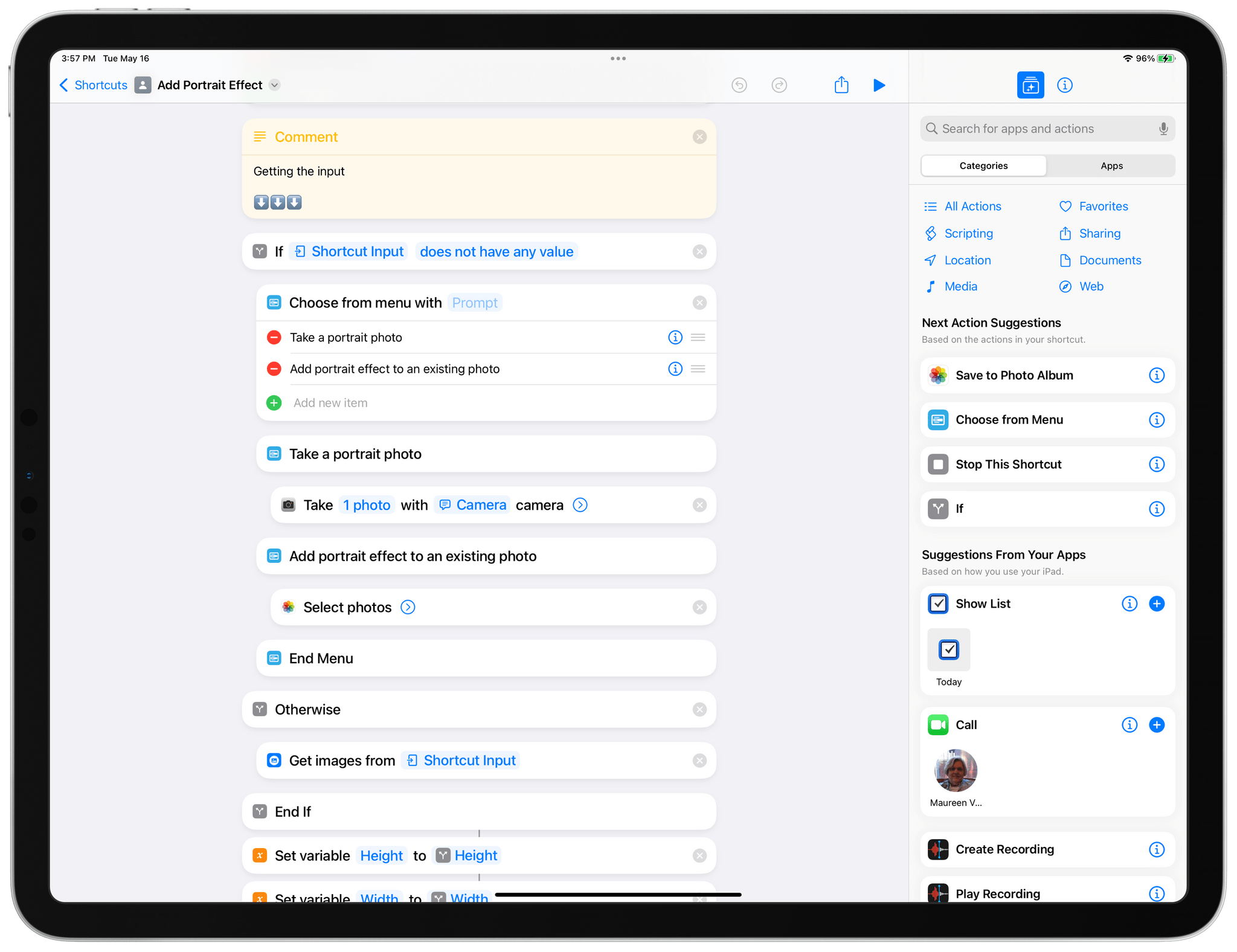 John: Add Portrait Effect by Om Chachad is a shortcut for taking a portrait photo or adding a bokeh-like blurred background to existing photos, even if they don't officially support the feature. The shortcut takes advantage of the Remove Image Background action to separate the subject of a photo from its background, which allows it to apply a user-chosen amount of blur to the photo. There are a lot of other impressively complex steps in between, which show the kind of sophisticated image manipulations that are possible with Shortcuts. That said, the shortcut needs a well-defined separation between the subject and background to achieve the best results.
Advanced System Details, a Shortcut to Retrieve iPhone and iPad Hardware Info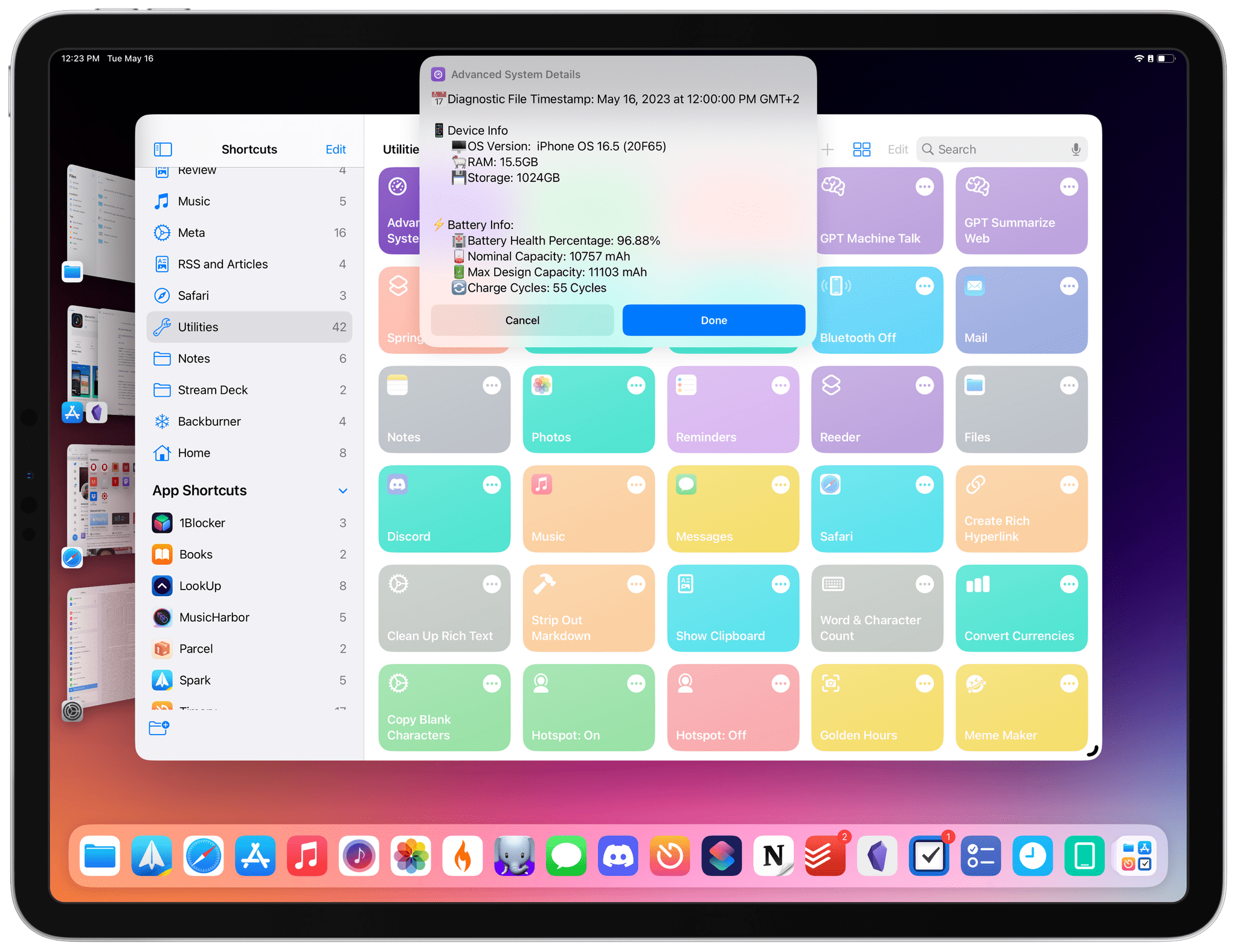 Federico: I didn't even know it was possible to do what Advanced System Details, a shortcut created by Dawson Reprogle, does. This shortcut parses the native JSON analytics file generated by an iPhone or iPad (located in Settings ⇾ Privacy & Security ⇾ Analytics & Improvements ⇾ Analytics Data) and shows you an alert with details for your device and battery info. These details include your battery's charge cycles, which is not normally something you can find that easily on iOS or iPadOS.
Change File Date, a Hybrid Mac Shortcut to Edit File Metadata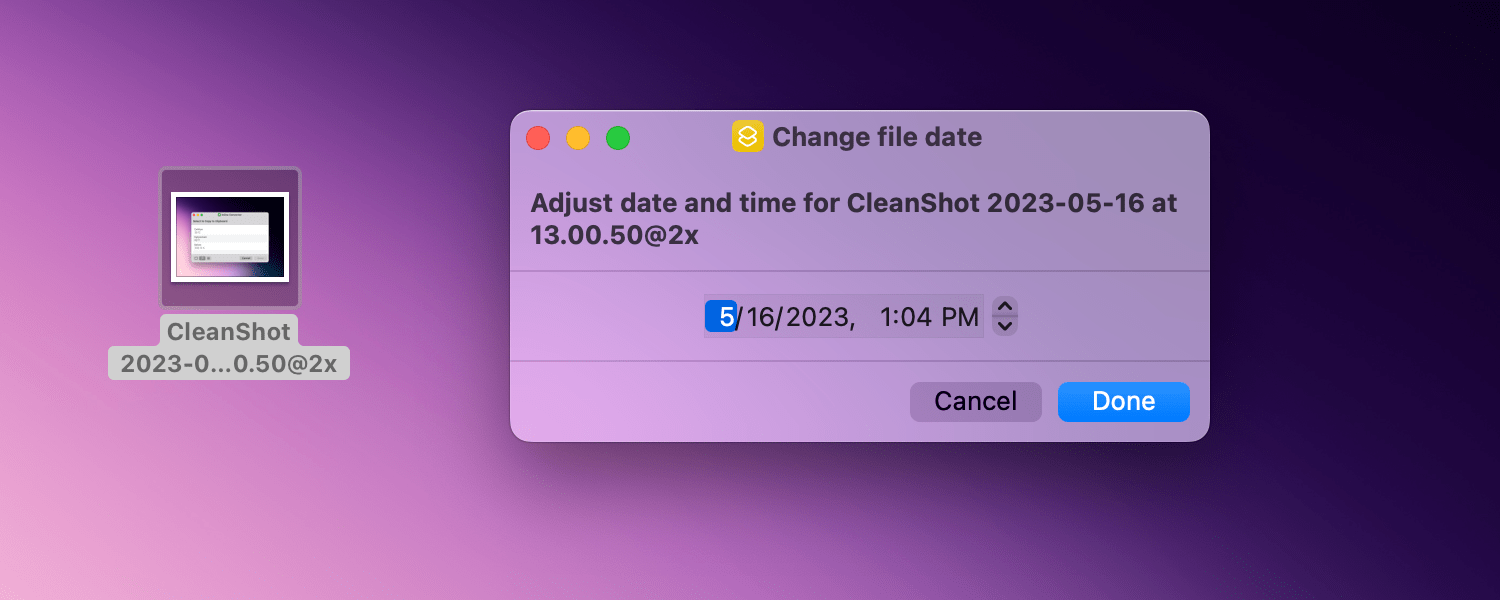 Federico: Created by John Warne, Change File Date uses a hybrid scripting/Shortcuts technique to take a file selected in Finder and change its creation date to a different one. John accomplished this by mixing and matching native date pickers displayed by Shortcuts with the 'Run Shell Script' action, which uses variables generated by the shortcut to change the date attributed of the selected item in Finder. If you want to share a shortcut that revolves around a script, this is the way to do it.
New Music Time, a Shortcut to Quickly Play New Music Releases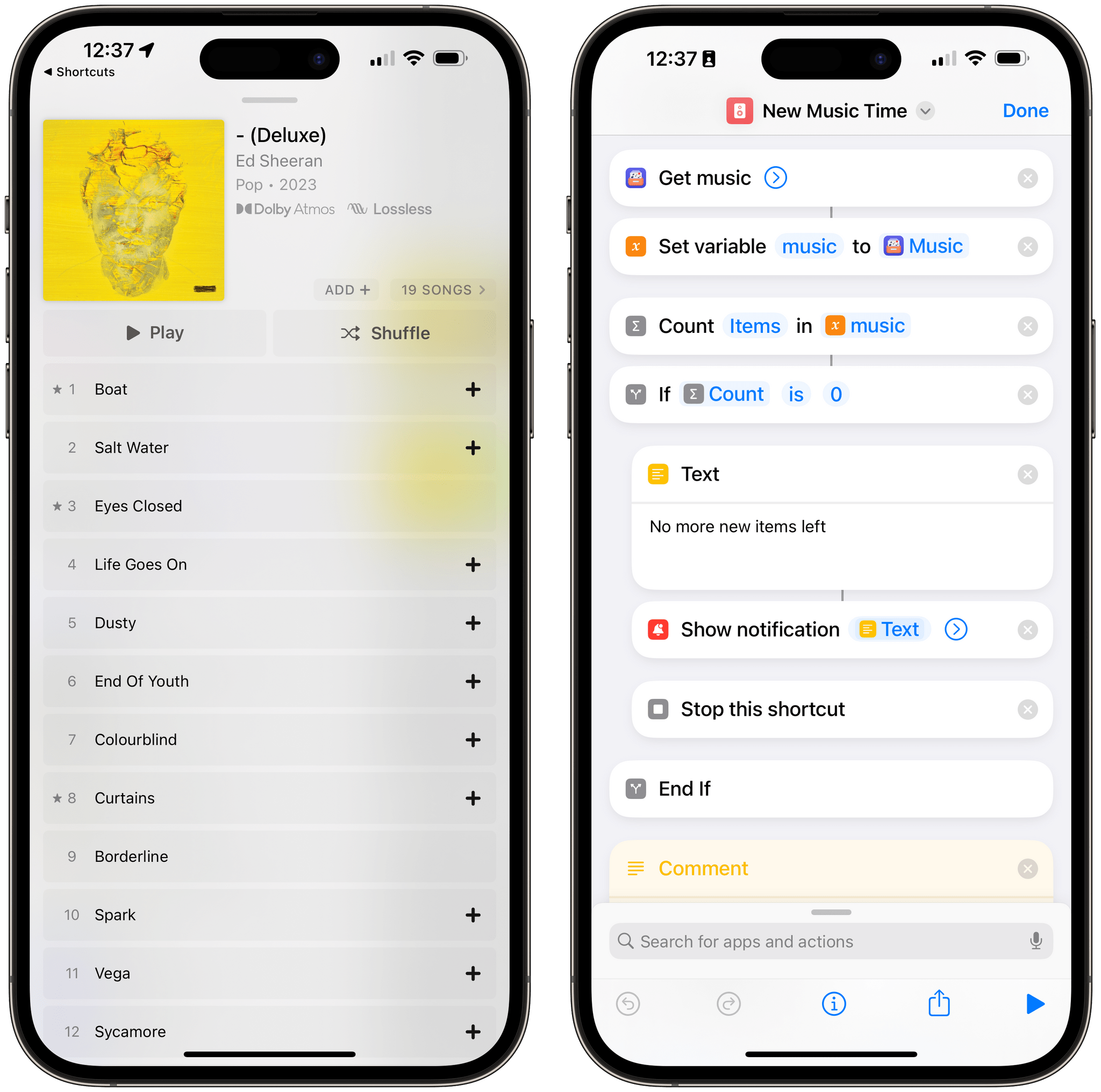 Federico: I loved this idea by FlohGro: New Music Time retrieves all your unplayed items from MusicBox and opens a random one in either the Music app or Marvis Pro (you can choose your favorite player when setting up the shortcut). This is a nice way to remove some pressure from having to choose which album you want to listen to next, and it integrates nicely with MusicBox and Marvis Pro, two of my favorite apps on iPhone and iPad.
Mature Breakfast, a Shortcut Designed to Maintain a Healthy, Varied Diet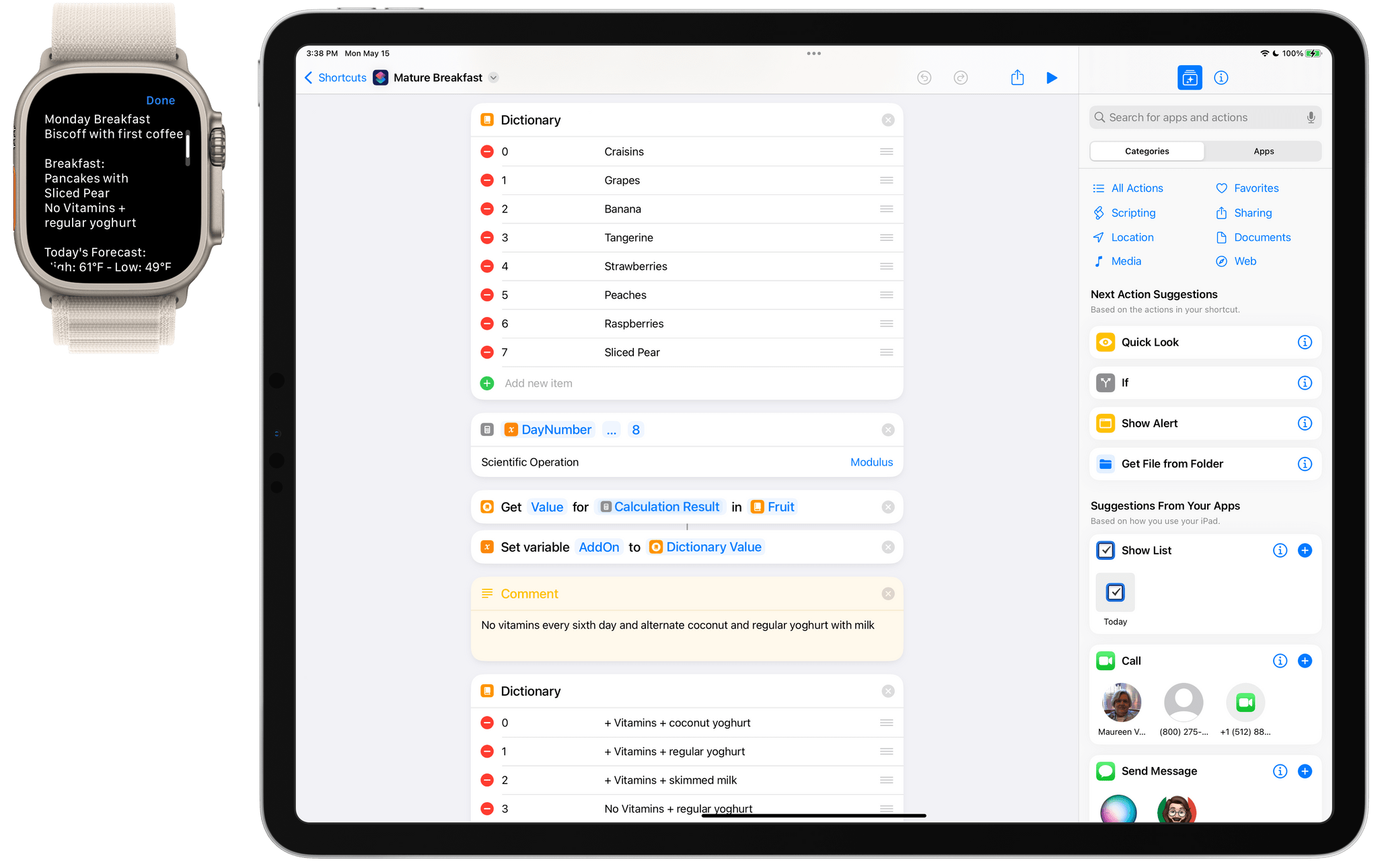 John: Mature Breakfast by Jeff Maynard is perfect for anyone who is trying to ensure they eat a healthy, varied diet. As submitted, the shortcut is designed to generate a menu for a healthy breakfast from the Apple Watch, but you could just as easily adapt it to other meals with other foods. As you can see from the screenshot, the shortcut relies on a series of Dictionary actions to build a text view that includes details about the meal it generates, plus the current weather conditions.
Feedback to Markdown, a Shortcut for Those Who File Too Many Radars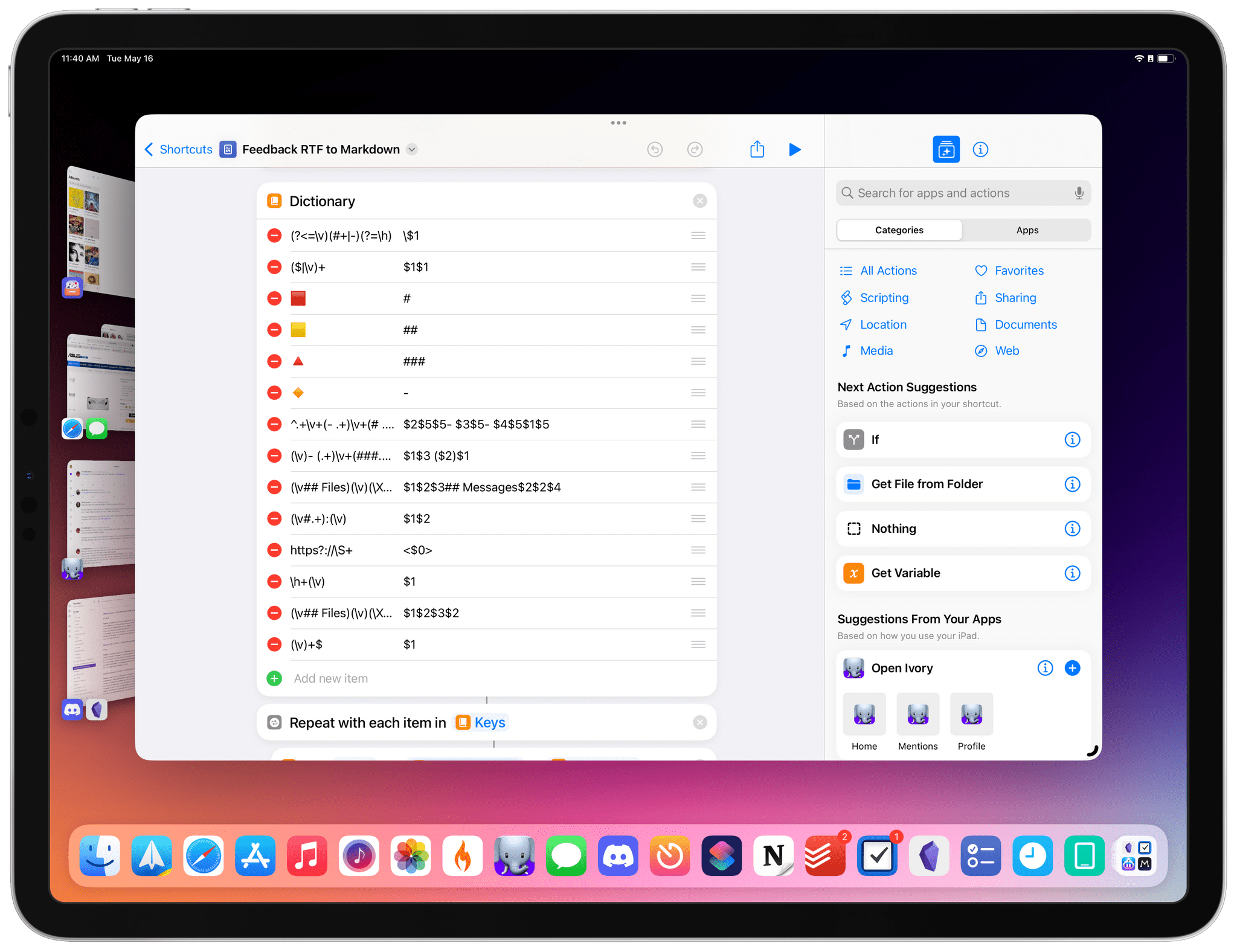 Federico: I was familiar with Antonio Bueno's work before, and this time he's outdone himself with something that is so geeky and specific it couldn't win in any category, but it deserves a mention here because of the technical achievement of this shortcut. As the name suggests, Feedback to Markdown can convert the RTF files generated by the Feedback app for Mac when pressing ⌘E (this is something I learned from this shortcut) into readable Markdown files. To do this, Antonio did a lot of advanced work behind the scenes to clean up RTF, match special characters, remove cruft from the converted text, and present a plain text document with a structure that makes sense. I don't think I'm going to use this shortcut on a regular basis, but I can still learn a lot from it.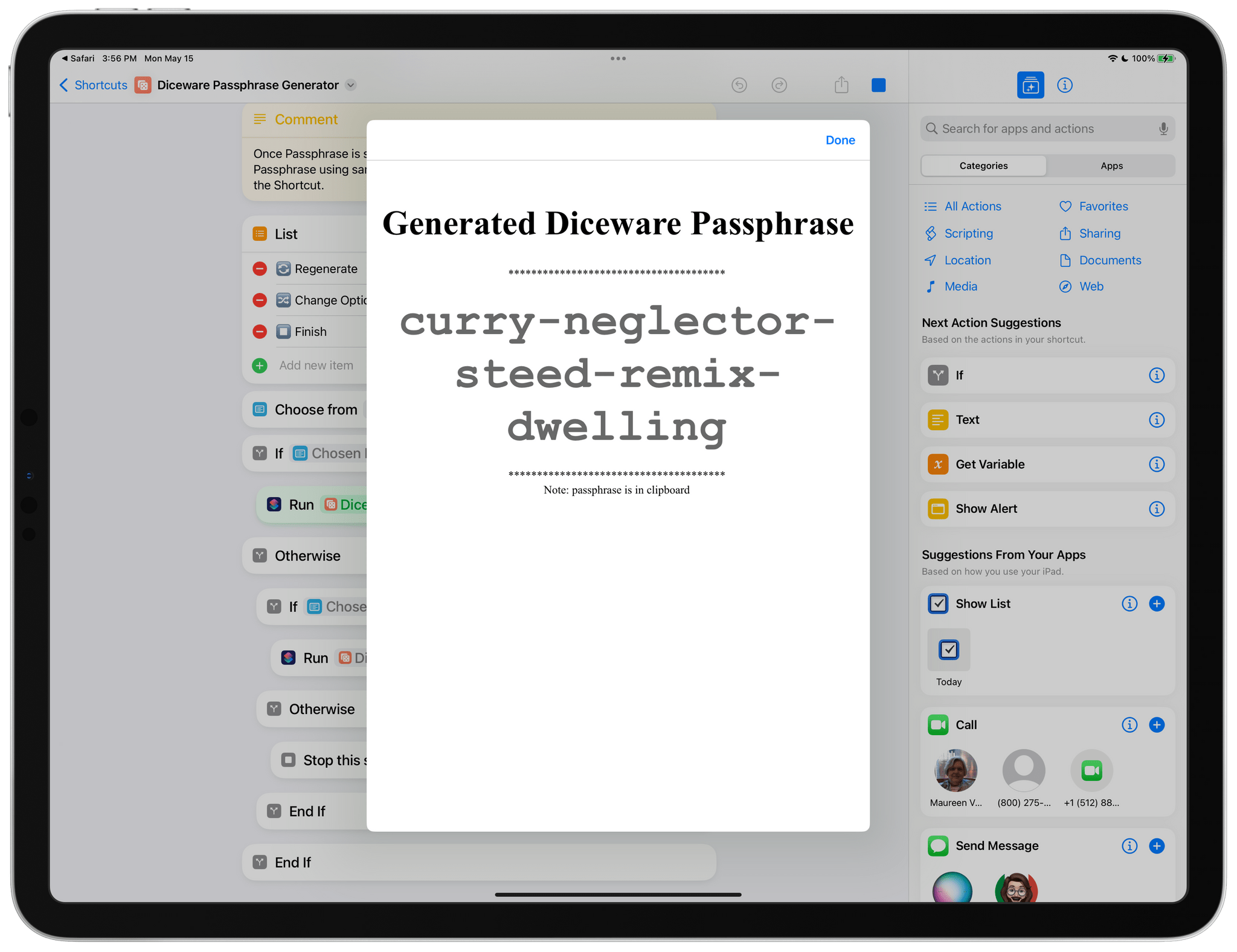 John: The Electronic Frontier Foundation maintains a huge list of long words that can be used, along with dice, to generate a random passphrase as a password. Rolling physical dice and correlating the results to the EFF's list is a pain, so Dan Irish created a shortcut that asks a few basic questions:
How many words do you want to generate?
How many numbers do you want?
What separator do you want to use between words?
With that input from the user, plus whether you want to start words with a capital letter, Diceware Passphrase Generator handles the rest, creating a hard-to-guess passphrase for you automatically and coping it to the clipboard.
River Report, a Shortcut for Checking Hyrological Conditions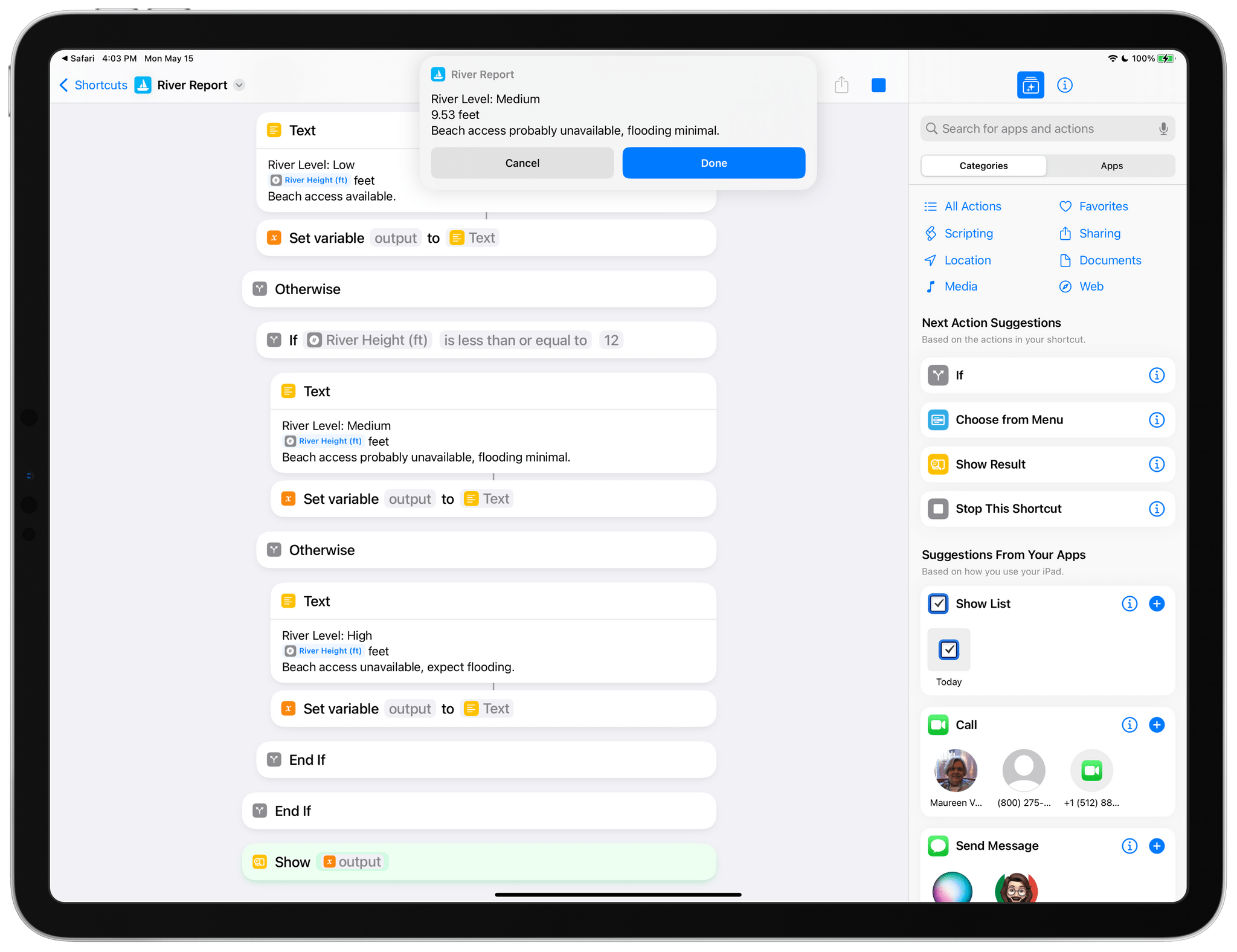 John: Nathan Ansel's River Report shortcut shows how Shortcuts can be used to make important local information more readily available. Ansel lives near the Mississippi River in Minnesota, and the dog park where he walks his dog sometimes floods. River Report uses an API published by water.weather.gov that returns river height data as XML. The shortcut parses the API response and provides Ansel with a report of the height of the river and the parts of the dog park that might be unavailable with a single tap.
---
Thanks again to all our judges for helping us pick the Automation April Shortcuts Contest winners again this year. It's always great to get on a Zoom call with the other judges and talk about Shortcuts as we wrap up the contest every year.
Also, thanks to all the participants in this year's contest. We had a tremendous number of creative, clever shortcuts that have inspired us to do more with shortcuts ourselves. We were especially touched by the many contest participants who incorporated Alex Hay's app Toolbox Pro into their shortcuts. Alex left an indelible mark on the Shortcuts community. He will not be forgotten.
Until next year, keep on building those shortcuts, and if you're a Club MacStories member, swing by the Discord community. There's always someone sharing a new shortcut and ready to help others who get stuck on theirs.