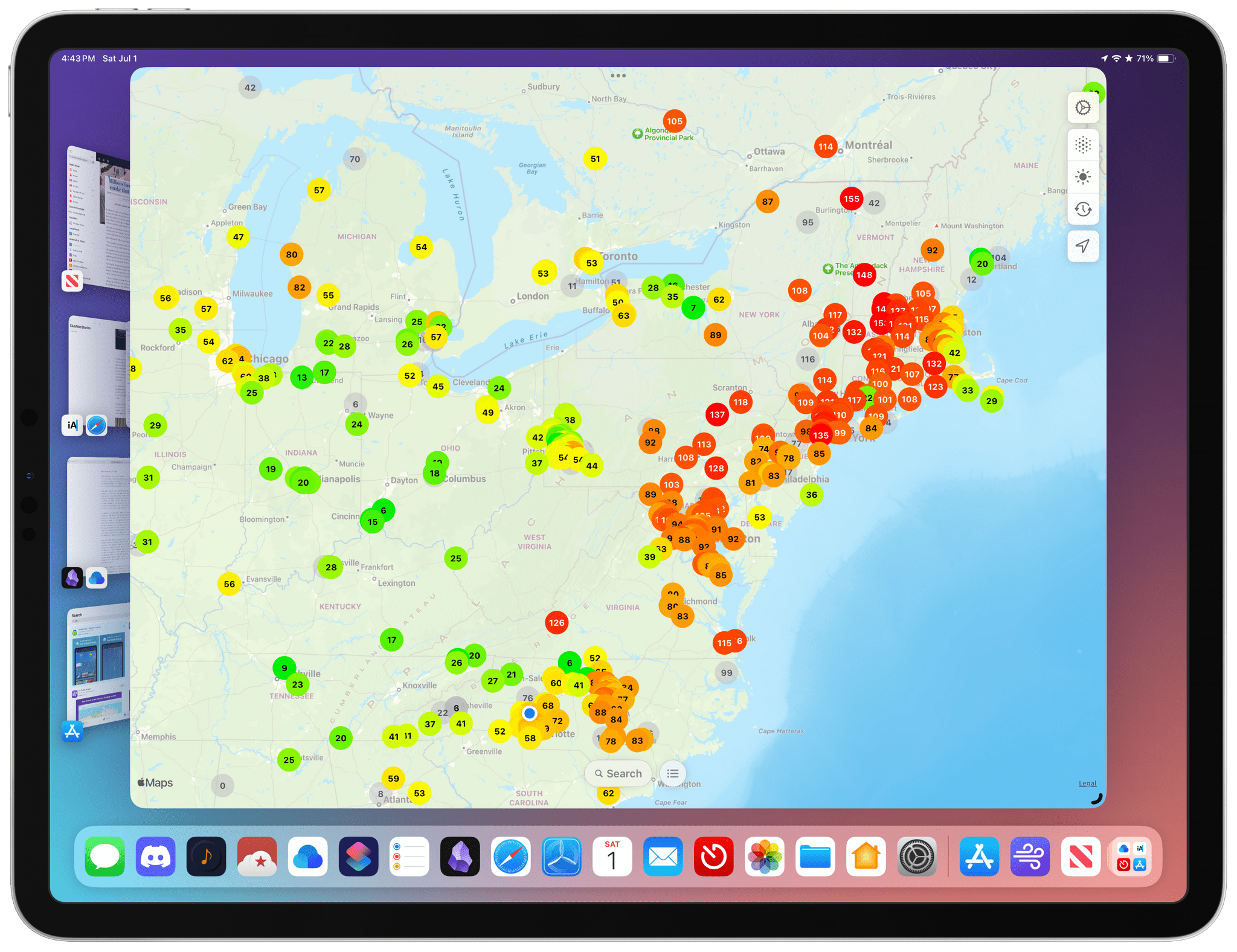 With millions of people facing a long, smokey summer here in the US, I thought it would be a good time to recommend Paku by Kyle Bashour, an iPhone, iPad, Mac, and Apple Watch app for tracking the air quality where you live.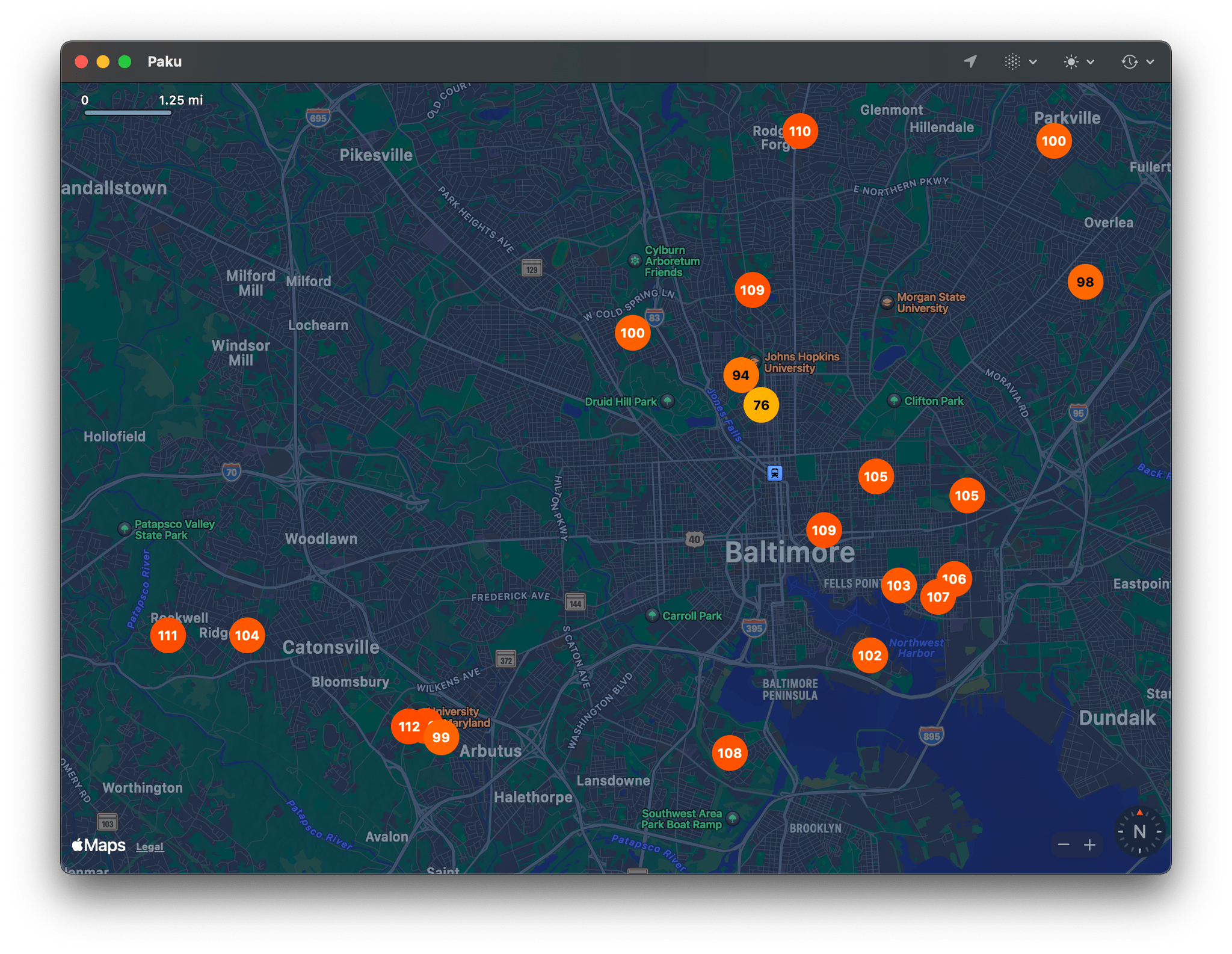 Paku combines Apple's MapKit framework with public data from PurpleAir to track air quality globally. By default, the app displays Air Quality Index data as color-coded dots on its map UI. Just like Apple Maps, you can zoom out and pan around to see data in other areas or use the app's search functionality, but the greatest value is in knowing what the air quality is in your neighborhood.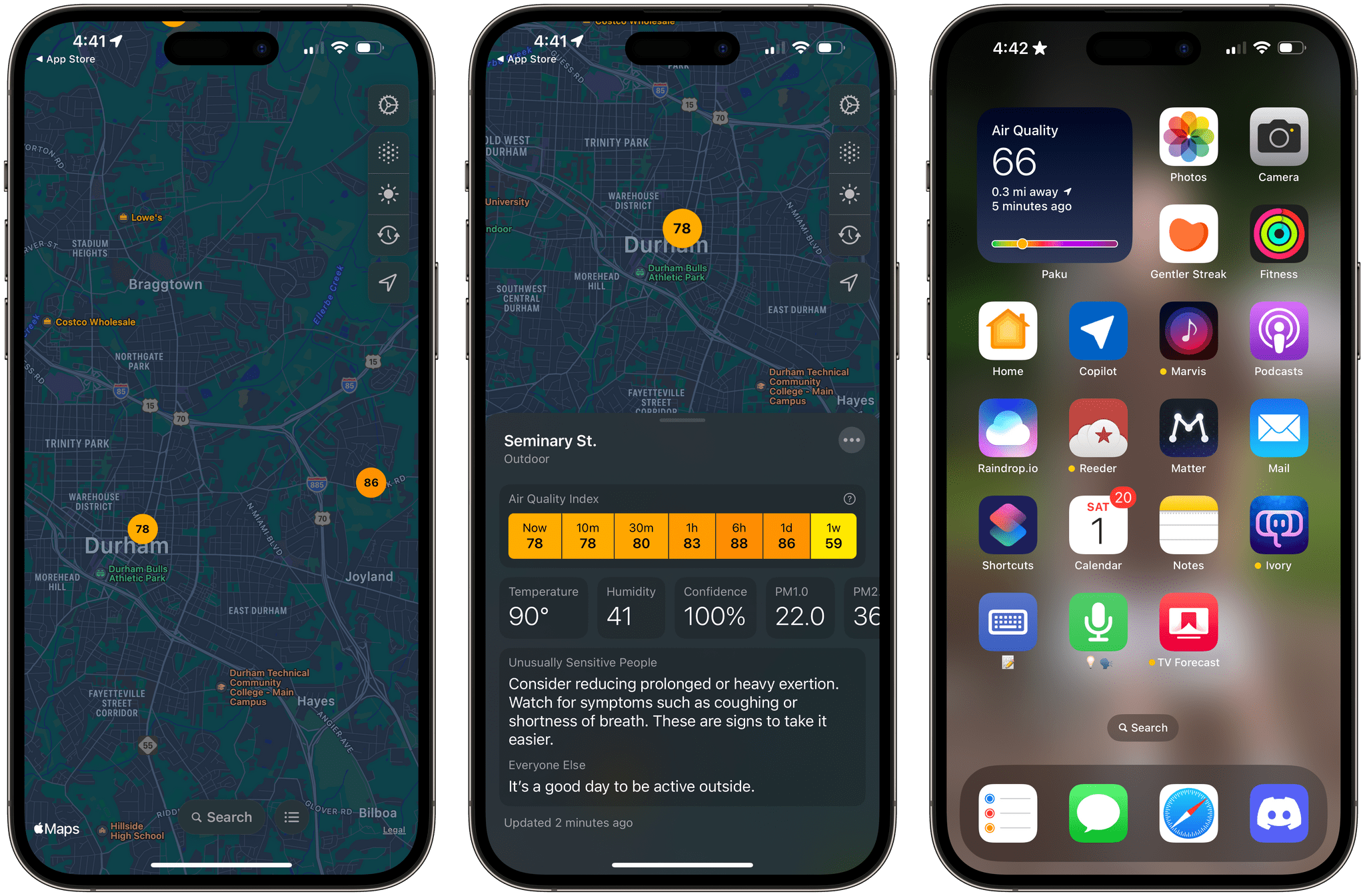 In addition to AQI data, Paku can display temperature, humidity, and PM1.0, PM2.5, and PM10.0 data, using the toolbar overlay on the app's map. For more information about a station's data, tap it, and you'll get all the available data, historical context for the current reading, and an explanation of what precautions you should take if the air quality is bad. From the three-dot More button in the corner of a station's data view, you can also favorite an air quality station, open the PurpleAir website, or hide a station.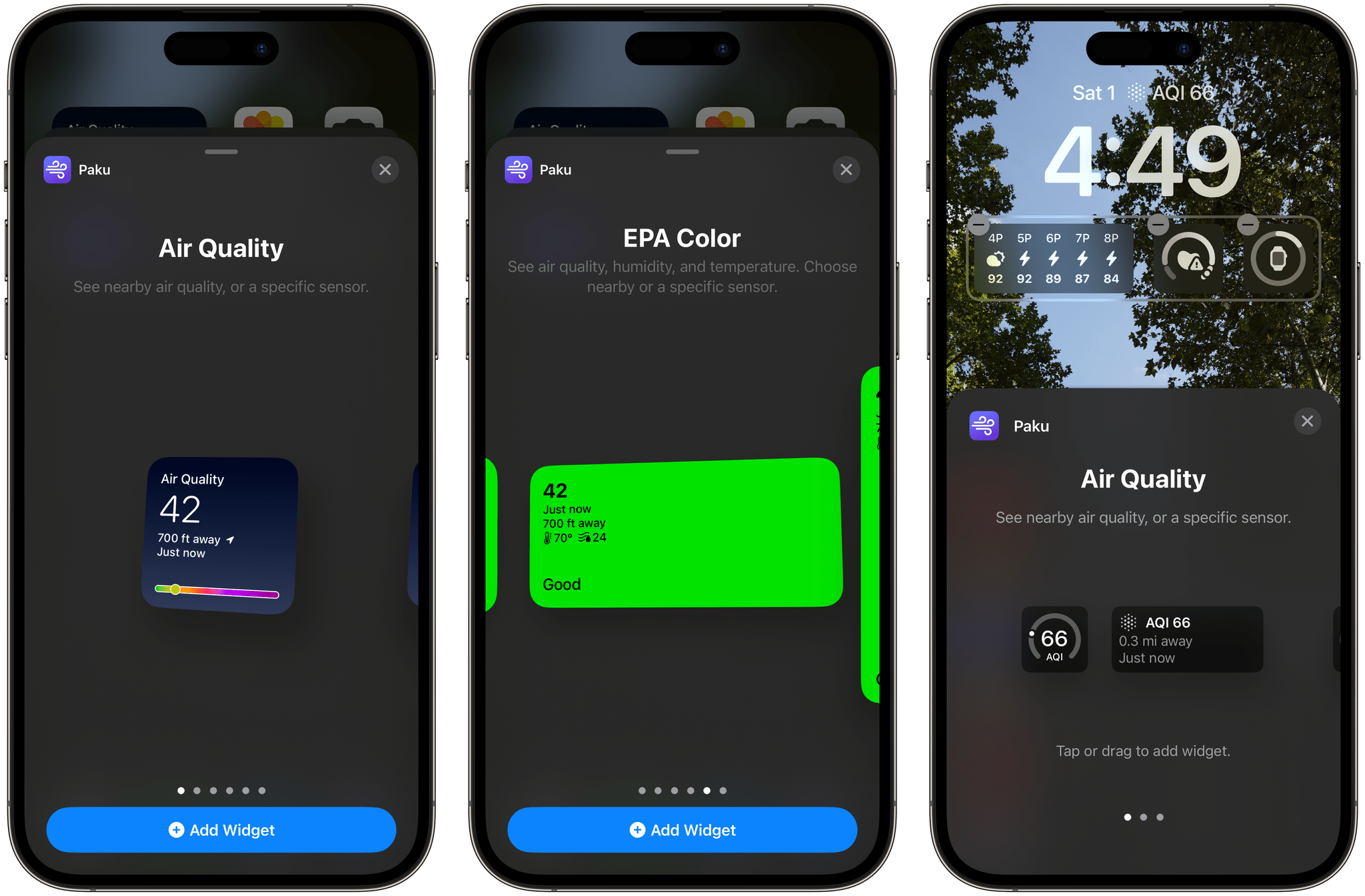 Paku includes Home and Lock Screen widgets too. For the iPhone's Lock Screen, there are widgets to track air quality, temperature, and humidity. The same is true for Home Screen widgets, which feature the same types of data but use two designs. The first design uses a blue gradient background, big numerals for the primary data point, and a graphic that shows where your current air quality falls on the air quality scale. The other Home Screen widget design uses the EPA's color scheme as the background of the widget to make the air quality reading even more glanceable.
Paku also supports a single Shortcuts action that opens the app, which is fine, but it would be better if the action returned the air quality, temperature, and humidity data instead.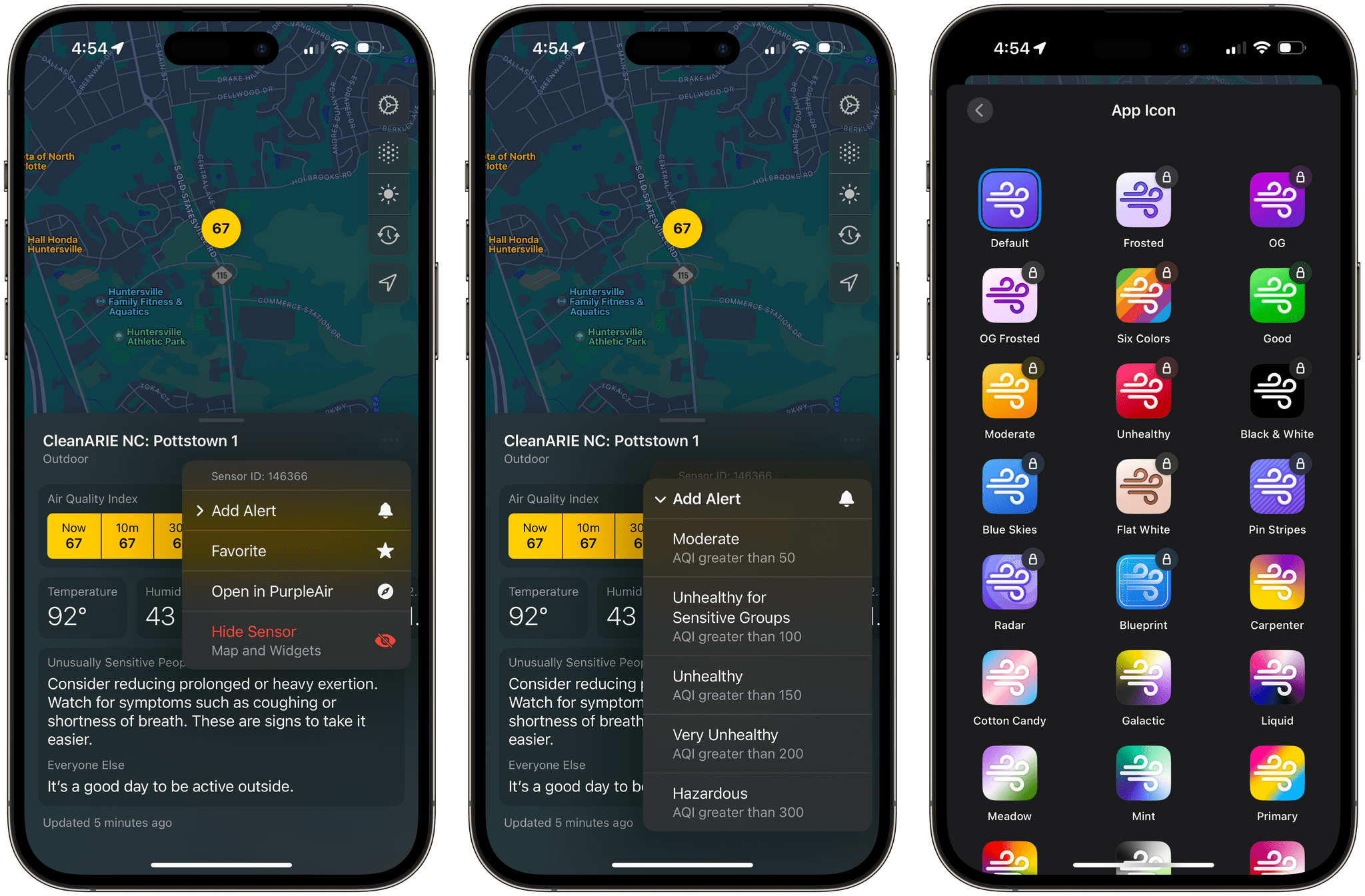 Paku is free to download but offers a subscription with additional features, including the ability to set alerts based on readings from a sensor when air quality reaches one of the scale's thresholds, such as Unhealthy or Hazardous. Subscribers can also access data from private sensors you can install at your home and pick from a long list of alternative icons. Of those paid features, notifications strike me as the most useful unless you don't have a nearby public air quality sensor that you can rely on. I'm fortunate in that there's a sensor less than a quarter mile from my home, so I haven't felt the need to install my own sensor.
When I moved to North Carolina, I was struck by how clean the air was compared to the Chicago suburbs. I'd tracked air quality on and off in my old neighborhood, but when I got to North Carolina, there wasn't any reason to do so. Every day started and finished solidly in the green zone. That changed last week, and although there are areas with far worse air quality than here, Paku is back on my Home Screen, helping me decide whether I should get my exercise outside each day or do something indoors. I could use the AQI data from a full-blown weather app, but I love Paku's clean, focused design and the fact that I can set its widgets to a sensor that's just down the street from my house.
Paku is available on the App Store as a free download. Notifications, private sensors, and alternative icons require a subscription that is $1.99/month or $13.99/year.