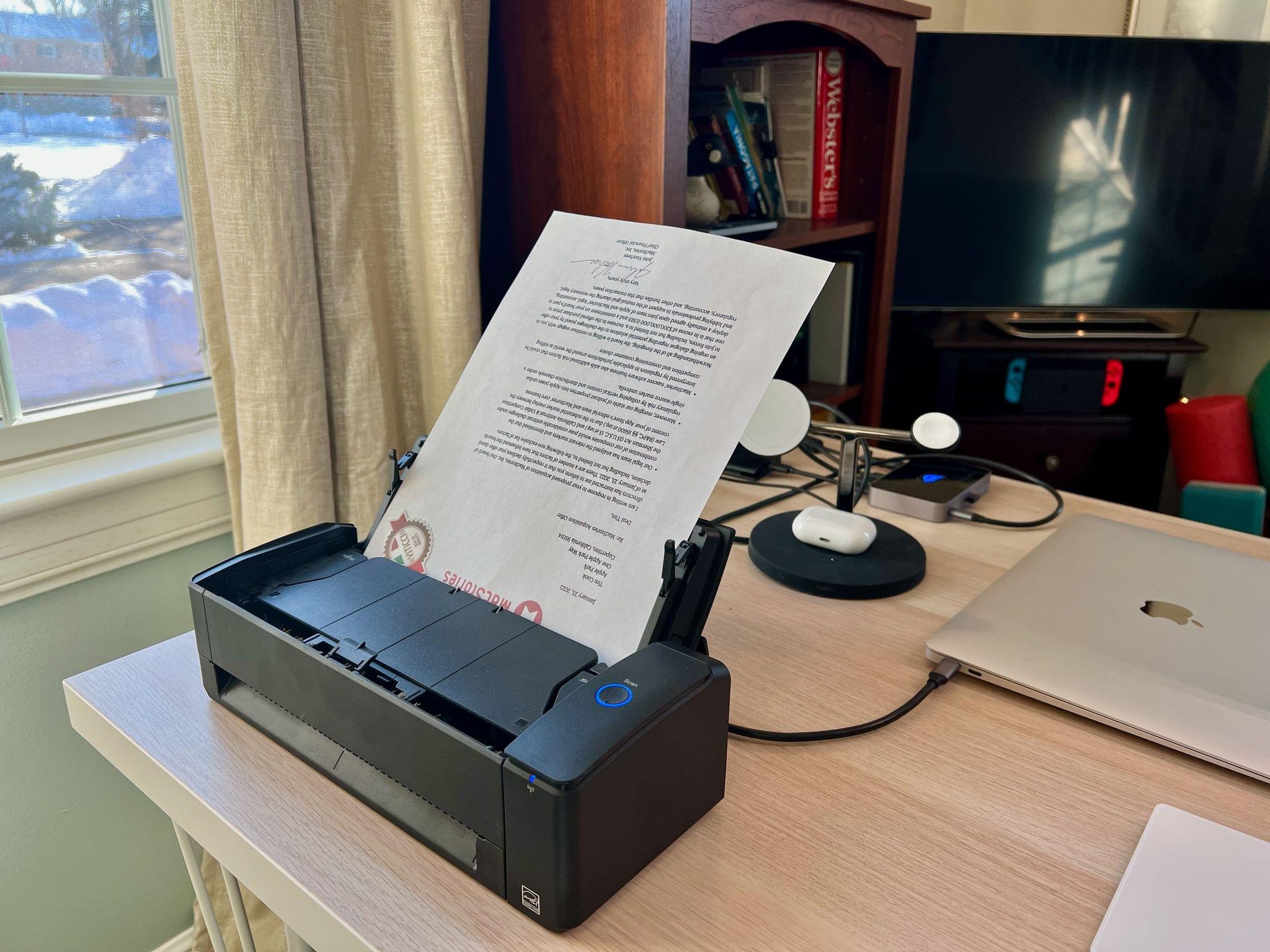 Editor's Note: The Fujitsu ScanSnap iX1300 Is Perfect for Anyone Whose Paperless Workflow Still Start with Paper is part of the MacStories Starter Pack, a collection of ready-to-use shortcuts, apps, workflows, and more that we've created to help you get the most out of your Mac, iPhone, and iPad.
I've had a couple of different Fujitsu scanners over the years. In the early days, I used my scanner a lot. It helped me cut down on the paper in my life, which was great. However, over time, I found myself using my scanner less and less as banking, taxes, bills, and other paper-heavy areas of life became increasingly digital. As time wore on, and I found myself rarely, if ever, turning to my library of scanned documents, I also realized I didn't need to scan and keep as much as I'd thought.
So when Fujitsu sent me their latest ScanSnap iX1300 scanner to try, I was skeptical. I wondered if there was still a place for scanners in the home or whether the many excellent scanning apps available on the iPhone and iPad were good enough. For most people who don't need to scan more than a few pages of paper ever so often, I think apps or a scanner built into a home printer are adequate. However, if you run a business with workflows that involve paper, you're working from home in a paper-oriented industry, or you simply find yourself needing to digitize paper documents regularly for whatever other reason, the iX1300 is an excellent choice.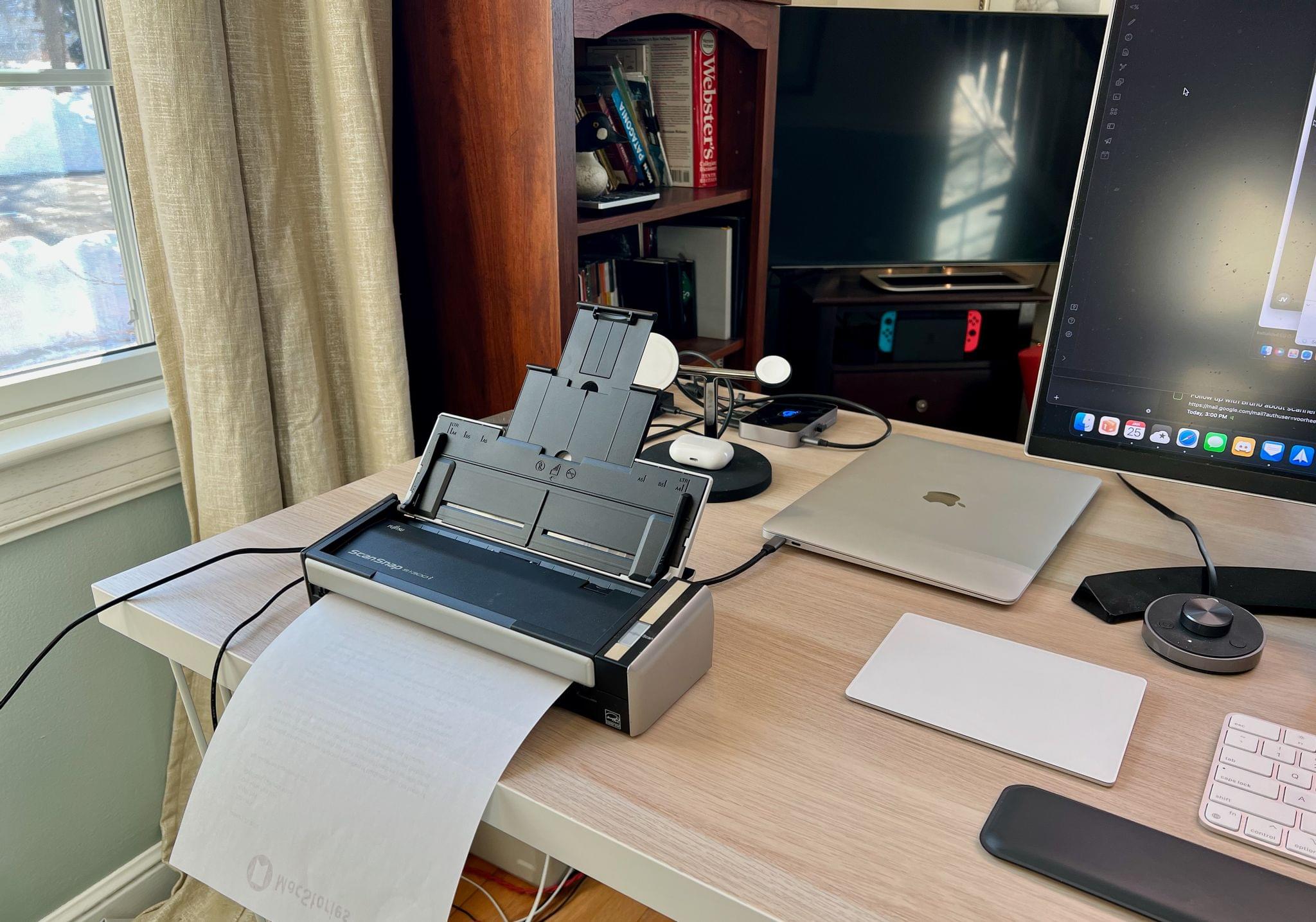 What's fascinating to me about the ix 1300 is that it's actually slightly bigger than the ScanSnap S1300i model that I already owned, but I would never have guessed it. That's because the way the two scanners work is quite different, which makes a considerable difference in how much space they demand. However, that's not the only edge the newer iX1300 has, so let's take a closer look at what sets it apart from its predecessor.
My older scanner is a little smaller than the iX1300, but I didn't realize that before comparing them side-by-side because the desk space of each option demands is substantially different. The S1300i takes paper in the top inserted top-down with the front facing the back of the scanner tray. Each page scanned is spat out the front of the device parallel with the surface on which it's sitting. That means you need enough space for the scanner's footprint, plus room to collect the pages deposited in front of the scanner. Otherwise, the sheets you scan will be scattered across the floor.
The iX1300 has a similar scanning tray configuration, but you insert the paper top-down facing the front of the scanner. Instead of spitting the scanned pages back at you horizontally on the table the scanner is sitting on, the pages loop back up and collect vertically at the front of the scanner. Here's a video to show you how it works:
As you can see, the iX1300 is quick, scanning at 30ppm. If you're scanning dozens of pages, you may feel like you're waiting, but a handful of pages is finished before you know it.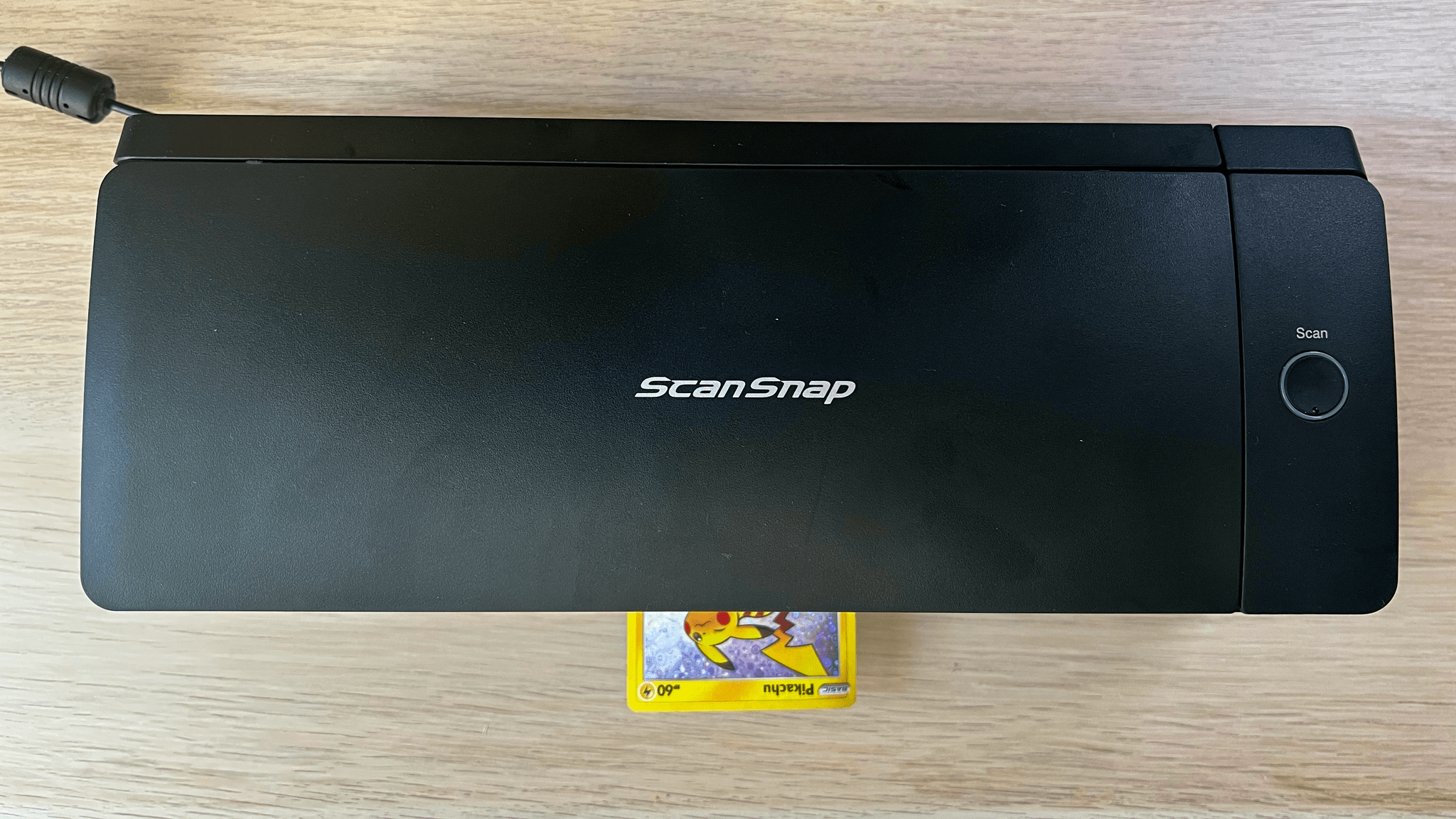 Another nice feature is that the iX1300 can be fed documents from the front, which is used for thicker documents. I've used the front loader to scan passports and driver's licenses, which the scanner sucks in, scans, and spits back out the front in a couple of seconds. Those aren't the kind of documents I scan often, but it just so happens that in the 10 weeks or so that I've been testing the iX1300, I flew to Europe and had to provide a copy of a driver's license to my bank, so maybe that kind of scanning is not as unusual as I thought.
Fujitsu doesn't advertise the iX1300 as a photo scanner. It's primarily for documents, but I tested it with some old family photos that we wanted to send to a friend too. The pictures were old and faded, so the quality of the scan mattered less than the cleanup I was able to do with Pixelmator Pro. From a scanning standpoint, though, the process was fast and painless.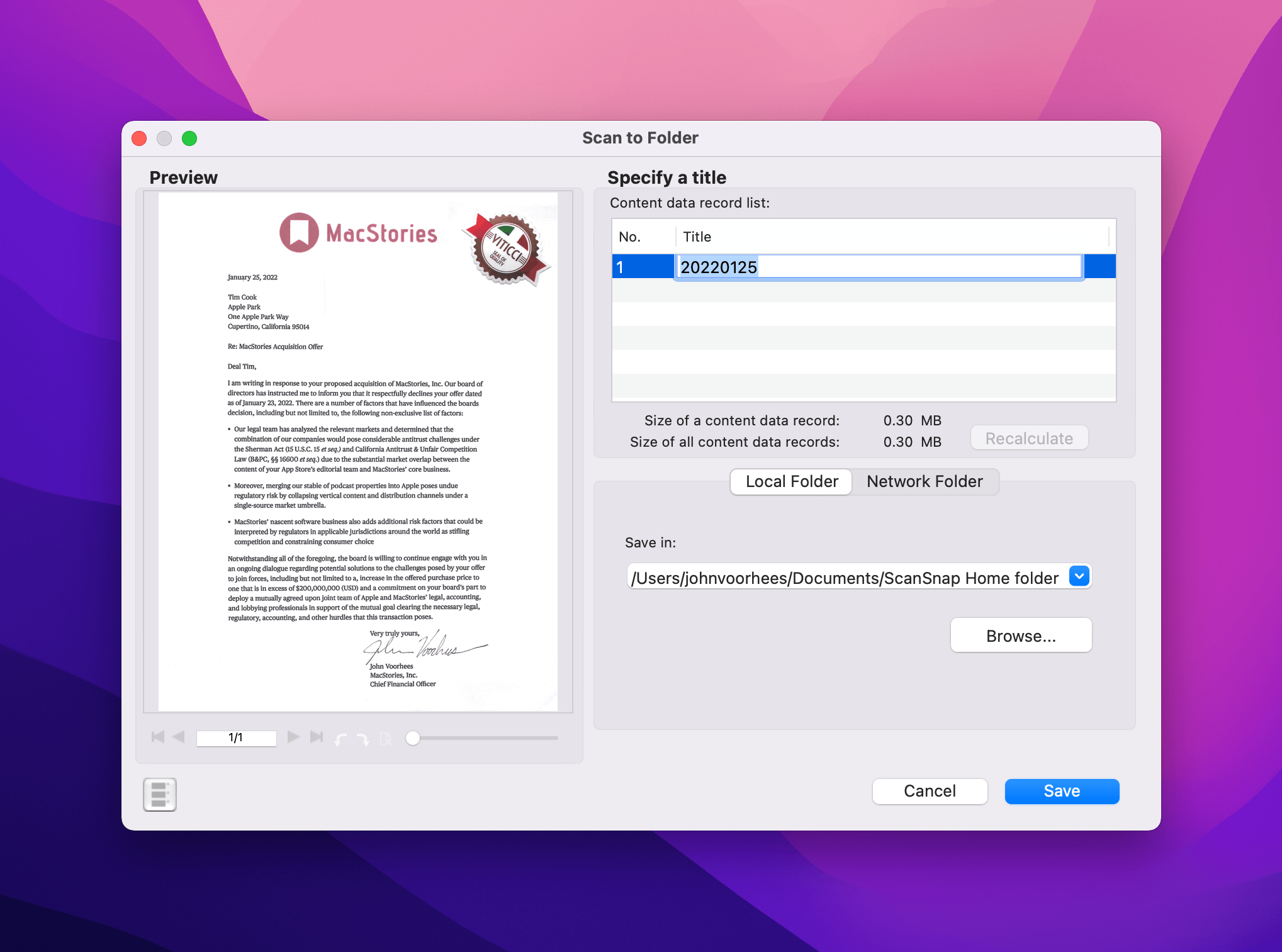 One feature I've appreciated more than I expected is the iX1300's WiFi support. It's easy to connect the scanner to your WiFi network. Once set up, scans are sent to your Mac, running the ScanSnap app wirelessly. The advantage of WiFi support is flexibility. Although the scanner can be connected using a USB cable, its absence when using the iX1300 in WiFi mode allows you to put it out of reach of your Mac. It's a small thing, but because I don't need the scanner daily, I can plug it in an out-of-the-way place where it's still ready to scan. In contrast, I used to keep the S1300i unplugged and in a drawer, which meant more time to set it up, so I used it less. Now, the iX1300 sits on a bookshelf, plugged in, and ready to go whenever I need it.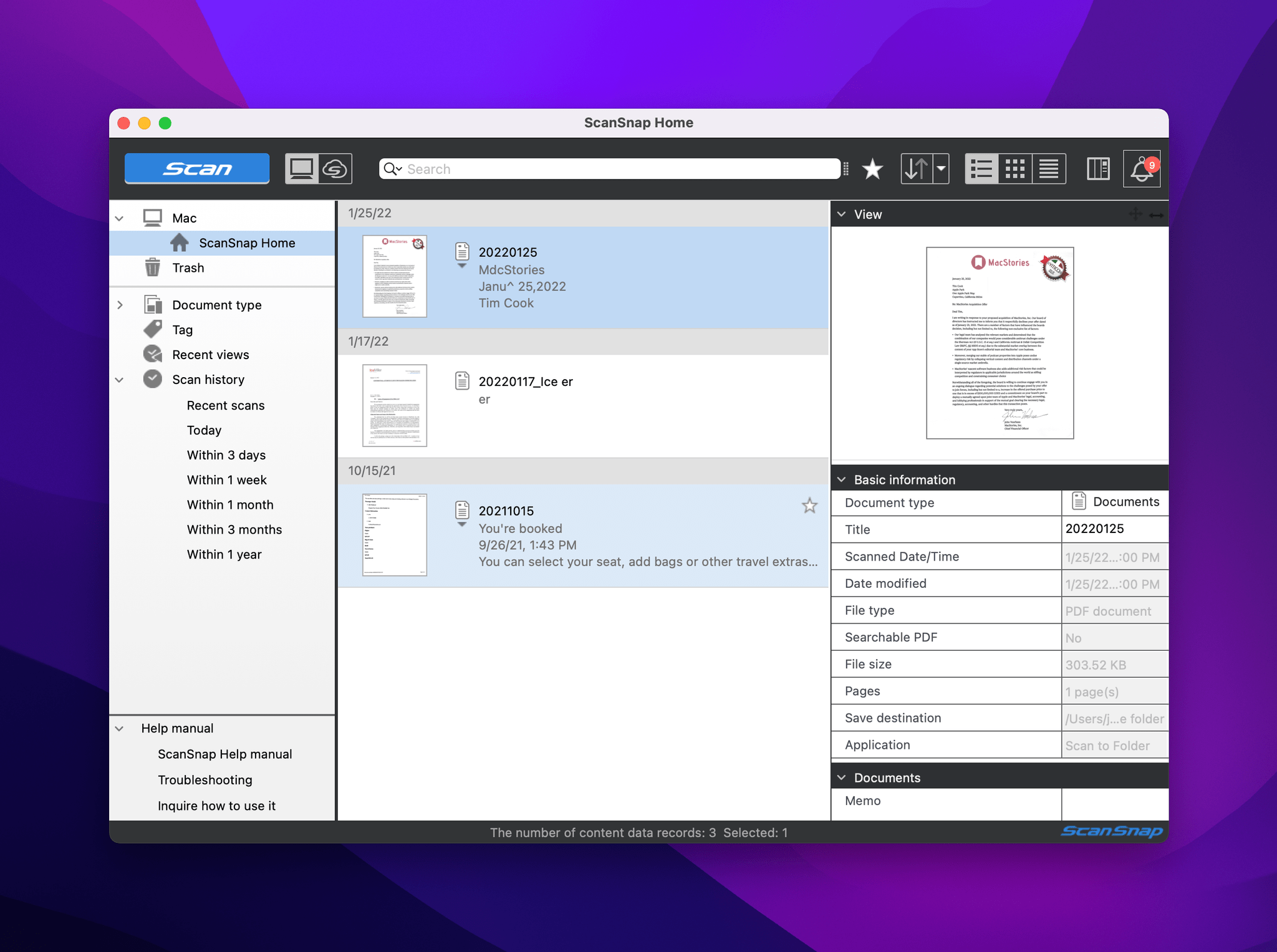 What's not substantially improved from my older scanner to this one is the ScanSnap Home app, which gets the job done but pushes its document management system and cloud service a little more than I'd like. That said, ScanSnap Home works well on an M1 Mac, and I haven't had any trouble managing my documents once they're saved to my Mac.

Scans can be initiated from an iOS or iPadOS device too. The ScanSnap app is very simple, but tap its Scan button, and any document in the iX1300 will immediately begin scanning and be delivered to your iPhone or iPad over WiFi. You can do simple edits like page rotation in the ScanSnap app, but you're best off using the share sheet to store your scanned documents in Files or another file provider because the ScanSnap app's storage doesn't show up in Files.
---
The ScanSnap iX1300 is currently $280 on Amazon, so it's a relatively substantial purchase that I wouldn't suggest anyone make if they only scan a page or two a month. However, if paper documents are still something you need to deal with regularly, the iX1300 is an excellent choice. Especially if you have limited space, such as in a home office, and speed matters to you, this is a much better option than trying to use your iPhone or a clumsy flatbed scanner built into a printer.
The ScanSnap iX1300 comes in black and white and is available from Amazon and other retailers.
You can follow the MacStories Starter Pack on our hub, or subscribe to the dedicated Starter Pack RSS feed.