Finalist is a new iPhone and iPad task manager that combines elements of note-taking apps, Kanban boards, and calendar apps in a unique and interesting way. The result is a lightweight app that's simple and quick to use but unlikely to replace a fully-featured task manager for most users.
Finalist is organized into three primary tabs: 'Today,' 'Monthly,' and 'Lists.' From the Today tab, you can add tasks simply by tapping on the screen and starting to type. It's a lot like creating a checklist in Apple Notes.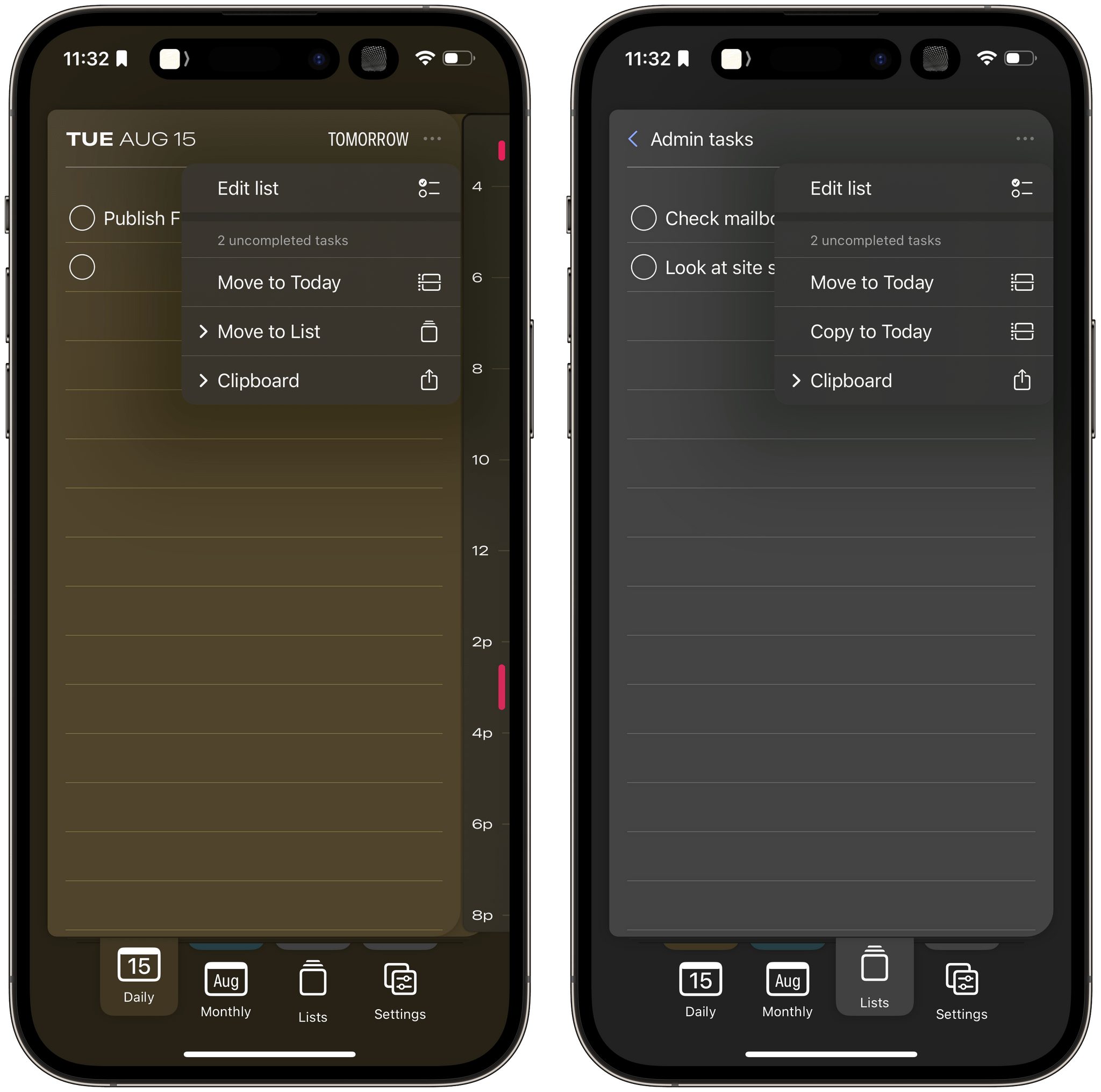 Long-pressing a task allows you to manually reorder your list or access a context menu to copy the task, enter a bulk-editing mode, or delete the task. From the app's Today view, the menu button next to the date lets you kick all incomplete tasks to tomorrow. If you're looking at another date, the same menu enables you to move all tasks to today. There are also options to move all incomplete tasks to a new or existing tasks list or copy them to the clipboard. However, you cannot move tasks from one day to another from the Today tab.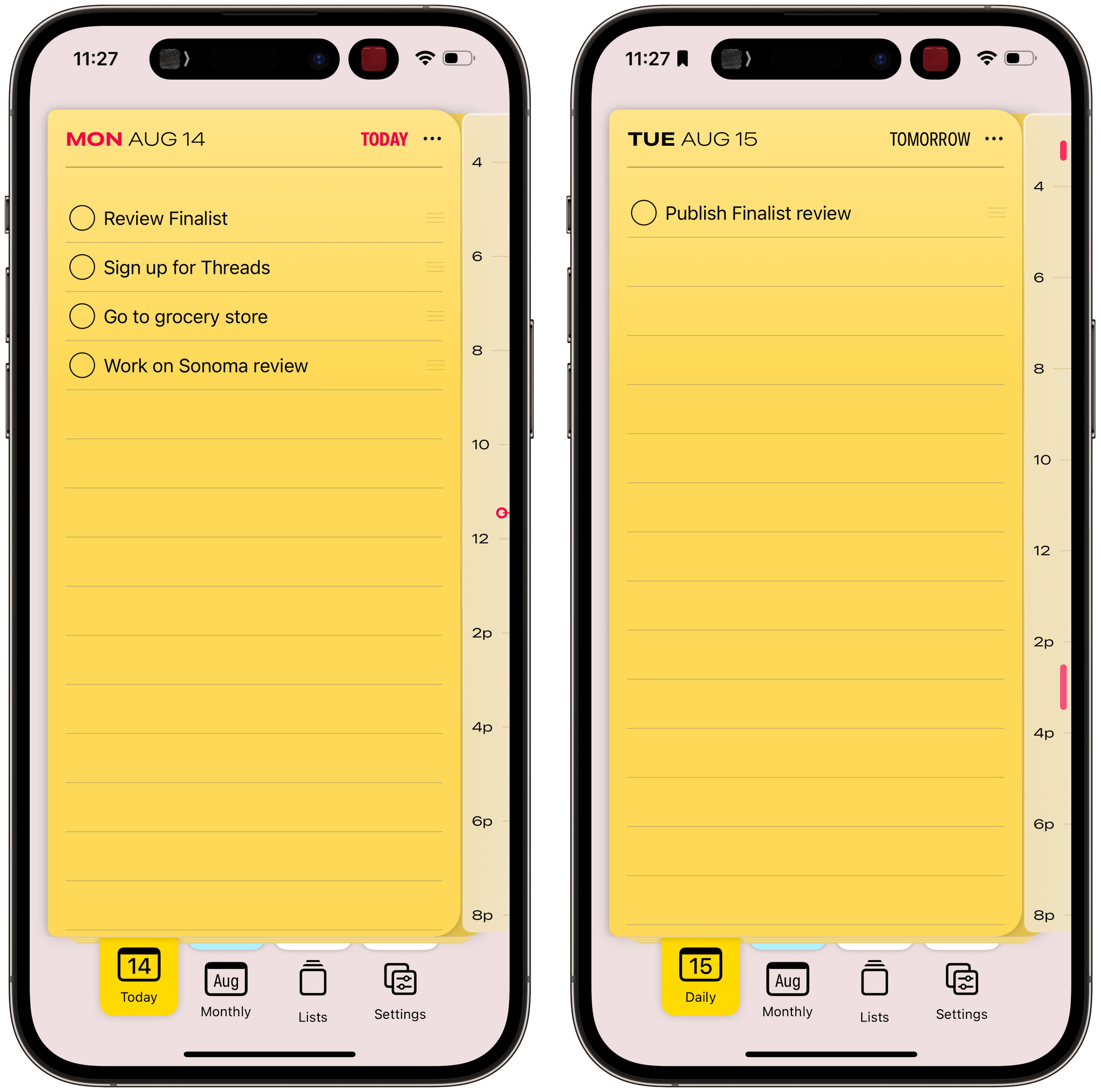 Swiping left and right from the Today tab allows you to move from one day to another, viewing any tasks you've added to those days. There's also a calendar peeking out from the right edge of the screen. Swipe from that edge and any calendars you've activated in Finalist's settings will appear, helping you balance your day between events and tasks. On the iPad, the calendar strip is always visible in the Today tab.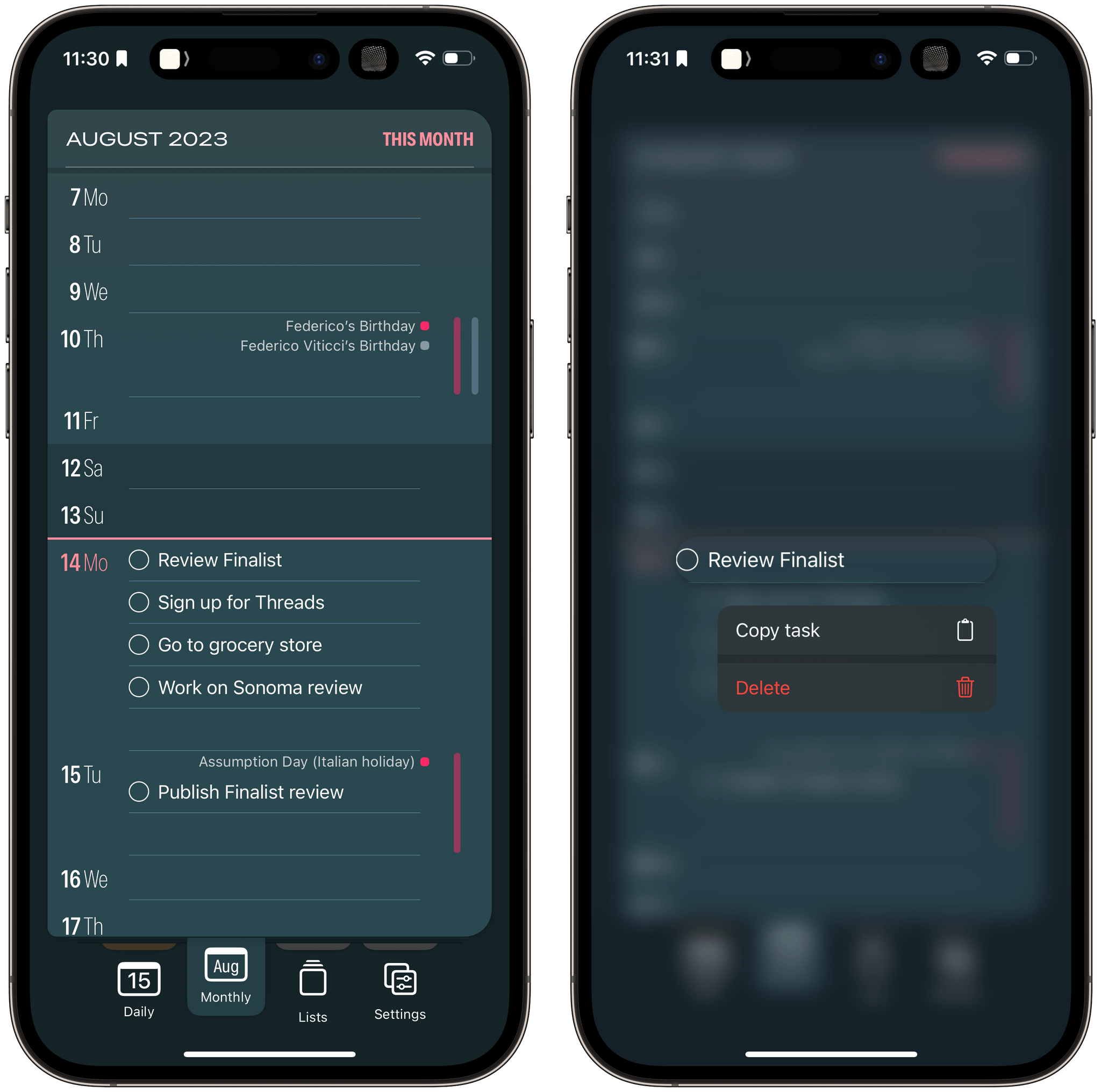 Finalist's Monthly view works similarly but with the benefit of seeing multiple days as you scroll through the days of the month. Swiping left and right moves between months. Tasks can be added in this view by tapping on any date, but there aren't any bulk editing options. Nor can you drag tasks between days of a month.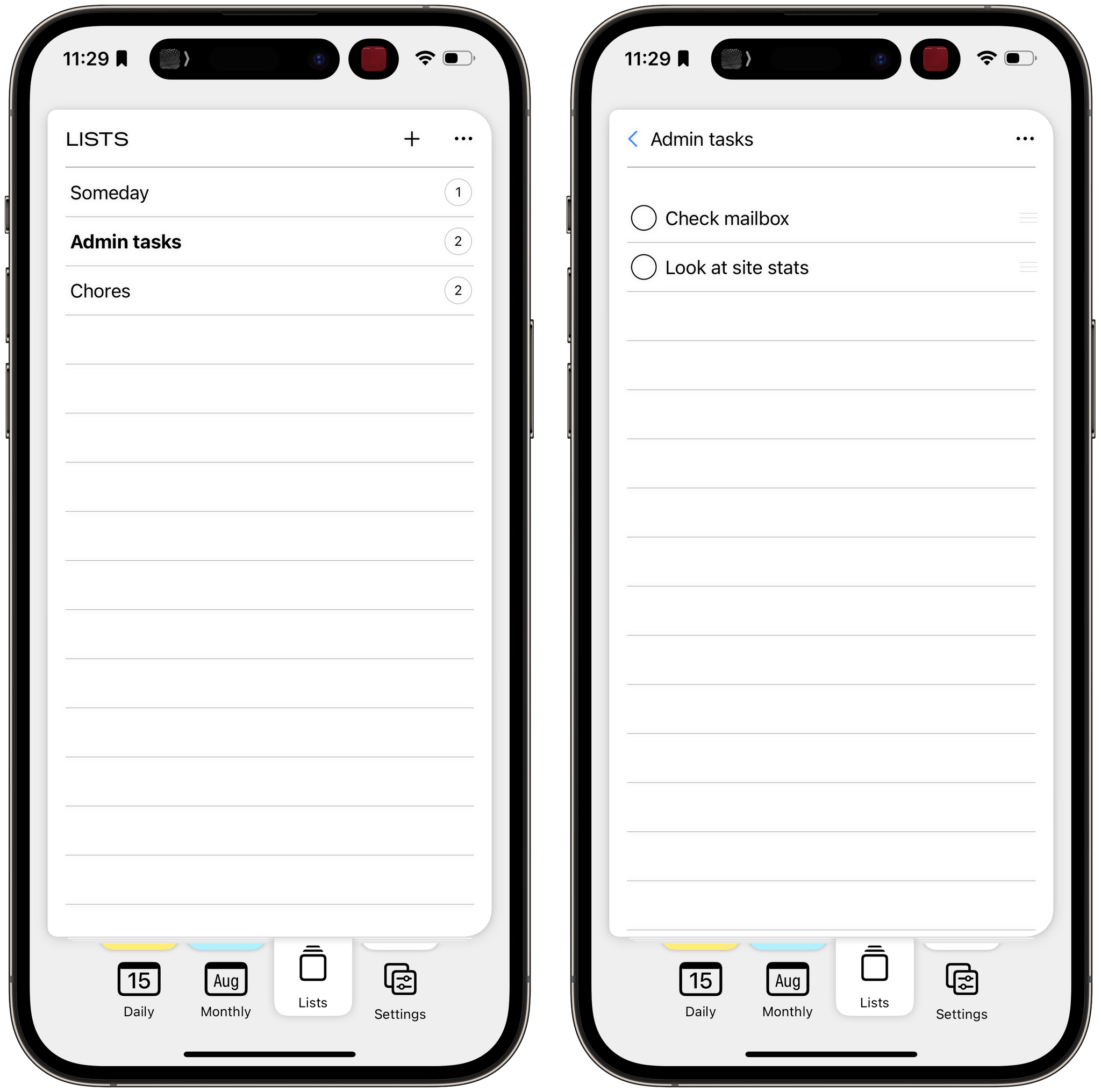 There's also a Lists tab for creating multiple lists of undated to-dos. Each list includes a menu button for bulk deleting or reordering your lists. From here, you can also move or copy all tasks to your 'Today' list or the clipboard. I like the copy option a lot because it lets you use lists as templates for multi-step tasks. You can also check off tasks here without moving them to a date.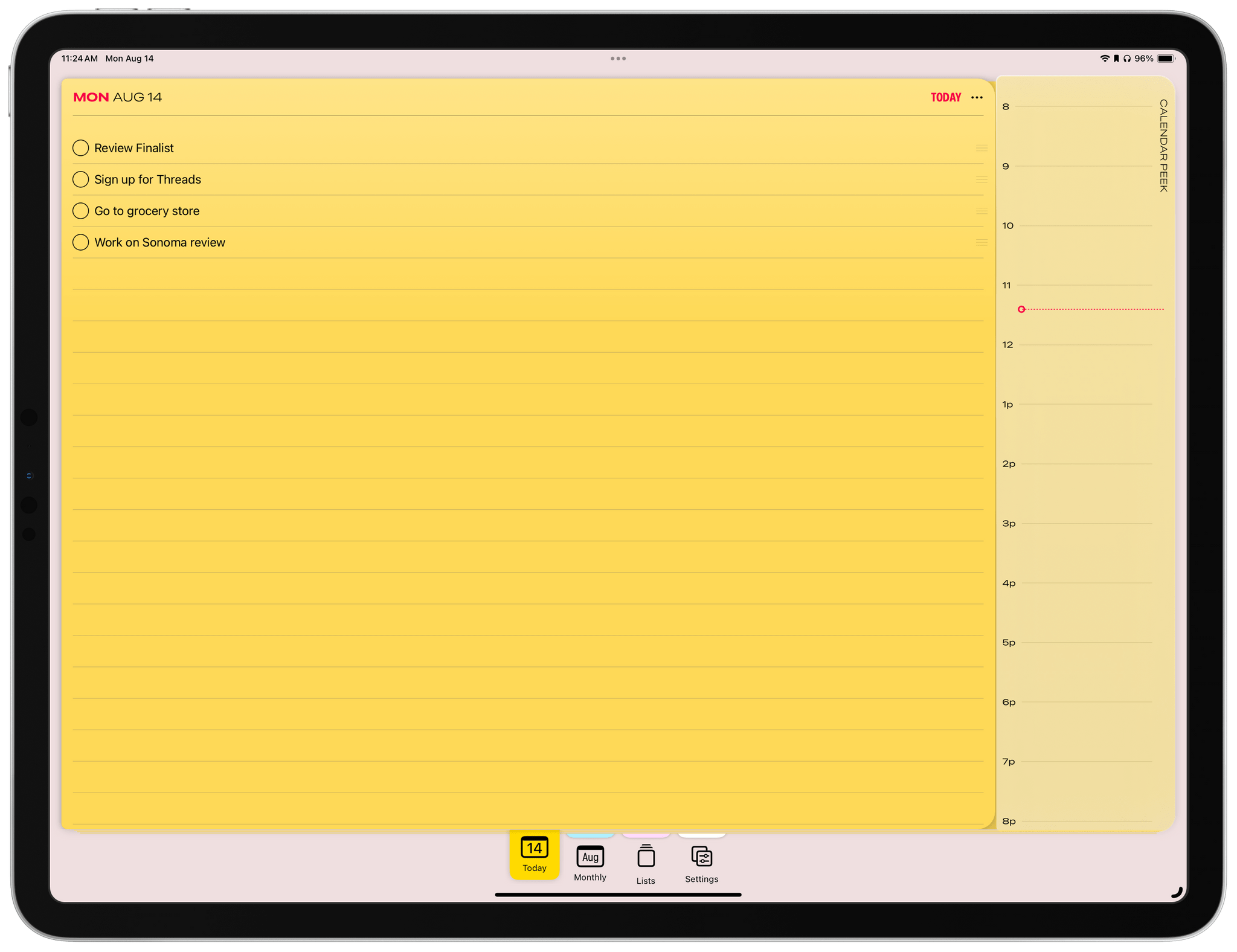 Finalist's Settings tab allows you to decide which of your calendars show up in the app, whether you include calendar events with your task lists, and the time when your day starts and ends. There are also options in Settings for whether completed tasks are displayed, the background colors of each tab, the text size, and the app icon.
Finalist also includes small medium, and large Home Screen widgets that display your Today list and eight Shortcuts actions to open various lists, add and move tasks, and refresh the app's widgets. The widgets are well done, but in a future update, I'd like to see the ability to customize them to display more than just the Today list. Also, Finalist should integrate with the share sheet to make it easier to add URLs and text to the app's lists. Currently, that can only be accomplished with the help of a shortcut.
I love how easy it is to create tasks on a particular date or list. The calendar peek option combined with the daily and monthly lists is excellent for balancing a busy schedule, too.
I've found that Finalist works best for tasks and chores that I don't like to include in my primary task manager, like errands and household chores. I like to keep a list of those sorts of tasks, so I don't forget about them, but it's often too much to include them among work and bigger personal projects.
Finalist doesn't work as well for my project-based tasks. I could use a list for each project, but because you can only move entire lists of tasks to the Today list, there isn't enough flexibility in scheduling tasks. I could copy and paste individual tasks to move them to any date and then delete the original copy, but that's too cumbersome. Also, a lot of my work tasks are recurring tasks, and it's not possible to create a repeating task in Finalist. However, for creating quick lists of on-off ephemeral tasks where you might have used Apple Notes' checklists in the past, Finalist is worth checking out.