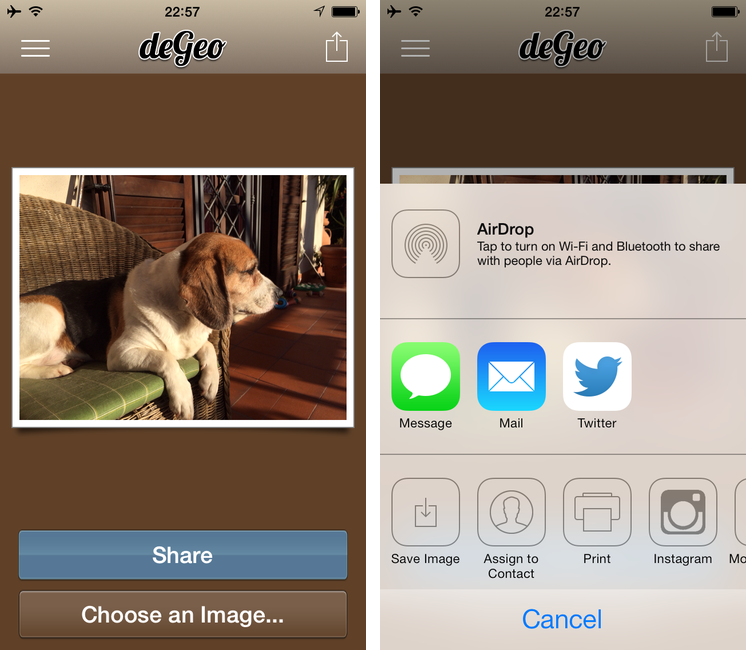 If you take pictures on your iPhone (or iPad) and you've allowed Apple's Camera app to use your location, your photos will contain hidden, uneditable geotag data that are embedded in the files and that you can't remove using system apps. Last week, I covered Photos+ by Second Gear, an alternative Photos app that allows you to view locations attached to photos through inline map views. deGeo, a $0.99 app for the iPhone and iPad, takes the opposite approach: it's a geotag remover that lets you pick photos from your Camera Roll, clean them up to remove metadata, and share them or export them again with no location data attached.
While I generally like to store my photos with location metadata, there are times when I want to share a picture without allowing people to look inside the file and see GPS coordinates of my location. For instance, my girlfriend and I recently moved to Rome, and I'm uncomfortable with sharing photos of our apartment/neighborhood knowing that, potentially, someone online could download the photo, read the metadata, and see where I live.
deGeo is simple and it gets the job done in one step. You open the app, pick a photo, and share it or save it again with no embedded metadata. You can confirm that a photo has embedded metadata by swiping to the left to reveal a Map panel that will show coordinates, a readable location name, and date/time stamps; gestures are also supported to share (swipe down) and choose another photo (swipe up). After running a photo through deGeo, I opened Photos+ and, indeed, I could see that the app had removed both location as well as time and device-related metadata (i.e. people won't be able to tell whether a picture was taken on an iPhone or an Android phone).
Sharing options include Instagram, Twitter, Dropbox, Flickr, and Evernote, and you can also give the app multiple photos at once, although in that case only some services that support multiple files will be enabled (like Mail and Messages). I shared photos on Twitter and Dropbox from deGeo, redownloaded them, and confirmed that the app had indeed erased metadata from them.
deGeo could use a nicer icon, a revamped sharing menu (perhaps something like OvershareKit?), and a URL scheme to launch the app in "last photo taken" mode, which would make for a good way to quickly share a picture you've taken without revealing your location.
deGeo is useful and provides a feature that's absent from Apple's apps and many other third-party replacements. It's only $0.99 on the App Store.