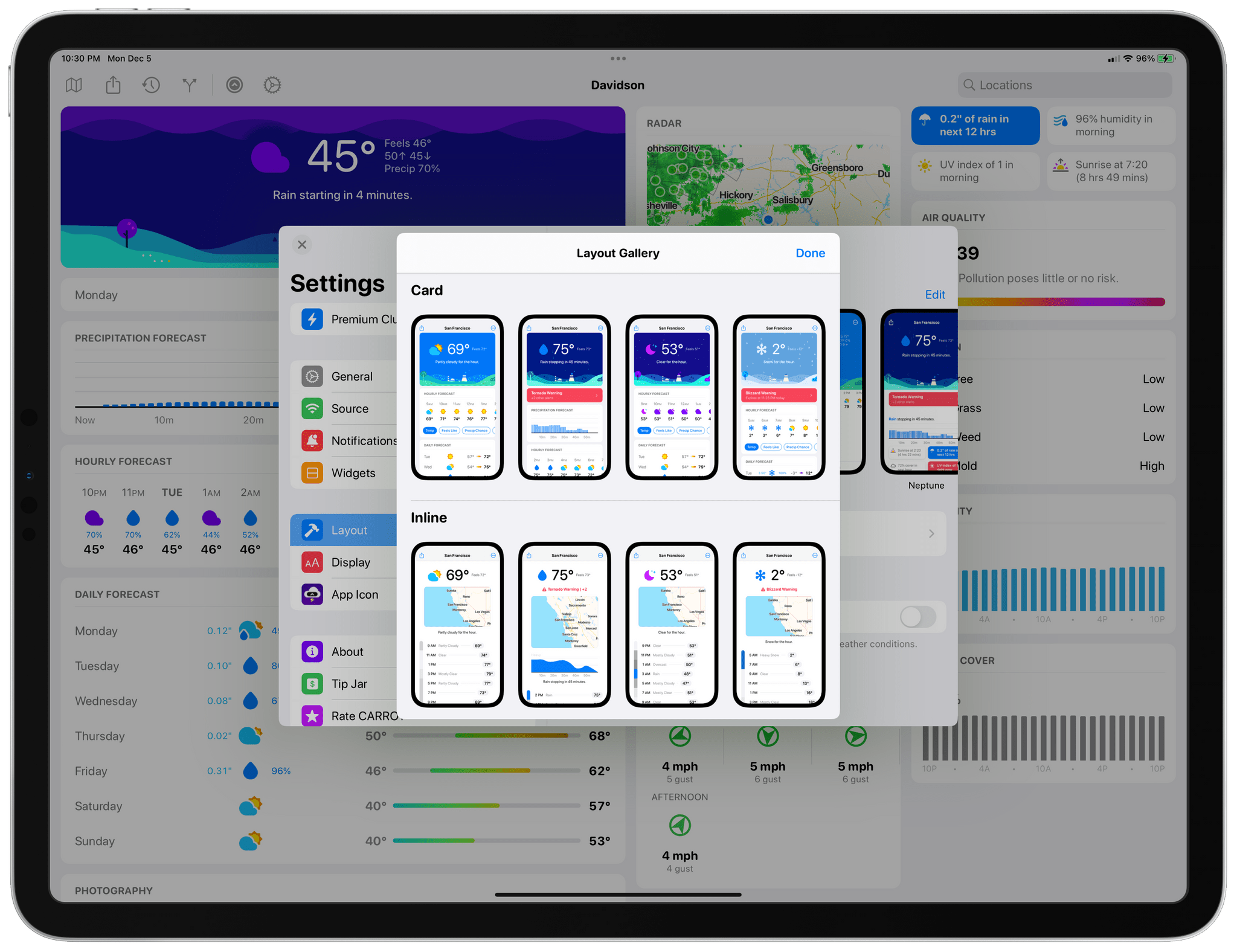 It's never been about just the weather when it comes to CARROT Weather, and version 5.9 of Brian Mueller's app is no exception. With the latest update, you can participate in bonding activities with CARROT. Yes, it's as strange as it sounds, and a lot of fun too. Still, if getting to know CARROT better isn't your thing, the update has also expanded Live Activities, updated the app's layout UI, and more.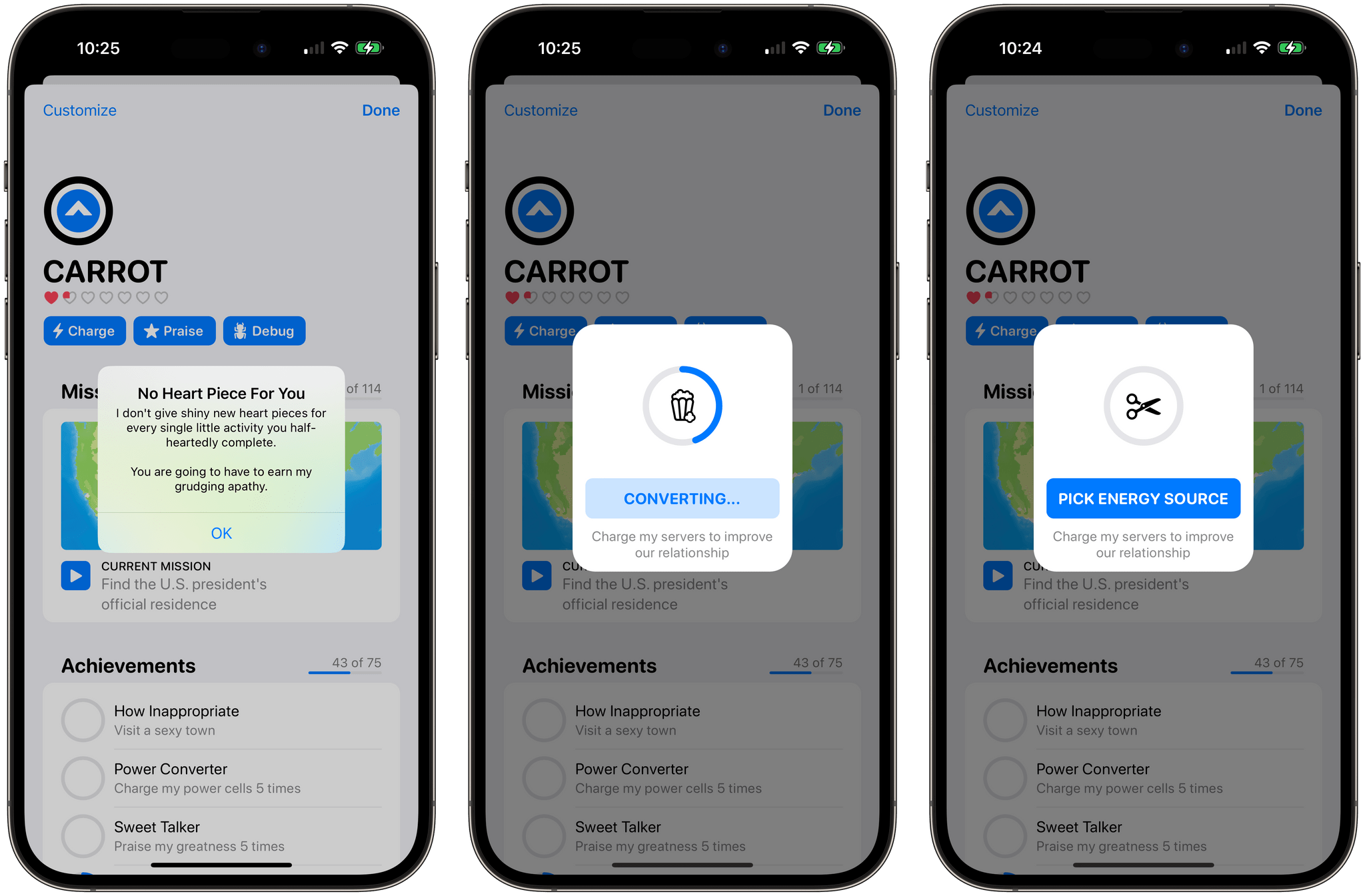 Tap the CARROT icon in the toolbar to get to know her better through a series of mini-games. At the outset there are three games:
Charging CARROT's batteries by feeding her an assortment of objects that rotate roulette-wheel-style onscreen until you tap a button
Stroking her ego by repeating nice things to CARROT, which uses speech recognition to make sure you get the compliments right
Debugging CARROT's code by shaking your device
But relationships take time, so you'll find that after a while, you'll stop earning hearts and have to wait before you can continue earning your way into CARROT's good graces.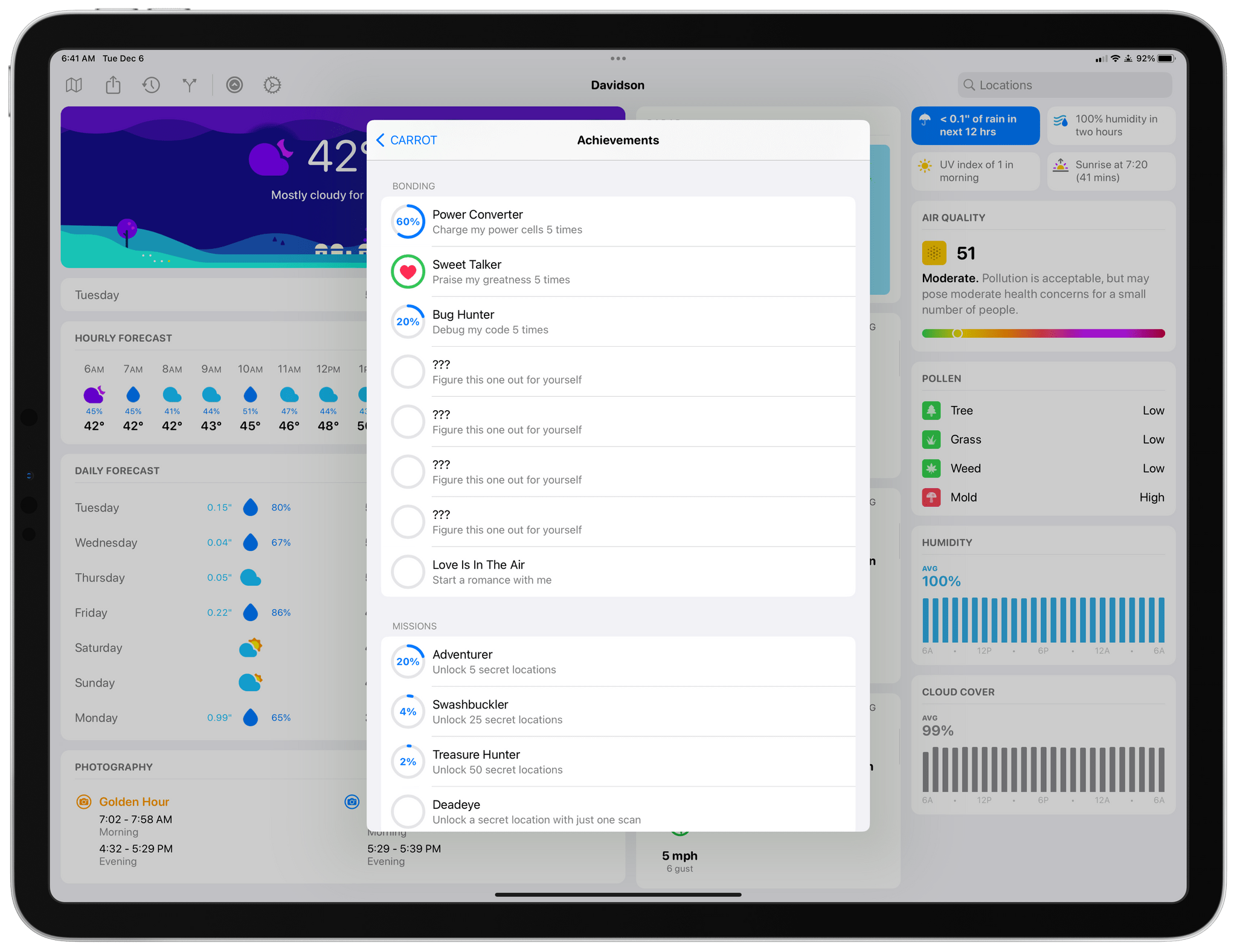 Bonding with CARROT is part of the app's Achievements system, and you'll see if you visit that section of the CARROT menu that there are additional mystery tasks available to complete once you fill op the rings of the first set. Fill enough rings, and you can even start a romance with CARROT.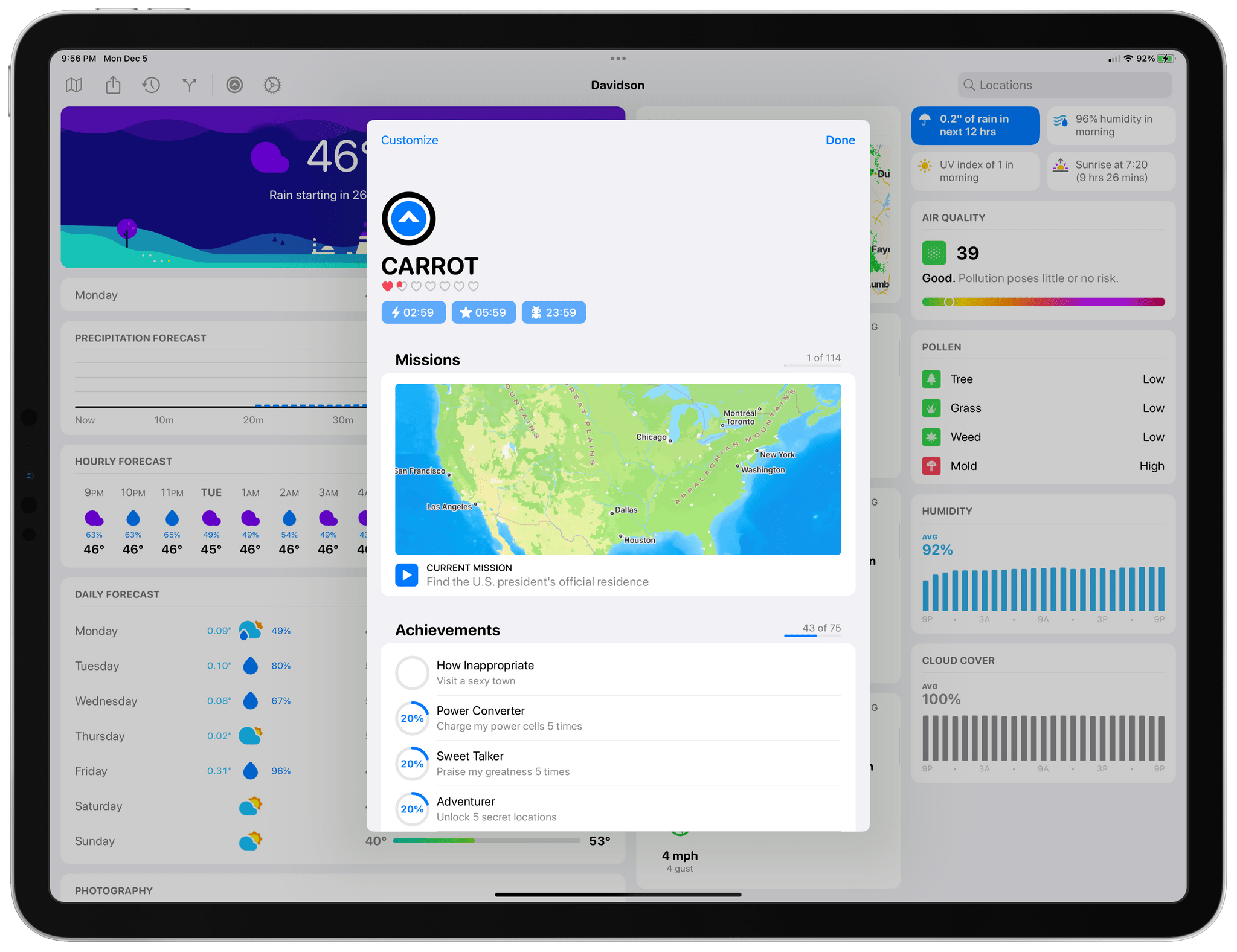 I love CARROT's new bonding activities. They're fun and breathe new life and personality into the character that's been abusing users for years as they check the weather. I've only begun earning hearts, so it remains to be seen where this all will lead, so stay tuned to MacStories for updates on that, I guess.
Live Activities have been expanded in CARROT Weather too. When the feature launched with iOS and iPadOS 16, it only supported rainfall. Now, however, snow storms and other precipitation will be tracked on the Dynamic Island and Lock Screen.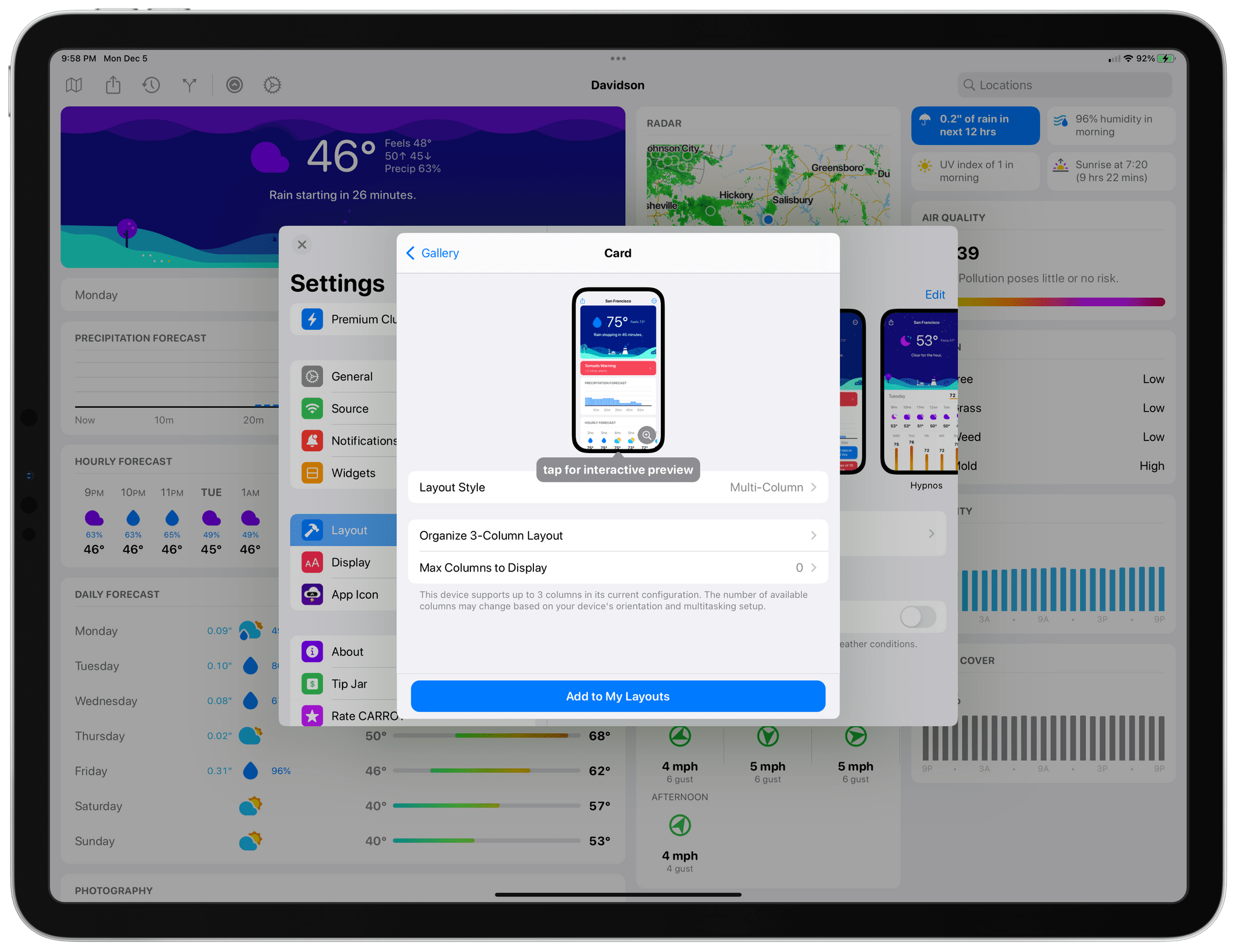 Another nice addition to today's update is the introduction of a redesigned layout section. The section is now organized by type of layout, and each layout is interactive, allowing you to scroll through it to see all of the included components. That may seem like a small change, but it makes deciding on a base layout you can then tweak much faster than before.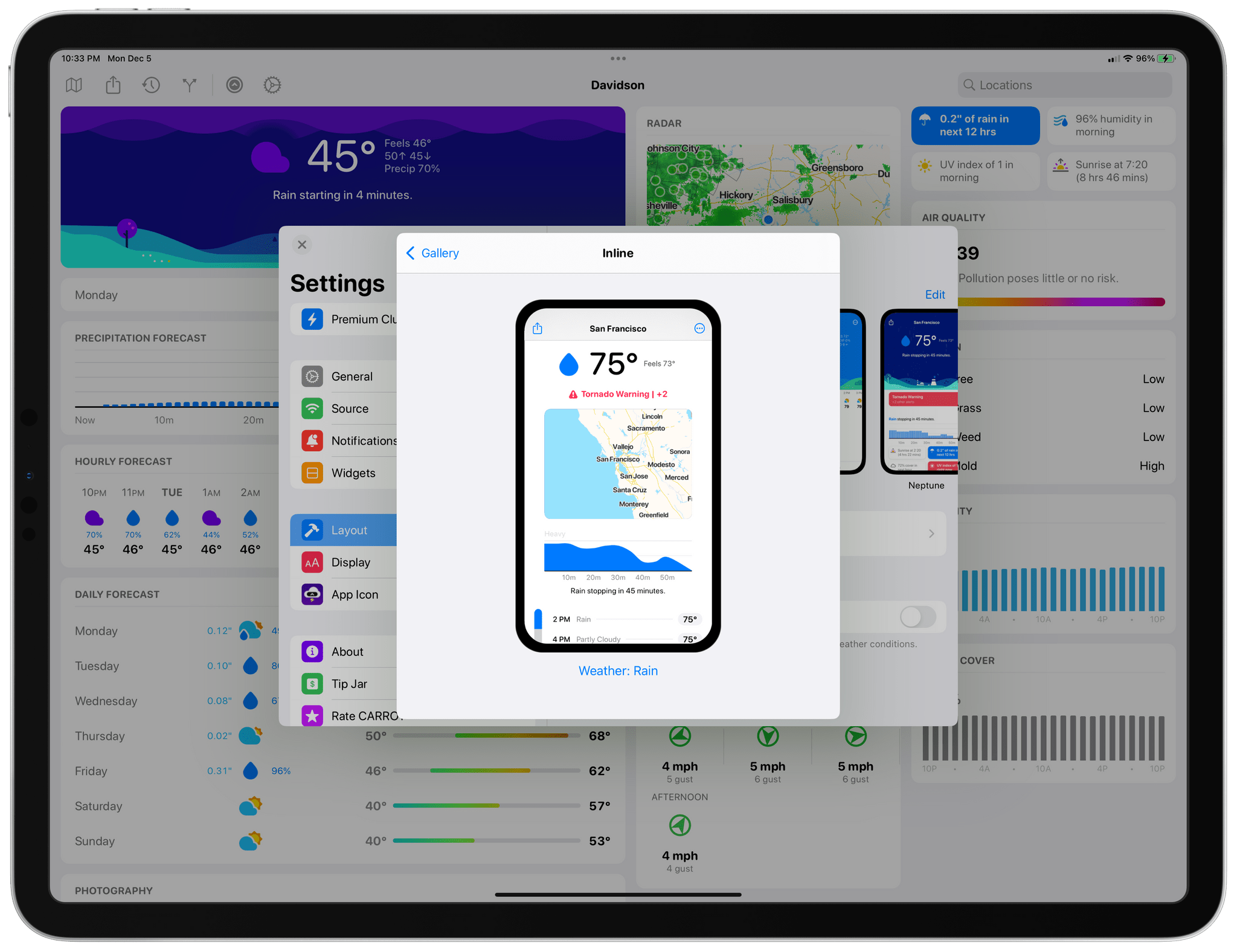 There's also a new 'inline' layout type that uses vertically oriented charts to display weather data. I'm personally not a big fan of vertical charts like this because of the scrolling they require, but they do a nice job of visualizing changing conditions, and Mueller says he's gotten a lot of requests for layouts like these. Finally, weather maps have added animated wind particles to visualize storms and other events.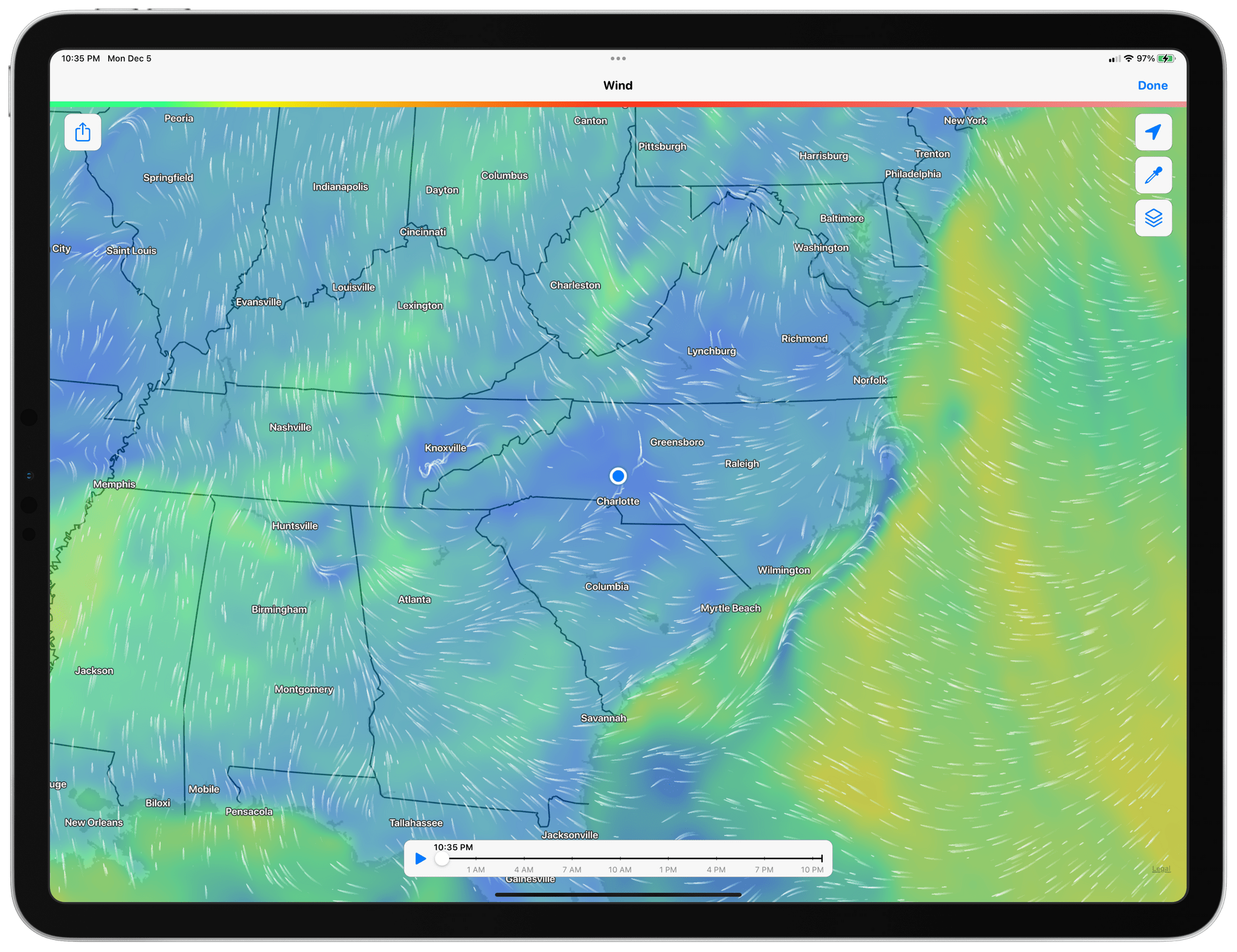 I've been a CARROT Weather subscriber for a long time and have been blown away by what Brian Mueller has done to create such a rich, customizable experience for his app's users. CARROT Weather has become the deepest weather app I've ever used from the standpoint of the data it offers, its customization, and its personality. Come for the new layouts with version 5.9, but stay and have some fun with CARROT. You'll have a blast.
CARROT Weather 5.9 is available as a free update to existing users. Some of the app's features require one of its subscriptions.