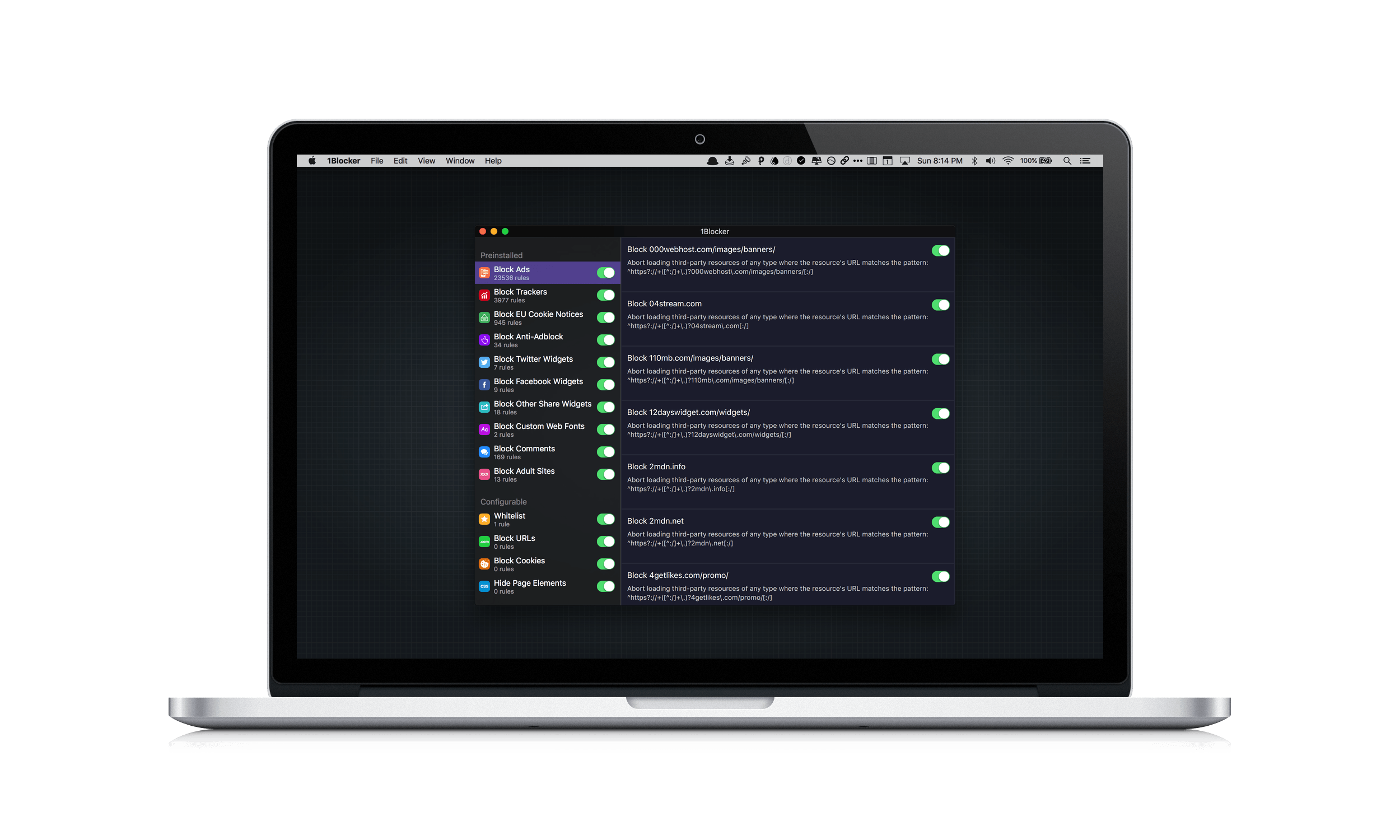 If you are familiar with 1Blocker for iOS, then you will have no trouble figuring out 1Blocker for Mac because the two are nearly identical. What Federico explained about 1Blocker for iOS in his iOS 9 review applies equally well to the Mac version:
1Blocker [is] an excellent all-in-one Content Blocker that can block ads, trackers, social widgets, Disqus comments, web fonts, adult sites, and that lets you create your own rules for URLs, cookies, and page elements to hide or block. 1Blocker is Universal and it comes with over 7000 built-in rules, which you can individually turn on and off.
Since that review was published a little over seven months ago, 1Blocker hasn't stood still. 1Blocker now has over four times as many built-in rules, each of which can be toggled on or off. In addition, 1Blocker includes a Web Inspector so you can test load times, site size, and the number of ads, trackers and widget scripts loaded for any website.
The major addition that debuts with 1Blocker for Mac is iCloud syncing among Mac and iOS devices. Sync will be an especially welcome addition to 1Blocker for users who create their own custom rules and who customize 1Blocker by turning off some of its over 28,000 built-in rules. 1Blocker for Mac also comes with a Safari extension that allows you to whitelist individual sites that as you visit them.
One thing, however, that is not carried over from the iOS version of 1Blocker is the ability to search for rules. With over 23,000 rules in the ad blocker rule category alone, it is simply not feasible to scroll through the alphabetical list of URLs. And while I suspect that most customers will opt to keep all ad blockers turned on, a search box and segmented control that filters blockers to show disabled, enabled, and all blockers would be welcome additions in a future update.
The only other content blocker that I have used with Safari is Ghostery, which is a Safari extension only, and does not support sync or custom rules like 1Blocker does. I have been happy with Ghostery's performance overall, but have to pause it occasionally when it breaks a website.1 I have been using 1Blocker for over a month and have found it to be as reliable, if not more so that Ghostery. Pages seem to load faster than with Ghostery, although because I am typically on a strong WiFi connection with my Mac, the difference is not meaningful. More importantly though, 1Blocker has yet to break a site I've visited. That may be because I have not been using it long enough, but even the ad-heavy sites I tested for this review were functional, albeit with a few unavoidable gaps created by missing advertisements.
Immediately after the release of iOS 9, dozens of content blockers were released by third-party developers. 1Blocker emerged from that crowded field as one of the best options for iOS. I expect the Mac version will be no different. Despite the Mac version's lack of search functionality, the ability to sync custom rules and the active development of the app makes 1Blocker the content blocker I recommend most often to anyone who is fed up with ad-heavy websites.
1Blocker for Mac is available on the Mac App Store for $4.99. 1Blocker for iOS is free on the iOS App Store with a $2.99 in-app purchase that unlocks all of the available rules.
---
To reload a page without invoking 1Blocker's rules, click and hold the reload button in Safari's address bar and choose 'Reload Without Content Blockers.' ↩︎