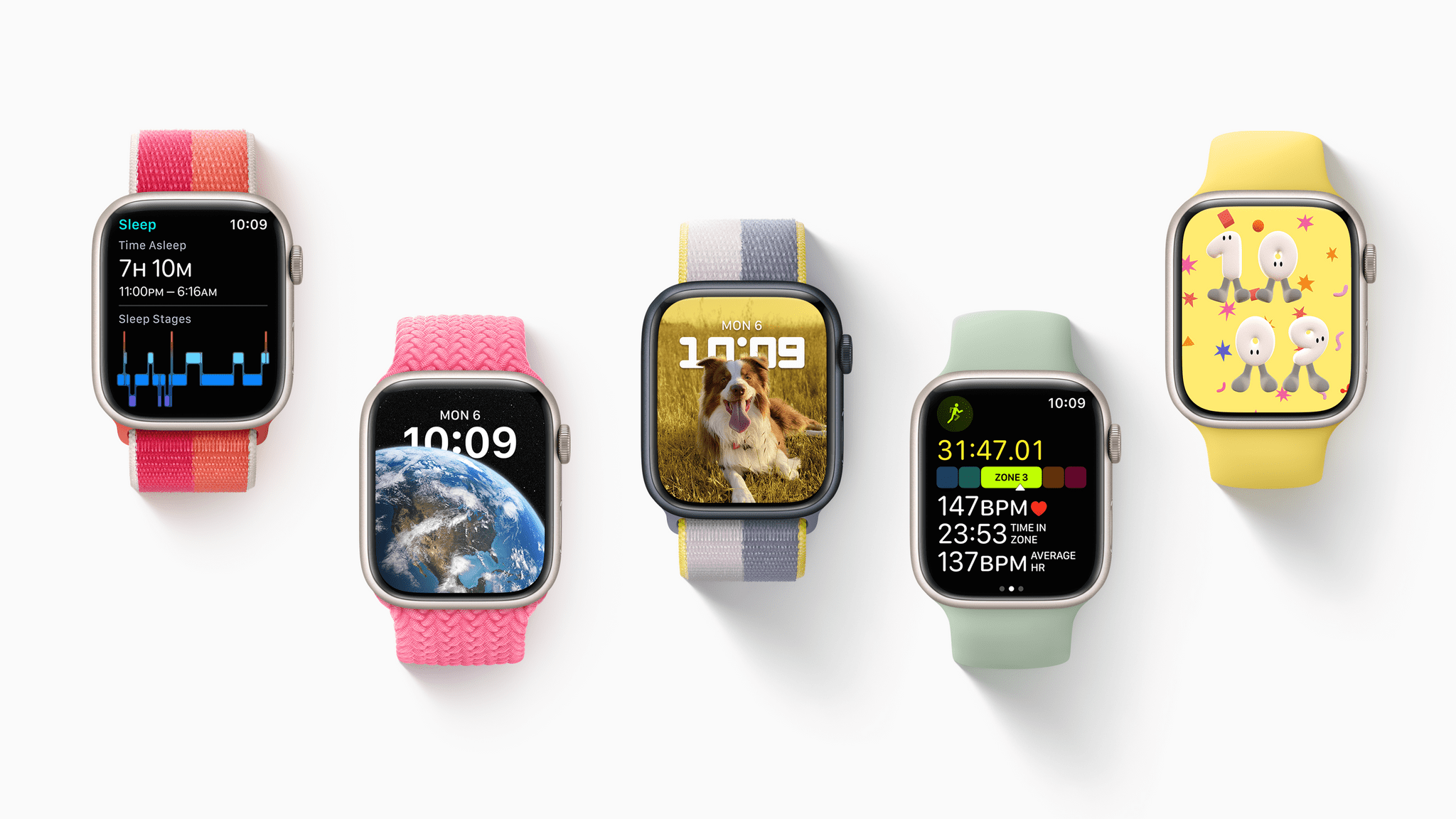 During yesterday's WWDC keynote event, Apple announced watchOS 9. As usual, health and fitness are the core areas of focus in the update, with the Workout app in particular getting packed with new features and metric views. The Sleep app will now track in-depth sleep stage data, and an all-new Medications app is making its debut as well. Throw in some minor quality-of-life system changes, a handful of new watch faces, and some nice accessibility improvements, and we're looking at a fairly standard watchOS update this year.
Health and Fitness
Health and fitness are the primary use cases for most Apple Watch wearers, so it's no surprise that watchOS 9 leans heavily into improvements in these areas. In recent years, most changes to the Workout app have come in the form of new workout types being added. This time around, Apple has done quite a bit more.
Workout
The Workout app in watchOS 9 will allow users to compose custom workouts for the first time ever. This includes assembling a custom workout using multiple other types of workouts, such as having a warmup workout followed by a running workout, and finishing with a cooldown workout. This feature can also be used to track triathlon workouts, where you first swim before biking and finally running.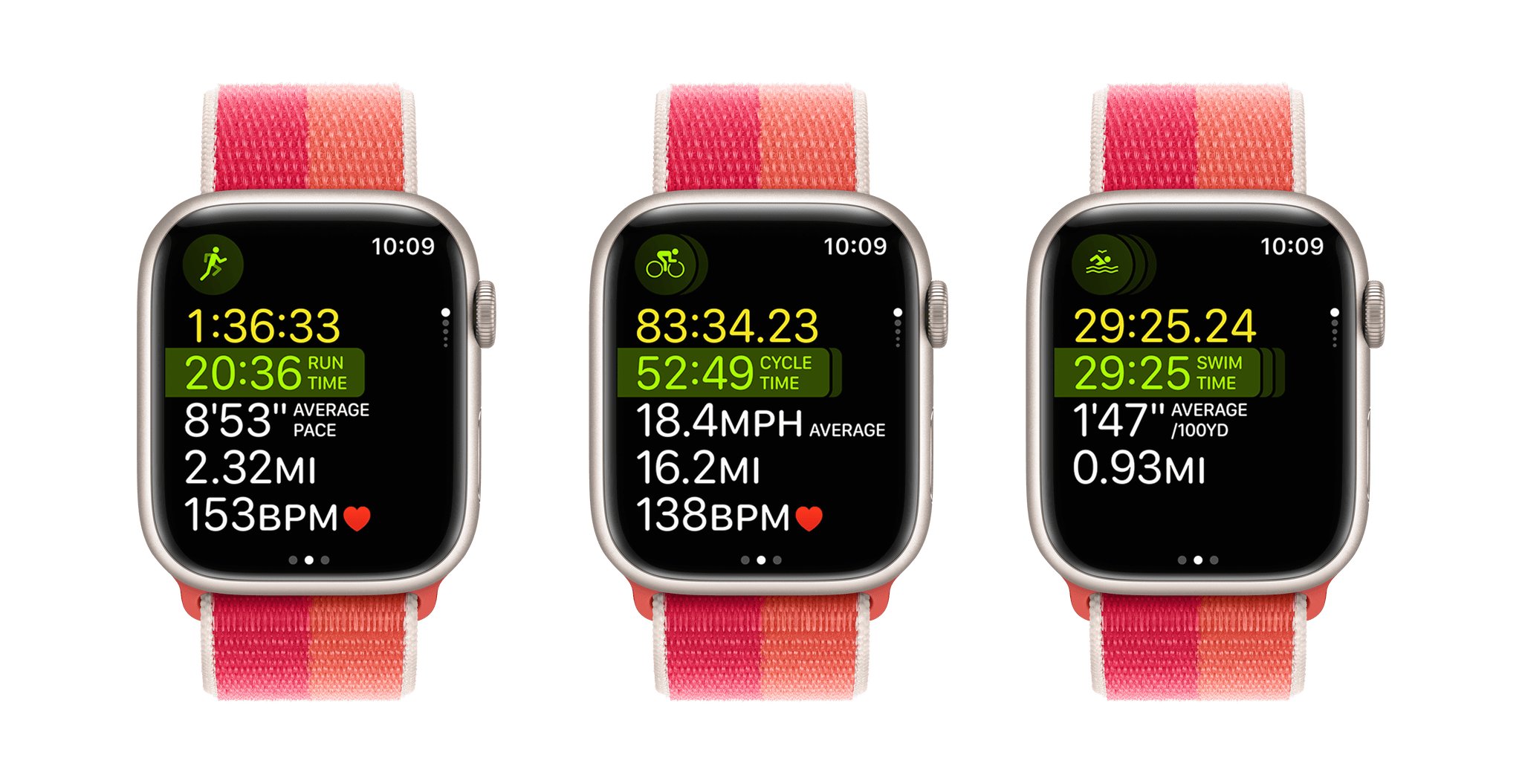 Speaking of swimming, watchOS 9 will be able to automatically detect kickboard use as a new stroke type. It can also track SWOLF scores for each set, helping swimmers monitor and improve their efficiency.
New running metrics are being tracked in watchOS 9 as well, including running power, stride length, ground contact time, and vertical oscillation. These can be added to the active workout view of the Workout app so that you can see the metrics you care most about during your runs.
Routes for outdoor run and cycling workouts will now be tracked by the Apple Watch in watchOS 9. After finishing a workout, you'll be able to look back at the route and even compare times from previous workouts on the same route. During the workout you can see pace metrics that compare your current pace with your previous average or best times.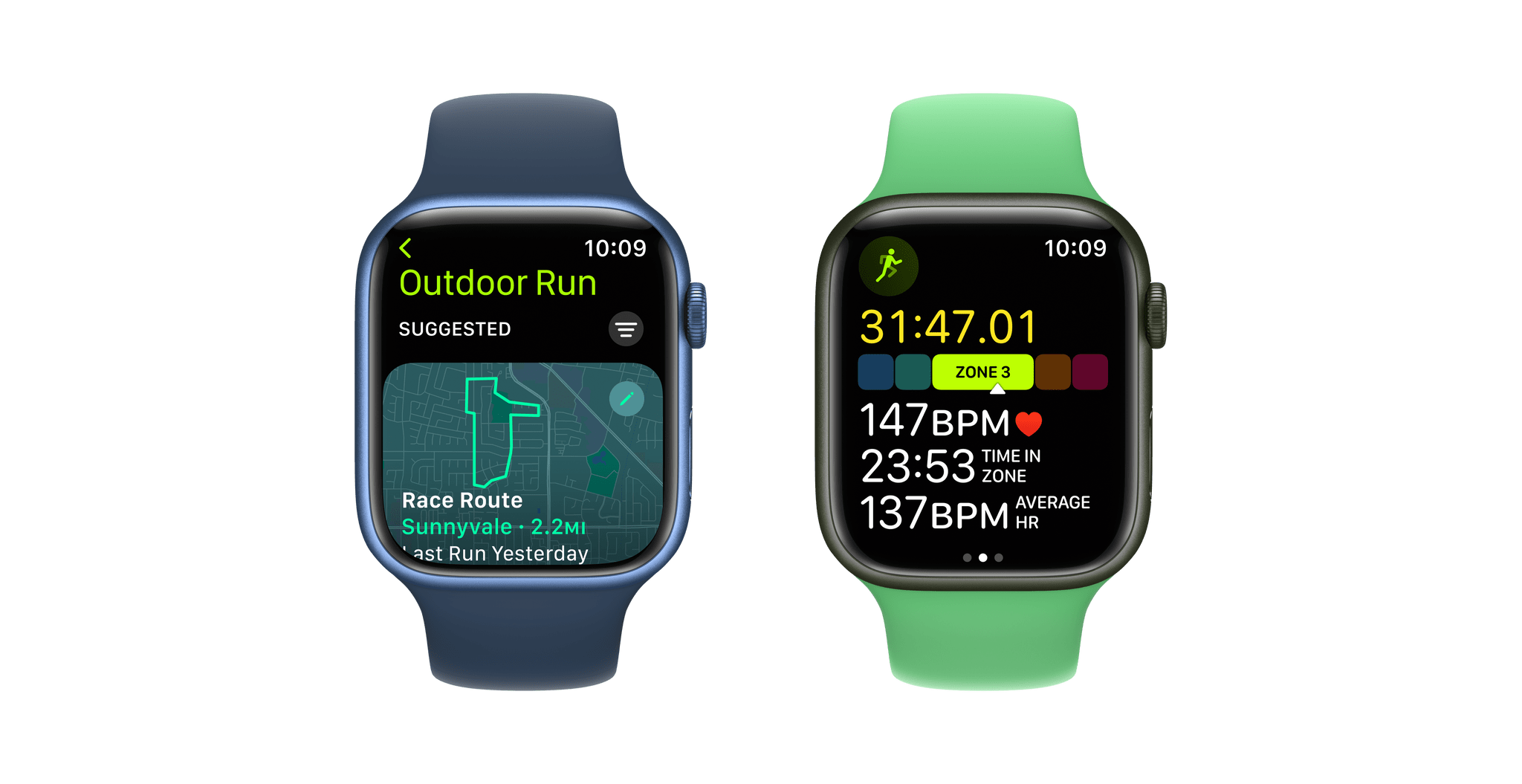 The new heart rate zones feature helps you monitor your intensity level throughout the course of your workouts. Zones are calculated automatically, and displayed in the active workout view of the Workout app so that you always know where you're at. You can also choose to set your heart rate zones manually if the automatic choices don't match your personal goals.
Finally, the Fitness app for iPhone has been updated with the ability to scrub through your workout to see exact metric numbers at any point.
Sleep
Somehow, the Sleep app for Apple Watch still does not support automatic sleep tracking. Despite that continued drawback, Apple is still adding some nice new additions to the feature this year. In watchOS 9 Sleep can track detailed stages of your sleeping pattern, allowing you to view graphs of your time spent awake or in REM, core, and deep sleep cycles.
Charts of this sleeping data are available in the Health app for iPhone, allowing you to compare sleep cycles with your heart rate and respiratory rate over time.
Medications
The watchOS 9 Medications app is a new app for Apple Watch, which will allow users to input the medications, vitamins, and supplements that they take regularly. The app will send you reminders to take these at your specified times, and will allow you to mark when you've taken them. You can also easily mark medications as skipped to note days when you choose not to take them.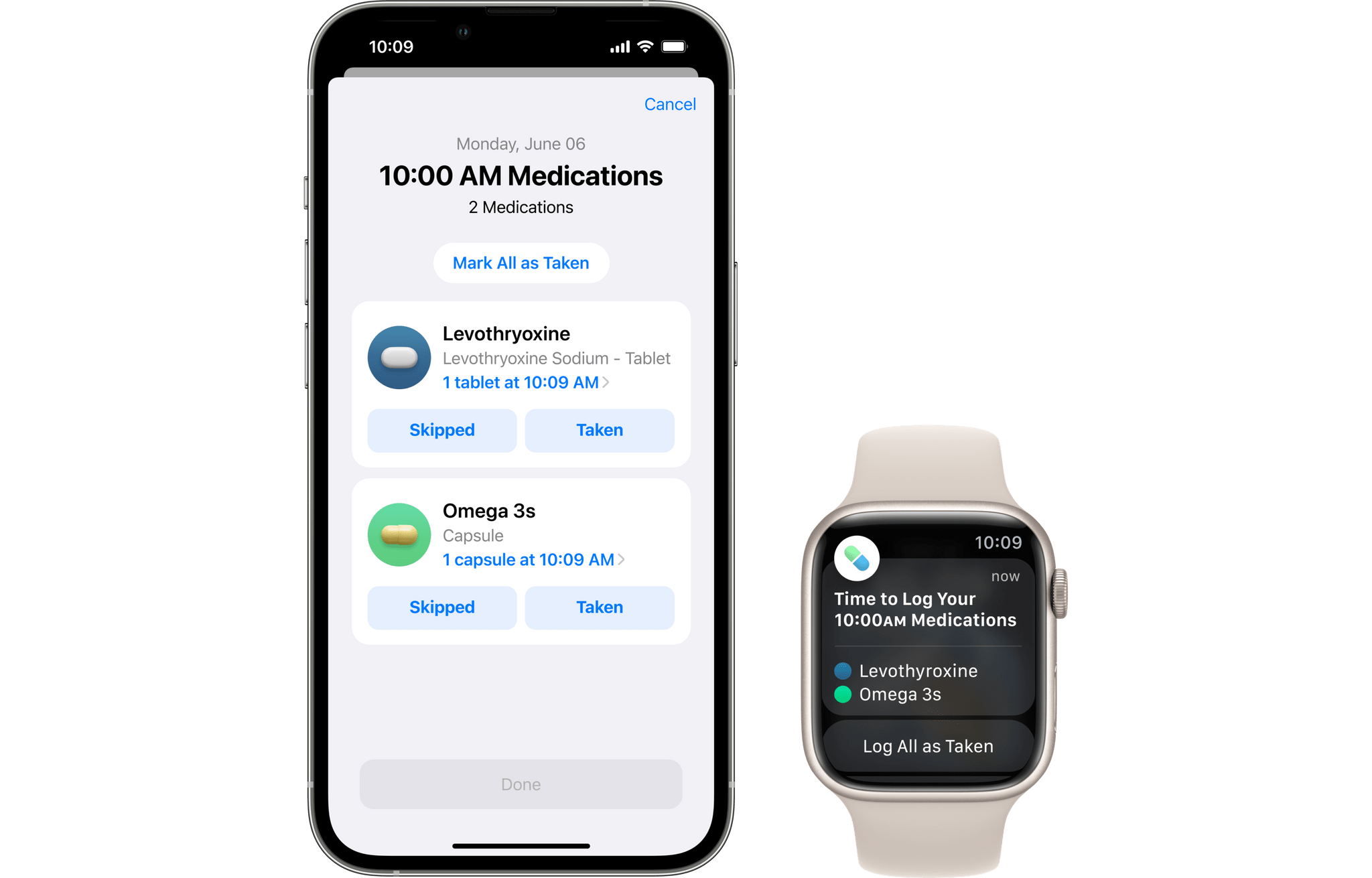 Medications will tie into the Health app on iOS, where you'll be able to see a detailed view of your medication setup. The Health app will also helpfully inform you of any warnings for medications that you set up, including whether they have a negative interaction with any of your other medications, alcohol, or other substances.
AFib History
For Apple Watch users who have been diagnosed with atrial fibrillation, the new AFib History feature in watchOS 9 will help track your heart arrhythmia over time. Your Apple Watch will deliver helpful notifications describing patterns in your heart rhythm compared to previous weeks, and you can open the Health app on your iPhone to view more detailed data, graphs, and timelines.
Watch Faces
No watchOS update would be complete without some new watch faces, and watchOS 9 is no exception. Apple often drops even more faces later in the beta cycle, but for now we know that there will be at least four.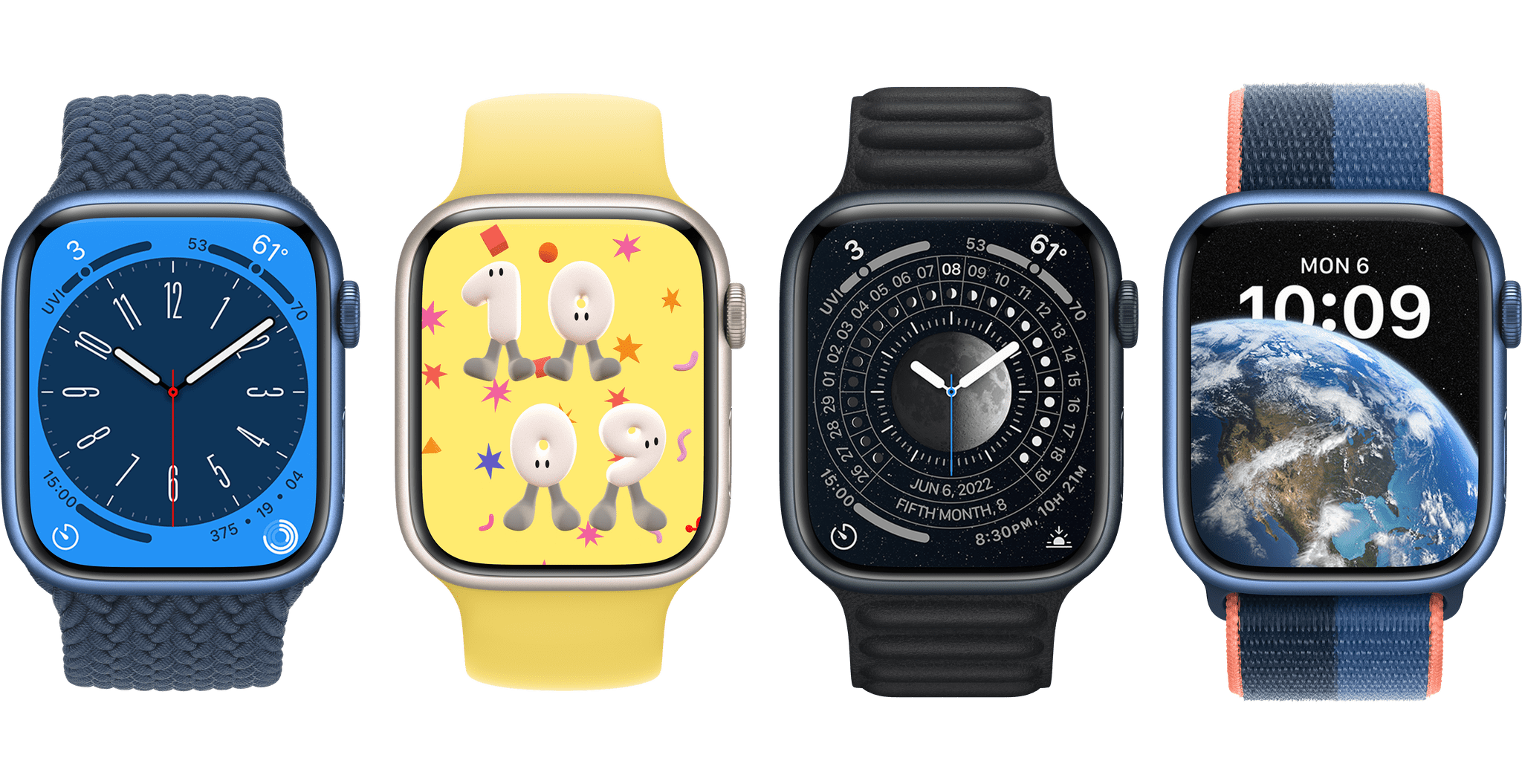 The Metropolitan face looks the nicest to my eye, and is made up of an analog dial with four complications around the corners. The colors of this face are nicely customizable, and you can spin the Digital Crown to see a fun effect where the numerals stretch or squeeze.
The Astronomy watch face shows a digital time partially obscured by the earth, moon, or solar system. Spinning the Digital Crown will zoom into the chosen celestial body and show the movement of the sunlight or planets over time.
The Playtime face is a collaboration with artist Joi Fulton, and depicts some fun inflatable ballon numbers with feet. This face definitely seems geared for kids, and you can tap on the numbers to bump them around the display. You can also spin the Digital Crown to cause the background objects to rotate.
The last brand-new face is called Lunar, and it shows the phases of the moon and days of the month in two outer dials around an image of the moon itself in the center. You can spin the Digital Crown to rotate through days and see the central moon's lighting change to reflect the corresponding phase.
With watchOS 9, Apple is also bringing improvements to some of their existing watch faces. The Modular face is receiving a new date complication in the top right, as well as some significant new coloring choices. By setting the background color, this face looks a lot different and has some really nice options.
The Portraits watch face is receiving support for dogs and cats as the subject of the foreground image, something that was missing last year.
Lastly, Apple has updated some of the oldest Apple Watch faces to support the more modern complication styles. Classic faces such as Utility and Simple are no longer stuck with the tiny single-icon complications from the early days of watchOS. This change is long overdue, but it's good to see Apple finally getting around it.
Family Setup
watchOS 9 is making things easier for kids or other users who own Apple Watches but do not own iPhones. In this year's update, these users will be able to discover and follow new podcasts directly from their wrist using the Podcasts app. They can also be invited to the Home app from an iPhone-owning family member so that they can control devices from their Watch. Finally, watchOS 9 will support adding home keys, hotel keys, and other such items to Wallet without having an attached iPhone.
Accessibility
A new "Quick Action" accessibility feature in watchOS 9 allows users to make a pinch gesture in the air with their hand two times in a row in order to start a workout or take a photo.
With watchOS 9 and iOS 16, users will now be able to stream their Apple Watch displays to their iPhones. They can then fully control the Watch interface via the phone, allowing them to use the iPhone's excellent assistive features like Switch Control and Voice Control to command their Apple Watch. This will be particularly helpful for tasks which explicitly need to be kicked off on the Apple Watch, such as starting a workout from the Workout app or a breathe session from the Mindfulness app.
System Changes
While you're actively using your Apple Watch in watchOS 9, notifications will now drop down from the top as banners — the same way they do on the iOS and iPadOS — rather than taking over the full screen. You can tap on the banner to expand the notification to the entire screen if you do want to interact with it immediately.
This will be a super nice quality-of-life improvement for Apple Watch users, as the full-screen popups were quite annoying when you were in the middle of a task on your Watch. If your wrist is down when the notification comes in, it will still pop up in the usual full-screen manner as soon as you raise your wrist.
Next, the Apple Watch Dock is being slightly tweaked in watchOS 9 so that it pins apps to the top whenever they are running in the background. This will be a nice way to consistently get access to background apps such as podcast players, Music, or Workout while they are in use.
Miscellany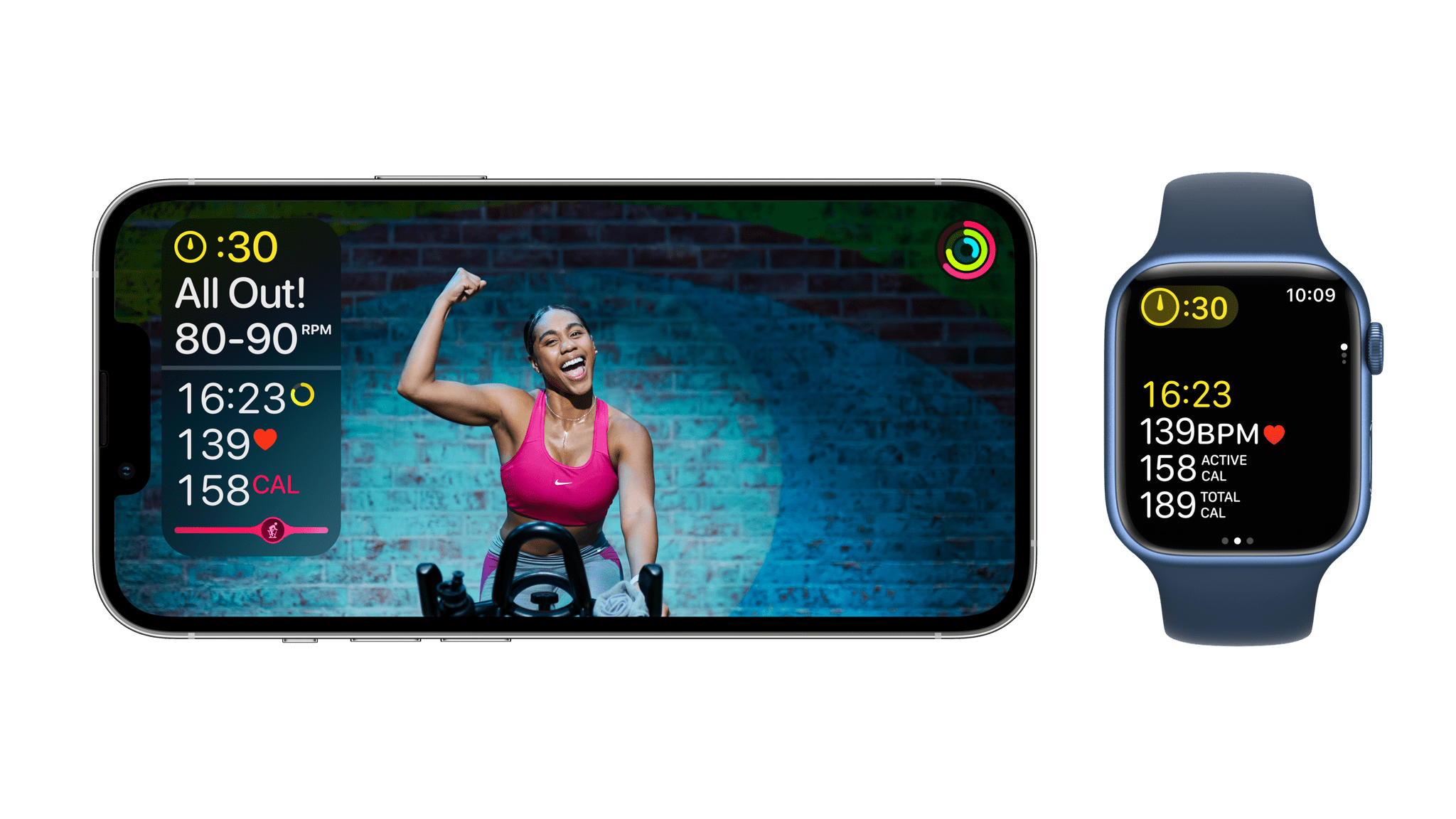 The Calendar app in watchOS 9 will now let you create Calendar events rather than just view them.
The watchOS keyboard is gaining support for French, German, Italian, Japanese, Portuguese, and Spanish.
Apple Fitness+ trainers will be able to call out certain intensity metrics during Fitness+ workouts, and these metrics will automatically be highlighted on your Apple Watch.
Fitness+ personal metrics will now be displayed on third-party TVs when you are AirPlaying your Fitness+ workouts to them from your iPhone.
Conclusion
watchOS 9 continues to iterate on the Apple Watch's core use cases of fitness and health. Runners in particular are getting some excellent improvements this year, but custom workouts and heart rate zones should be helpful to a wide variety of users. The Medications app is a huge new addition, and I expect will be broadly adopted and enjoyed by Apple Watch wearers.
I will remain disappointed by Sleep until it has automatic sleep detection, but the new advanced metrics look really nice for those who sleep on a regular schedule.
This year's watch faces are the usual grab-bag of strange novelty faces mixed with one or two legitimate options. It's always good to see Apple adding faces though. As long as they continue to keep custom watch faces off the table, it's up to them to make sure the first-party lineup stays fresh. Best of all this year is that some of our old favorites like Utility are finally reasonable options again, now that they've received modern complications.
watchOS 9 is available as a developer preview right now, and will be released to all users in the fall. This year Apple is finally dropping support for the Apple Watch Series 3, marking an end to the original Apple Watch screen size. All Apple Watches from the Series 4 and up will still be supported.
---
You can follow all of our WWDC coverage through our WWDC 2022 hub or subscribe to the dedicated WWDC 2022 RSS feed.