Just over two years ago, I spent the summer with a 24" M1 iMac on my desk and loved it. The elegant simplicity of an all-in-one Mac with just a couple of cables trailing off the back side of the computer is wonderful. The all-in-one design of the M1 iMac wasn't new, but it was a stunning departure from its predecessor, with a slim, flat design that wasn't possible in the Intel era. Plus, it came in a variety of vibrant, fun colors, which is all too rare in Apple's product lineup.
Today, Apple announced the successor to that iMac that features an all-new M3 chip that, by Apple's account, is 'scary fast.' Just how fast the new iMac is compared to other models will require hands-on testing, but from the specs alone, the new iMac is impressive.
Let's take a look.
The most important change of the updated iMac is the M3 chip, which promises notable performance gains compared to the M1 iMac it replaces as well as older Intel-based models, which Apple mentioned several times during the 'Scary Fast' event in an apparent effort to push upgrades to Apple silicon ahead of the holiday season.
The new iMac with M3 is up two twice as fast than the prior generation with M1; it's also described as 2.5x faster than "the most popular 27-inch model" based on Intel, and 4x faster than the Intel-based 21.5-inch model.
"We're excited to give iMac a big boost in performance with the M3 chip," said John Ternus, Apple's senior vice president of Hardware Engineering. "Millions of users absolutely love iMac for its stunning design and expansive 24-inch, 4.5K Retina display that's the perfect size to spread out with all their favorite apps and get things done. And now M3 brings even more speed to everything users do, whether multitasking, creating captivating images and videos, working on a business plan, or playing their favorite games. The new iMac with M3 is incredible for anyone, especially those who haven't yet upgraded from Intel, providing a giant leap in performance and capabilities only possible with Apple silicon."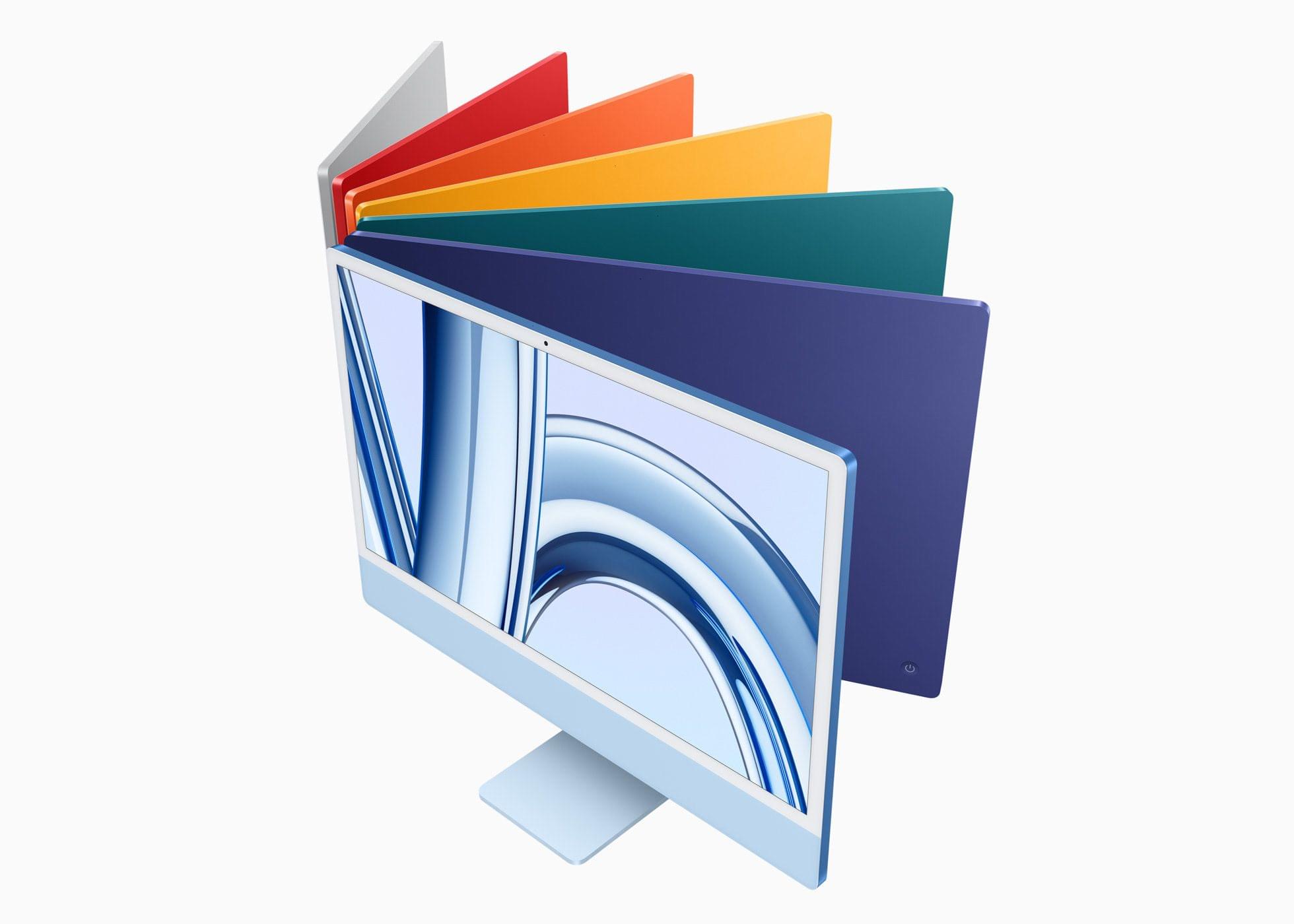 The addition of the M3 chip is the standout feature of this spec bump, which otherwise keeps the same design, colors, number of USB-C ports and – sadly – Lightning-based accessories as the previous generation iMac.
Unlike the M1 model, the new iMac supports Wi-Fi 6E and Bluetooth 5.3, both welcome enhancements in this refresh. The new models can also be equipped with up to 24 GB of unified memory; the M1 iMac was limited to 16 GB.
There isn't much else to say about this refresh – as confirmed by the fact that there isn't even a dedicated product video about the updated iMac on Apple's website or YouTube channel.
The new iMac starts at $1299; more color options and other features (such as Gigabit Ethernet and Magic Keyboard with Touch ID) are exclusive to the more expensive models with 10-core GPUs. All models are available for preorder today and will launch next week on Tuesday, November 7th.
---
You can follow all of our October 2023 Apple event coverage through our October 2023 Apple event hub or subscribe to the dedicated October 2023 Apple event RSS feed.