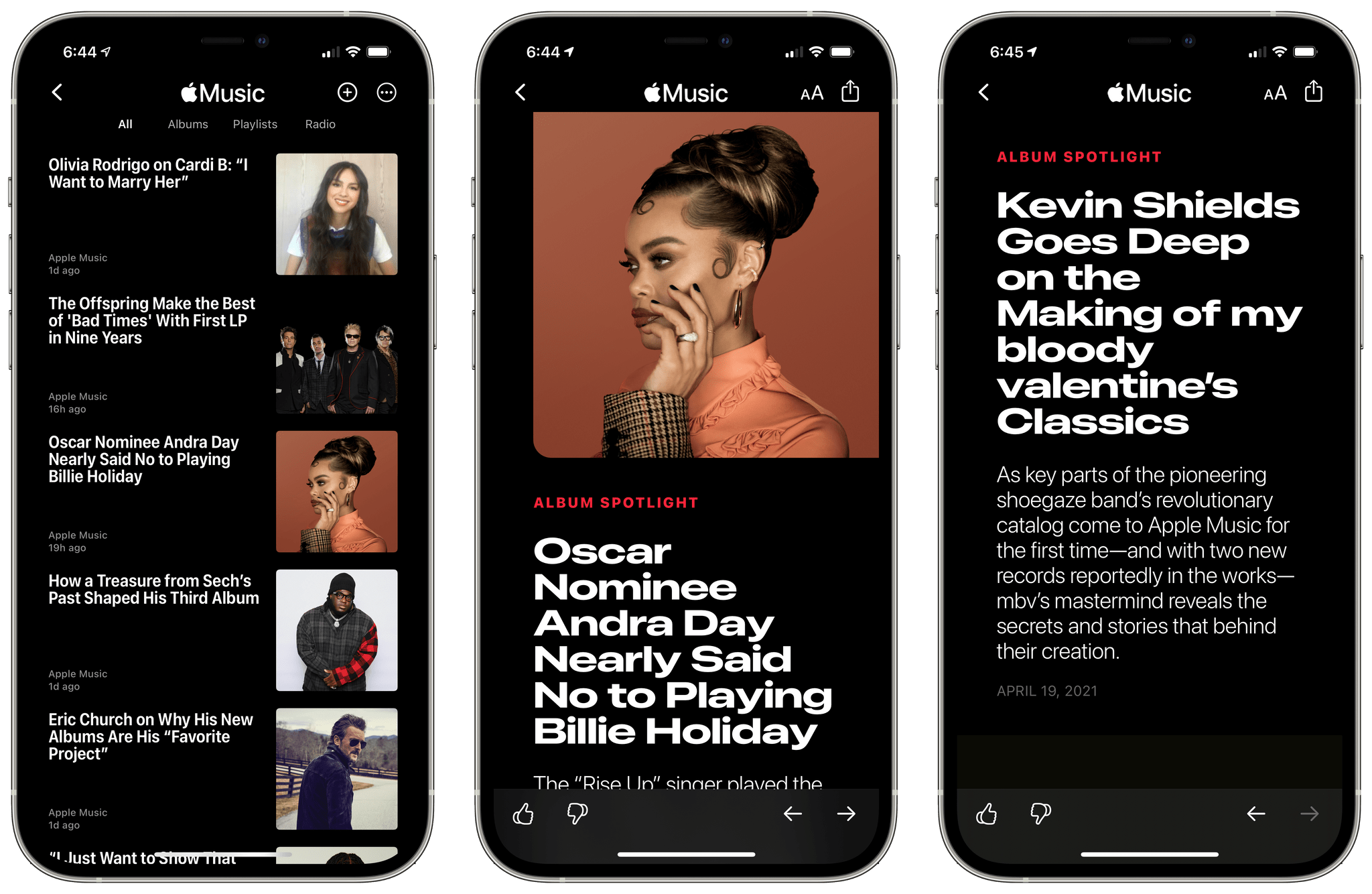 Yesterday as Federico was putting the finishing touches on an in-depth review of iOS and iPadOS 14.5 that we will publish next week, he discovered something interesting: Apple Music is in the process of establishing a presence on Apple News. The content added to Apple News so far is limited, but it appears that the company is in the process of enhancing both services by connecting them in a way that is reminiscent of the way it brought Apple News to the Stocks app with iOS 12, but so far, also different.
A Music and News integration has been on Federico's wish list ever since iOS 12. As he imagined in his iOS 12 review:
Using Apple News as a content provider for Stocks is fascinating as it could be applied to a variety of other Apple services in the future. Imagine, for instance, if Music news became part of the Music app and if you could read interviews and album reviews on an artist's page.
It's an idea that he returned to in 2019:
Apple Music editors should have their own original channel on Apple News; music sources from Apple News should be inside Apple Music (just like business news for Stocks).

— Federico Viticci (@viticci) January 25, 2019
and that we have discussed repeatedly on AppStories.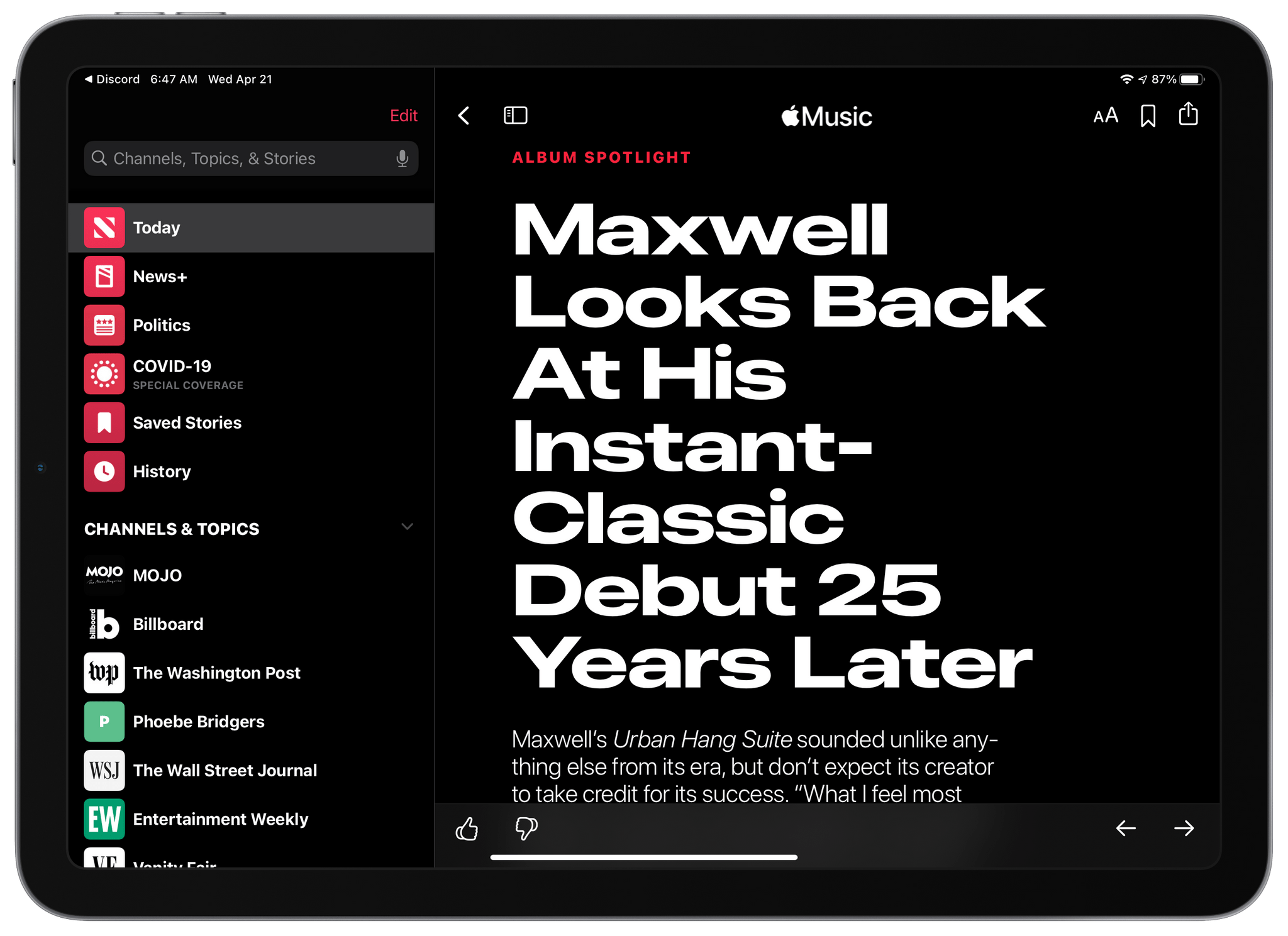 Currently, the Apple Music content in News is limited with a total of ten stories that stretch back just one week as of the publication of this article and divided into four sections: All, Albums, Playlists, and Radio.
Albums includes pieces about everything from Offspring's first album in nine years to a story that looks back at Maxwell's Urban Hang Suite on its 25th anniversary. Each album profiled is linked at the bottom of the story to Apple Music, so you can follow up and listen there.
The Playlists section is currently limited to one piece that looks like it will be a series called 'Best New Songs This Week' that links to the A-List Pop playlist on Apple Music and highlights a single track: Kiss Me More by Doja Cat and SZA.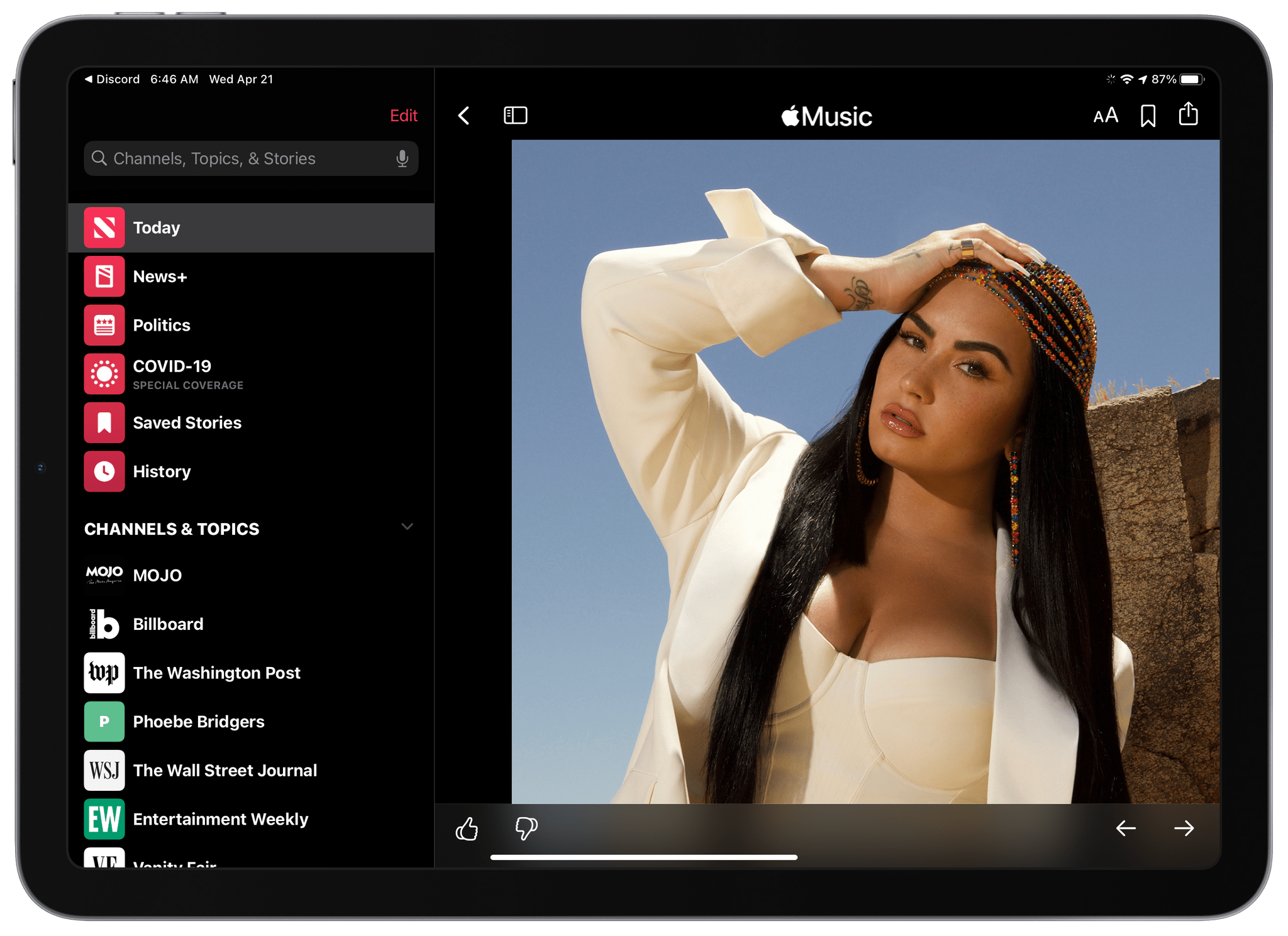 Finally, the Radio section features interviews conducted on Apple Music 1 by its DJs link Ebro Darden and Zane Lowe. These stories also appear under Albums.
One thing that is currently missing that I hope is in the works is integration on the Apple Music side of this new relationship. Although News links to albums and tracks in Music, the News content is nowhere to be found in Music. News content is embedded in the Stocks app, and it makes sense to include it in Music where users are already enjoying the streaming service, giving them another reason to browse Music's offerings.
The integration of Apple Music and News, which Apple said nothing about during its event on April 20th, is clearly just getting going, so there's not a lot to see yet. However, it's also the sort of integration that has the potential to differentiate Music from competitors like Spotify and give users a much-needed reason to visit News. This is a feature we may learn more about next week when iOS and iPadOS 14.5 are released to the public, and that we'll be keeping a close eye on and as we learn more about Apple's plans for the fall during WWDC.