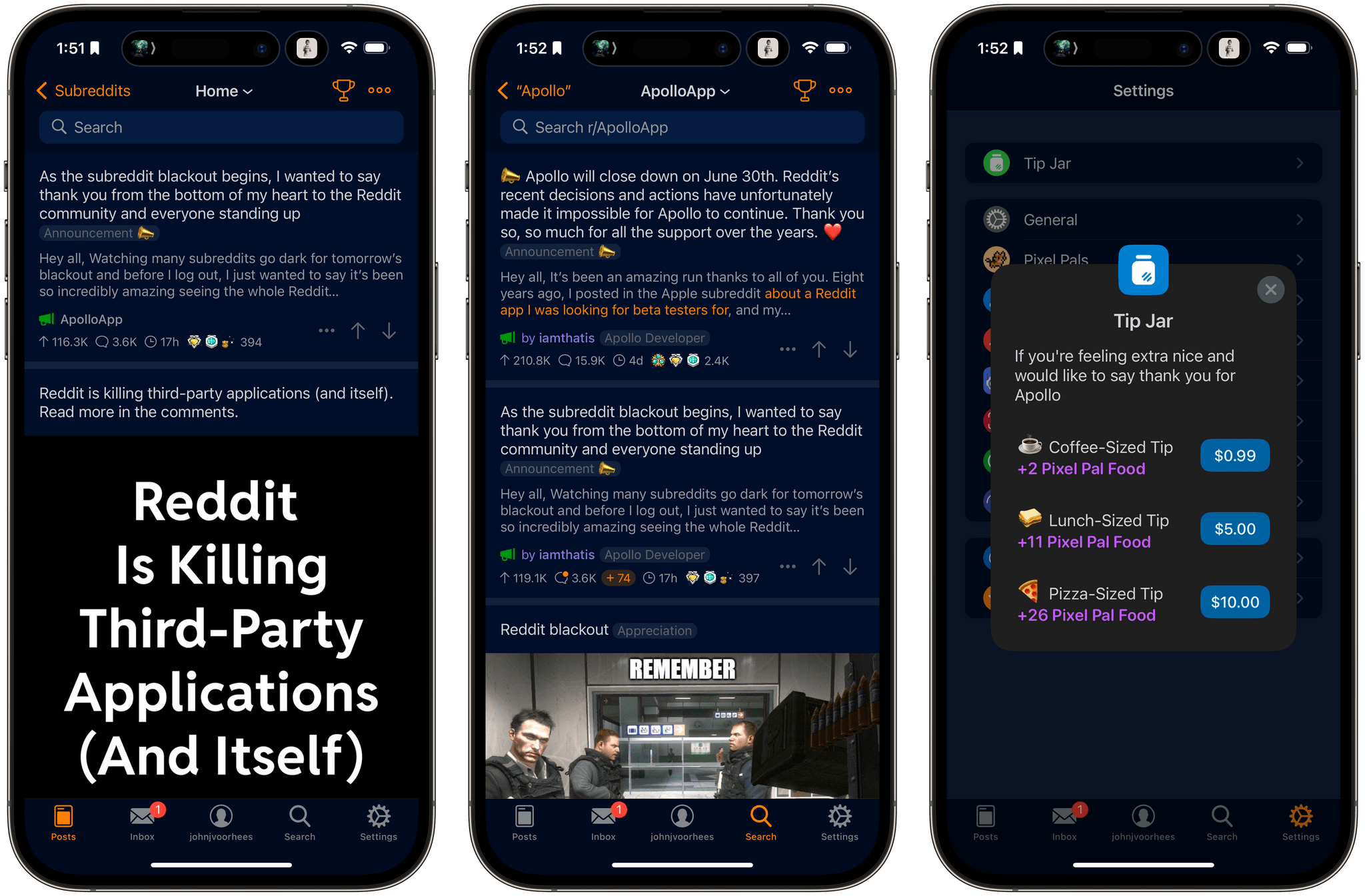 By now, most MacStories readers are probably familiar with the story surrounding Reddit's decision charge exorbitantly high fees for access to its API after years of offering it for free to third-party developers like Christian Selig, the creator of Apollo. Since then, the situation has gone from bad to worse, with Reddit making unsubstantiated allegations of blackmail against Christian. With Reddit unwilling to budge and Apollo facing astronomical costs, Christian made the decision last week to remove Apollo from the App Store on June 30th, eight years after its debut.
If I were in Christian's shoes, I'm sure I'd make the same hard decision, but that doesn't make the app's demise any easier for its users. Apollo is a fantastic app that's been a favorite of ours and our readers for years. Christian is a genuinely wonderful person too, which makes this even harder to witness. Federico and I had the pleasure of interviewing him on one of the earliest episodes of AppStories, and it was great to finally get to meet him at WWDC in 2022.
But the thing that sets Apollo apart from other apps is the community around it, which is a testament to both Christian and his app. Apollo is a fantastic Reddit client, but it also became a tool for helping others by raising over $80,000 for Christian's local animal shelter. Apollo has also been a showcase for some of the best icon designers around, helping spread the word about their work through the app's enormous alternate icon catalog. The upshot of Reddit's short-sighted business decisions is a loss that transcends the shutdown of a single app, which has been made all the more apparent by the widespread and ongoing Reddit blackout that has seen some of the largest subreddits go dark or read-only, crashing the site earlier today.
The other reality of shutting down an app like Apollo is that it's expensive because subscribers will be entitled to a pro-rated refund for the remainder of their subscriptions. Christian is working on an Apollo update to allow users to forego their refund, similar to what Tweetbot and Twitterrific did after Twitter cut off their access to its API. Christian has also re-enabled Apollo's tip jar. If you'd like to help defray the cost of Apollo's shutdown, you'll find tip options of $0.99, $5, and $10 in the app's settings.