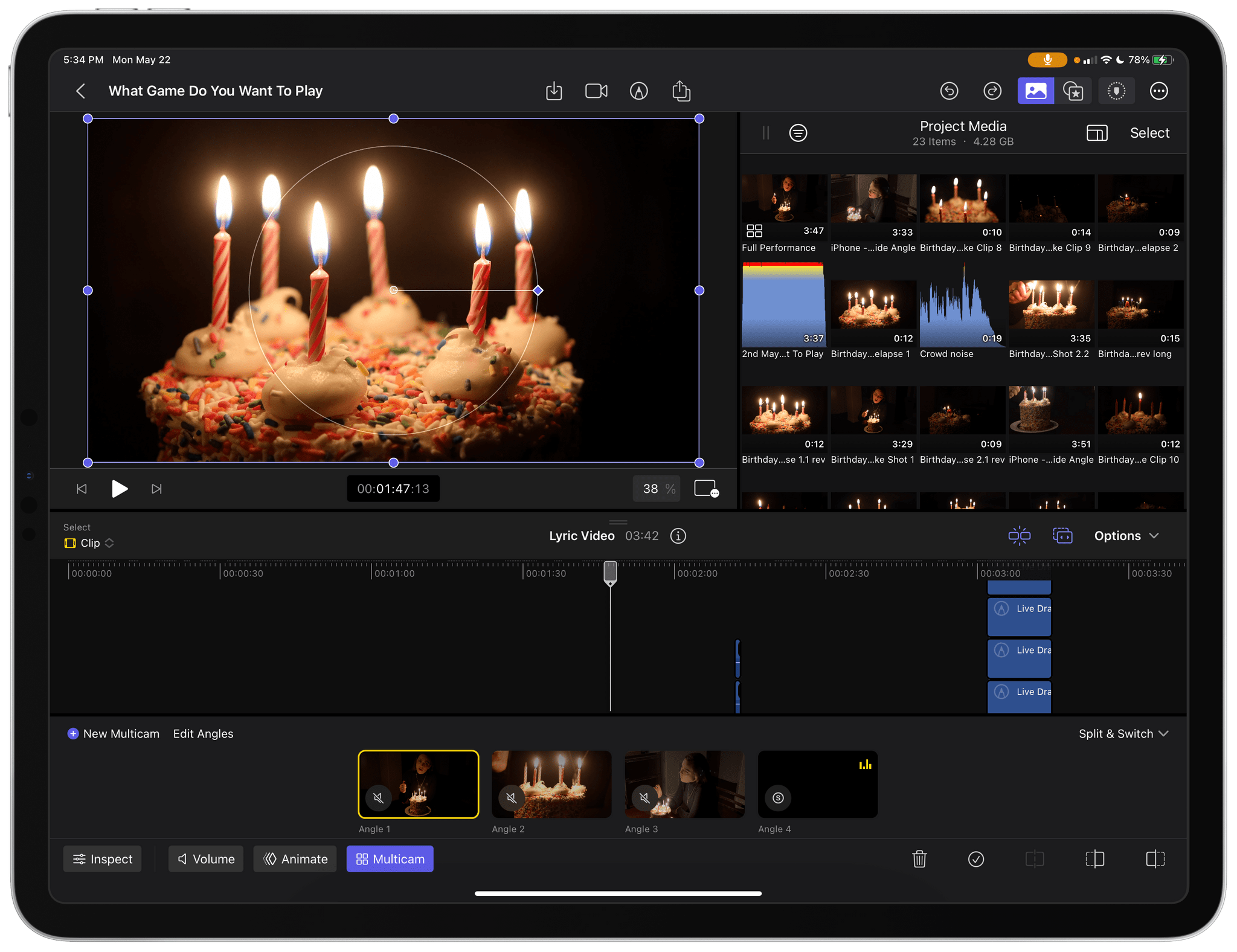 Today, Apple released Final Cut Pro for iPad alongside Logic Pro. I've been testing the app for about a week with sample projects from Apple and some drone footage I shot with one of my kids during the winter holidays. Like Logic Pro for iPad, Apple has packed a lot of sophisticated features into Final Cut Pro for iPad, but with one crucial difference. Whereas Logic Pro projects can be sent back and forth between the iPad and Mac versions of the app, Final Cut Pro projects cannot.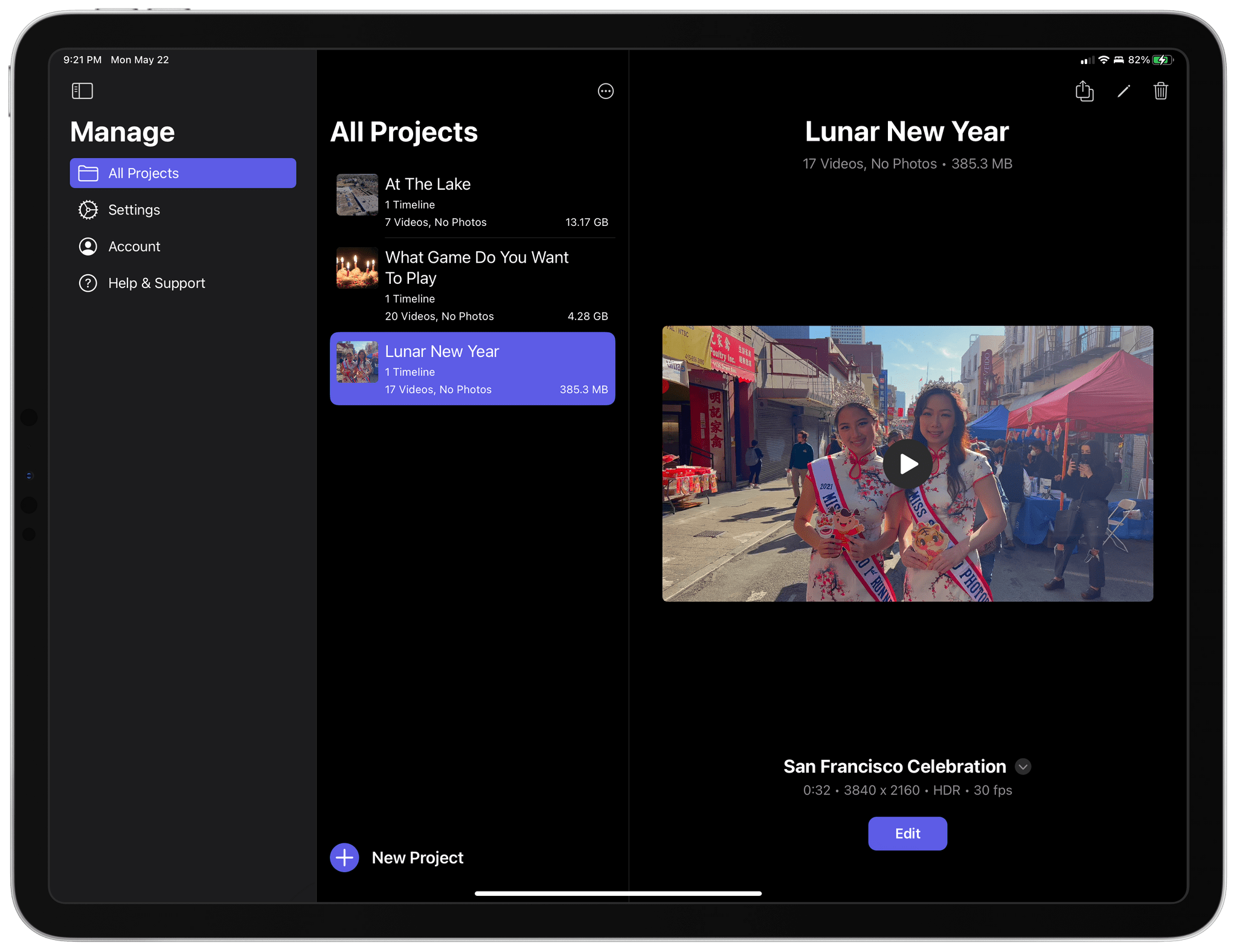 Final Cut for iPad projects can be opened in Final Cut for Mac, but once they're on the Mac, they can no longer be opened on the iPad. Nor can projects started in Final Cut Pro for Mac be opened on the iPad. That will be a significant downside for people who already work in Final Cut Pro for Mac, but for creators with a mobile-first workflow or who want to try Final Cut Pro for the first time without paying the Mac version's steep price, compatibility will be a non-issue.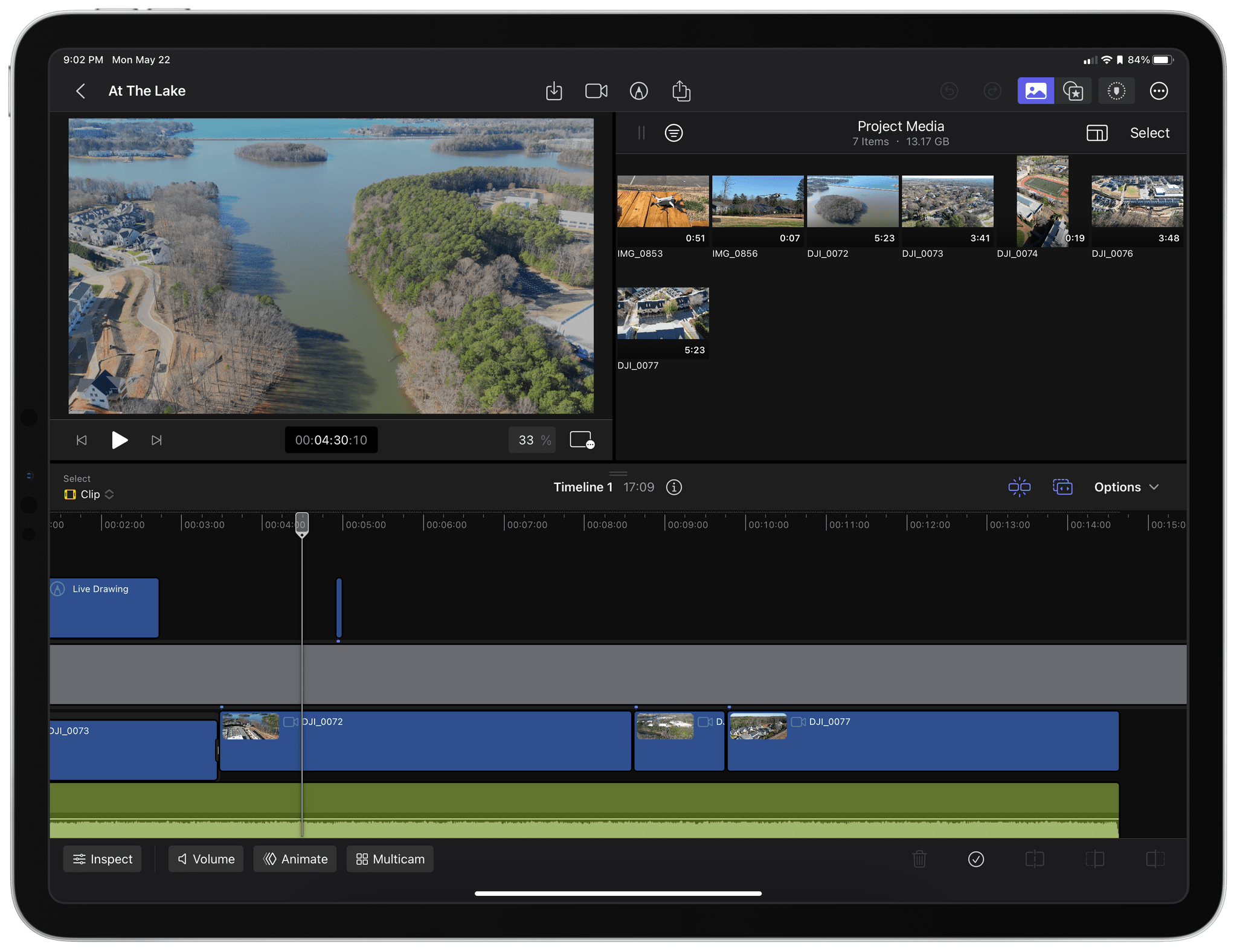 That's the camp I fall into. I don't edit a lot of video, and except for testing Final Cut Pro for iPad, I would probably have dropped my drone clips into iMovie, added a few transitions, and called it a day. That sort of editing is absolutely possible in Final Cut Pro, too. However, the app allows you to do far more, as the two sample projects I've been studying make clear.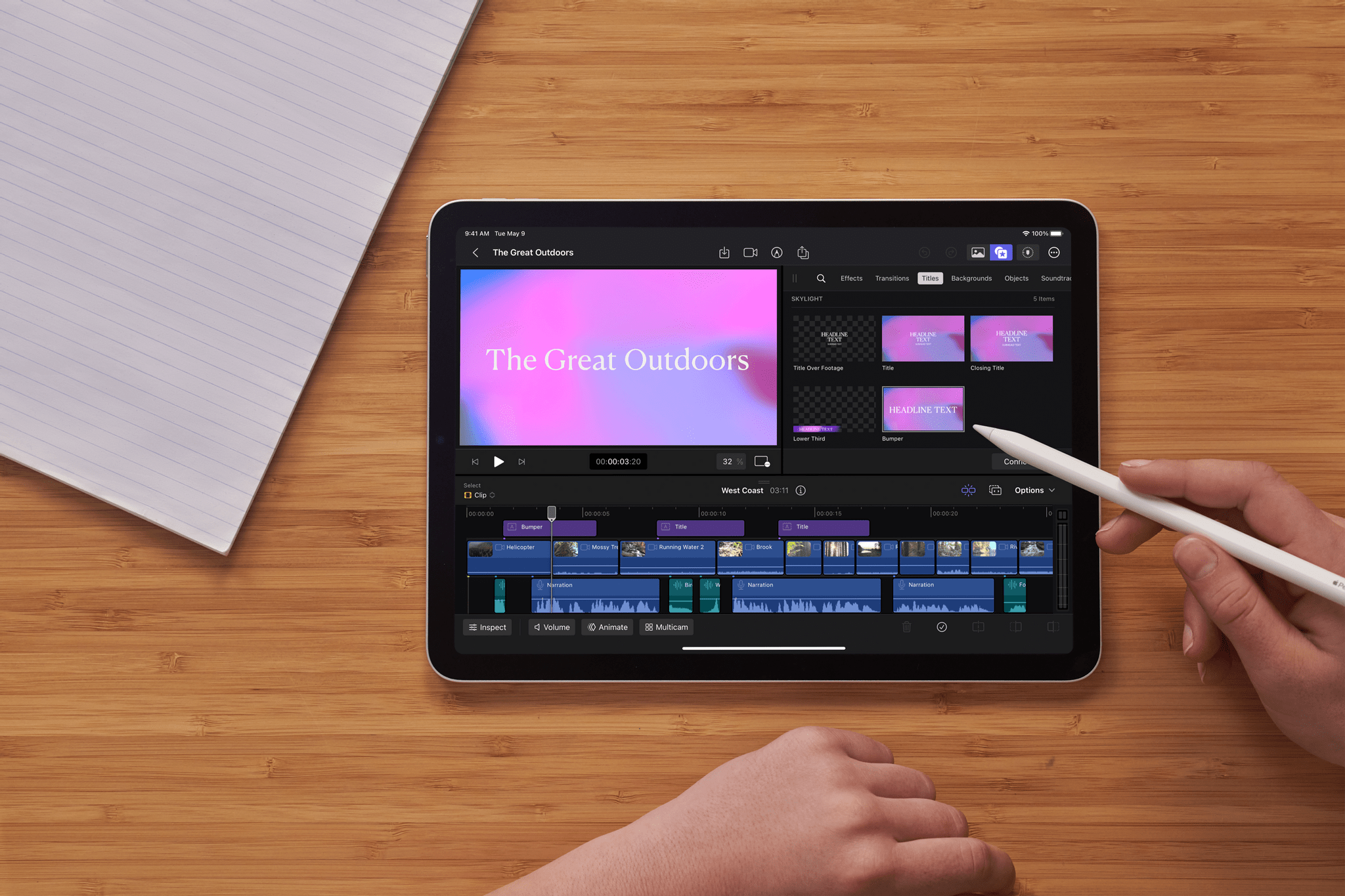 Like Logic Pro for iPad, Apple has done an exceptional job designing a complex app in a way that feels at home on the iPad. The screen is divided into three parts:
A preview player, which can be taken fullscreen or moved to picture-in-picture
A browser for selecting video clips, effects, transitions, titles, audio, and other assets
A timeline for editing your video
Each section of the app is adjustable, allowing users to hide what they don't need and shrink or enlarge them as needed, making the best use of the iPad's limited screen space.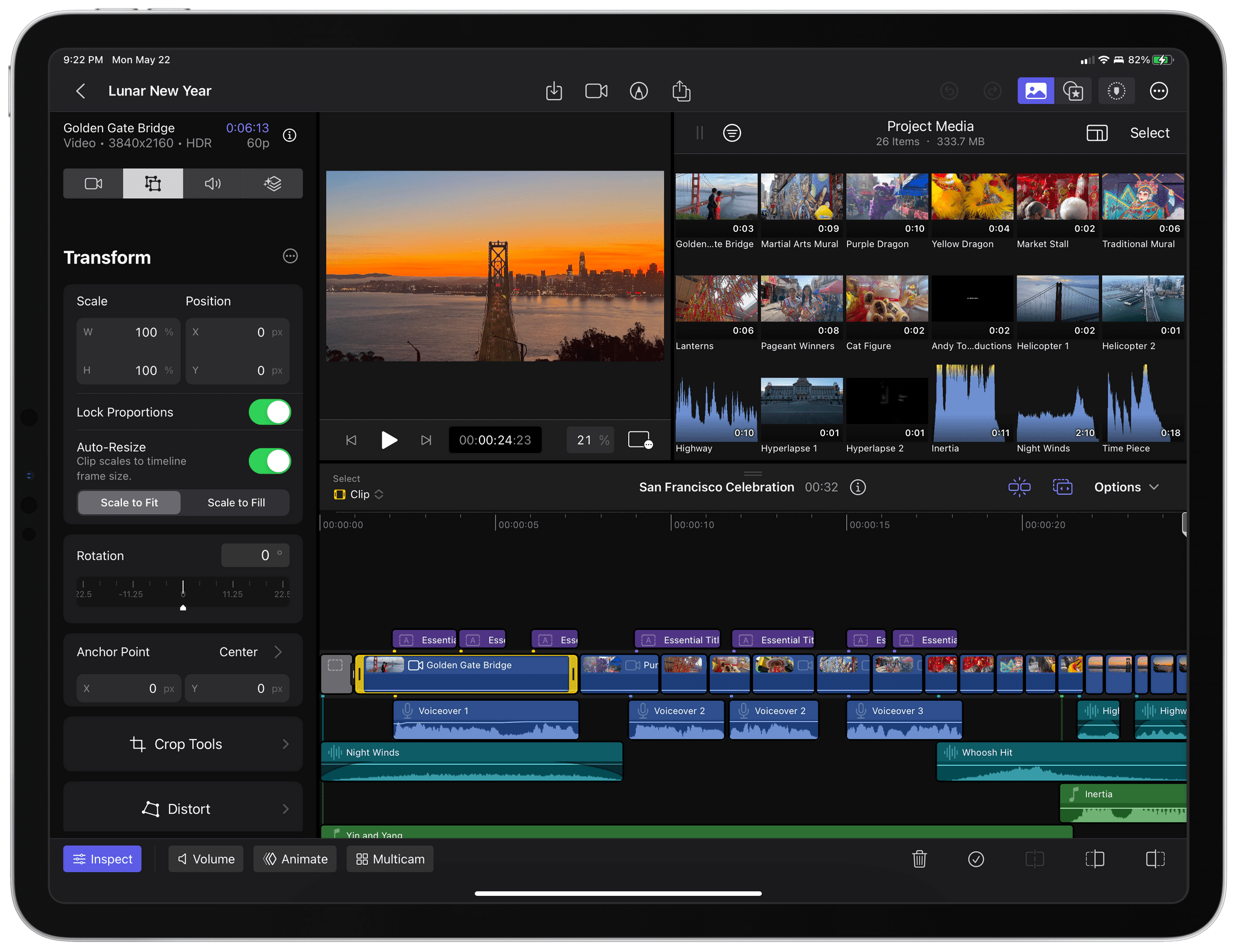 There's also an inspector panel that can be displayed along the left side of the screen with details about the clips in your timeline, along with volume, animation, and multicam elements that can be toggled on and off in the timeline section of the app. A jog wheel can also be displayed along either edge of the screen. By default, the jog wheel is a tiny floating element that stays out of the way until it's tapped and expands in a semi-circle along the edge of the screen. It's possible to really crowd the iPad's UI, but by resizing and hiding elements until you need them it's easier to focus on one aspect of your video at a time.
Having used iMovie in the past, I immediately felt at home in Final Cut Pro for iPad. Of course, there are many more features and options in Final Cut Pro, but the overall structure and editing process are similar, which made it easier to get started.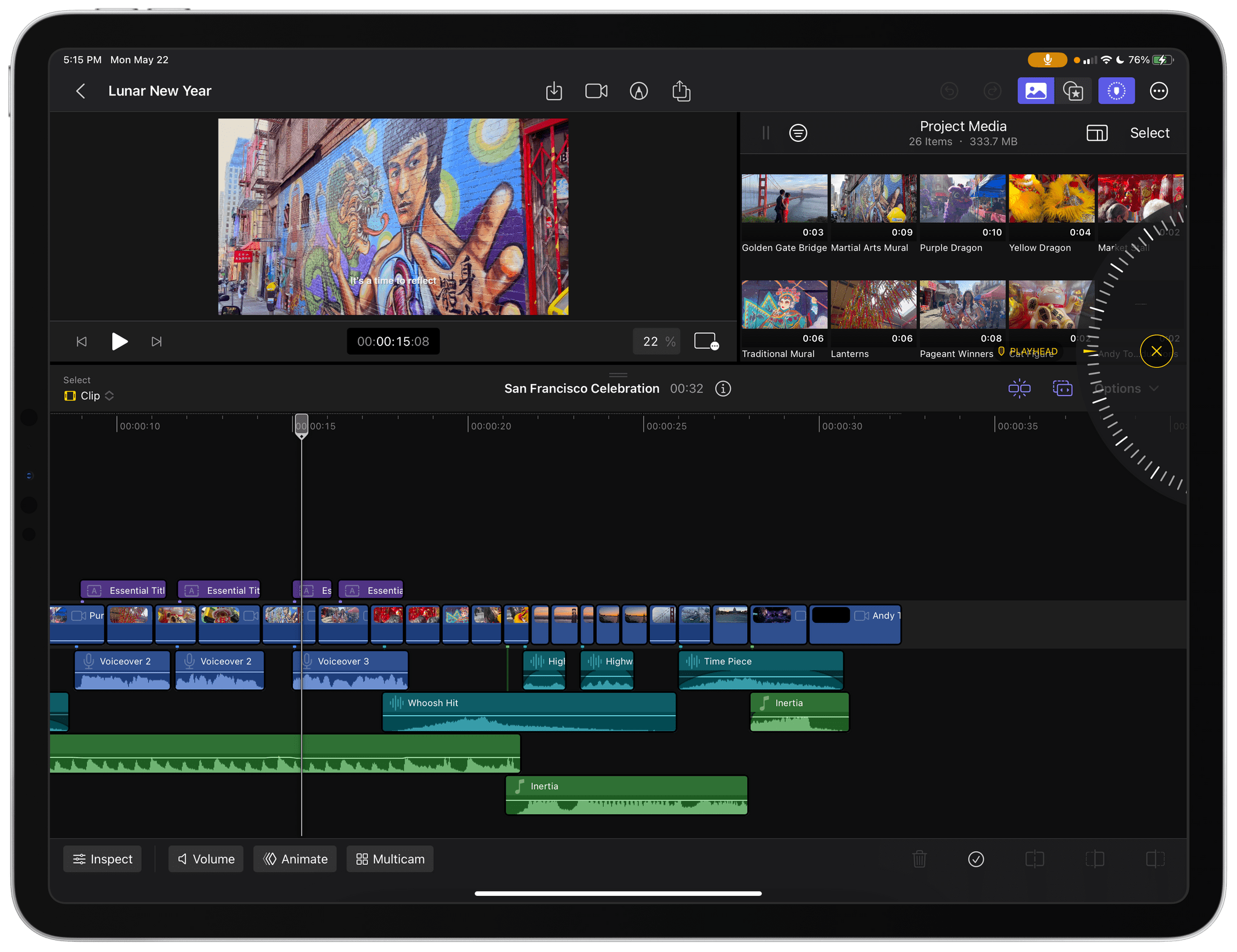 The jog wheel and Apple Pencil hover support are two of my favorite features of the app. When the jog wheel is expanded, it's incredibly fast to select a precise edit point, moving quickly by spinning the wheel with a fast swipe or slowly advancing the frames one by one. There is an extensive list of keyboard shortcuts for navigating your timeline, too, which is often a better approach when using an iPad in a Magic Keyboard. The neat thing about hover is that you can skim through your timeline footage quickly without moving the playhead. When you find what you're looking for, simply tap the top of the timeline to jump the playhead to that position, and then zero in frame-by-frame using the keyboard or jog wheel.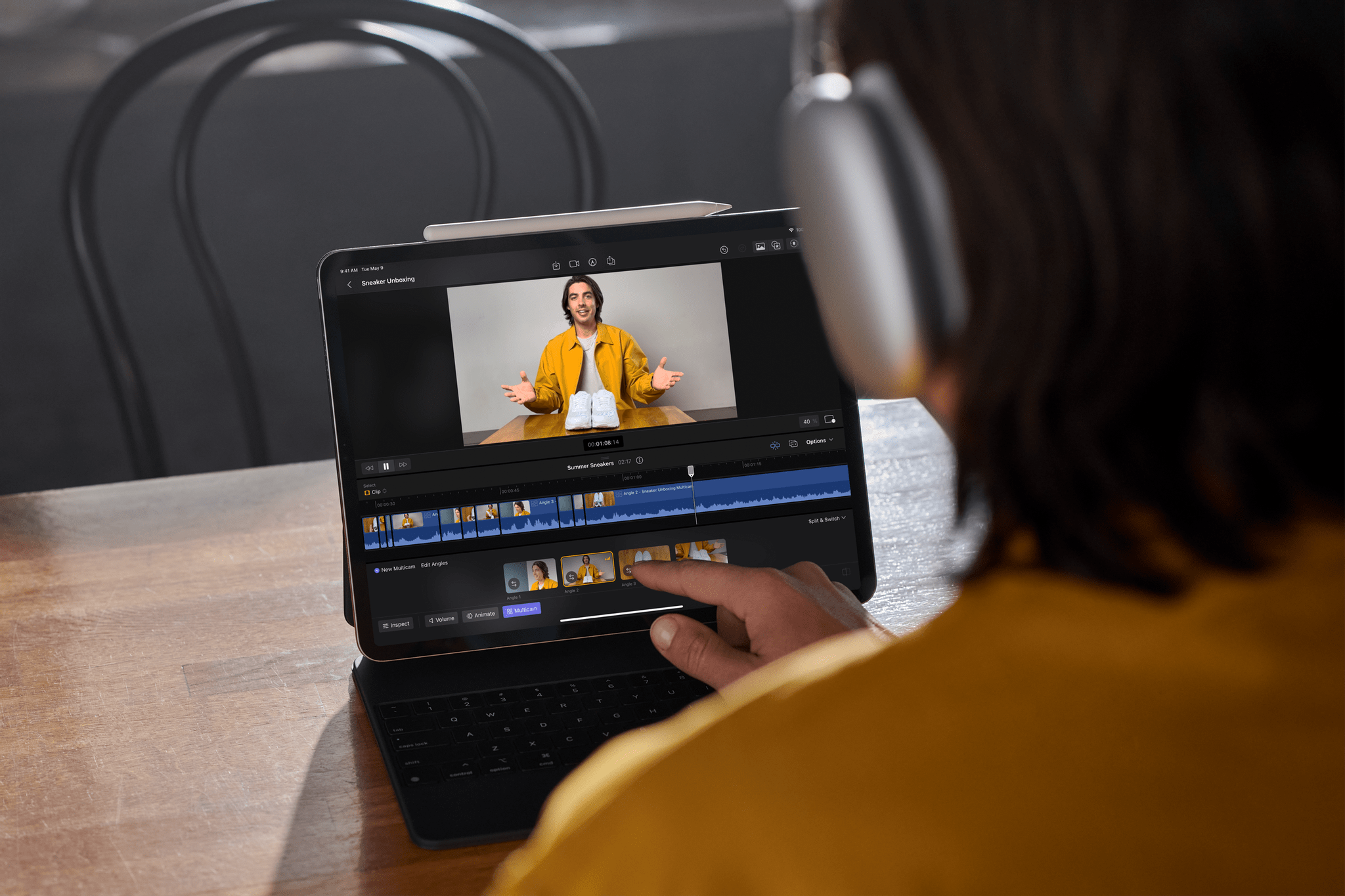 Final Cut Pro for iPad takes advantage of Apple silicon's machine learning capabilities to enable several features. The app supports the following:
Multicam editing, allowing users to sync multiple camera angles, edit them, and switch between them
Scene Removal Mask for pulling subjects from the background of a clip and placing them against a different backdrop
Auto Crop, which crops a project to social media-friendly aspect ratios while preserving the important parts of a shot
Voice isolation to clean up noisy audio
Another fun feature is Live Drawing, which lets you write on top of a video using the iPad's familiar drawing tools. What you write is automatically animated, appearing on the screen as though you were writing it live. Your handwriting is a separate layer in the timeline, which you can edit just like any other part of your video.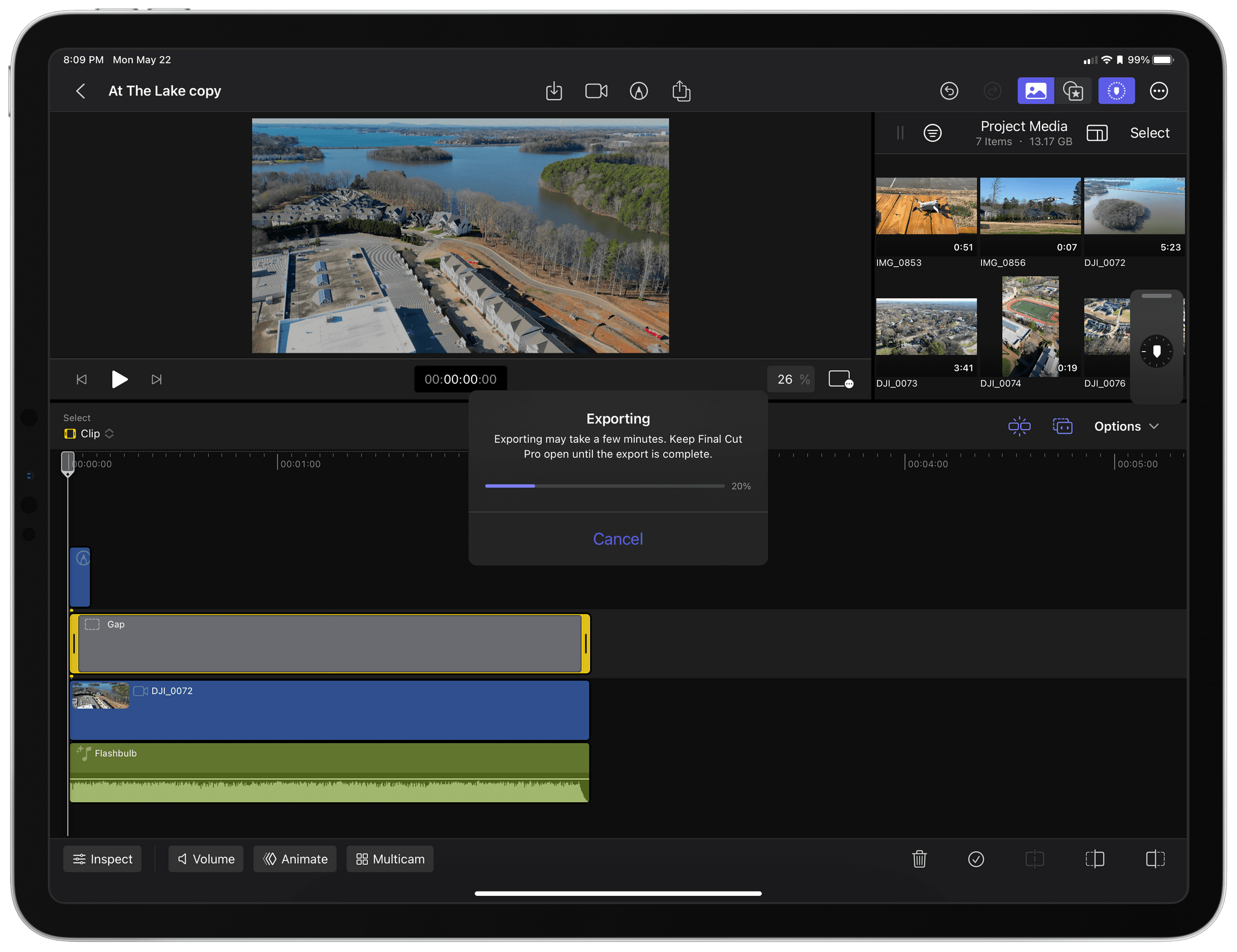 In addition to editing, Final Cut Pro for iPad can be used for capturing footage too. The app's camera interface includes manual controls for focus, white balance, an exposure offset, and a zoom dial. There are also overexposure indicators and grid overlays. Finally, when it's time to export your video, Final Cut Pro supports popular social media video aspect ratios and resolutions outputting to Apple ProRes, HEVC, and H.264.
---
I have mixed feelings about Final Cut Pro for iPad. As someone who hasn't done a lot of video work, the app strikes me as a great place for someone to start who wants to go beyond what apps like iMovie can do. The $4.99/month or $49/year subscription with a free one-month trial also makes advanced video production accessible to a wider audience than the Mac version, which costs $299.99. The app is also perfect for anyone whose workflow is primarily on mobile devices too.
Am I saying that Final Cut Pro for iPad isn't a 'pro' app? Not exactly. There are plenty of people for whom the iPhone and iPad are the sole devices they use for making videos.
However, not having the option to move a project back and forth will hamper the ability for users to get the most out of both apps, which is a negative to anyone who wants to use both. I'm sure there are plenty of people working with Final Cut projects in offices on Macs who would like to take those projects project home with them on an iPad instead of on a laptop but won't be able to. The same goes for students using school Macs during the day who want to edit on an iPad after class. Whatever the roadblock to round-tripping Final Cut Pro projects between a Mac and iPad is, I hope it's resolved because until it is, the lack of flexibility will likely mean most users will stick to one hardware setup or the other and view the iPad version as the lesser of the two.
Final Cut Pro for iPad is available on the App Store with a free one-month trial, after which the app is $4.99/month or $49/year. Final Cut Pro for iPad requires an iPad with an M1 chip or later and iPadOS 16.4 or later.