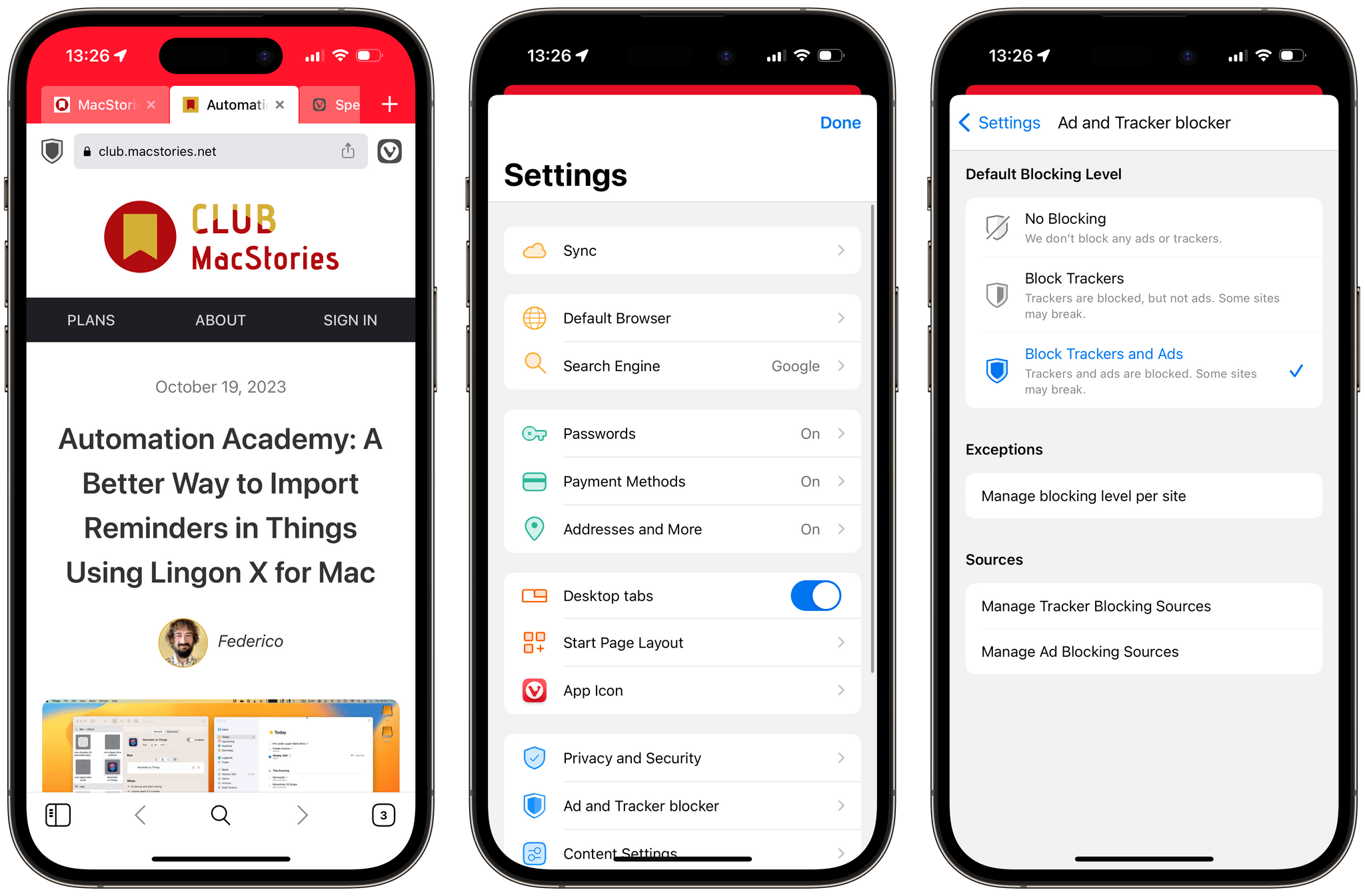 Third-party web browsers on iOS and iPadOS have been in a peculiar state for some time. While it has been possible since iOS 14 to set a third-party browser as the default for opening web links, Apple still doesn't permit the use of third-party browser engines — at least for now. This means third-party web browsers on iOS are essentially limited to serving as custom user interfaces built on top of the Safari engine.
However, some web browsers thrive in this space. Vivaldi, like many other web browsers on the desktop, is built on top of the Chromium engine and has become a staple of highly-customizable desktop web browsers. With its recent expansion to iOS, I thought I would try using it for a week to see how much of its desktop promise survived the port to Apple's platform.
I should preface the following with the expectations I had when I went to install Vivaldi on my iPhone. Five years ago, I was using Vivaldi on my main Mac, and I thoroughly enjoyed spending entire afternoons customizing the settings to my liking. I could group tabs, install extensions, and apply custom themes. So I naturally went in expecting a fully-featured and customizable browser for iOS.
When I first launched Vivaldi on iOS, the interface looked promising. It features a unique design for a mobile browser, with 'Desktop tabs' positioned at the top of the screen.
The desktop-style tabs look great and allow for fast switching between two or three tabs. However, their placement at the top of the display discouraged me from reaching all the way up there with my thumb. Instead, I found myself tapping the tab view button in the bottom toolbar, even if it meant having to tap the screen twice instead of once to switch to an adjacent tab. I was actually expecting a setting to place them in the bottom toolbar, just like I could in the desktop version of Vivaldi. Such a setting would certainly make a lot more sense in a mobile browser. But the only available tab setting is to disable the desktop-style appearance altogether.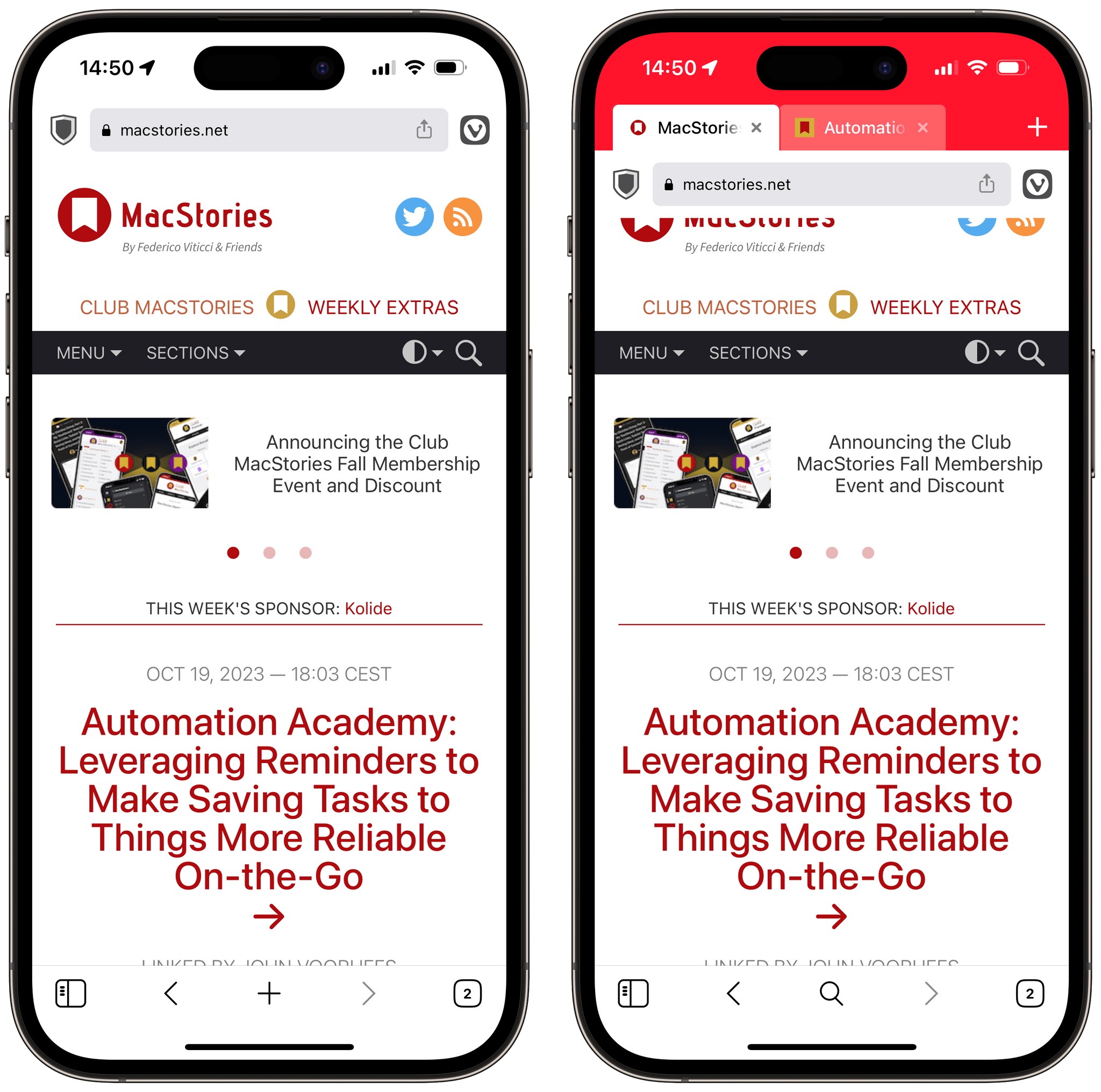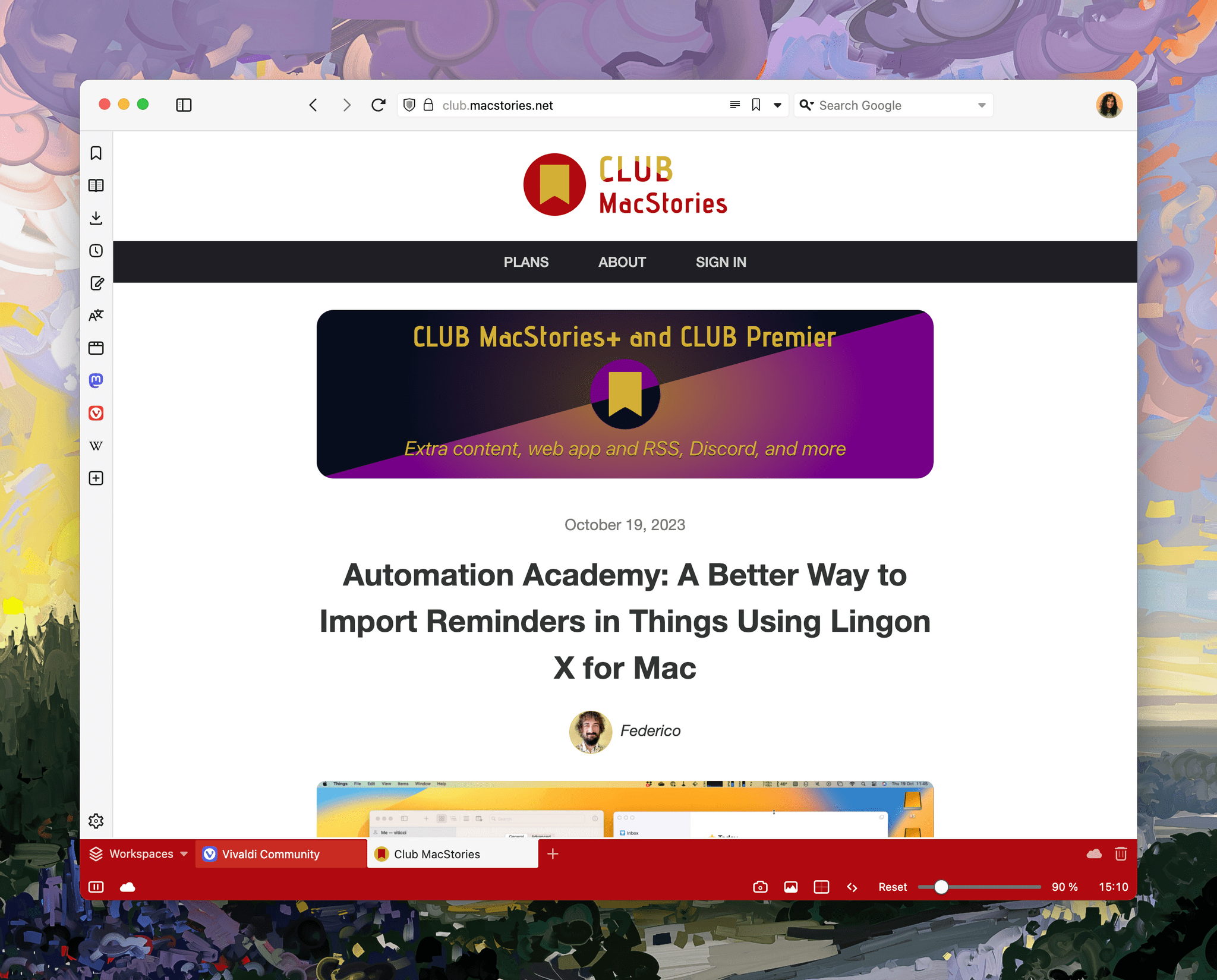 Despite the 'Desktop' appearance, tab management falls short of Safari on iOS. Vivaldi does provide extensive tab management tools on the desktop, but both profiles and tab groups are missing from the iOS version.
Vivaldi's top toolbar also stands out because of its bright red color. However, there is currently no way to personalize this color or have it change based on the site you're viewing. It is possible that this could be a feature in the future, considering it has been a prominent visual aspect of Vivaldi on the desktop. But in the meantime, the only way to get rid of the red is to disable 'Desktop tabs' or to switch to dark mode.
Interestingly, Vivaldi's interface felt oddly familiar. The arrangement of the bottom toolbar, the ability to pull down on a page and swipe side to side for actions, and the arrangement of tabs in the tab view all resemble Chrome for iOS. It appears that the Vivaldi team has been developing their iOS browser using Google's work on Chrome as inspiration. This is not a bad thing per se: I'm actually glad that Vivaldi is keeping to their winning strategy of picking a strong, well-known foundation and adding their own perks on top of it. However, for now, this only makes Vivaldi for iOS feel like a fancy version of Chrome.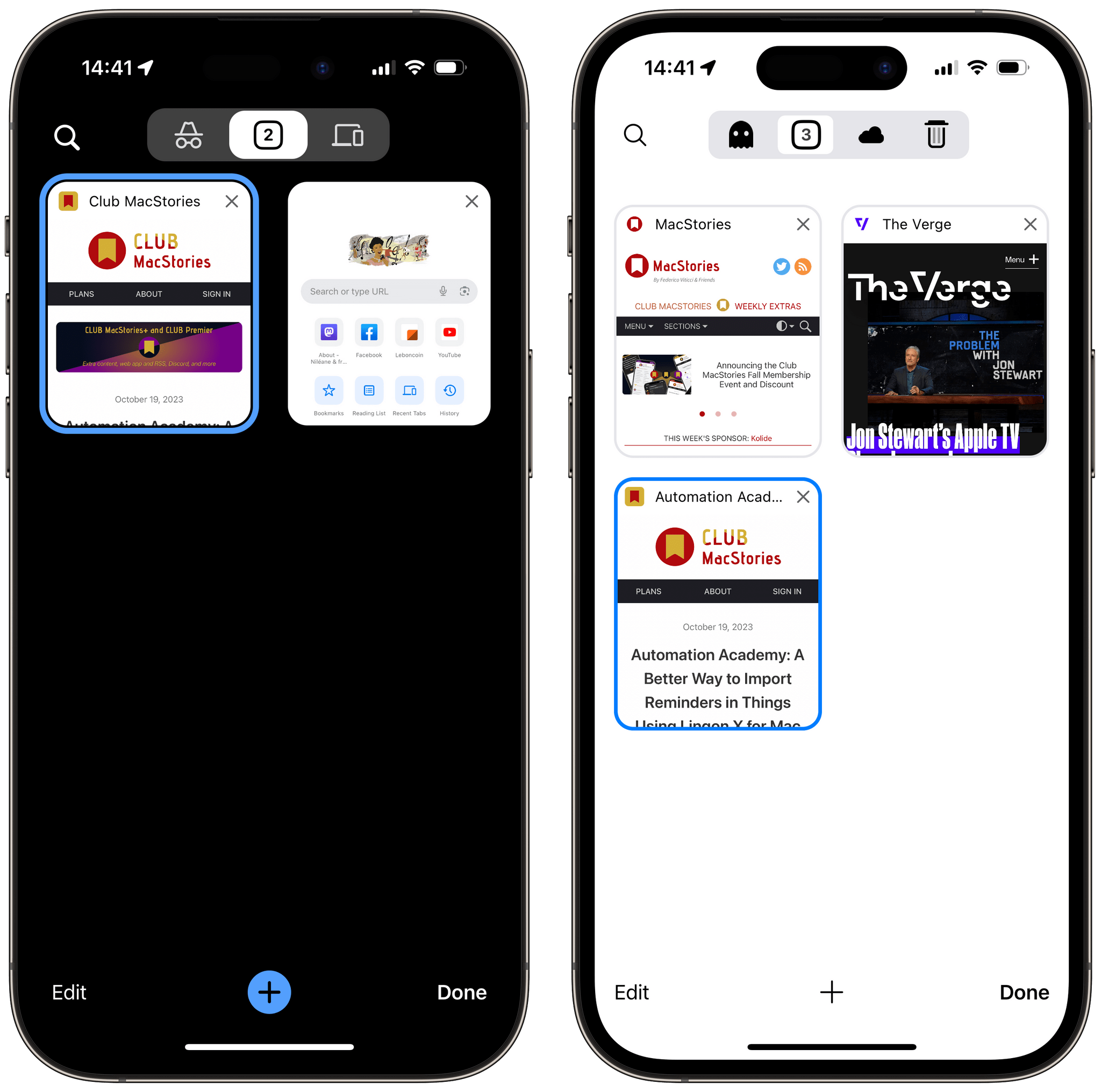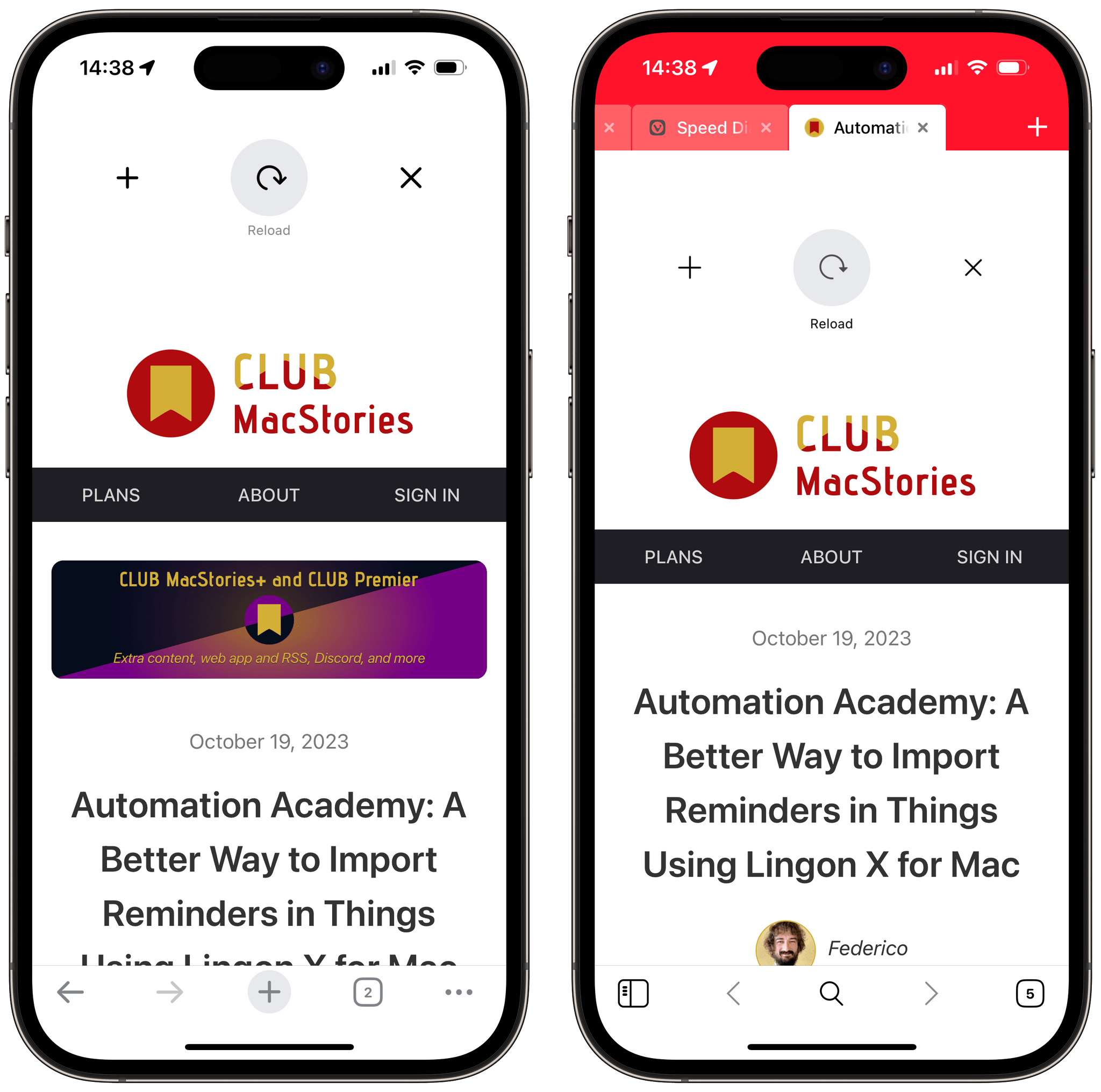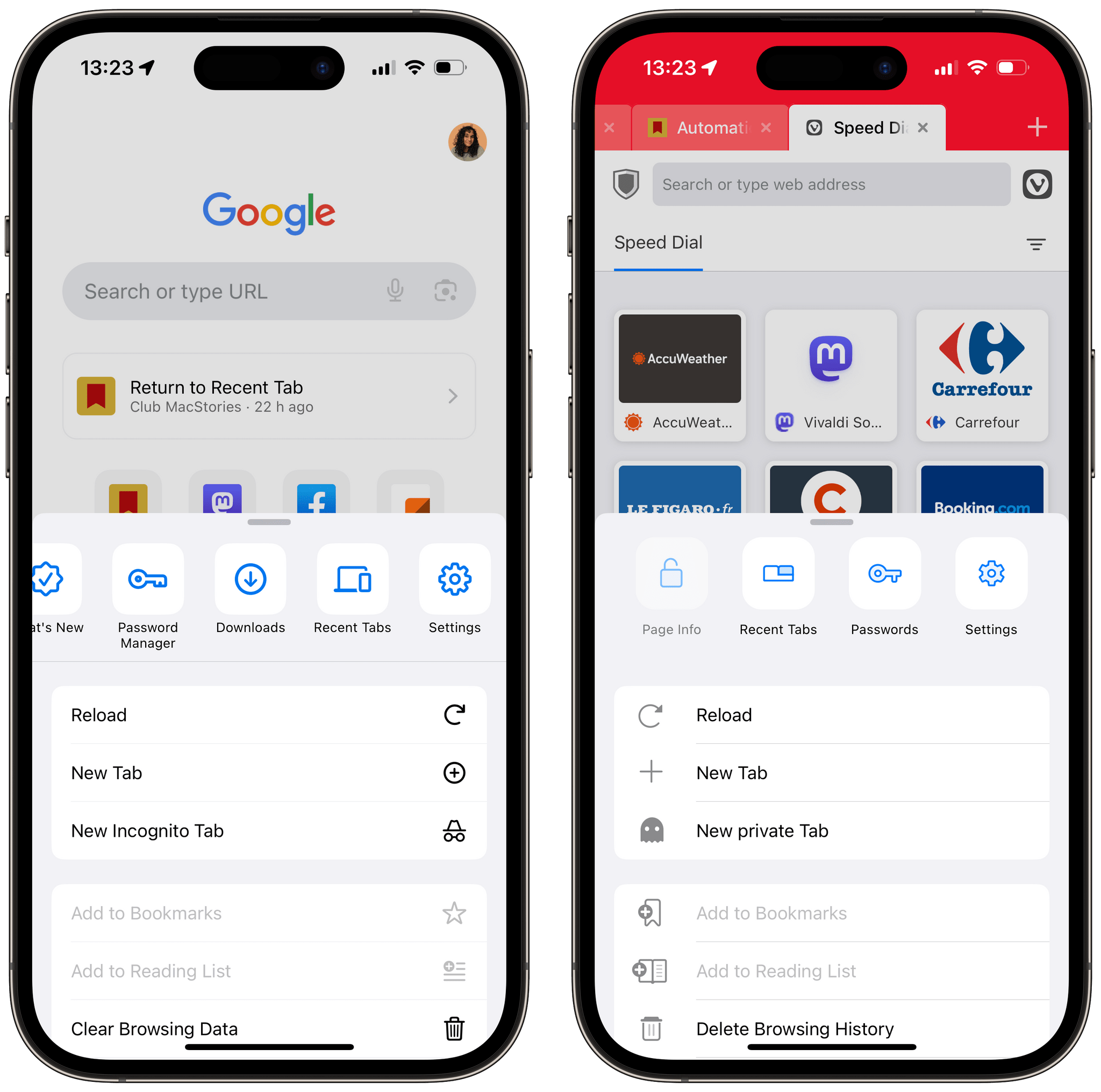 Vivaldi's settings may not be packed with numerous toggles and intricate options to customize, but the browser does offer some convenient features. These include a built-in blocker for trackers and ads, as well as the option to sign in with your Vivaldi account. By doing so, you can synchronize your bookmarks, reading list, history, passwords, and tabs with the desktop version of the browser. This makes Vivaldi for iOS a valuable addition for anyone who has already been using Vivaldi on the desktop for a while.
The Sync settings panel is where I noticed that Vivaldi for iOS ships with a note-taking feature. Notes can be taken on the fly as you browse the web, they can be sorted into folders, and they sync with the desktop browser. The feature is fairly basic, but I can absolutely see it being useful for anyone who wishes to take notes directly from the browser without having to switch to a dedicated app every time.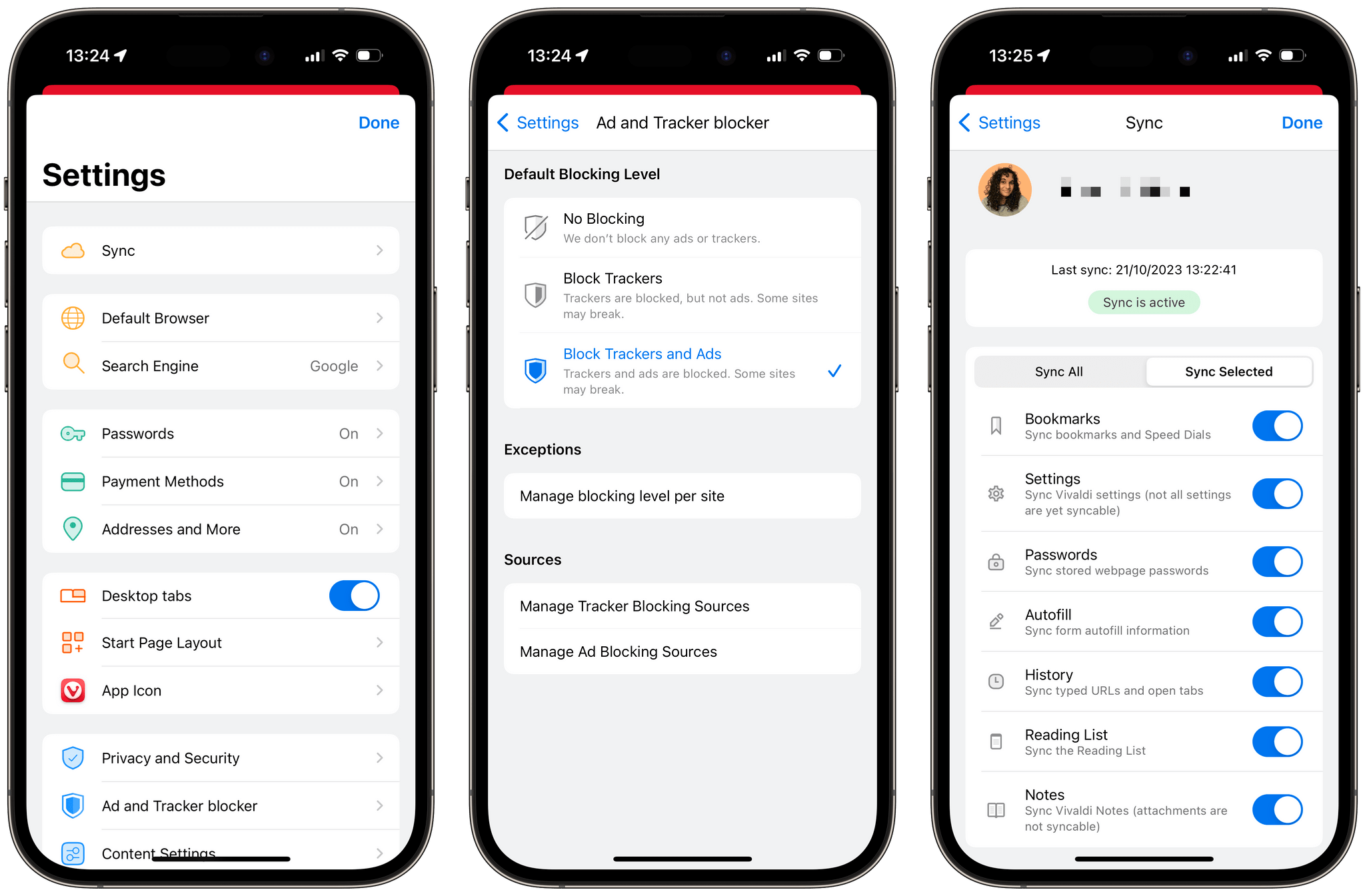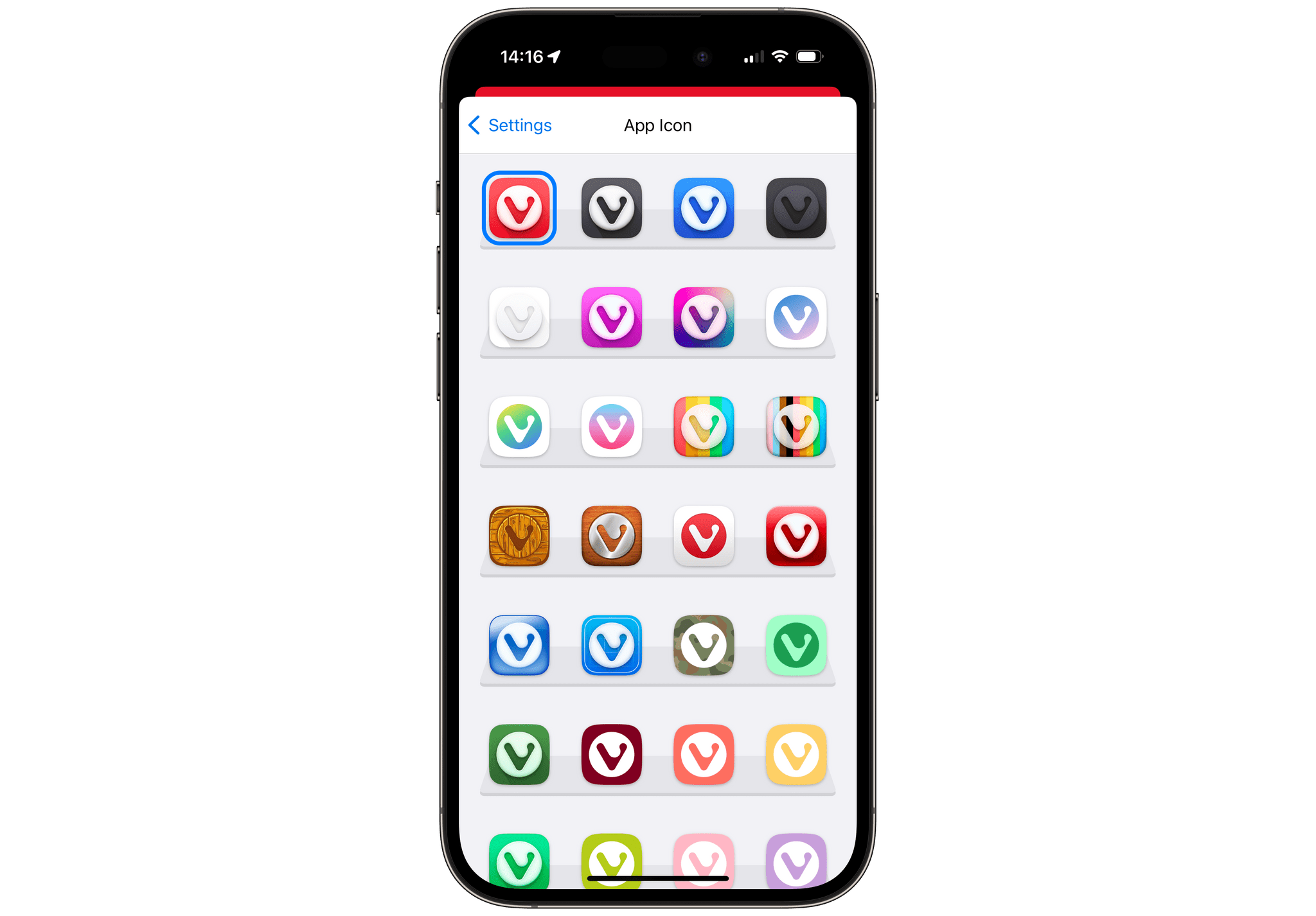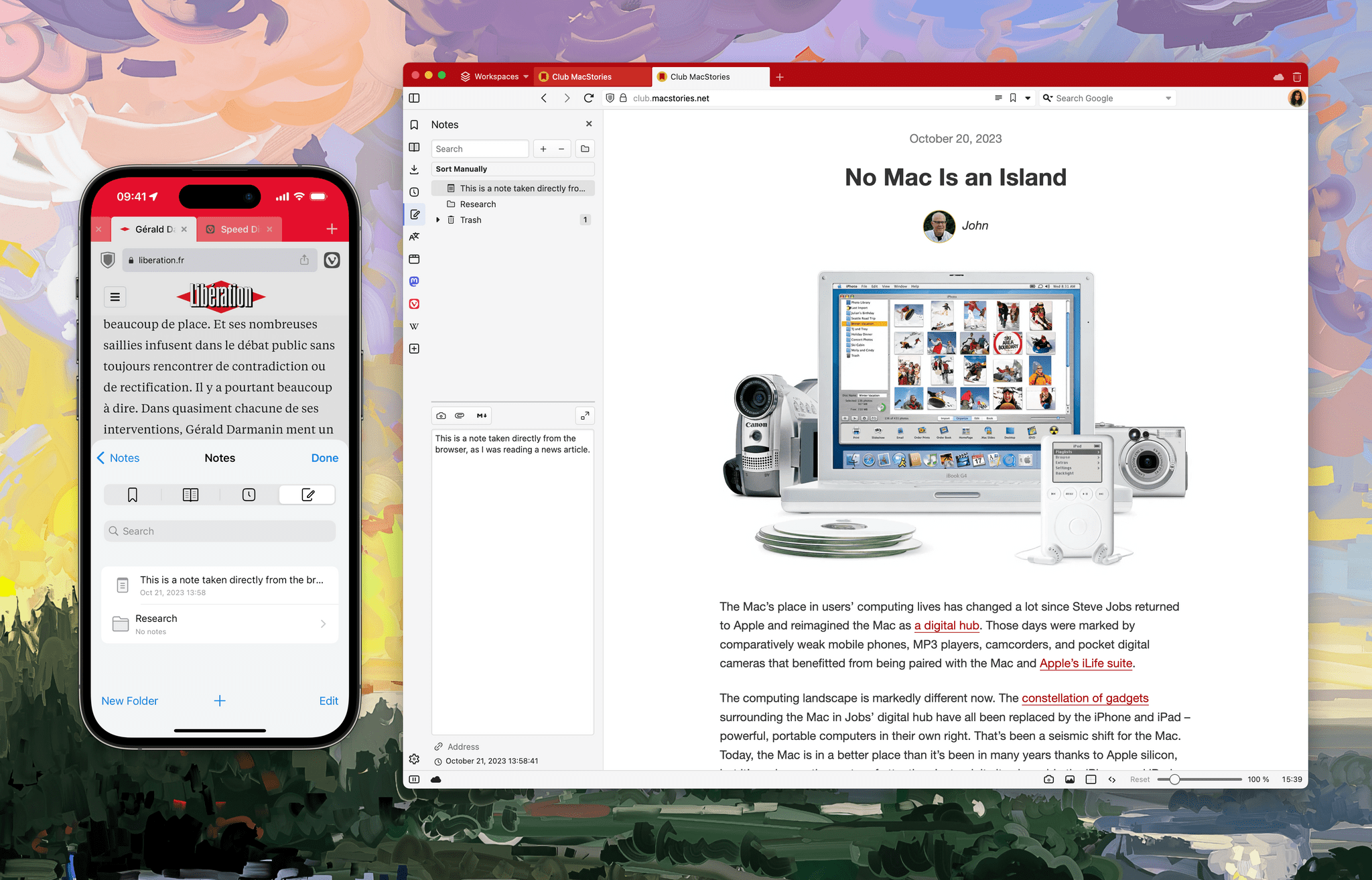 After giving Sync a try, I'm sad to report that the performance is not stellar. The above note took about an hour to appear on my Mac. Synced tabs also took a while to show up on both devices. The only workaround I was able to find was to force quit the app on iOS and launch it again. If there is no way for Vivaldi to improve Sync for now, there should at least be a way to trigger synchronization manually instead of having to wait for it to happen on its own.
Speed Dial is the landing page in Vivaldi. Incredibly, Speed Dial falls short of Safari when it comes to customization. You can add shortcuts to your favorite and most used websites, and you can change the size of the grid to make it more compact. But, it is currently impossible to set an image as the background, and you can't add anything other than pinned websites to this landing page. As a result, Speed Dial can not surface your frequently visited websites or items recently added to your reading list.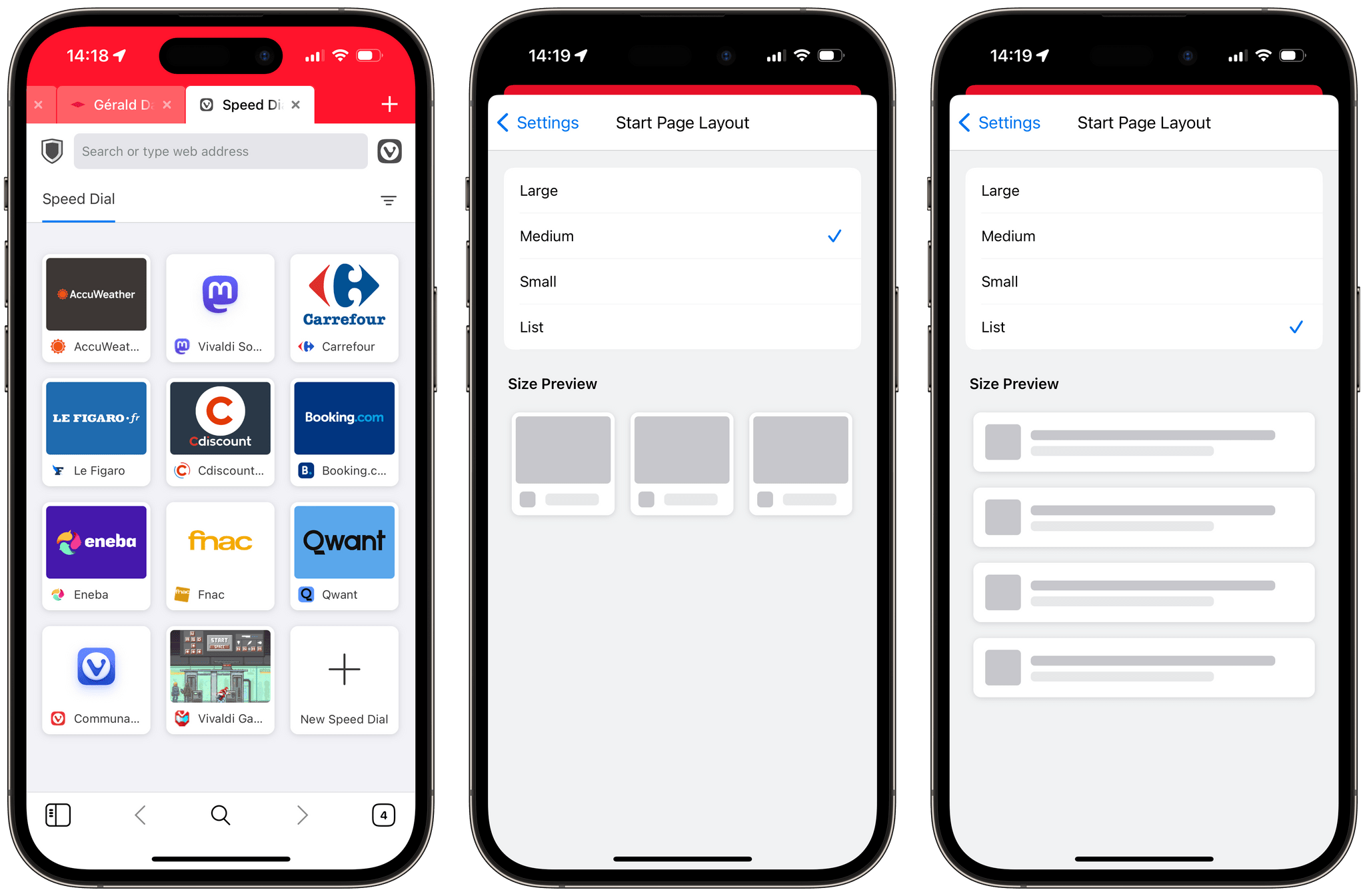 Vivaldi for iOS is a promising foundation awaiting a building. While it is a fast and functional browser for the iPhone, it lacks several of the core features that have helped it define itself in a crowded marketplace on desktop. I anticipated a fun and customizable browser, but instead, I found myself with a more basic browsing experience compared to Safari. Still, I'm curious too see if Vivaldi innovates on this rather basic foundation, and whether it can evolve into more than just a companion app for its long-time desktop users. I also think Vivaldi could become a great alternative if it added support for Chrome extensions and more advanced tab management options.
If you feel like giving it a try, Vivaldi for iOS is available for free on the App Store.
---
Trying to use a different web browser on my iPhone has made me question whether there are actually some powerful third-party browsers worth switching to on iOS. If you're a Club MacStories member, you can read about my experiment with Orion Browser, a lesser-known name in the space of alternative web browsers for iOS, in the upcoming issue of MacStories Weekly.
Join Club MacStories:
Join Club MacStories+:
Join Club Premier:
Use the coupon code CLUB2023 now through October 31, 2023 for 20% off all annual Club memberships.