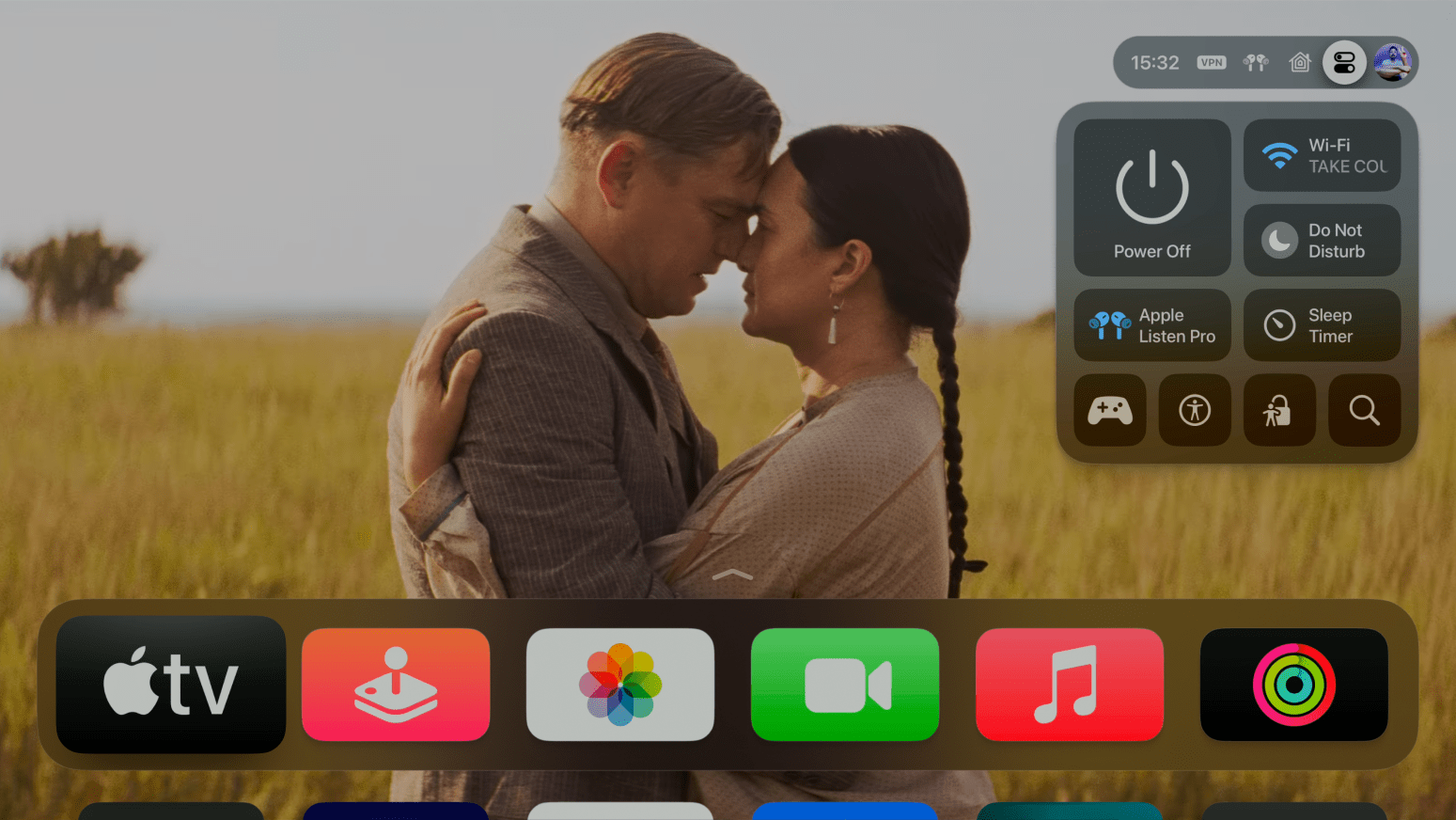 Apple TV may have received its most surprising update release this year, and I'd argue that tvOS 17 is also Apple's most impactful. With the launch of Apple TV+ and the expansion of Apple's TV app to third-party devices, Apple TV the platform had gone through a bit of a confidence crisis. It was hard enough before to get developers and the wider Apple community to talk about its software, but now it had to compete for attention with the likes of Jennifer Anniston, Reese Witherspoon, and Ted Lasso.1
Attention then moved onto Apple's next big platform reveal, a project so steeped in secrecy and excitement that when a tvOS engineering manager made a brief public change to their social media profile indicating they had moved on to work for the company's AR/VR division, I began to wonder if Apple TV and tvOS would ever get their special moment to shine. That special moment would come exactly nineteen minutes before the debut of Apple Vision Pro, and while it may have been a fleeting moment quickly forgotten by the majority, it's a moment in Apple TV's story I've been thinking about ever since.
The introduction of FaceTime on Apple TV was more than just a feature announcement. It also represented a realignment in what mattered most for the platform and Apple's customers and a shift away from a focus previously reserved for the needs of the wider entertainment industry.
FaceTime and Continuity Camera may be the headline acts in this year's tvOS update, but they're also supported by a cast of big changes elsewhere. They include a newly redesigned Control Center – Apple's latest triumph in intuitive interaction – automatic profile switching, Find Siri Remote, third-party VPN support, Shared Spatial Audio, updates to Fitness and Music, enhancements to both audio and video presentations, and a small but meaningful update to the tvOS Home Screen.
After using tvOS 17 over the summer, I'm happy to impart that the new features are all positive additions, even though there remains work to be done. So, without further ado, in a MacStories return to tvOS reviews, let's dive into tvOS 17.
Table of Contents
The TV App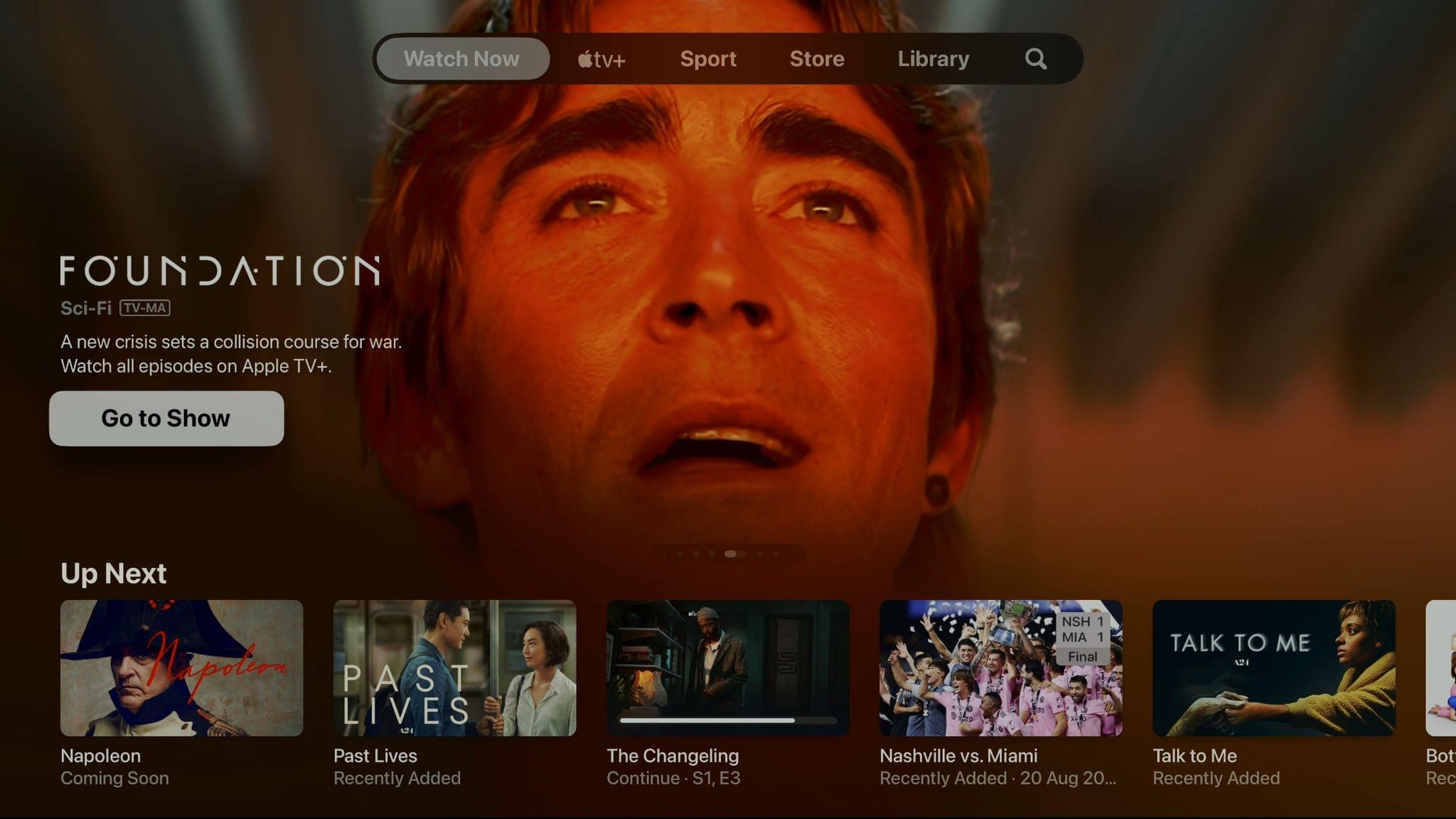 Originally introduced as the ultimate aggregator of TV shows and movies from the world of streaming and the iTunes Store, the TV app was always an ambitious endeavor – even for a company as deep-rooted in the arts as Apple.
The app's success has always been reliant on factors outside of Apple's control. Chief among those factors has been the reluctance of streaming partners to integrate with the TV app, which would benefit discoverability and overall user experience. However, streaming providers have been unwilling to forego the valuable data they can collect by steering users to their own apps.
But, what was once a simple means of media aggregation quickly became the home to the Apple TV+ streaming service, third-party content channels, Apple Music TV, movie & TV trailers, live news and sports2, recommendations, TV app collections, engaging editorial, and brilliant ideas like 'Shared with You' and 'For All of You,' which have been largely lost amongst the noise and then never fully realized. Sadly, while I still love the TV app for everything it successfully achieved – and for everything it still does well – in the years since its introduction, it's become too busy, bogged down, and bloated. In 2019, the TV app rolled out to third-party platforms like smart TVs and game consoles in the lead-up to the launch of Apple TV+, and since then, the app has felt less like an Apple product and more like the product of some "different group."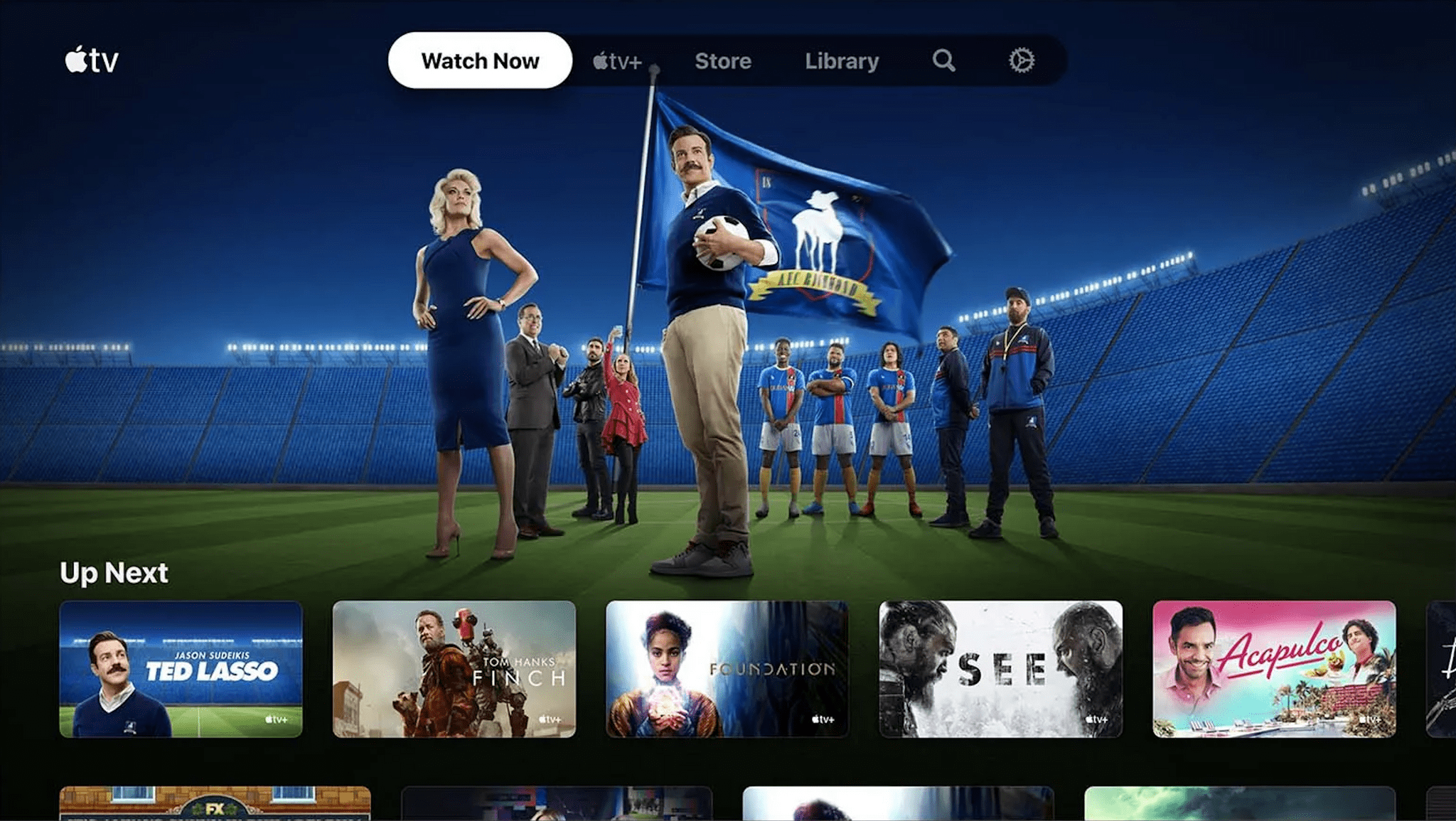 Last year's abominable effort to prioritize the top of Watch Now as a space for partners to advertise their shows and movies solidified that feeling. When that fundamental piece of the Apple TV user experience was demoted to second-class status, it removed a sense of connection to the content housed within Up Next.
That change, which was the subject of numerous critical opinion pieces, was also seen as a betrayal of the company's standards and remains unresolved to this day. All of that said, hope still lives on that one day, users of Apple TV hardware will be given the choice to revert to the old way within the TV app's settings to return to the Up Next space many once loved.
Through the Eyes of a Digital Movie Collector
A concerning piece of the TV app story and its insistence in trying to do it all is that its performance has taken a hit that has impacted the TV app's most loyal customers especially hard. I demonstrated that fact last year, comparing the loading times of my personal purchased library of over 3,500 titles across movies and TV shows on the latest Apple TV 4K hardware to Apple's TV app running on devices from Amazon, Google, Roku, Xbox, PlayStation, and some smart TVs. All were able to load up in under a third of the time. In fairness to Apple's engineers, a fix followed at the beginning of this year that solved the problem for the majority of customers, but complaints continue across movie forums and social media from digital movie collectors with collections that are two or three times the size of mine even though they are also running the latest version of tvOS on the latest Apple TV 4K hardware.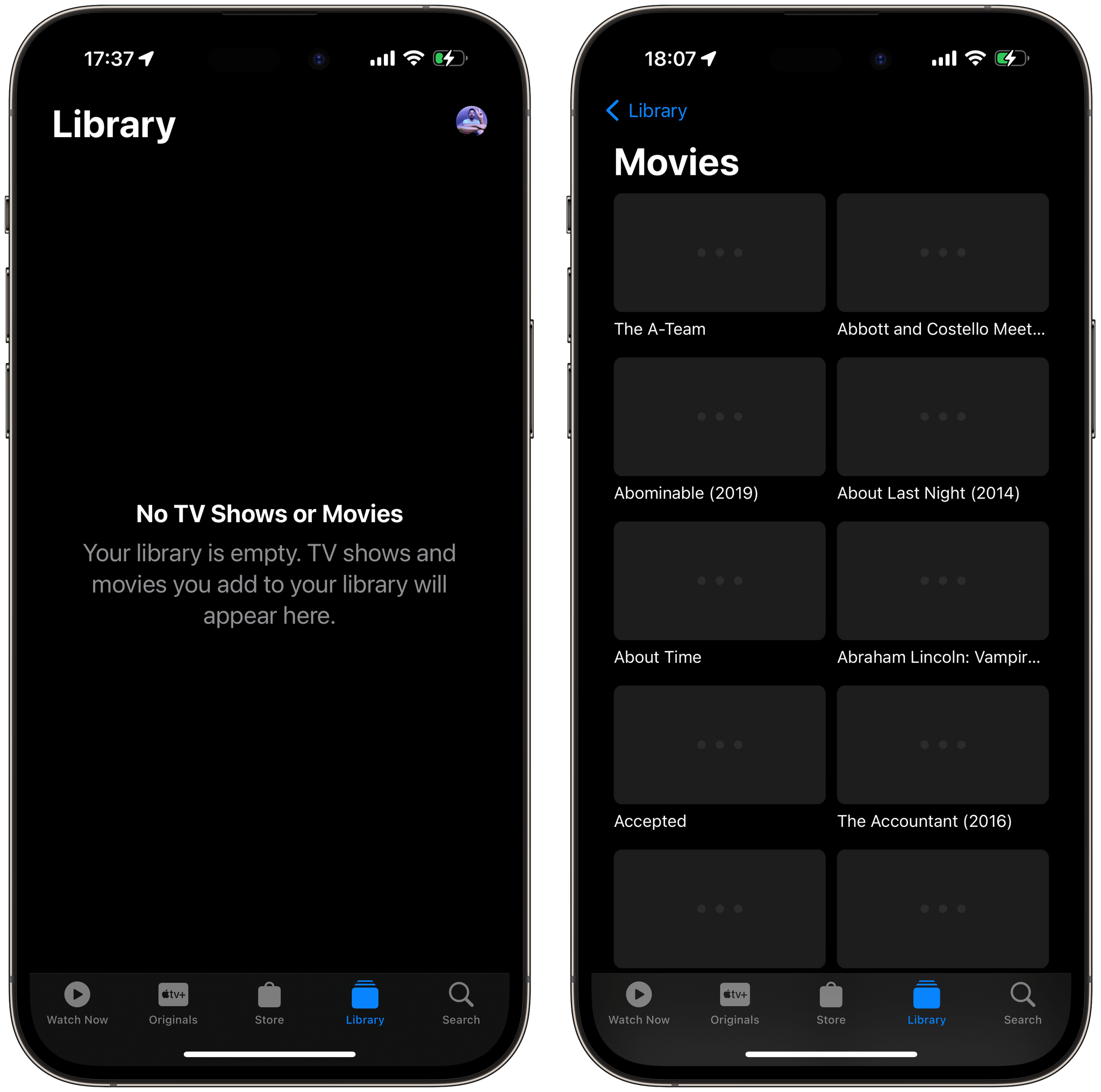 Equally concerning is that the same issues also occur with large purchased libraries on iOS, with some collectors either never seeing libraries load or otherwise heading into a state of extended panic when the app tells them that there are "No TV Shows or Movies" to show and that their extensive libraries are worryingly "empty."
Paths to Upgrade, Or Lack Thereof
The most likely reason for the larger TV app library counts in recent years is Movies Anywhere (MA), a video aggregation service founded by The Walt Disney Company in 2014 and launched a few years later. Based on KeyChest, digital movie purchases made in the US from 20th Century Fox, Sony Pictures, Universal Pictures, and Warner Bros are able to sync across storefronts from Apple, Amazon, Google, Microsoft, and Vudu, as well as cable services from DirectTV, Xfinity, and Verizon Fios.
Apple's groundbreaking and generous free 4K upgrade path for movie purchases made within its store has led to another issue. The TV app is one of the only storefront partners not to offer a paid upgrade path for HD purchases made outside of its own marketplace, resulting in digital movie collectors like me having no other option than spending their dollars elsewhere.
For purchasers of TV shows and movies, many of the biggest issues have existed since the app's 2016 debut, including the inability to access legacy TV and movie purchases through Siri or through the TV app's search function.
For example, let's say you previously purchased a movie, but then its distribution rights changed hands, or maybe your movie purchase has since been withdrawn from sale as part of a limited exclusive streaming agreement. If you ask Siri for the movie or use the TV app's search function, one of two things will likely happen. You'll either be prompted to repurchase the movie from the new distributor or sign up for the streaming service that now has the rights to the movie.
The same can also be said for TV show boxsets. If you purchase a multi-season boxset for an ongoing show, and it's later replaced to include subsequent seasons, you won't be able to search for the version you purchased. You can still find the box set you bought in your library unless, of course, it's too large to load. What's particularly frustrating is that this longtime TV app issue is that it has been solved by competitors.3
The TV App in tvOS 17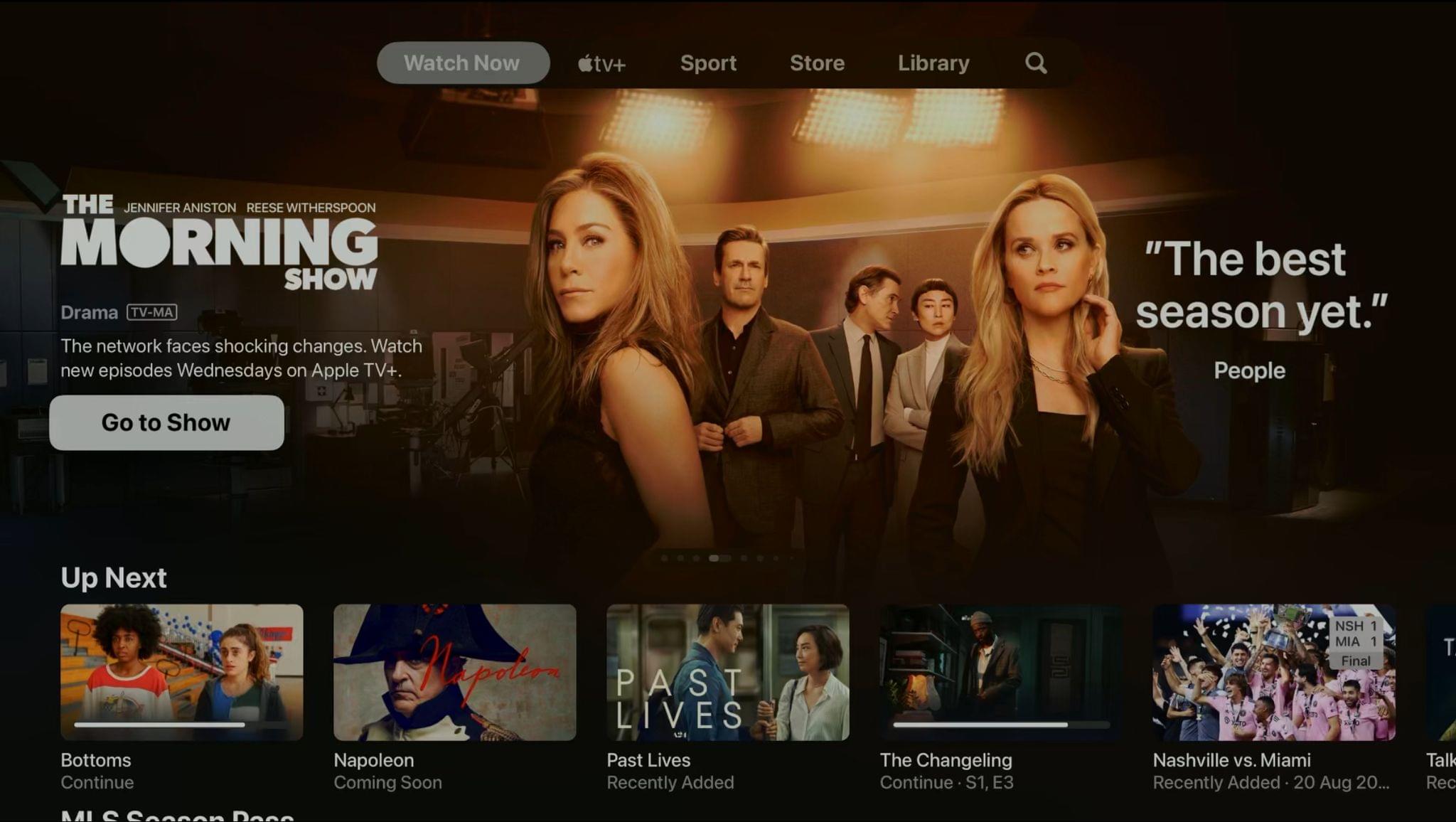 With the release of tvOS, Apple has added three small details to the TV app. There are new animated pagination dots for Watch Now's controversial featured ads. Also, there's an option to replace episode trailers with show artwork to avoid spoilers.
There's a new card style reimagining of Up Next's tile interactions, which includes an extra option for Episode information, too. This new card style, if it could be expanded to other contexts in the app, would allow for more interactions. Some that immediately come to mind are options to manually re-order tiles, hide future releases ahead of streaming debuts, and jump to a particular service's own siloed queue, otherwise hard to find within the TV app.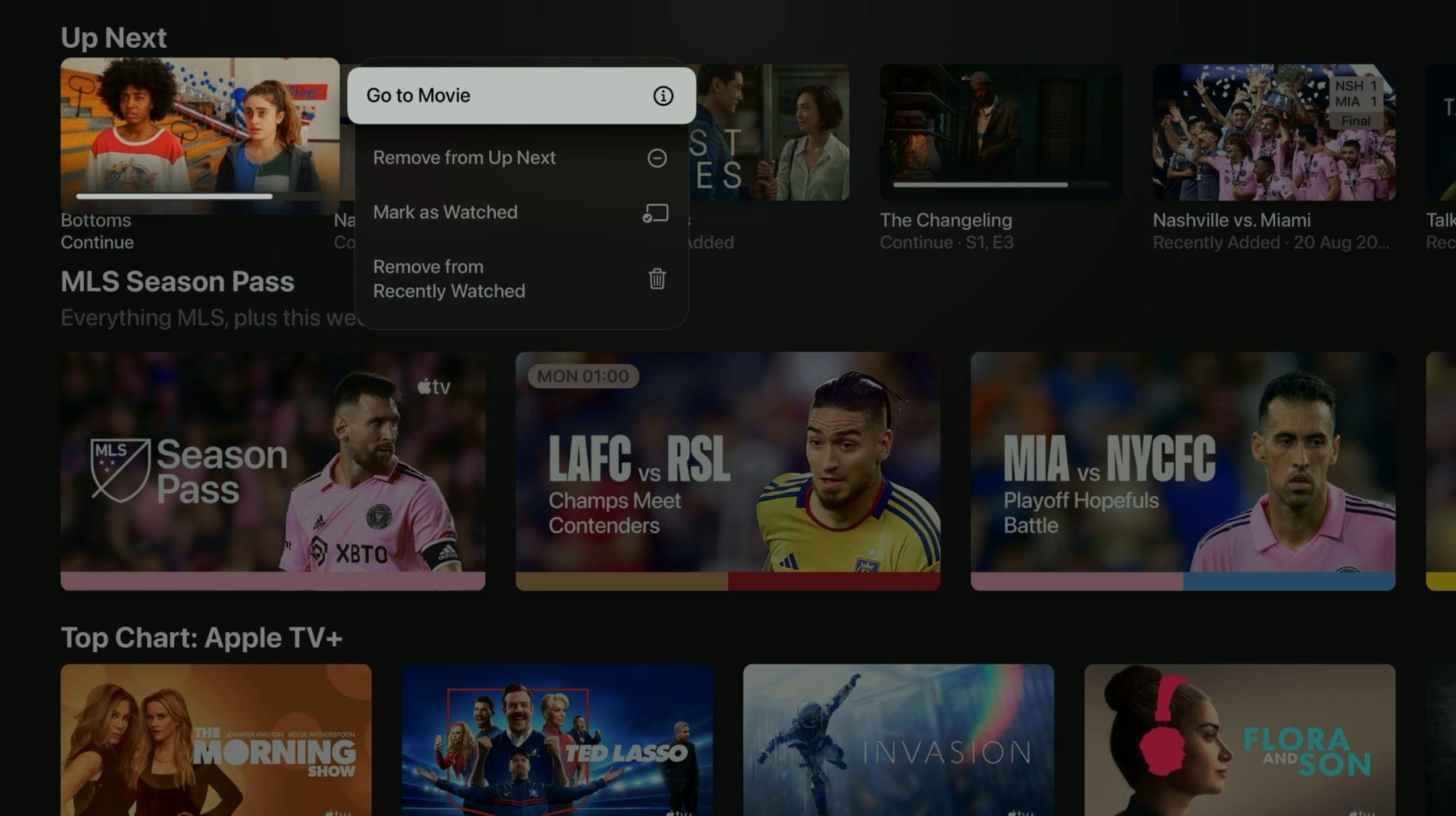 The biggest disappointment with this year's TV app offerings is how little has been done to add user customization or extend the app's functionality. The constraints on less capable hardware may explain the lack of progress to a degree, but it's disappointing that the app isn't even advancing on its own hardware.
I'd like to see an Up Next queue that adapts to multiple logged-in profiles. That sort of system would better represent the unique differences between our solitary viewing experiences on personal devices and the experience of watching on a TV at home with others.
In preparation for an evening of entertainment, I'd also like to see a similar experience to that offered by Kaleidoscape. I'd love to organize an evening of entertainment ahead of time on iOS, with prompts to download the best quality picture and audio available in advance. Currently, irrespective of platform, the streaming experience can vary in quality due to compression often experienced during high demand at peak times for your ISP. In offering the option to download instead of stream, Apple would be able to guarantee the very highest quality and could even further its environmental initiatives by ensuring downloads occurred at times of day when energy production is at its cleanest.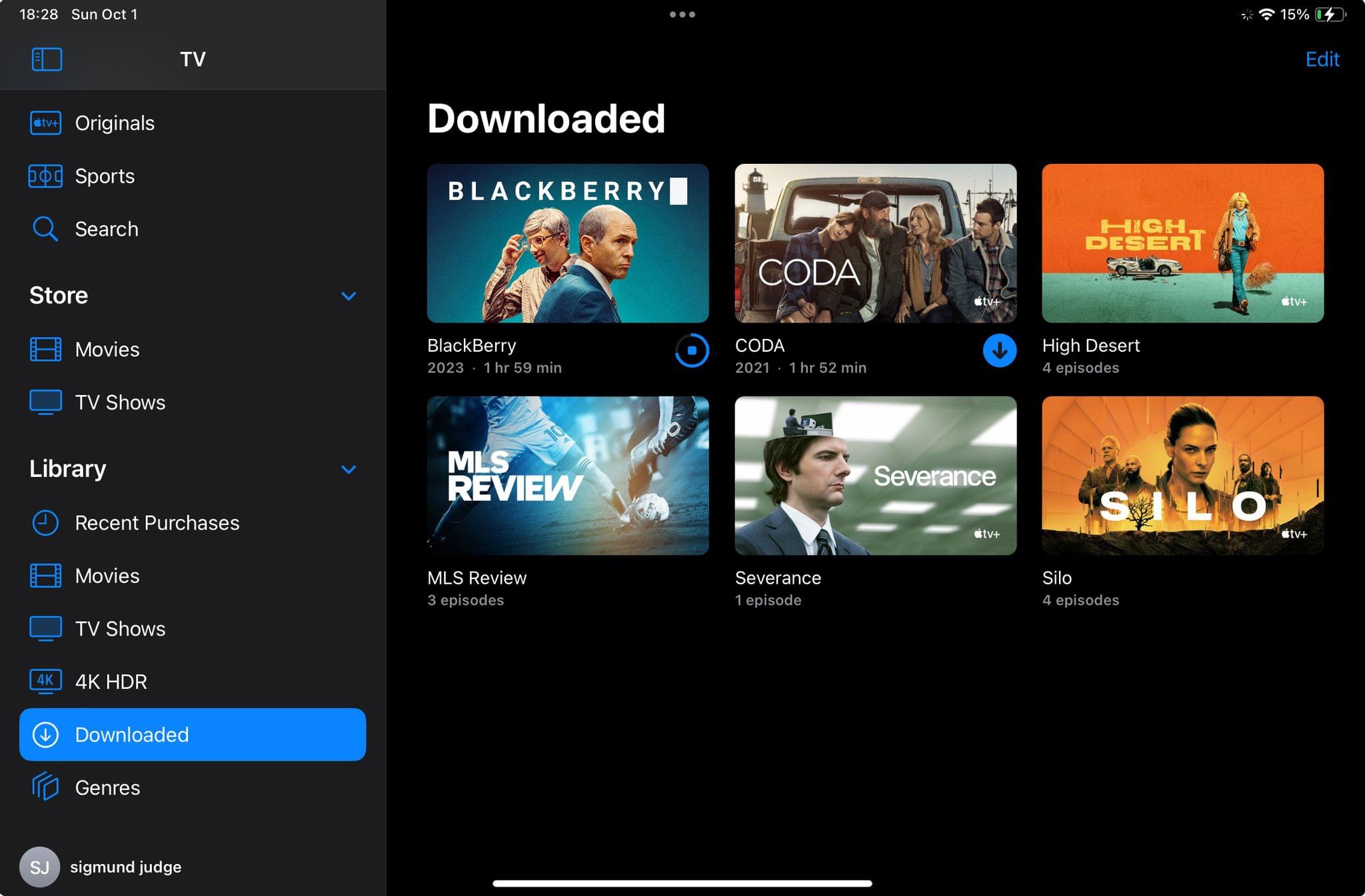 ---
Played by the incomparable Jason Sudeikis. ↩︎
The Sports tab remains a North American exclusive despite launching in November 2017. ↩︎
Another library item that needs attention is the displaying of complete TV boxsets as a singular never-ending row of episode tiles that lack separation by season. ↩︎