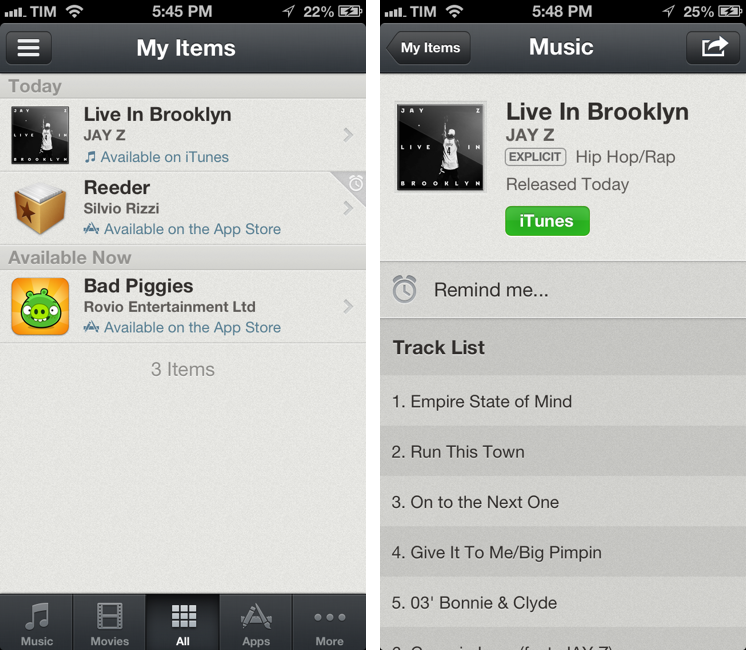 I don't like some of the changes of the new App Store in iOS 6. That's not a secret. But there is a single annoyance that goes way back before the iOS 6 days, all the way to when the App Store was relatively new in late 2008 and I got my first iPhone: the lack of a wish list.
I use the Wish List feature of iTunes a lot on my computer. Because I use iTunes mainly for buying apps and checking for updates, I rely on the Wish List to save interesting apps and games to check out later. However, I've dropped the occasional song or movie in the Wish List too.
The iTunes Wish List is simple and effective.
Too bad it doesn't work on iOS devices.
While there have been some rumors on dedicated wish list features coming with an iOS update, in its current state the App Store (and iTunes Store) can't use your iCloud account to sync items you've added to your wish list.
Recall by Overcommitted is not a wish list replacement in the sense that it'll provide you with a list that syncs across devices. For that, I still use (and recommend) AppShopper, which is just phenomenal when it comes to tracking app updates and price drops with push notifications. Instead, Recall is about "never forgetting iTunes recommendations again". It provides an alternative interface for the iTunes and App Stores, allowing you to save recommendations and create reminders for them.
Recall features a side-panel navigation UI made popular by Facebook and Path. The panel lets you check out items you've saved for later, plus New Releases and Top Charts for various sections of iTunes and the App Store. These sections, though, only offer a brief summary of the top-ranking apps or media in Apple's charts.
Recall doesn't want to be a full-on App Store replacement (not that Apple would be totally okay with that anyway); the app focuses on the idea of "remembering recommendations", and it is best showcased by the promo video Overcommitted made for the launch.
At the bottom of the app, you can organize tabs for the different kinds of content that is offered by Apple to customers. Personally, I have set Recall to display tabs for Music, Movies, All, Apps, and More. The "All" and "More" tabs are particularly useful: All lets me see every item I've added to Recall regardless of its kind, whilst More lets me customize the tab bar and access Books and TV Shows categories.
As I said, apps are my most purchased items on iTunes. Recall has a few tricks up its sleeves that could come in handy for bloggers or, generally, people who check out several apps every week. In Recall, you start a new search by tapping the + button in the upper right corner; I found this to be slightly disorienting at first as I didn't associate the button with a new search. However, once in the search screen, I was pleasantly surprised to see tabs for iPhone, iPad, and Mac apps. Unlike Apple's own App Store, Recall can show descriptions and screenshots for Mac apps, as well as additional details like website link (my single most-used feature on the Mac App Store), version, and ratings summary. Recall does the same for iOS apps, but I'm particularly happy about support for Mac apps, as both the iPhone and iPad can't preview iTunes links for the Mac App Store.
The app description screen reveals the main features of Recall: you can add a recommendation, share it, or add it with a time-based reminder. The interface for setting a reminder features the standard iOS date and time selector you've seen in other Apple and third-party apps. Once added, a recommendation that has a reminder will have a little clock icon next to it; recommendations will have a simpler orange checkmark when they show up in search.
Recall handles previews for iTunes content nicely. Movies are rendered with poster art, Rotten Tomatoes rating, starring information and description; albums have track lists and album arts; TV shows have descriptions. Unfortunately, Recall can't do previews of music and movie trailers like the iTunes Store app; however, there is a button to open an item directly in iTunes – the app doesn't use the new SKStoreProductViewController API of iOS 6 to show an embedded iTunes Store view.
I like the idea behind Recall, but I think it should offer more iTunes and iCloud-based functionalities. Firstly, the app is iPhone-only, and doesn't sync across devices. This means all your recommendations and reminders will stay local to the device and the Recall app, as the developers didn't add the possibility to save recommendations to the iOS Reminders app (which would be a way to share recommendations with other devices). I believe they have done so to ensure people will click on links using Recall. From this standpoint, maybe a custom URL scheme would be a nice compromise to allow for Reminders integration and let people get to iTunes through Recall; imagine being able to have Recall create real reminders that sync and have clickable URLs to go back to the Recall app. Whatever the developers choose to implement, I'm hoping for sync and an iPad version next.
My second "issue" is with the limited integration with iTunes. Sure, I can see an album that's on pre-order and add a reminder for the day it comes out, but wouldn't it be neat if Recall notified me the exact moment that album goes live on iTunes' servers? Now think about this feature applied to app updates, new movie releases, or "every new app by this developer" saved searches. This would require, I guess, a major server-side component to query iTunes and send real-time push notifications to the user; however, coming from AppShopper, I couldn't help but think about it.
Recall is a good first attempt at fixing a problem of the App Store and iTunes that Apple has ignored for too many years. It's not the ultimate real-time tool for bloggers and it doesn't have sync, but it's still a cool app that introduces an interesting idea with a well-design interface. At $0.99 on the App Store, you should check out Recall.