Before he co-founded Workflow, Ari Weinstein was the creator of DeskConnect. Originally born out of a hackathon, DeskConnect was a Mac and iOS utility to speed up the process of transferring bits of text and files between devices. Based on a cloud service and built with speed in mind, DeskConnect predated Apple's Continuity efforts with AirDrop in iOS 8 and OS X Yosemite; when it launched in the summer of 2013, DeskConnect was featured by Apple on the Mac App Store and it ranked in the top charts for several consecutive days.
However, after Weinstein and Workflow co-founders Conrad Kramer and Nick Frey began working on the app that would later win an Apple Design Award, DeskConnect was put on the shelf so the team could focus on their powerful take on iOS automation. They never forgot about DeskConnect, though. With a major redesign and adoption of modern iOS technologies, DeskConnect's comeback, launching today on the App Store, brings an even faster way to share documents, photos, and just about anything across multiple devices. After testing the new DeskConnect for the past couple of weeks, it's impossible not to be impressed with its simplicity and speed.
DeskConnect's premise is easy to grasp: it's a web service that moves data between devices in near real-time thanks to the cloud and push notifications. DeskConnect can push text, links, images, the contents of the system clipboard, as well as files. Because DeskConnect isn't meant to replace full cloud archive solutions like Dropbox – it's a temporary holding tray – data you upload and share between devices is automatically deleted after 30 days.1 You also can't generate public links to items stored in DeskConnect, and there's a size limitation of 100 MB per file. While DeskConnect's support for multiple data types and documents may be reminiscent of services like Droplr or Box, DeskConnect really is just a way to transfer personal information for a limited amount of time.
In the new DeskConnect, four buttons sit atop the main screen to send photos, the clipboard, websites, and documents. Only three of these shortcuts function within the app itself: to share links to websites, you'll have to use the DeskConnect share extension from other apps. Items you've sent to devices configured with your DeskConnect account will be displayed with thumbnail previews at the bottom; on the iPhone 6s, you can 3D Touch on them to open a peek and then swipe up to reveal options to copy the item again or delete it.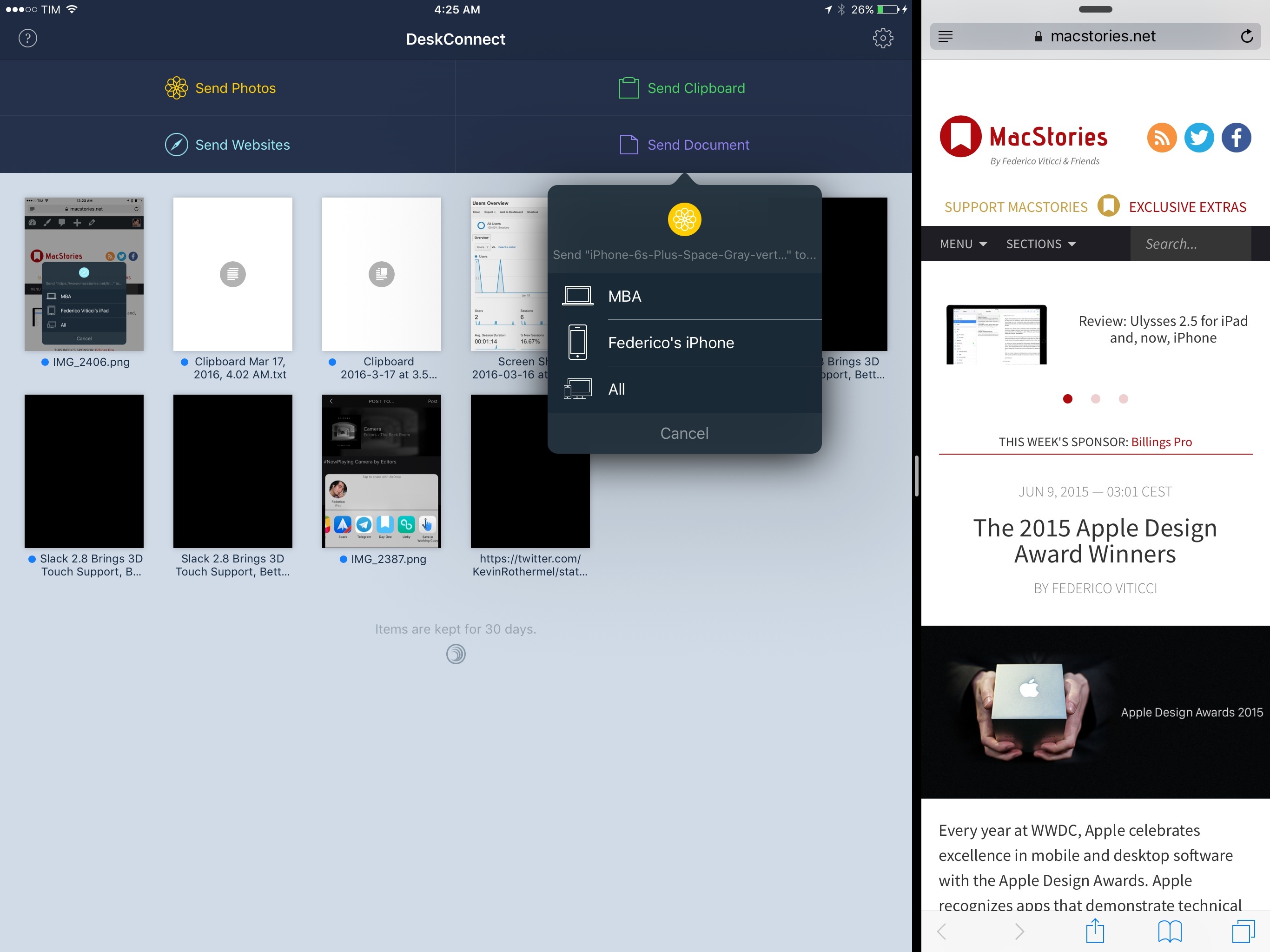 What I immediately noticed when testing the new DeskConnect is that it's fast. After signing up for an account and enabling notifications, sharing files from an iPhone to an iPad is just a matter of opening the document picker inside DeskConnect, choosing a file from a document provider, and hitting Done. DeskConnect will upload the file to its servers in seconds, sending a push notification to the other device with buttons to copy the file or view it in the app as an actionable notification. The same applies for links, text clippings, and photos.
In my tests, DeskConnect never failed to transfer and deliver text and files between my iPhone, iPad, and MacBook Air – something I can't say about Apple's AirDrop. DeskConnect is actually faster than local AirDrop in most cases, and it gives me a convenient way to send files from my Mac to iOS as my MacBook is too old and can't AirDrop files to iOS at all.
I'm not going to use it too often, but DeskConnect's Mac app is solid, too. It lives in the menu bar, and it can send the contents of the frontmost window to other devices connected to your account. The team has been quite clever here: depending on the app you're using, DeskConnect will be able to figure out your activity and transfer it to other devices.
If you're viewing a webpage in Safari, for instance, the URL will be transferred via DeskConnect; if you're in TextEdit, the .txt file you're working on will be pushed to the cloud; same for iWork, Office, Preview, QuickTime, and even Photoshop. If you don't want to transfer what you're working on, you can also drag and drop any file or text onto the menu bar icon, or manually send the contents of the clipboard to another device.
There are some nice touches in the new DeskConnect, too. The iOS share extension, for one, is extremely easy to use and it worked even when DeskConnect had been force-quit. Thanks to push notifications, sharing links from Tweetbot and files from Documents on my iPad worked like a charm and I received the alert for received content on my iPhone seconds later.
Furthermore, DeskConnect is a good iOS citizen: documents are selected with the standard document picker that can be switched to any compatible iOS document provider; files can be re-shared with extensions and manually sent to other devices again; and on the iPad, DeskConnect supports Split View multitasking.
It shouldn't be a surprise that DeskConnect ships with native Workflow integration, too.
Once authenticated with your account, a new 'Send via DeskConnect' action will let you pass any file or data from Workflow actions to a DeskConnect-enabled device without taking you to the DeskConnect app. It's the kind of native integration that makes sense because it's the same team behind both apps, and it'll come in handy for those cases where using the basic DeskConnect extension won't be enough. Here's a workflow to send the contents of the clipboard to another device from a widget in Notification Center – this should give you an idea of how much time you can save with DeskConnect and Workflow working in unison.
I've been pleasantly surprised by DeskConnect. The app is polished, well integrated with iOS, and its speed and reliability are commendable. While I've been using Copied to move bits of text and screenshots between devices with iCloud, DeskConnect's simpler approach, 30-day automatic deletion, and integration with documents will work just as well for a lot of people – especially for those who can't stand the unreliability of AirDrop between iOS and OS X or who just want a quick way to send a file from an iPhone to an iPad.
DeskConnect is further proof of the wizardry of the Workflow team, and it's free to download from the App Store.
---
According to the team, SSL encryption is used when uploading and downloading files, and only you can download files you upload. They're working on end-to-end encryption for future releases. ↩︎