I'm not typically one that likes to replace Apple's core iOS apps with third-party alternatives, but Savvy Apps' latest iPhone app, Buzz, allows me to access my contacts faster than Apple's own Phone software, and I had to leave a spot for it in my Dock.
For the past two weeks, I've been testing Buzz, the latest production by iOS design and development firm Savvy Apps by Ken Yarmosh. Similarly to Agenda, also by Savvy Apps, Buzz comes with its own clean, custom UI focused on presenting text against a light background that contributes to increasing readability and finding things in seconds. Whilst I believe Agenda benefits more from this design aesthetic because of how it handles information density (a calendar app can get pretty busy), the same focus on clarity and simplicity works equally well for Buzz, which is a quick dialer/contact management app that emulates many of Apple's Phone functionalities in a completely new interface.
Think of Buzz as a minimalist take on Apple's Phone app, aimed at enhancing a few important functionalities, leaving out many others that are (at least in my workflow) rarely used. Whilst Phone.app obviously offers control over recently missed phone calls, the voicemail, and your system favorites, Buzz takes the "quick shortcut" aspect of apps like Launch Center and Matt Gemmell's Favorites, combines it with group management and native integration with the Address Book, and comes up with a rather unique implementation that allows for a very lightweight usage, or deeper full-blown contact interaction. I believe many out there will find it hard to completely give up on the native Phone app – especially for the Recents view – but I found Buzz to be enough for me and, if anything, a better solution for my daily Address Book needs.
Buzz is focused on groups. From a Facebook-like panel on the left, you can create as many groups as you want (such as "Friends", "Family", or "Work") and assign contacts to them. Switching between groups is easy, as you just have to open the panel again and tap. Each group can have multiple pages of contacts, and each shortcut in the group's grid view can be assigned a default action – be it call, message, or email. From the group's management window, accessible by hitting the Groups icon in the upper right corner, you can reorder contacts, and organize pages if a group has more than four shortcuts. While the grid interface can be very useful for less numerous groups, if you'll find yourself having, say, 7 people within a group, you might want to swipe right, and access a more straightforward list view that works better with groups of 5+ people. In my usage, however, I've found the grid interface to be a godsend in interacting with those few contacts I talk with on a daily basis, as it provides a fantastic way to have on a single screen separate options for one-tap email, iMessage, or call.
Configurable in the app's settings, one-tap actions leverage iOS' integrated message, email, and Phone.app redirecting to allow the app to jump straight to a phone or FaceTime call after tap, or load up an embedded email and message view for one or multiple contacts at once. This is nice, because it means I can use Buzz as simple interface for the Phone app, which will still handle calls, or as a way to initiate group messages without having to switch back and forth between apps through the multitasking tray. The "confirm calls" option in the settings will even allow you to automatically be brought back to Buzz after a phone call ends.
Aside from one-tap calls and messages (which I admittedly use more than email), I like how Buzz lets me configure default messages and other available actions exclusively through taps. A tap & hold on a contact, in fact, will trigger Agenda-like "status taps" to send frequently used phrases such as "on my way home" without having to rely on iOS' own expansion method for snippets; a double-tap on a contact (in the grid view) will open an overlay with shortcuts to all available actions – a good idea if you fire up Buzz to, say, send an email, but then realize a text would be more appropriate. It's also a neat way to store a single entry for a regular phone call, and access FaceTime through double-tap.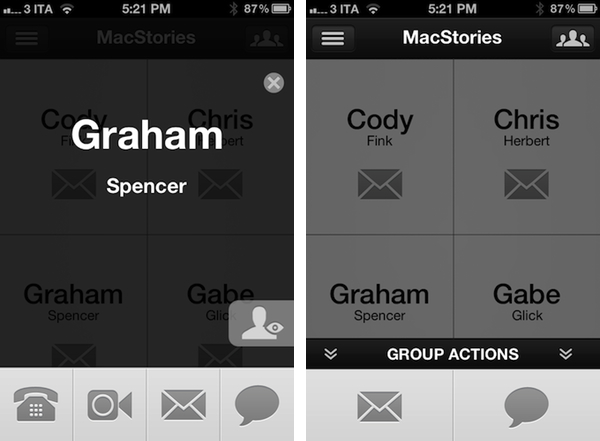 The group actions of Buzz are something I found myself using on a daily basis. By tapping on the lower section of a group's page, in fact, you get shortcuts for group messaging and emailing that will automatically use all the email addresses / phone numbers stored in your Address Book to send emails or texts to multiple recipients at once. This is particularly handy for teams, groups of friends, or family members. It's been a huge time saver for me, as I would have to manually re-insert each contact every time I want to start a new group message or email.
Buzz offers two more standard Address Book features that should help you consider this over Apple's Phone app – access to all your contacts, and a dialer. I don't use these much, but I like how the dialer allows for dialing by name or number.
I mentioned that Buzz has replaced Apple's Phone and Messages app in my dock (and Home screen), so here's a list of the things I'm doing with it:
Buzz allows me to quickly call or text my girlfriend.
Double-taps are handy if I want to initiate a FaceTime call, rather than a normal call.
I use Buzz to send group messages to the MacStories team, or sub-groups of writers within the team (please note phone numbers are used to send texts, even iMessages, per Apple's limitation).
Buzz allows me to quickly fire off an email to the whole MacStories team without picking each address manually.
Groups allow me to organize contacts without having to deal with group management in Apple's Address Book app, which is awful (especially on the Mac).
For those times when I'm given a phone number to call immediately, I can use the app's dialer.
Like I said, I'm sure some people out there are so dependent on Apple's Phone.app that they won't be able to change their workflow overnight, but since I decided to gave Buzz a fair chance in my dock I incredibly benefitted from having all my most-accessed contacts in a single "hub" that happens to be a nicely designed application with great shortcuts and ideas.
Buzz is only $0.99 on the App Store.