Created by Italian developer Marco Pifferi, AroundMe has long been one of my favorite location-based apps for the iPhone and iPad. In fact, AroundMe is one of the oldest iOS apps I own, as Pifferi always supported the app through the years with free updates and additions that took advantage of Apple's new OSes and features. With a simple interface and feature set, AroundMe allowed you to easily find nearby places (bars, restaurants, hospitals, hotels, etc) with a rich database and built-in directions for Maps and Google Maps.
AroundMe's version 7.0, released this week, brings a completely redesigned UI and animations that make the app ready for iOS 7, which is officially coming out on Wednesday.
The new AroundMe eschews the detailed category icons of version 6.0 and embraces iOS 7's visual style with glyphs inside colored circles that you can display in a list view or a grid. The title bar blends with the system status bar, and icons for settings and the current location reveal popup panels that are powered by new animations made possible by iOS 7. Animations aren't overused in AroundMe, but they're there at the right time: category icons elegantly (and quickly) rearrange themselves when you switch from list to grid view, and when you select a category the icon goes from a filled-in style to an outline that shows the border of the icon rotating clockwise to indicate a refresh of the app's database. AroundMe uses playful animations that aren't too heavy-handed and that, in my opinion, contribute to making the app simpler and yet pleasant to use.
I don't think that AroundMe has lost its personality in the transition to iOS 7. Pifferi is using custom glyphs for the app's categories, and the overall interface is fairly distinct from Apple apps on iOS 7 – the basic layout of categories and search results is actually the same of AroundMe 6.0, only powered by the new iOS 7 UI. On the iPad, categories are available in a sidebar on the left, with the app getting a larger map view for search results. The application icon has been slightly redesigned, but it's still the same immediately recognizable red pin on a blue background.
In my opinion, the new grid view with colored circles makes it easier to scan categories and tap one to begin searching for results; if you're going to use AroundMe several times a day, muscle memory will help you remember the position of a certain category over time, so I think that's an improvement over the old iOS 6 version.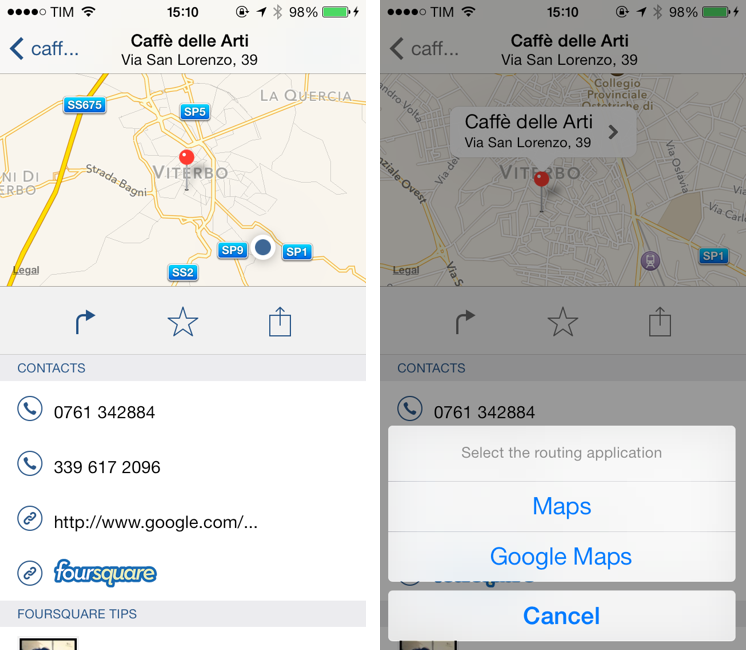 Search results have always been one of AroundMe's best features for me, as in Italy they are based on a combination of Google, Pagine Gialle, and Foursquare data to collect location, business times, photos, and other information about a POI that makes for a practical and useful presentation. Results are still listed with distance on an inline map, and the app supports iOS 7's new share sheet to send a place via Message, Mail, Twitter, or Facebook and with AirDrop to nearby users. If you use AirDrop, a place's information will be sent as a .txt file, which iOS 7 will ask you to open in Notes or other installed third-party apps. AroundMe's augmented reality view, first added in 2010, is still available in version 7.0, albeit inside a card layout that seems inspired by iOS 7's new multitasking view.
AroundMe 7.0 is a solid update that makes the app ready for iOS 7 without losing functionality. AroundMe's new design feels at home on iOS 7, and the custom touches that Pifferi added to the interface (new icons, animations) help differentiating the app from the stock iOS 7 design that several developers will follow in the upcoming months.
AroundMe is a free download on the App Store, with a $2.99 in-app purchase to remove ads.