Some people call it comeback, other resurrection, some poets often say "like a phoenix who rises from its own ashes". Call it whatever you like, but when it's about Mac and iPhone applications I prefer to call it "hard development and learning from your mistakes". We recently saw Read It Later coming out with an amazing 2.0 version knocking out Marco Arment's Instapaper iPhone app, now it's the turn of AppZapper, the famous app uninstaller which has finally reached the long-awaited 2.0 update and it's here to stay on the throne of application uninstallers. But there's so much more about it that we can't keep on calling it "an uninstaller".
I'll call it an "applications manager".
AppZapper was popular because with a simple drag & drop it allowed you to delete an application together with all the "hidden" files related to it. Well, they're not so hidden, actually: you should know that every time you launch an application on your Mac, the OS creates a series of "associated" files like preferences, support files and databases which won't be deleted when you drag the app's icon to the trash. They'll just stay there on your hard drive. Guess what, after 2 years of usage these files could waste GBs of space and you don't even know that. This is why I used to love the first version of AppZapper: if I wanted to delete an app, I dragged the icon into the main window and AppZapper found all the related files. Dead simple. Now, many people didn't like AppZapper as much as I did: take a look at this AppStorm roundup and you'll see how many utilities you can use to correctly delete an application from your Mac. Many followers told me on Twitter to try AppTrap, a preference pane which runs in the background and asks you if you want to delete additional files every time you trash an application. Cool and useful, but I didn't enjoy. I was an AppZapper die hard fan, and I knew all along it would get way better someday.
And here we are today, with a completely refreshed app, with more features and a brand new, awesome user interface.
At first launch, you'll notice how the overall feel of AppZapper is still there: there's the small window where you have to drag the app's icon and as you've dragged it, there's the list of every file found on your hard drive, the file size, type and the Zap! button. Pretty much like AppZapper 1.0. But, and here comes the cool part, just take a look at the details: every file has its own 32px icon on the left side. The icons are crisp and pixel-perfect and they were designed (together with the whole UI) by the uber-talented designers Marcelo Marfil, Clemens Knieper, Jasper Hauser and David Lanham. I interviewed both Marcelo and David a while ago (here and here), be sure to read the interviews if you missed them. So, the icons really help to convey the "meaning" of what you're actually deleting. Preference panes are depicted as a black sheet, Application Support files as a book with the "A" symbol on the cover and Caches as a wooden clipboard. Totally awesome.
You can decide to check off all the items and zap them (move them to the trash) or just Cancel and go back to the previous screen. And that's it for the zapping process: you can add multiple to the list and AppZapper will take care of it. User Interface refinements aside, nothing changed here since the 1.0 version.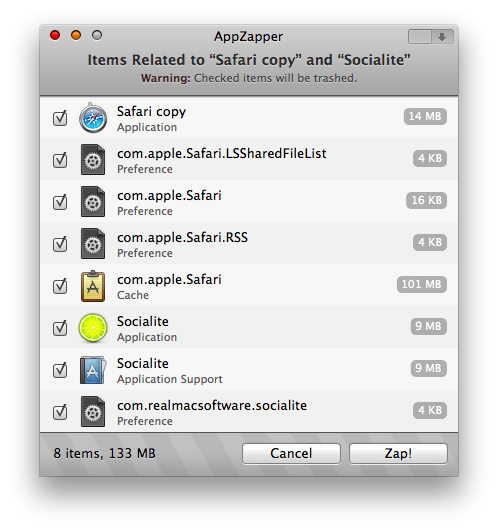 AppZapper comes with two new features: Hit List and My Apps. Let's see what they can do, and if they're really that useful. Hit List (it's not The Hit List, pay attention folks) it's basically a visual browser for the applications you could / should delete. Hit List (accessible through a small button in the top right corner of the main window) displays every app on a beautiful dark background, together with widgets, prefpanes and plugins you have on your Mac. It doesn't just scan your Applications folder: I have some applications in my Downloads folder and AppZapper listed them just fine. Same applies for prefpanes and plugins located God knows where on my Mac HD. Anyway, Hit List lets you select an application from the top and view (and obviously Zap) its related files on a bottom "shelf".
What's so great about Hit List it's (again) the user interface: it's not only beautiful, smooth and whatever adjective I can think of now, it's functional and seriously enhances the experience. If Apple will ever decide to change Mac OS X interface, I wish they'll choose the guys who created AppZapper 2 UI as a dream team of graphic designers. You can sort applications by size, last date used and name: as you drag over a menu a sexy black HUD-ish slider fades in allowing you to adjust the preferences and, say, increase the file size you wish to search for. I wish the Name menu had the same translucent thing, maybe they'll change it with the future updates. Also, as you choose an app to delete, you can view the related files in the bottom part of the window, together with the option to reveal them in the Finder. Useful to get some knowledge about how Mac OS X stores applications files. Last, you can switch between apps, prefpanes, widgets and plugins with the icons in the toolbar.
Do I like this Hit List feature? Definitely yes. It provides and easy and well designed way to view how many applications you have and see what can be deleted (I mean, if you haven't been using for 3 months, why should you keep it?) and what can be left there. Sure, it could offer more options like QuickLook, total size and right click menu, but it's a great first shot nonetheless.
Last, there's My Apps. My Apps lets you store licenses and serial numbers for the applications you've purchased. The graphics are stunning: once you've dragged an app into the window, AppZapper creates a card for it containing the icon, the app's name and a barcode. As you click on the card it flips over revealing details like version, puchase date, website, owner and license. You can either decide to manually type serial numbers or attach a license file if you have one.
Is it better than 1Password or dedicated apps like AppShelf? I don't know, but it gets the job done very well. It's accessible via a simple keyboard shortcut, the animations are fantastic (just take a look at the dimmed background window when the card flips over) and all the necessary information are there. I don't need anything more than this, especially if it's integrated into an application I'll use everyday.
AppZapper 2.0 is a great update. It feels like a brand new app, from the interface to features. I think it's even more useful and complete than before and at $12.95 it's a steal. AppZapper 2.0 is not an "app uninstaller": it's a complete manager for your Mac apps.It provides a unified and consistent way to delete and manage applications on Mac OS X.
And it's perfect to start this 2010.
Go download.