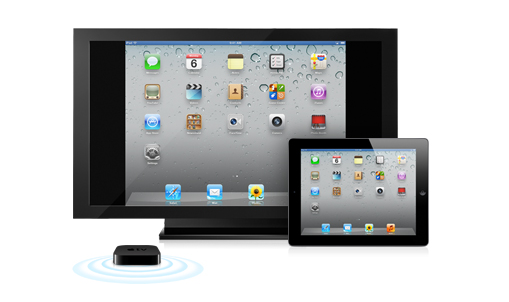 One of the big features coming with iOS 5 on the iPad 2 is AirPlay mirroring, a new functionality that, using the AirPlay technology for streaming content introduced in iOS 4.2, will allow users to beam their iPad's screens directly to an Apple TV without the need for a cable. In spite of the iPad being capable of mirroring its screen through HDMI to a TV, Apple has decided to step its game up and allow Apple TV owners with a decent local network to stream apps, games, and whatever it is people do on an iPad without anything but a WiFi connection and a control button in the multitasking tray.
TUAW points today to a video posted by Apple'n'Apps that details how AirPlay mirroring will work with the iPad 2. The setup is very easy: once you've made sure both the iPad and Apple TV are running iOS 5, all you have to do is enable AirPlay Mirroring from the switcher's controls and check out the iPad's screen on the TV right away. In the video, you can see the Springboard, as well as regular apps and games being beamed from the tablet to the Apple TV. Scrolling doesn't look as smooth as it is on the device when you're directly interacting with it, but we assume it depends on the kind of wireless connection you have.
In a similar post, Engadget shows AirPlay Mirroring with Angry Birds Rio HD for iPad and Real Racing 2 HD.
For this game (and we imagine many more to come), you use the iPad as the controller – both while navigating through menus and in race mode – while the game appears only on your TV (though the tablet does display some vitals, and a map of the track). There's noticeable lag between the iPad and Apple TV when using AirPlay, which may be an issue for games where timing is important, such as Rock Band, but didn't seem to set us back while playing Firemint's racing game.
Firemint has announced that Real Racing 2 HD will support AirPlay Mirroring once iOS 5 comes out this Fall, and it appears that the feature is already enabled in the first beta of iOS 5 available now to developers. Check out the videos after the break.