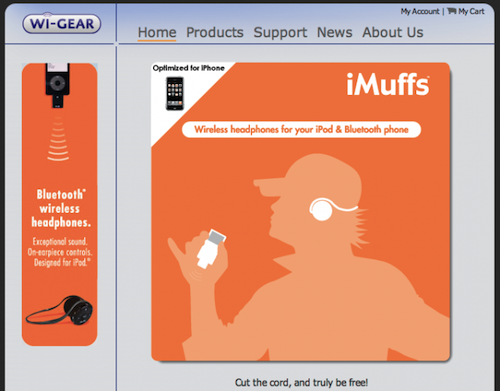 According to a report from 9to5mac, who cites a reliable source, Apple acquired San Francisco-based company Wi-Gear two months ago for an undisclosed sum. Wi-Gear used to make Bluetooth headphones (called "iMuffs") specifically meant for iOS devices, they were pioneers in the A2DP stereo audio field for iPhones and iPods – they even released an adapter for older devices that didn't support the Bluetooth 2.0 standard.
9to5mac notes that Apple didn't have that much of a success with its previous Bluetooth audio attempts and, for future iOS implementations, decided to acquire Wi-Gear instead of developing everything internally.
Apple plans to build its own stereo Bluetooth headphones for future iOS devices and MacBooks with technology and expertise from Wi-Gear. As you'll recall Apple didn't have a great amount of success with its own Bluetooth headset and instead of building in-house for their new product, decided to pick up the small Wi-Gear outfit.

We had a look at LinkedIn for engineers at Wi-Gear who might have joined up with Apple to corroborate our sources information and we found Wi-Gear co-founder Michael Kim who now is a Bluetooth Engineer at Apple.
The company's now closed, the co-founder now works for Apple – all the pieces seem to fall in place. Perhaps we'll know more at next year's music event.