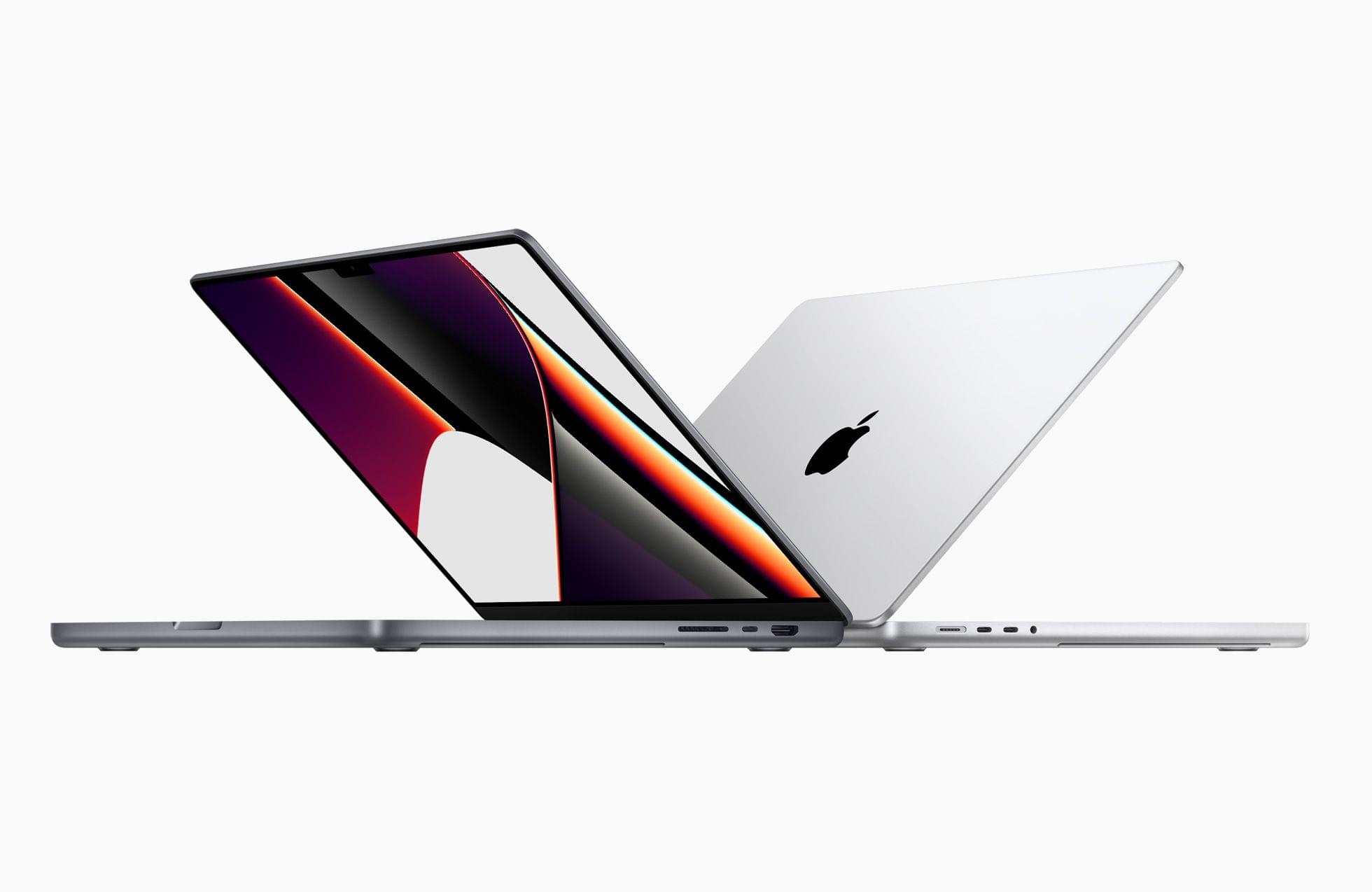 As expected, Apple released new MacBook Pros today featuring all-new Apple silicon systems-on-a-chip (SoCs). Let's start with the chips that drive the new 14 and 16" MacBook Pros.
Apple introduced two new SoCs, the M1 Pro and the M1 Max. Both MacBook Pro models can be configured with either SoC, which take the M1 architecture and scale it up for pro-level performance. Today's presentation emphasized a long list of metrics in several key areas, including the speed, bandwidth, and capacity of its unified memory and both SoC's efficiency and performance per watt.
The M1 Pro has up to 200GB/s of memory bandwidth and can drive up to 32GB of unified memory. The Max doubles that with up to 400GB/s of memory bandwidth and up to 64GB of unified memory.
Apple's press release quotes Johny Srouji, Apple's senior vice president of Hardware Technologies, who puts the new SoCs in context:
"M1 has transformed our most popular systems with incredible performance, custom technologies, and industry-leading power efficiency. No one has ever applied a system-on-a-chip design to a pro system until today with M1 Pro and M1 Max. With massive gains in CPU and GPU performance, up to six times the memory bandwidth, a new media engine with ProRes accelerators, and other advanced technologies, M1 Pro and M1 Max take Apple silicon even further, and are unlike anything else in a pro notebook."
The M1 Pro uses a 5-nanometer process to pack in more than two times the transistors of the M1 for a total of 33.7 billion transistors. The CPU has ten cores, eight of which are high-performance cores and two of which are high-efficiency cores. Apple says the combination makes the M1 Pro up to 70% faster than the M1 SoC. The M1 Pro also has a 16-core GPU that is up to twice as fast as the M1.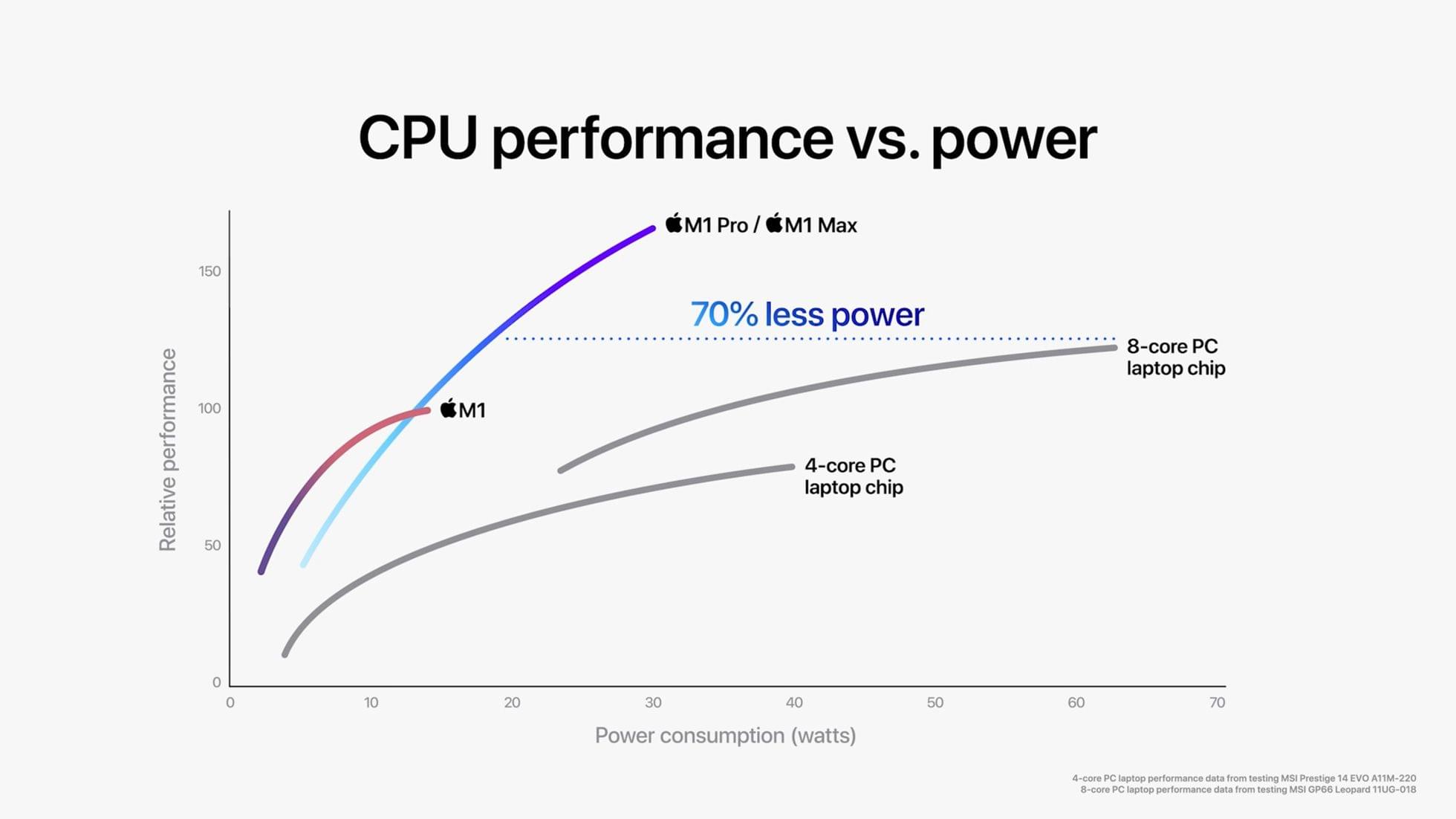 In addition to comparing the M1 Pro and M1 Max to its own M1 SoC, Apple says the M1 Pro is significantly faster than other high-end PC laptops. Without naming names, the most telling performance claim is a chart above that Apple showed off that tracks the performance of the M1 Pro and M1 Max compared to the watts the SoCs consume. The chart shows that the M1 Pro and M1 Max use 70% less power at the same relative performance level.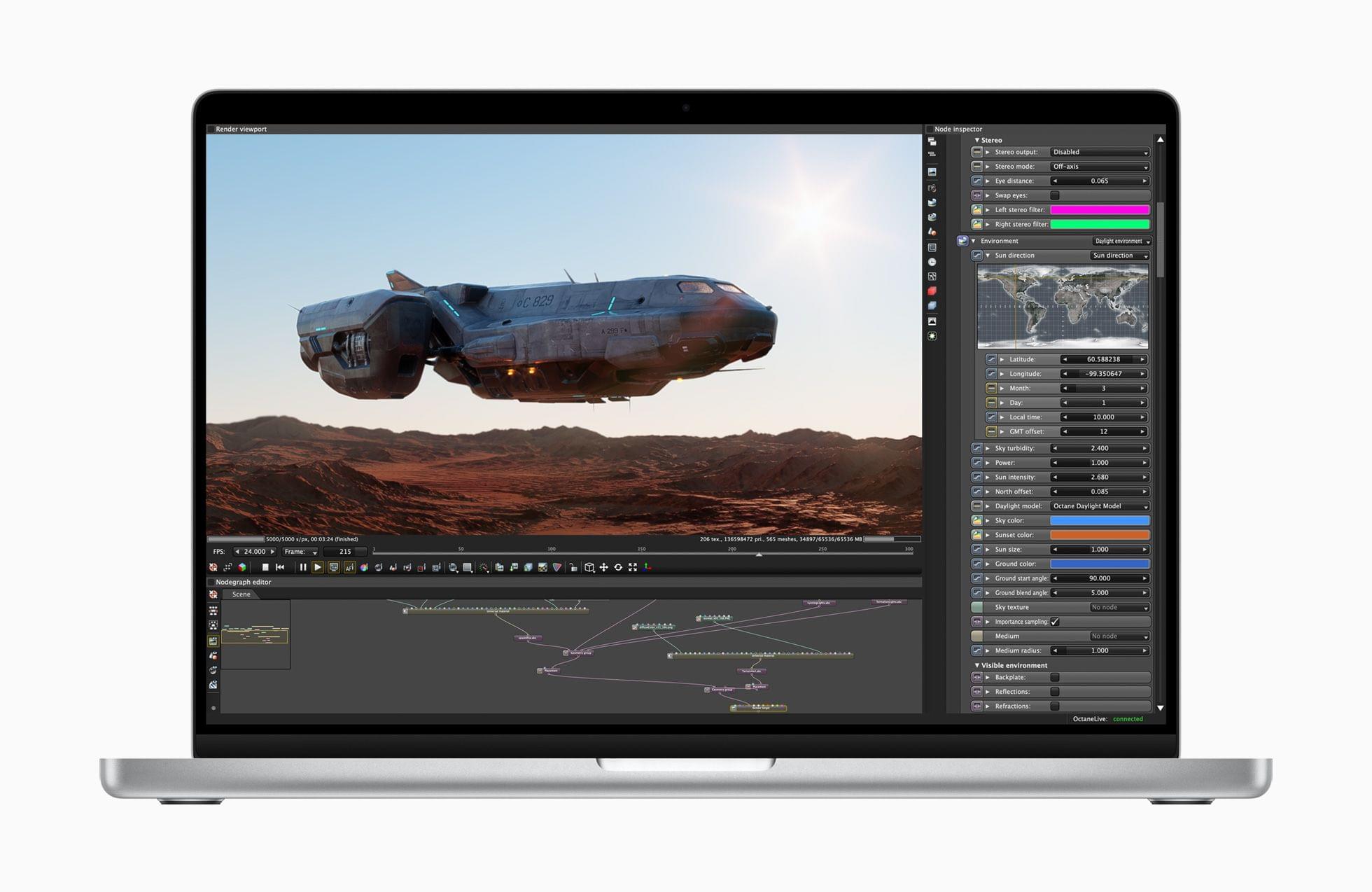 As impressive as the M1 Pro's statistics are, the M1 Max is better yet. The Max has the same 10-core CPU but a 32-core GPU that is up to four times faster than the M1. With up to 400GB/s memory bandwidth, the M1 Max's memory is up to six times faster than the M1 Pro and can be configured with up to 64 GB of RAM.
Both SoCs incorporate a media engine that has dedicated acceleration for the ProRes video codec. Like the dedicated Afterburner card available for the Mac Pro, this allows the new M1 Pro and M1 Max to playback multiple streams of 4K and 8K ProRes video while maintaining battery life.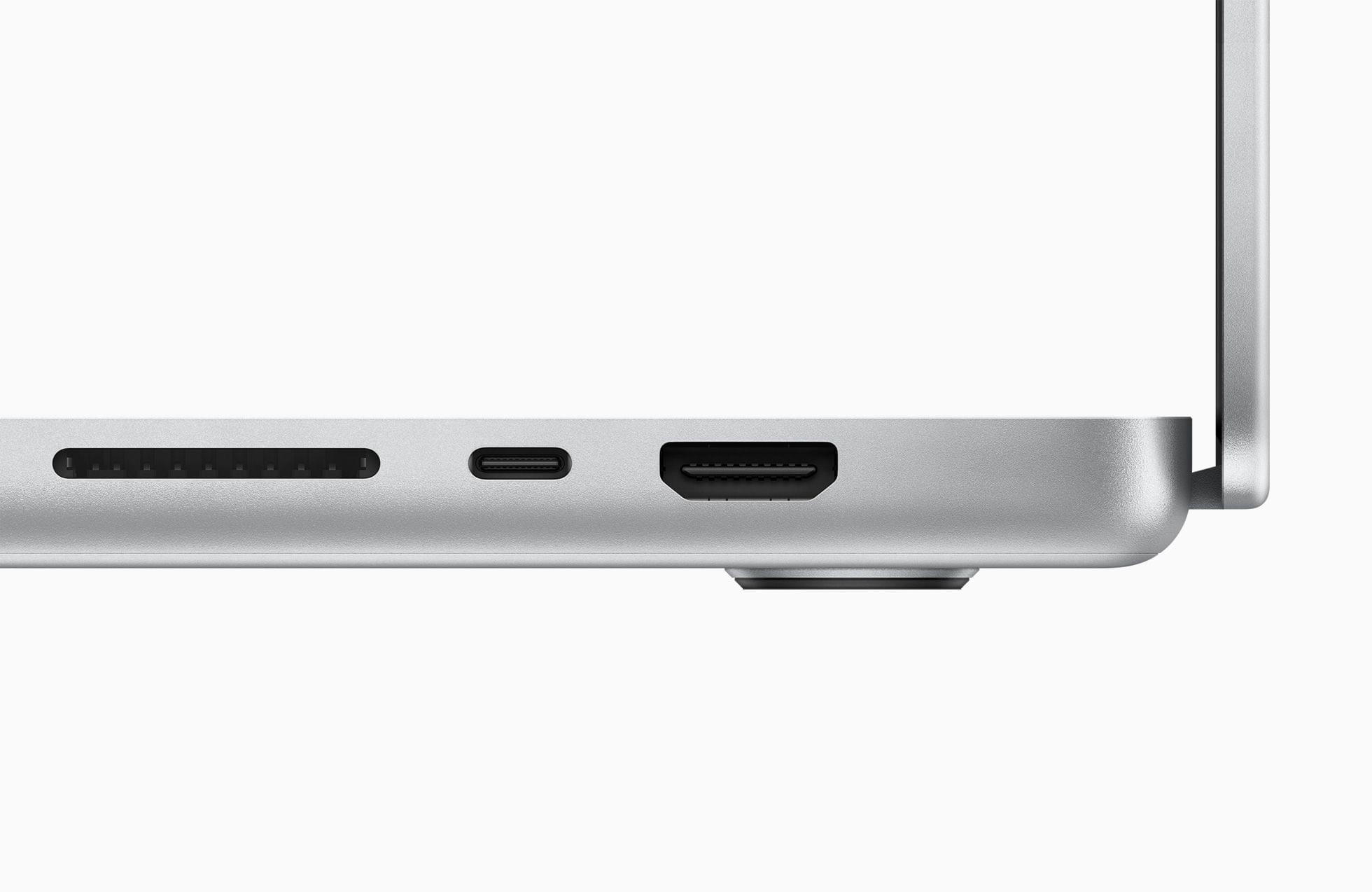 The M1 Pro and M1 Max also feature a 16-core Neural Engine, the ability to drive multiple displays, more integrated Thunderbolt 4 ports than the M1, a custom image signal processor, and security technologies like the Secure Enclave found on other Mac models.
Alright, that's a lot of admittedly mind-numbing numbers. It all sounds very fast, but what I find far more interesting is what it means for the MacBook Pros that Apple announced today. We haven't had a chance to try these Mac yet, but from what Apple said today, they sound like a big leap forward in performance on all levels.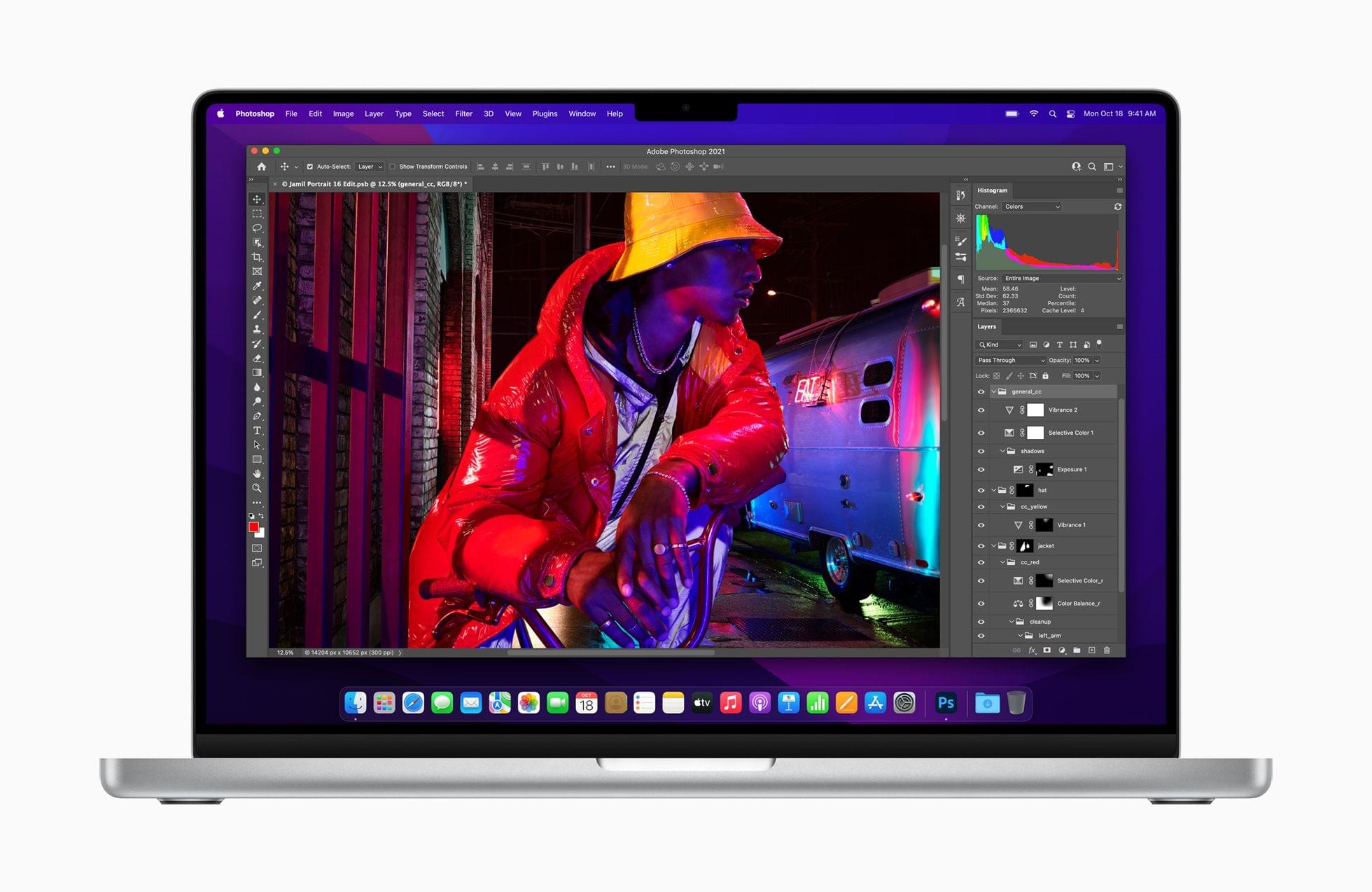 Apple introduced a new 16" MacBook Pro as well as a 14" model, which is an altogether new size for the MacBook Pro line. Both models offer the same performance characteristics whether used plugged in or on battery power, which isn't true for all laptops. The bigger SoCs require more cooling, so both models feature a dual-fan system that Apple says moves 50% more air than previous models and doesn't even spin when the M1 Pro and M1 Max don't need them.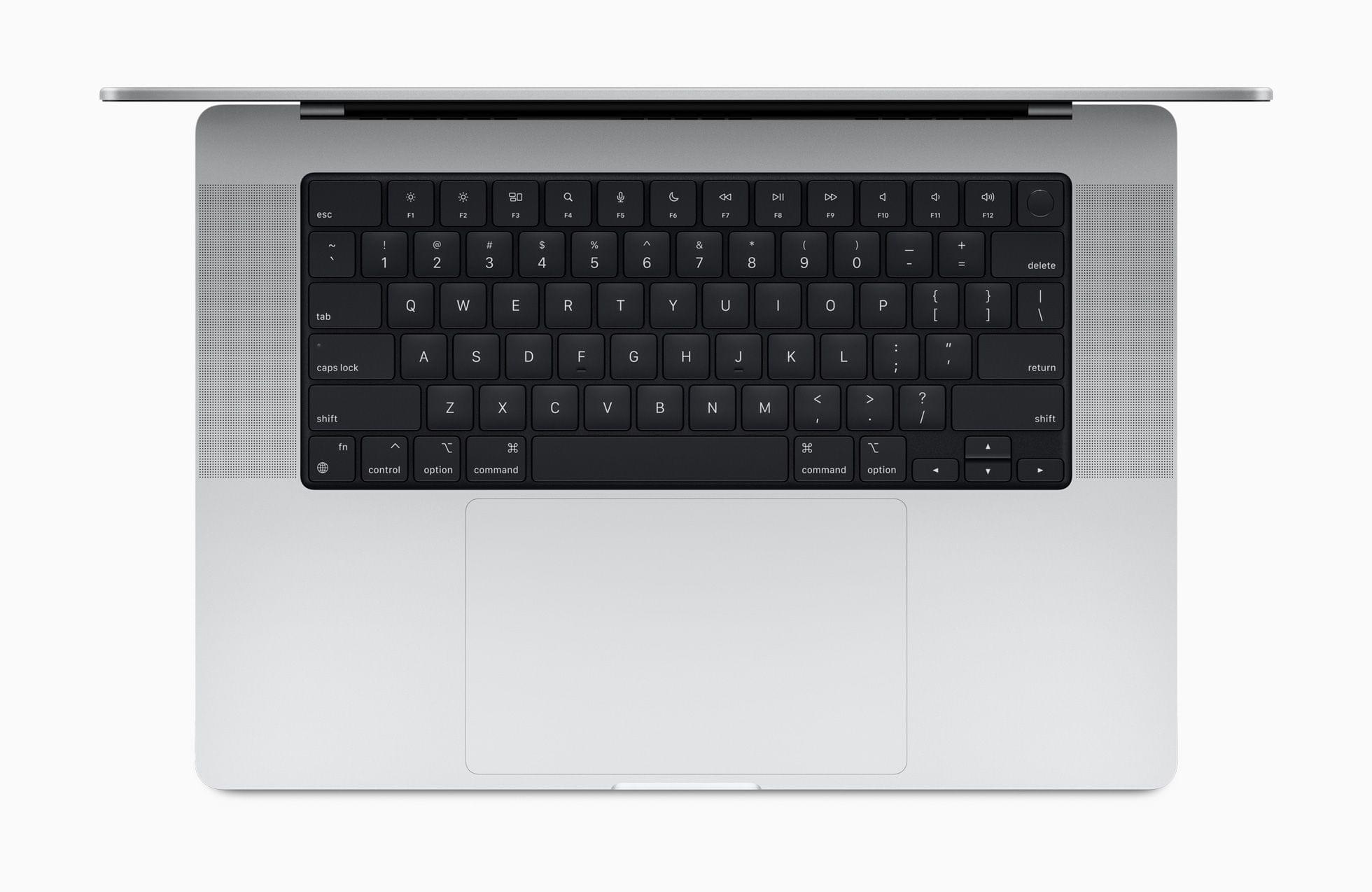 The Touch Bar is gone from both models, replaced by a full-height row of function buttons on the keyboard that include the same Touch ID button and other macOS functionality found in the Magic Keyboard that was released with the M1 iMac. In a departure from the Magic Keyboard, the arrow buttons are configured in an inverted 'T' shape.
The Liquid Retina XDR display is new, too, featuring mini-LED technology just like the iPad Pro. At full brightness, the MacBook Pro's display runs at a sustained 1,000 nits with 1,600 nits peak brightness and a 1 million to 1 contrast ratio with 1 billion colors. The MacBook Pros are also the first-ever Macs to include ProMotion, a technology first released with the iPad Pro and most recently, this year's iPhone 13 Pro and 13 Pro Max, which refreshes the display at a variable rate up to 120Hz. Apple says the M1 Pro supports connecting up to two Pro Display XDRs, while the M1 Max supports up to three Pro Display XDRs and a 4K TV simultaneously.
The 16" MacBook Pro's display is actually 16.2 inches diagonally with 7.7 million pixels, while the 14" model is 14.2 inches diagonally with 5.9 million pixels. The bezels on the MacBook Pro have been shrunk to 3.5 mm on the top and sides.
You'll also notice that the MacBook Pro has a notch for its camera. The camera in that notch has been improved too. The new camera has a 1080p resolution and also benefits from the new image signal processor and Neural Engine.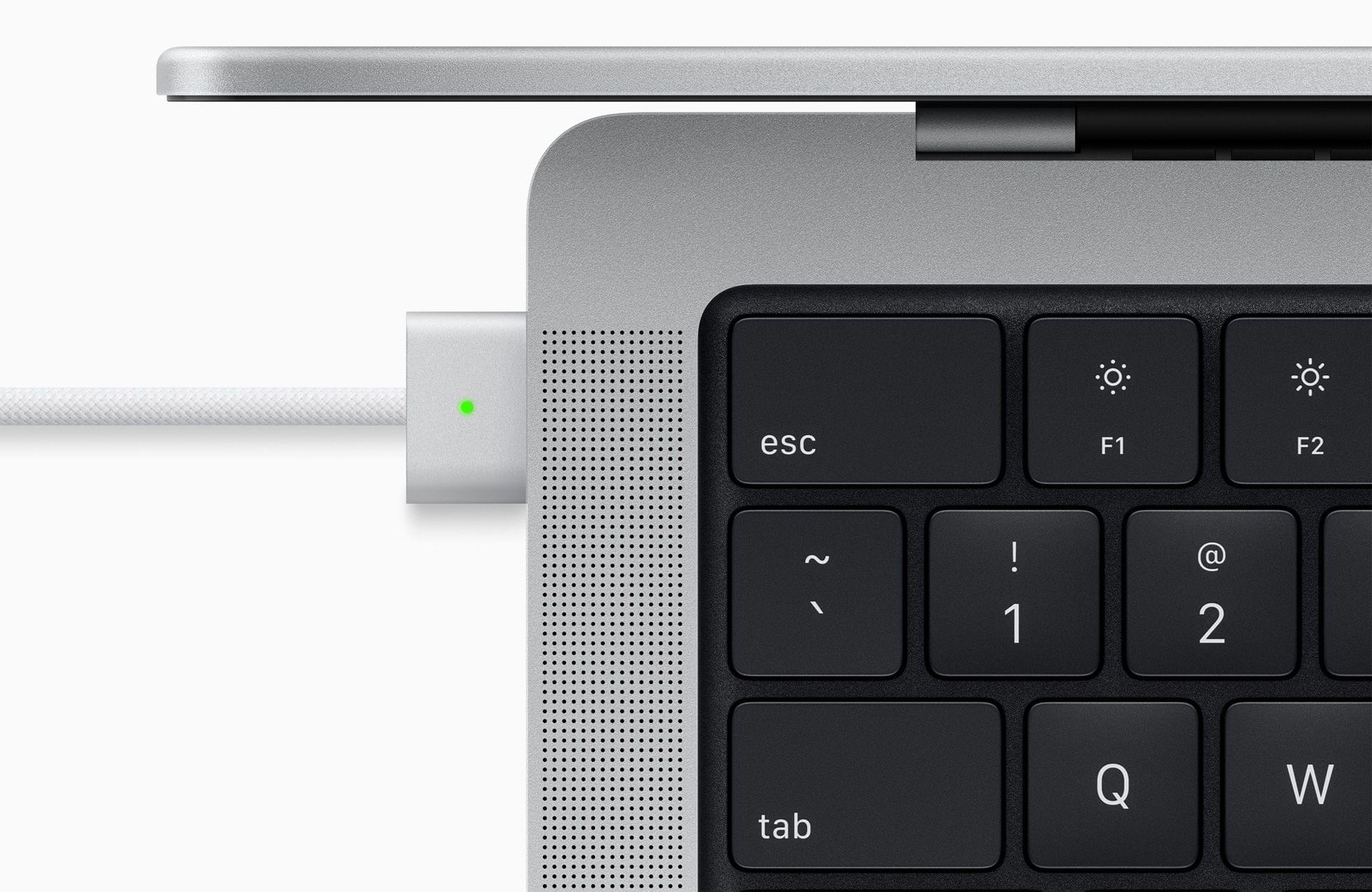 The new MacBook Pros have moved back to including more ports. The new models have a total of three Thunderbolt 4 ports, an HDMI port, and an SDXC card slot, and a headphone jack that supports high-impedance headphones. The MacBook Pros also bring back MagSafe charging with a new design Apple calls MagSafe 3.
Charging via Thunderbolt 4 is supported, too, as is fast charging, which can charge the battery to 50% in 30 minutes. The claimed battery life for both MacBook Pros is eye-popping: 17 hours of video playback and 11 hours of web browsing for the 14" model and 21 hours of video and 14 hours of browsing for the 16" model.
Both models support up to 8TB of storage too. That's a lot of storage, and it's fast, delivering up to 7.4GB/s, two times the previous generation of SSDs used.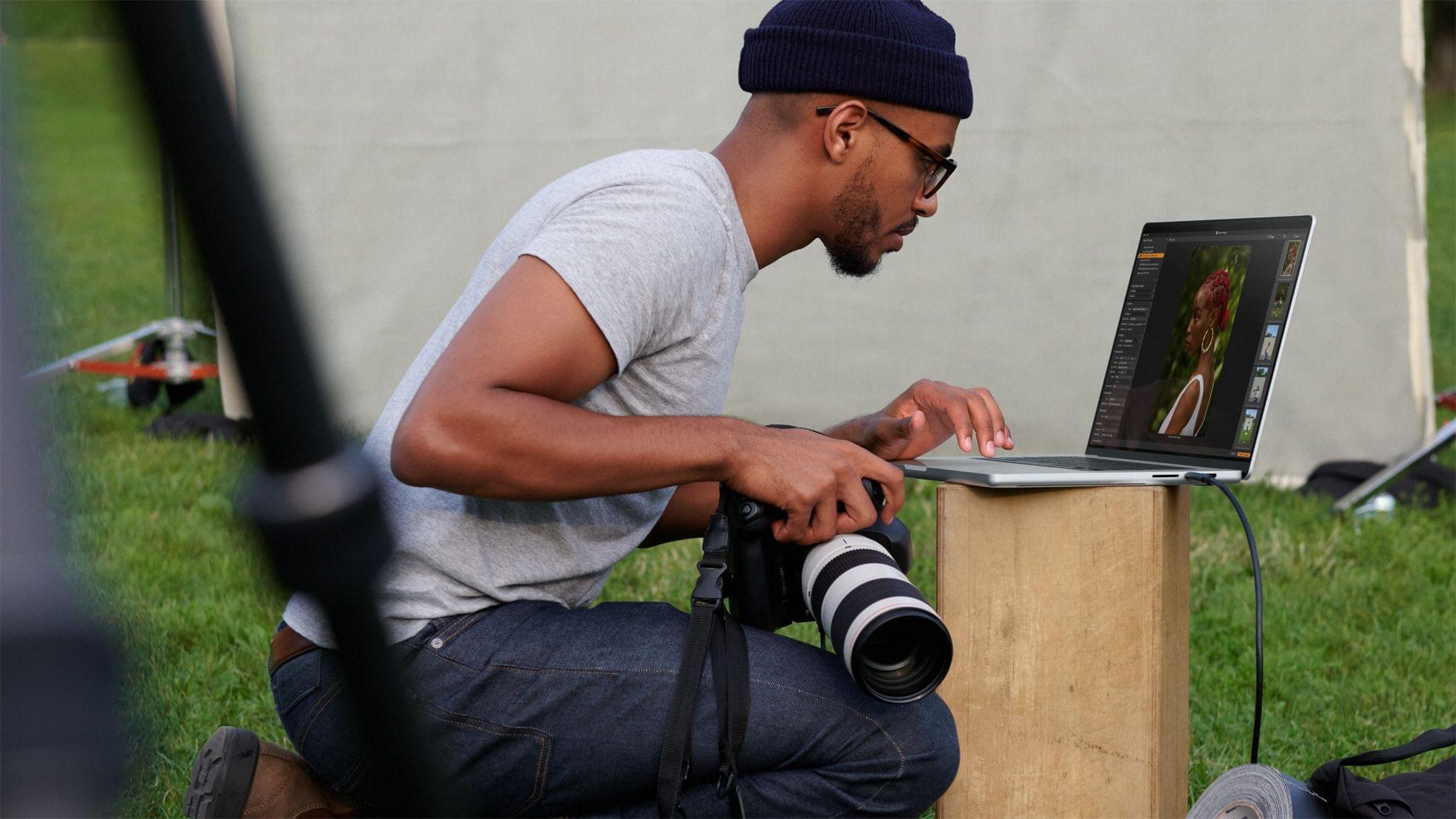 Apple improved audio on the MacBook Pros as well. There are three high-quality beamforming microphones that Apple says have a 60% lower noise floor. Also, the laptops also have a six-speaker system with four force-canceling woofers and two tweeters. Apple says the system, which supports spatial audio, results in 80% more bass.
All in all, the new MacBook Pros exceed what I expected Apple would announce today. I expect that pro users that produce video, or work in the music and photography industries are going to love these laptops.
The 14" MacBook Pro starts at $1999. The 16" model starts at $2499. If you want a maxed-out 16" MacBook Pro, it will cost you $6099. Both systems come in Silver and Space Gray and are available to order today and will ship next week with deliveries starting Tuesday, October 26th.
---
You can follow all of our October Apple event coverage through our October 2021 event hub, or subscribe to the dedicated RSS feed.