Sharing information between your desktop computer and the iPhone can be a hell of a task sometimes. Whether you want to share pictures, documents, text, links or just anything, Apple's products don't come with an easy built-in solution to achieve a complete, easy and painless sharing. Sure there's MobileMe, but that's not so immediate. Dropbox, still requires a sync and I don't exactly see it a sharing platform - it's a backup and sync solution. On the other hand, native applications like Pastebot allow you to let your iPhone communicate with your Mac and vice versa by sharing the clipboard over a wireless connection. With Pastebot you can transfer text, links and pictures with just a few clicks and taps and it's no doubt a great app. Be sure to write our review if you missed it.
MyPhoneDesktop is a rather different application that takes a unique approach in providing its own way to share stuff between your computer, the web and the iPhone. It combines push notifications with bookmarklets and a Mac app to let the devices "talk" with each other. I had the chance to test it for a few days, here are my impressions so far. Also, we have 10 promo codes to give away.
MyPhoneDesktop is meant for working with your iPhone from your desktop computer or the web. Don't get me wrong, it's not that it lets you actually control your phone from another device, but you'll be able to share information that can activate a command or not. Sounds weird but it's really simple. Say you want to call someone: you usually have to pick up the phone, enter Phone.app, type the number and call. With MPD you can just bring the (Mac) app in the foreground, type the number to call, hit enter. Now, within a second or two the iPhone will receive a push notification related to the MPD (iPhone) app; accept the notification and Phone.app will automatically start calling that number. Same applies for messages: type the number and the text in the desktop app, send it to the iPhone, Messages.app will open that specific contact's conversation (if any) and you'll just have to paste the text, which will already be in the clipboard. It's magical.
MyPhoneDesktop is based upon the creation of an account, which will enable the service to send data over the iPhone app. You can either decide to use the Mac app, a bookmarklet or a web based client to send data to the iPhone, but I'm very happy with the Mac application so far. Once you've downloaded the app from the official website and the iPhone app from the App Store [iTunes Link], create an account and you'll be all set. (also make sure that push notifications are enabled on the iPhone) The Mac client presents 5 tabs in the bottom toolbar for every type of file you can share, but first I think you should assign a system wide keyboard shortcut. Indeed, you'll be able to send a selected item with just a keystroke, which is really useful.
There are five bottom tabs in the Mac client: Phone, URL, Text, Image and Settings. Phone allows you send both calls and texts, it stores numbers in its memory just in case you'll have to call someone again in the future, you can also enable Skype. You can clear data after sending, auto send to local phone numbers and international phone numbers.
MyPhoneDesktop can also send links, pieces of text and images. While the text feature works either via pasting a note you already have in the client's text field or hitting the global shortcut after selecting some text, links don't work the same way. To send a link to your iPhone you'll have to copy it, paste it into the URL section and hit "Copy". I don't know why, but pressing the assigned shortcut in Safari's address bar doesn't work for me. Probably a small bug that will be fixed with an update. Last, images. MyPhoneDesktop supports drag & drop (both from the Finder and the web) and file browser, which means you can select an image from a folder and send it to your phone. With the latest 1.1 update you can also attach a picture from URL.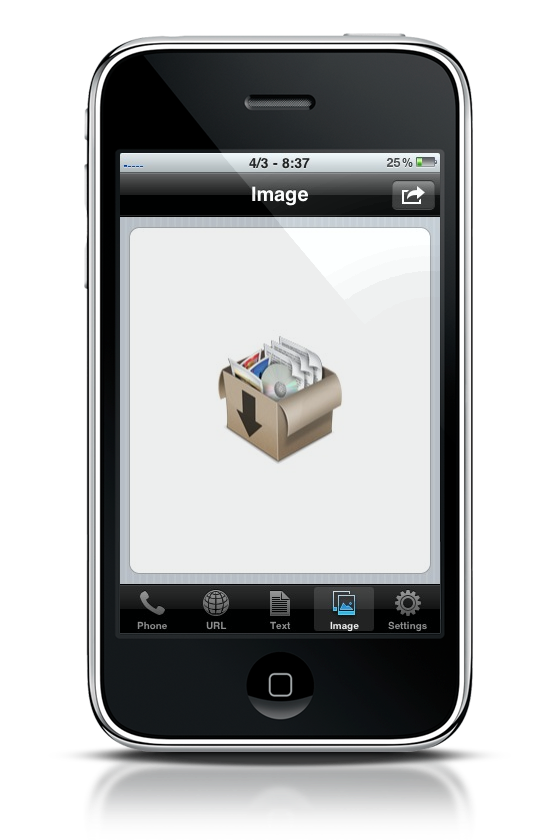 As for the iPhone app itself, that's very simple and straightforward. Being nothing more than a container of push notifications, you can't do that much besides viewing the information you sent once again and forwarding it to Safari, Photos.app or just copy. One cool thing I noticed is that stuff gets copied in the clipboard as you accept the notification, which is cool. I honestly agree with the decision to not overwhelm the iPhone counterpart with tons of features and menus, it just does what it's meant for: receiving stuff. If you're wondering how all this "stuff" actually travels around the web, don't worry: everything's encrypted via SSL.
My only concerns are with the UI and some fixes the developers should work on (especially for the bookmarklet). The Mac app is nice and clean, but it has some kind of Linux look (the icons, maybe?) that really bothers me sometimes. But then again, nothing that can't be improved with some attention to the details.
I'm not gonna delete MyPhoneDesktop from my iPhone anytime soon. I test many apps every week, but this is one that will stay, as it provides a dead simple way to share information across my computer and my phone with one click, in two seconds. It doesn't require an active local network, bonjour, wifi or anything: you have a 3G connection on the iPhone? Fine, you can use it. Whenever you want, to do what you want. Sure it can be more polished, especially on the Mac side of things, but it definitely works, with minimal setup time and effort. And that's exactly what I was looking for.
Giveaway
We've got 10 promo codes up for grabs. To enter the contest:
- Leave a comment here, and tell us why you'd like to win a coy of MyPhoneDesktop. We'll pick up the winners on Sunday, March 7th.
Good luck!