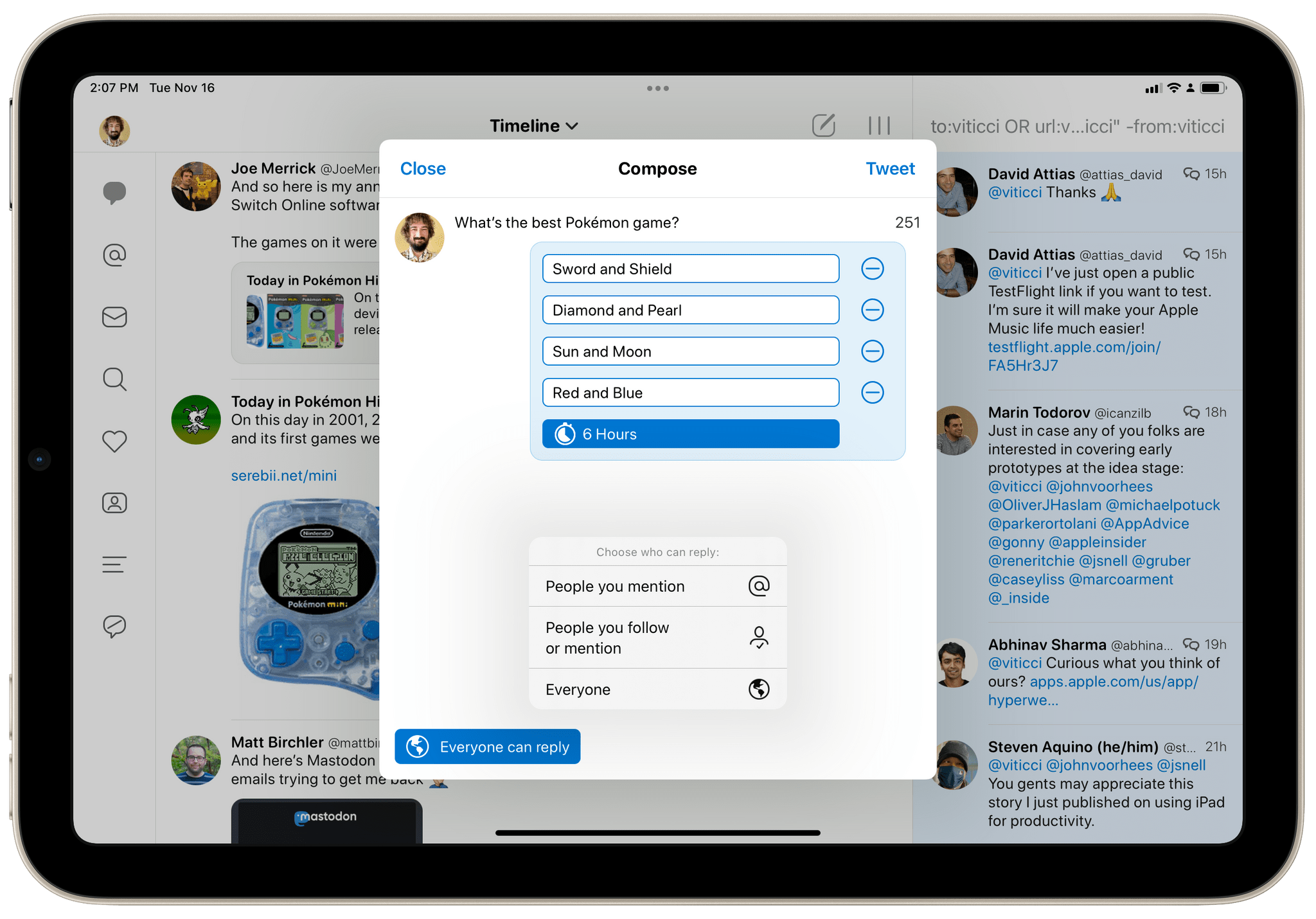 For the past two months, I've been using Tweetbot as my primary Twitter client again. This started off as an experiment to see whether switching to a third-party client with timeline sync would improve my daily use of Twitter, allowing me to miss fewer tweets and catch up on my timeline (I've always been a completionist) at my own pace. The experiment has been successful, but, curiously enough, it also made me appreciate the design and power-user features of Tweetbot all over again.
I had stopped using Tapbots' app a few years ago when it couldn't receive new features due to limitations of the old Twitter API, but things are different now with Twitter's new API, which officially launched for all developers yesterday. When Tweetbot 6 came out earlier this year with support for the new Twitter API and a subscription-based business model, I thought the new version was fairly underwhelming because it looked mostly the same as the old one. The switch to subscription, however, has allowed Tapbots to continuously iterate on the app over the past few months, which, coupled with Twitter's v2 API, has resulted in the most integrated, capable version of Tweetbot yet.
There are still several Twitter features that Tweetbot can't access, but, for my needs, what Tweetbot 6 offers now is enough to not make me miss the official Twitter app anymore. Take this week's 6.6 update, for instance: thanks to the new Twitter API, Tweetbot now supports creating polls (but not voting on them, due to API limitations) as well as controlling who can reply to your tweets.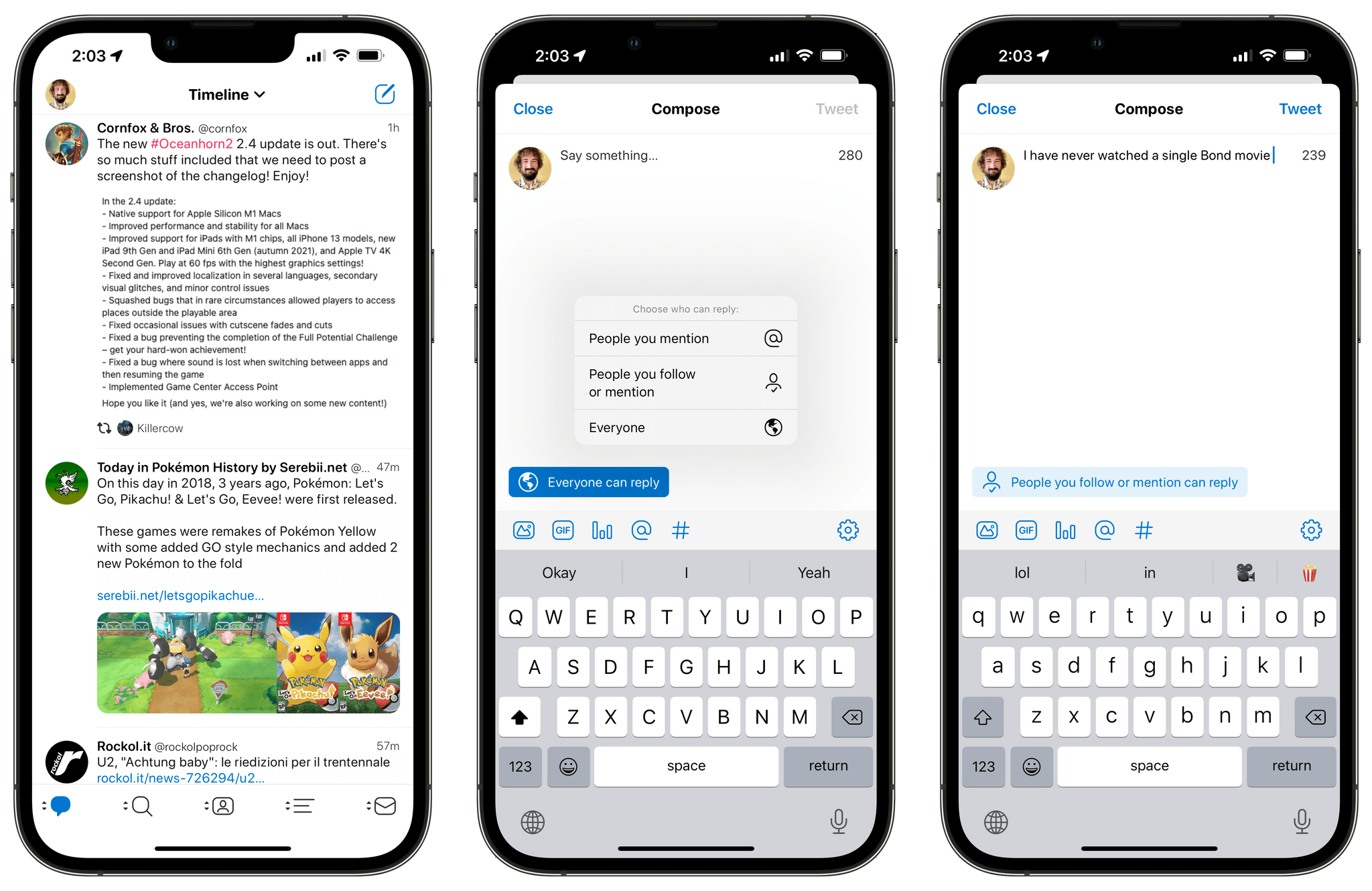 The latter is an especially important feature: it's long been exclusive to Twitter's official app, so if you wanted to tweet something that only people you mention or people you follow could reply to, you simply couldn't use Tweetbot. Now that's no longer the case. The same goes for other Twitter features that used to be available in the official app only and which are now supported in Tweetbot, such as the ability to view likes and retweets for your tweets, adding accessible descriptions to images, or viewing pinned tweets on profiles.
And that's not to mention the plethora of iOS/iPadOS-specific enhancements that Tapbots, unlike Twitter, fully supports on Apple's modern OSes. From Shortcuts and Quick Note integration to native iPad keyboard shortcuts, multiwindow, XL widgets, and deeper customization options with a new Behaviors menu, Tweetbot provides the kind of experience native to Apple platforms that Twitter historically never provided.
All this to say that if you, like me, lost interest in Tweetbot years ago, switched to the official Twitter app, and never looked back, now is a great time to take the latest Tweetbot 6 for a spin again. I still occasionally log into twitter.com in Safari when I have to use Twitter-exclusive features (for that, I recommend the Tweaks for Twitter Safari extension), but otherwise I'm very happy with Tweetbot on my iPhone and iPad, which lets me catch up on my timeline whenever I want, without missing any tweets. It's good to be back.