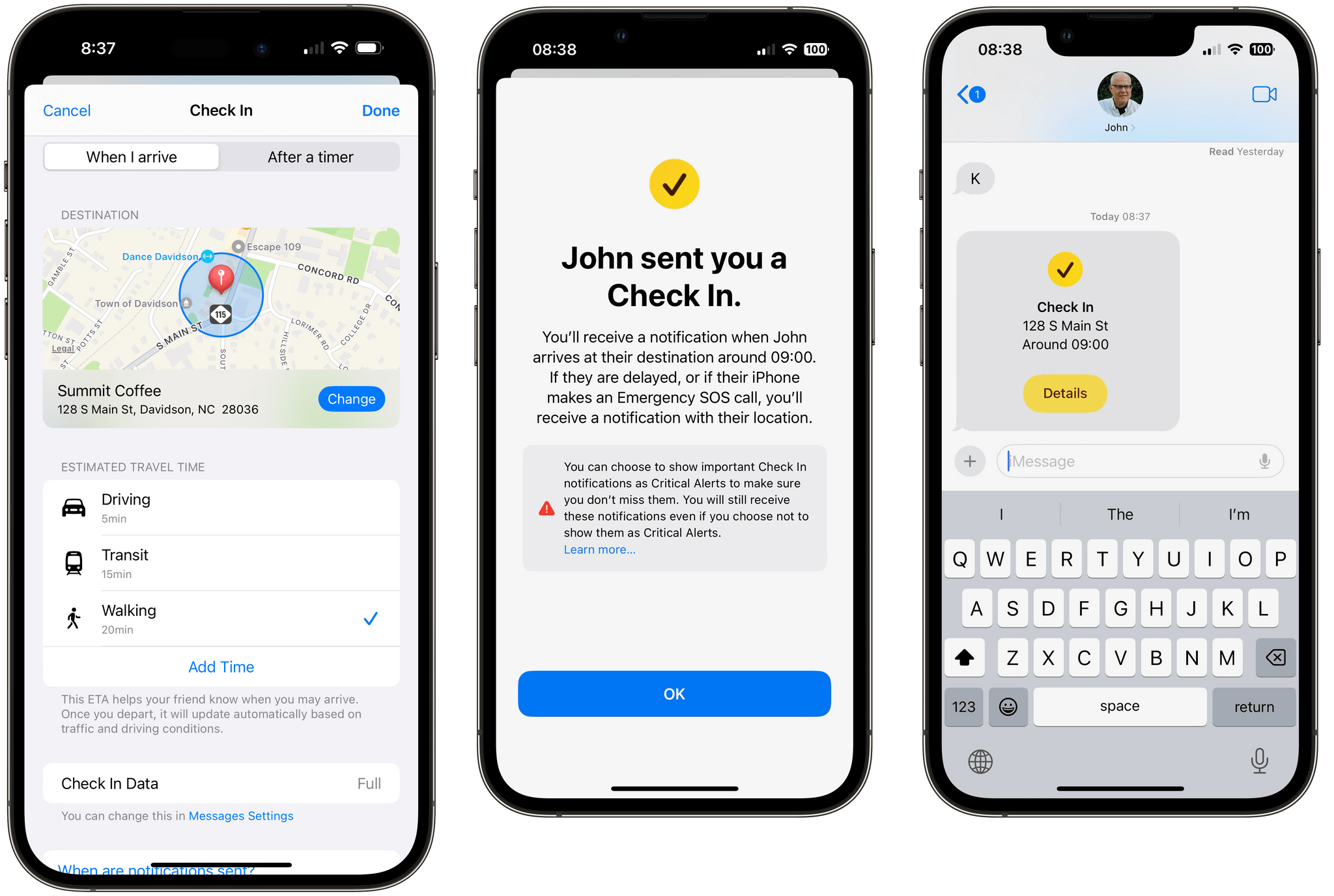 We've all been there. You say goodbye to a friend or family member after a late evening and then begin to worry if they'll make it home safely. You ask them to share their location and text you when they get home, but it's late, and you know they'll probably forget to text, so you finish your fun evening together, anxiously checking Find My Friends over and over.
Check In is a new iOS 17 feature that helps eliminate that anxiety by automating the process of letting your family or friends know when you arrive somewhere safely. I finally had the chance to try Check In recently with my son Finn, who's the only other person in my family who is currently on the iOS 17 beta. The testing conditions were a bit contrived, but what I found was that Check In is fast and easy to use and does an excellent job of explaining the information you're sharing and how it works before you leave for your destination.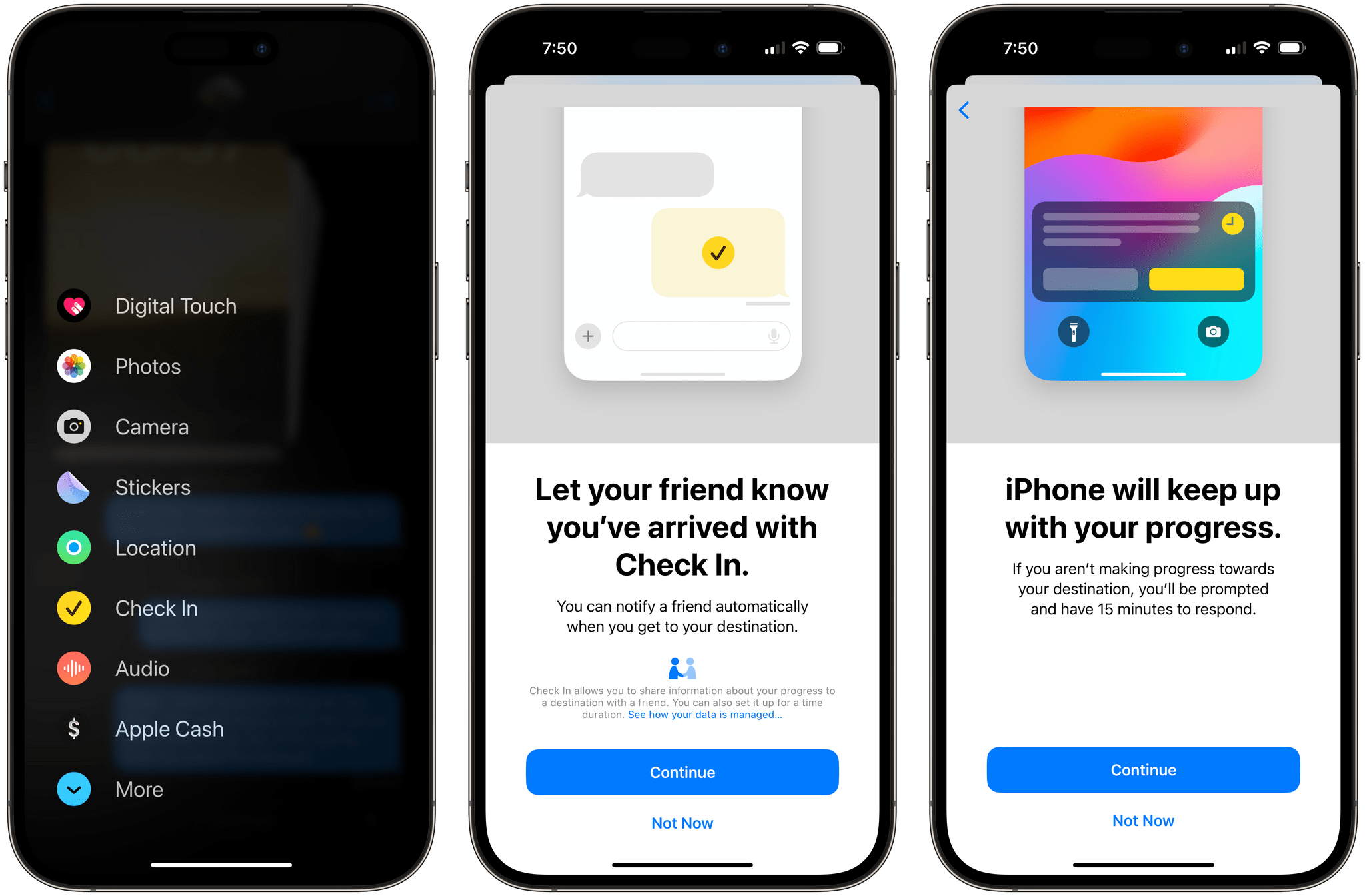 Check In lives in Messages. From the new plus button interface, pick Check In to begin the setup process. The first time you use the new feature, iOS 17 will walk you through how it works and what to expect. Apple onboarding screens for Check In are some of its best yet, with clear, concise explanations of the feature and examples that set expectations before committing to sharing information with someone.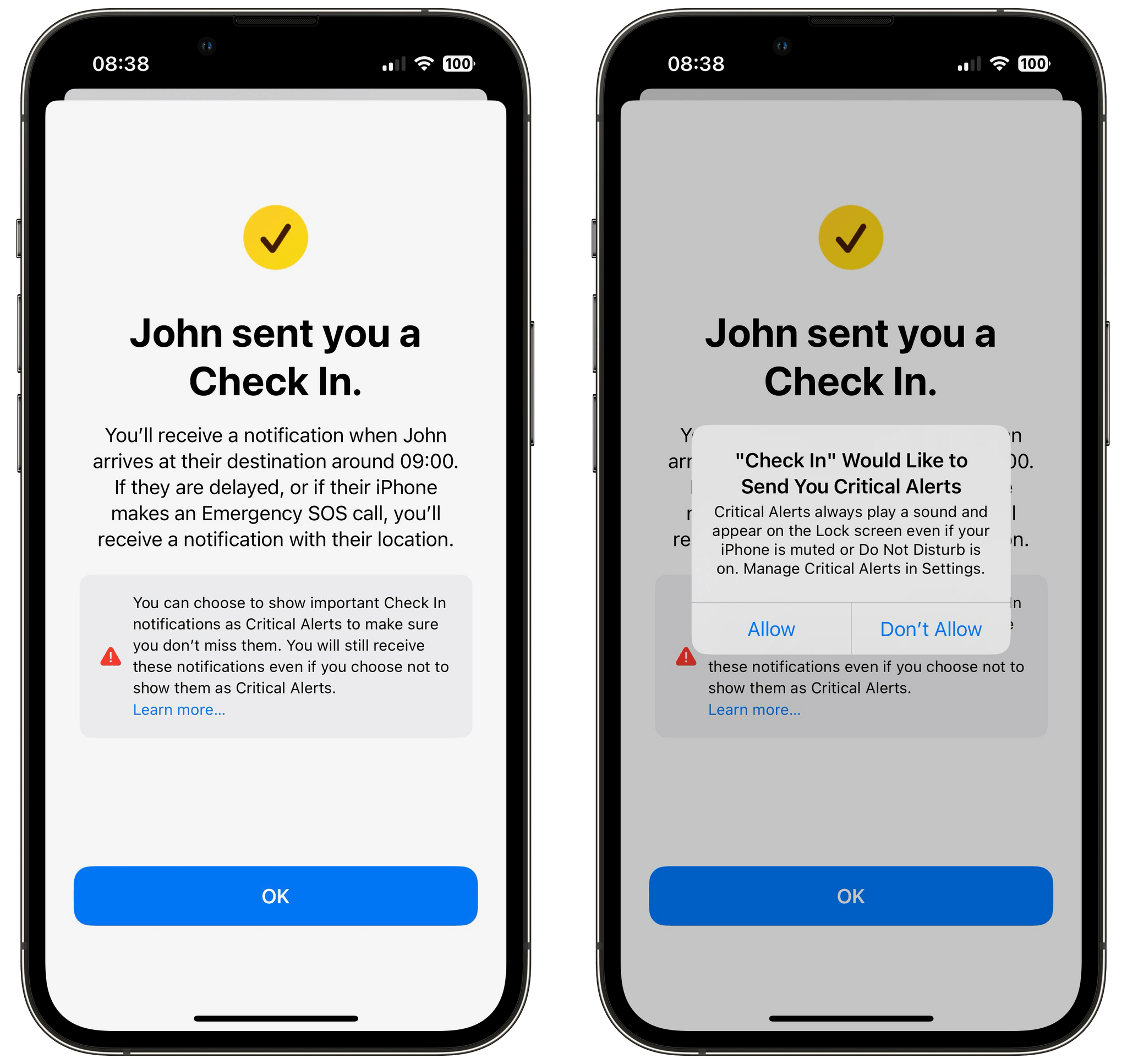 The onboarding works both ways, too. When you send a check-in, the recipient will get an explanation of what that means and what to expect. It would be easy to cynically dismiss these setup screens as a form of ad for Check In, and maybe they are to a degree, but they eliminate a lot of potential back-and-forth explanations for anyone who isn't familiar with the feature and might be hesitant to use it. That's a good thing because it lowers barriers to a feature that is about personal safety.
For my test, I set out from my home to a local coffee shop. It was early on a Saturday, so not the sort of situation in which you'd typically use Check In, but it allowed me to test both ends of the feature well enough.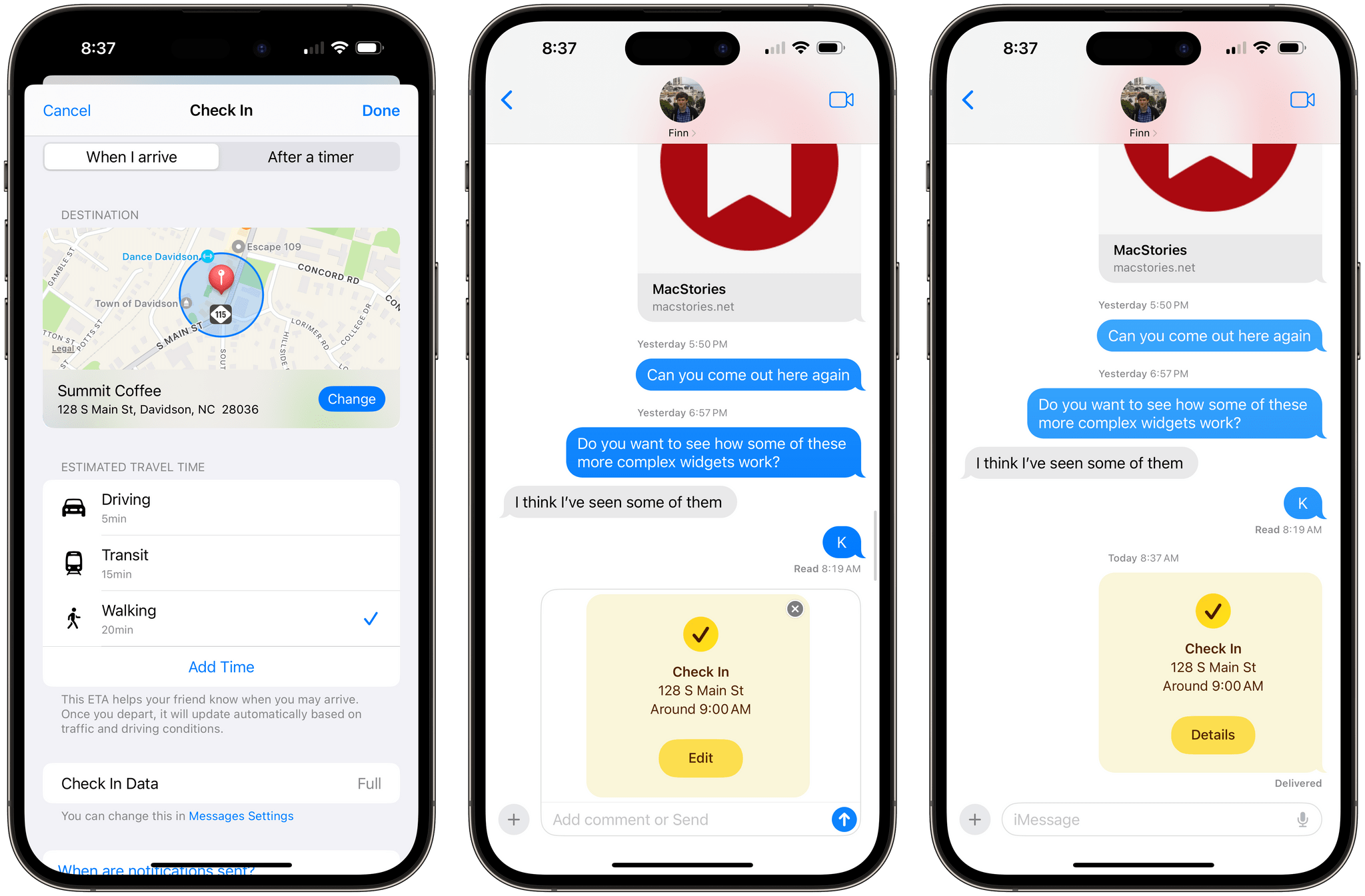 Check In integrates with Maps, so after picking it from Messages' menu, the first thing I did was search for the coffee shop in the Maps interface and set it as my destination. That way, Finn would get an alert that I'd arrived when I got within the geofenced area around the shop. Alternatively, you can set Check In to alert based on the expiration of a timer.
The map interface also lets you choose how you are getting to your destination, with options for driving, transit, and walking, each of which has estimated arrival times that will be used to track your progress. There's an option to add time to your route, too.
When setting up a check-in, you have the choice between sharing limited or full data. Limited data includes your location, battery information, and data signal for your iPhone and Apple Watch. Full data adds the route you've taken, the last time you unlocked your iPhone, and the last time you removed your Apple Watch.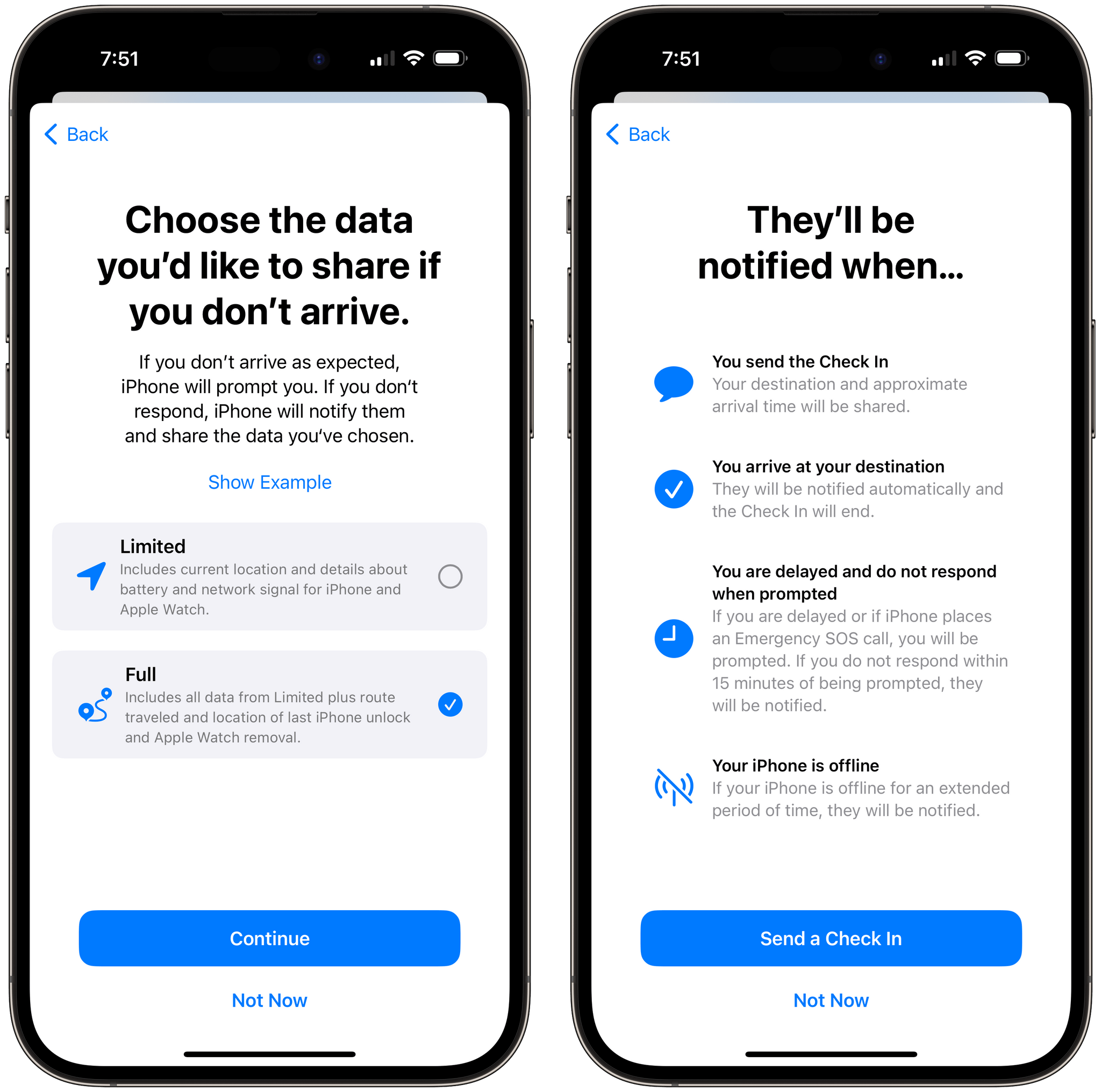 After I'd set up the Check In details, I was alerted that Finn would get a notification when I sent my check-in and when I arrived at my destination. The alert also explained that if I was delayed during my journey or placed an Emergency SOS call, I'd be prompted to respond, and if I didn't do so within 15 minutes, Finn would be notified. The alert also explained that he'd be notified if my iPhone went offline for an extended period of time.
With that, I sent my check-in and set out for a morning cup of coffee. Finn received my check-in notification and a prompt to allow Check In to send him Critical Alerts if I got delayed. That way, if he had his iPhone muted or in Do Not Disturb, he'd still get a Lock Screen notification, and a sound would play – a good thing if it were late at night and his iPhone had already switched to a nighttime Focus mode silencing alerts. The Check In graphic in our Messages thread also showed where I was going, my estimated arrival time, and a 'Details' button where he could get more information.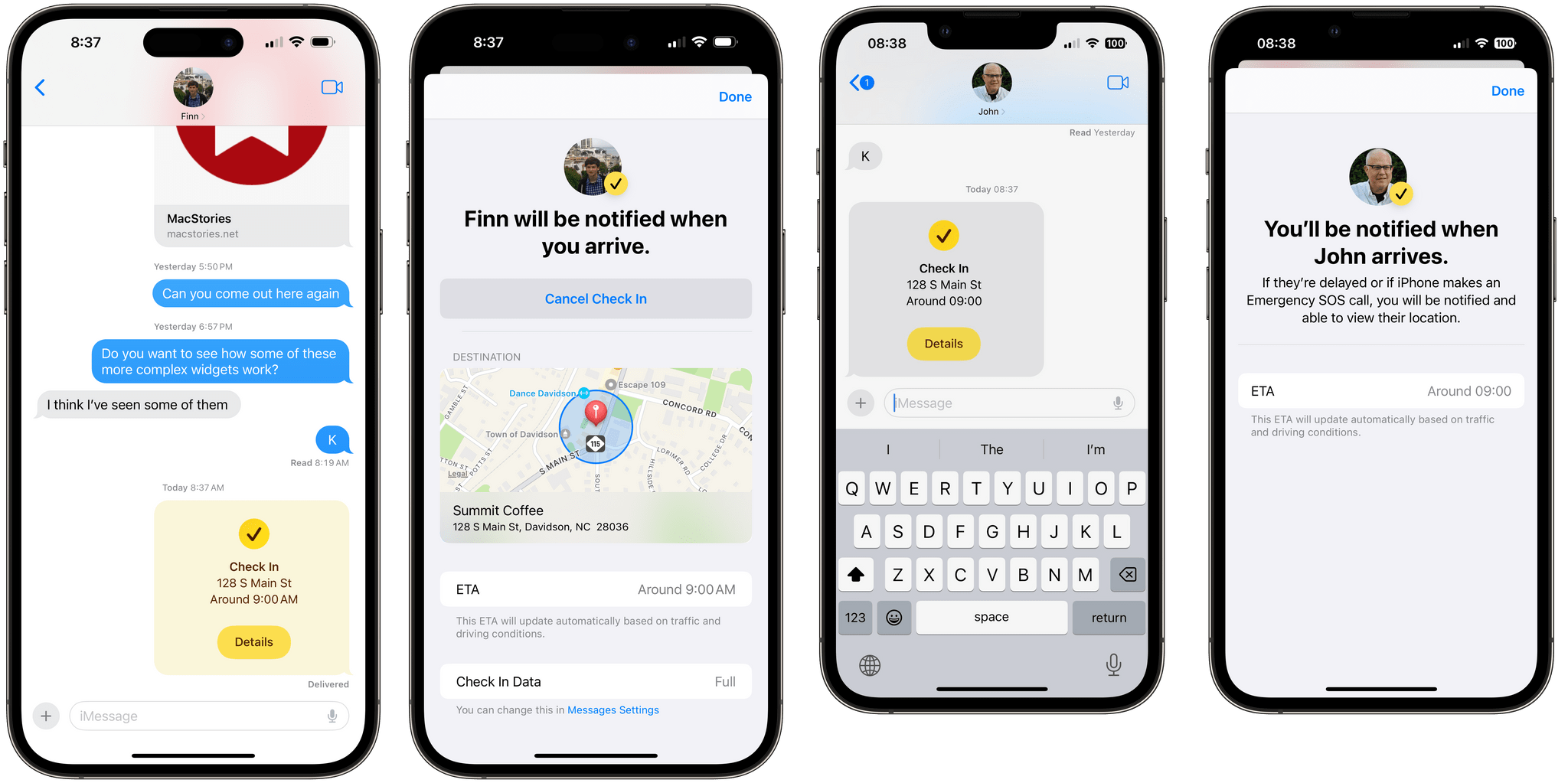 I must have been eager for my morning coffee because I beat the estimated arrival time of my check-in by eight minutes. On both ends of our conversation, the Check In bubble changed, confirming that I'd arrived at my destination.
As you can probably tell, there's a lot going on with Check In. What makes it a great feature, though, is that from a user standpoint, it's easy to set up and use. Once you send your check-in to someone, your iPhone handles the monitoring in the background, letting your loved ones know if something unexpected happens to you. It's something I plan to use a lot and encourage my kids to use liberally with me and their friends.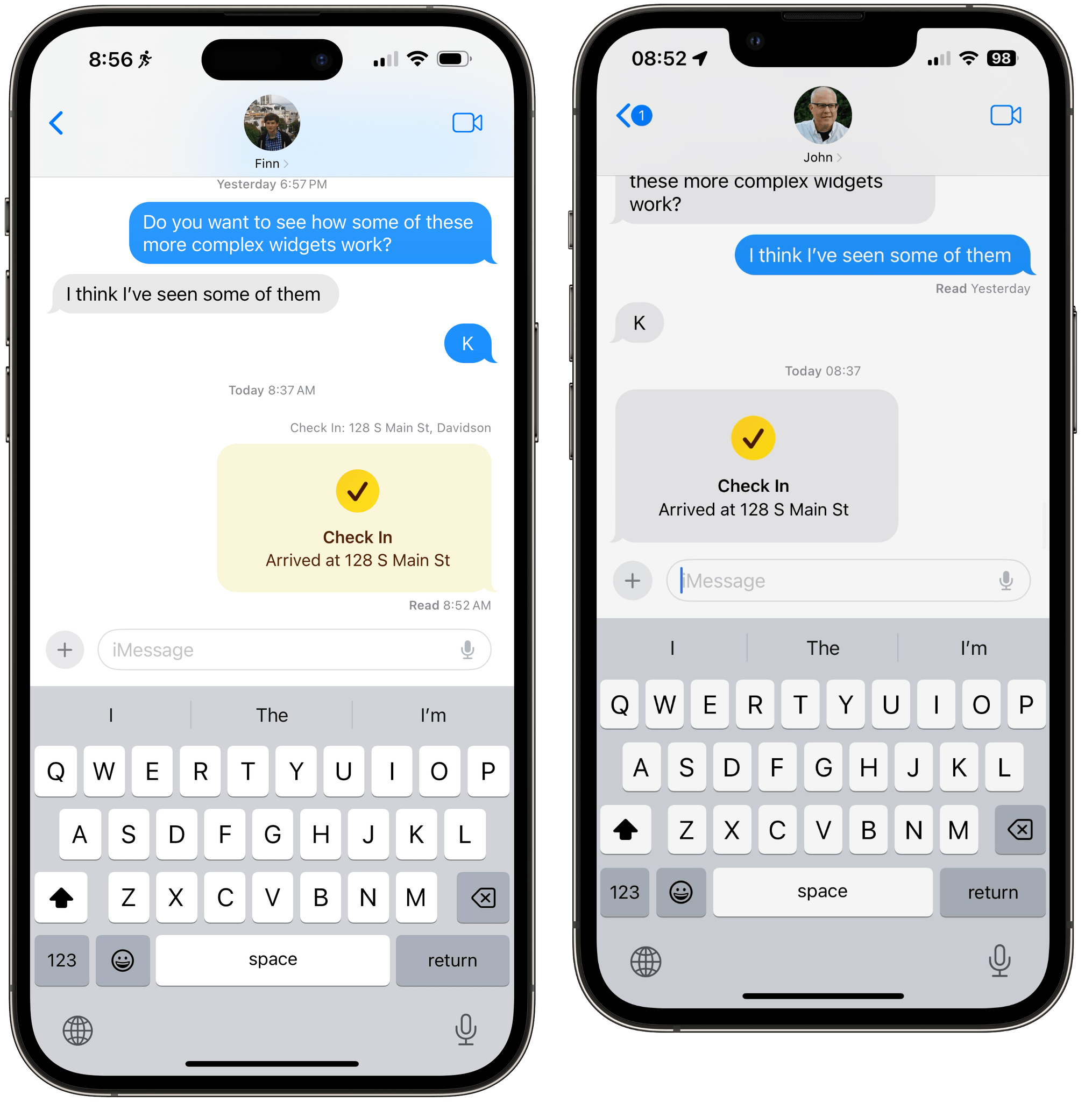 There's one limitation I'd love to see Apple tackle, though. I tested Check In while Finn was visiting us. He lives in Ireland and left the next day for home, which involved a long flight and bus trip before he arrived home at a time that was the middle of the night for us. I'd loved to have used Check In to know when he landed in Ireland and get alerts if something happened on his bus ride home, but that's not possible because Check In doesn't work with air travel.
The trouble with air travel is that your iPhone has to drop off the network for an extended period of time, which is something the feature is designed to warn your loved ones about. If you're traveling internationally, you may also be switching carriers. That adds a lot of potential complexity to Check In, and it may not be something that can be overcome, but I hope Apple tries. As it was, Finn could still send a check-in to me for the Ireland part of his trip, which was better than nothing.
Over the past few years, Apple has greatly expanded the ways that its products help monitor your safety. Whether it's fall detection on the Apple Watch, car crash detection, satellite calls for help, or now, giving friends and family the peace of mind of knowing you made it home safely. I'm a big fan of Check In and encourage readers to give it a try. A low-stakes test like I did with Finn for my morning coffee run is the perfect way to see how it works, and I bet it will sell a lot of people on using it regularly thereafter.