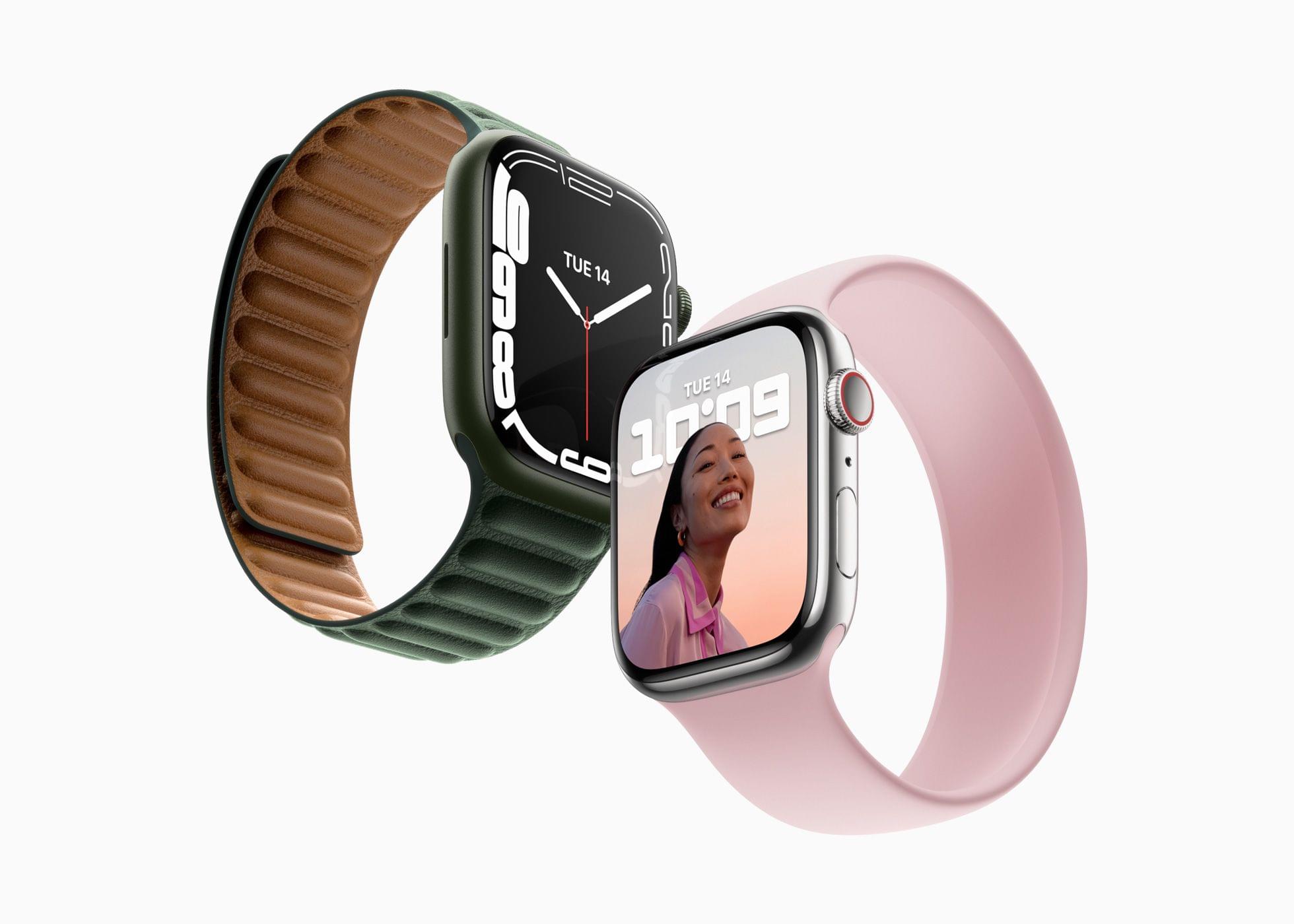 At this morning's virtual keynote event, Apple's Chief Operating Officer Jeff Williams announced the Apple Watch Series 7. Packing a brand-new display, a more rounded case design, faster charging, and greater resistance to cracking and dust, the Series 7 is a very nice iterative update.
Display and Durability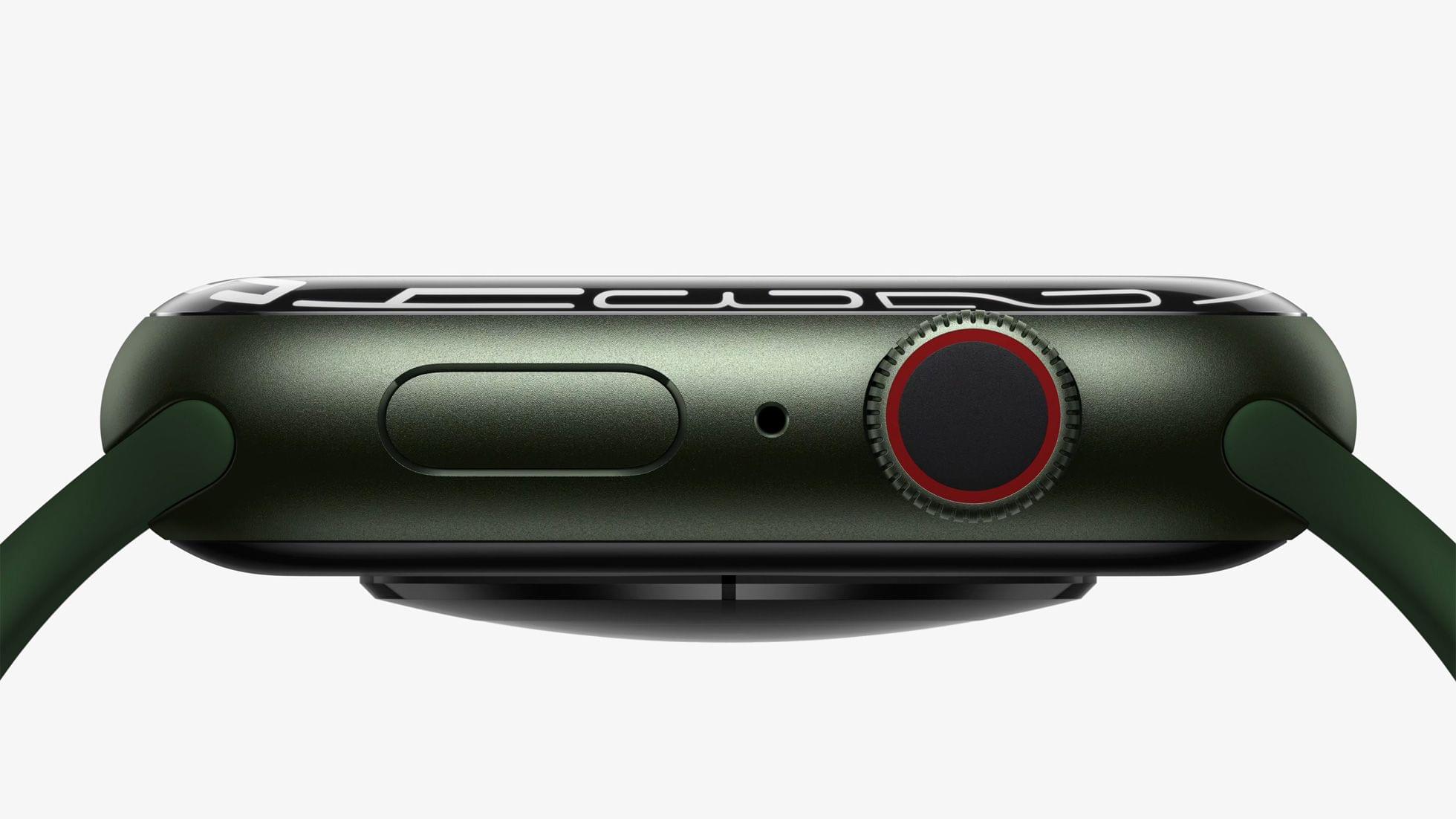 By far the biggest feature of the Series 7 is its gorgeous new display. Apple has reduced the bezels on all sides of the device by 40%, resulting in just 1.7mm borders around the screen. The screen itself has been stretched to fill this new area, and is 20% bigger than the screen on last year's Series 6. To fit the new screen, case sizes have been increased to 41mm and 45mm — a fairly subtle change from the 40mm and 44mm sizes of the Series 5 and 6 Apple Watches. Thankfully, compatibility has been maintained with existing Apple Watch bands.
Apple isn't resting on its laurels in utilizing this new space. On the software side, the Series 7 Apple Watch is the first to support a native QWERTY keyboard interface. With tapping or swiping (via a new feature that Apple is calling "QuickPath") supported, this should make text input on the device vastly more straightforward. Writing out short texts or emails on the Apple Watch may finally be a reasonable thing to do.
Beyond text input, the Series 7 also includes widespread design updates to Apple's first-party watchOS apps to make use of the new screen real-estate. Buttons are bigger, interface elements are more spread out, and far more content is visible on each screen.
The display is also made from a new crystal which Apple says will be significantly more crack-resistant than previous Apple Watch models. Paired with this improved crack resistance is an all-new IP6X dust-resistance certification. This means the Apple Watch Series 7 is completely resistant to dust. Durability is a big deal for watches, so it's great to see Apple pushing forward with dust and crack resistances alongside the device's long-running resistance to water.
New Faces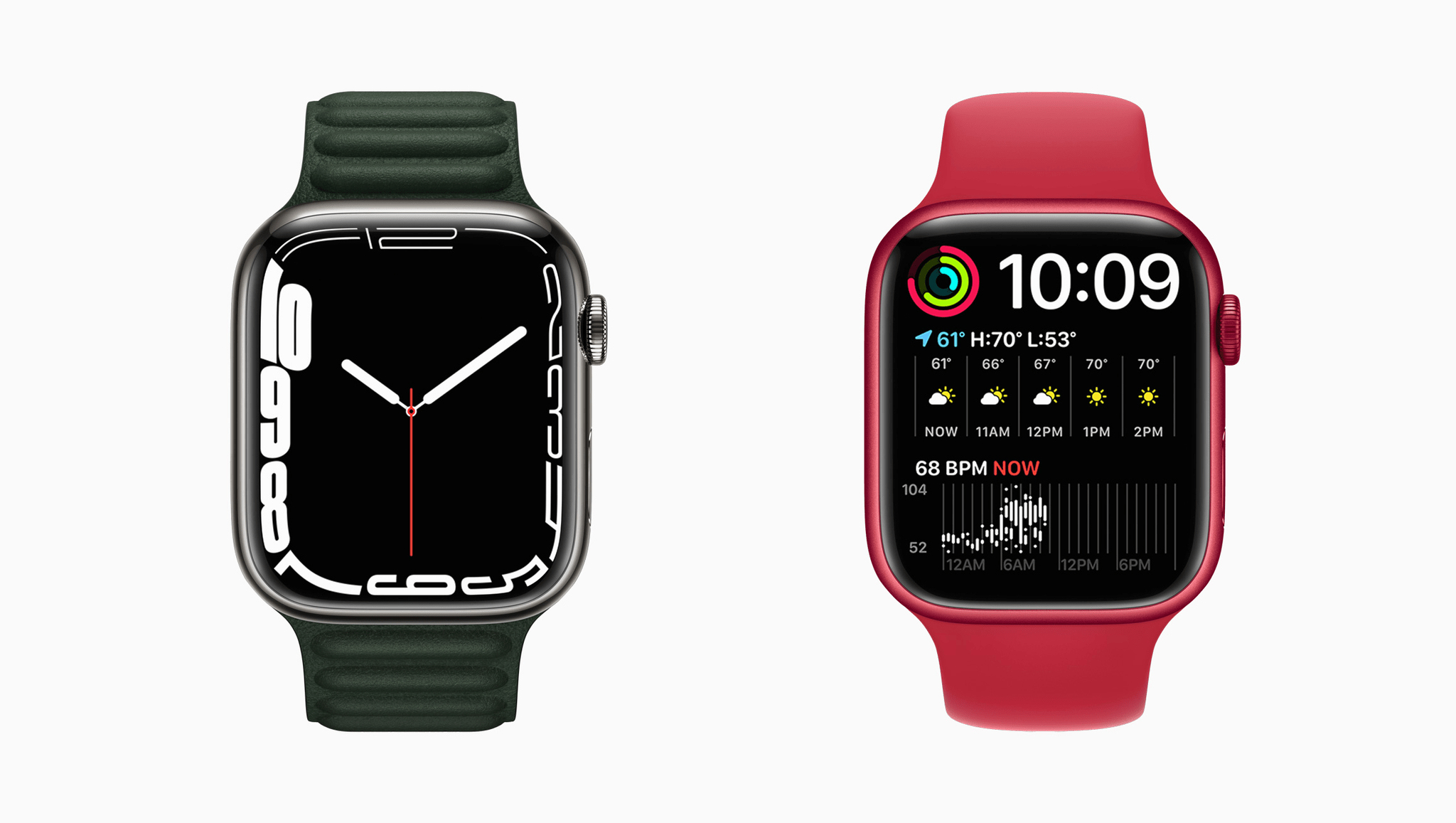 A new Apple Watch wouldn't be complete without new watch faces, and Apple is introducing two for the Series 7. The "Dynamic Contour" face squishes the watch digits around the edges of the screen, and warps them as you move the display around. An updated version of the classic Modular face now supports two large center complications for greater data availability at a glance.
Battery Life and Charging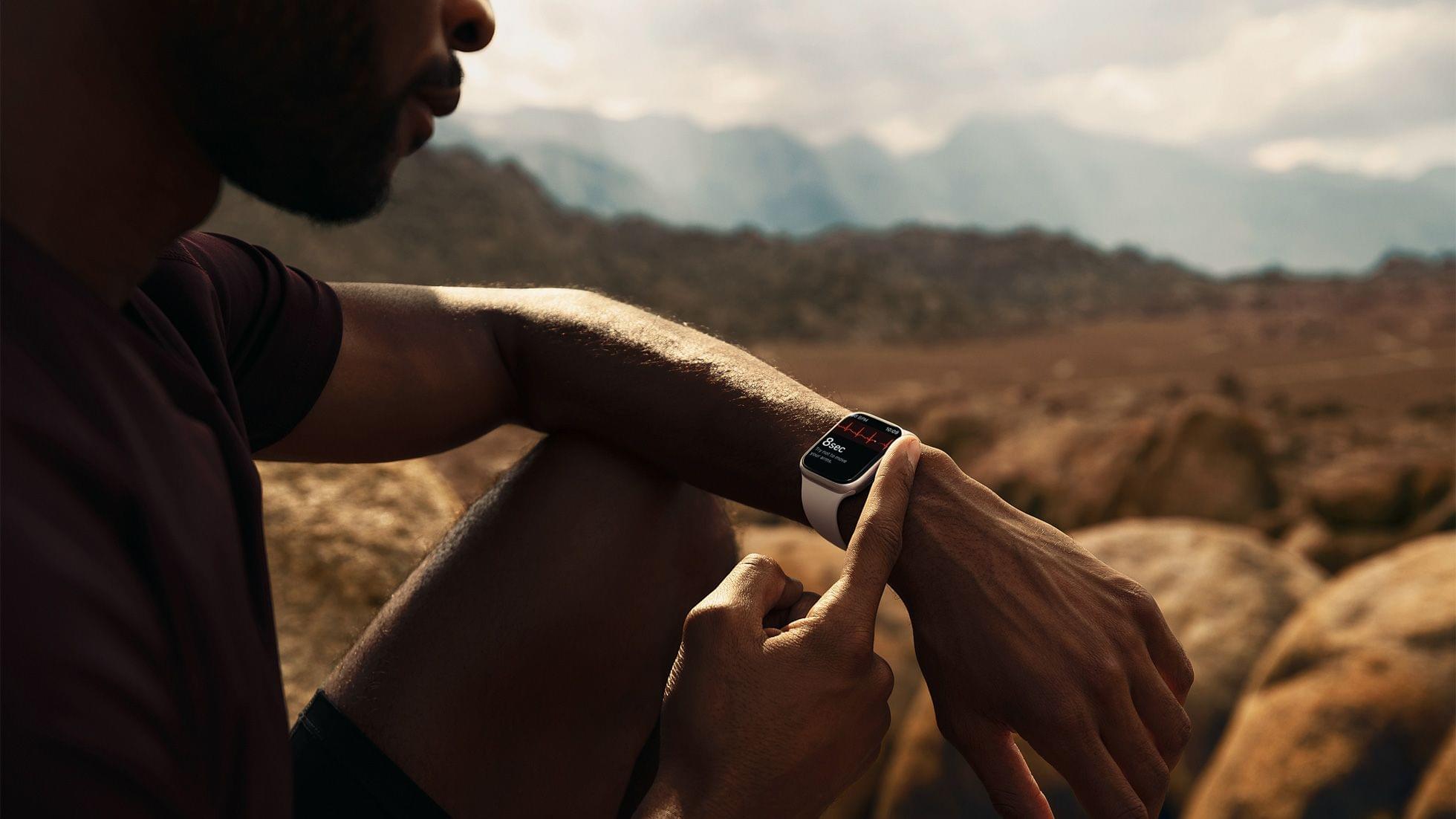 The Series 7 will have the same 18-hour battery life as Apple has essentially always advertised for it. This year though, the always-on display is getting 70% brighter indoors when your wrist is down. In other words, Apple has made it easier to read the display when it's in power-saving mode, but has still maintained the same battery life metrics.
Even though Apple has always claimed 18-hours, it's pretty common knowledge that pre-always-on-display models got significantly better battery life in practice. That fact throws their battery metrics a bit into question, so we'll have to wait to see if the Series 7 has returned to matching some of the older models' battery life. At the very least though I expect it's as good as last year's Series 6.
The new Apple Watches also boast an updated charging architecture, which combines with a fast-charging USB-C cable to charge the devices faster than ever before. This allows the Series 7 to charge from 0% to 80% within just 45 minutes.
Case and Colors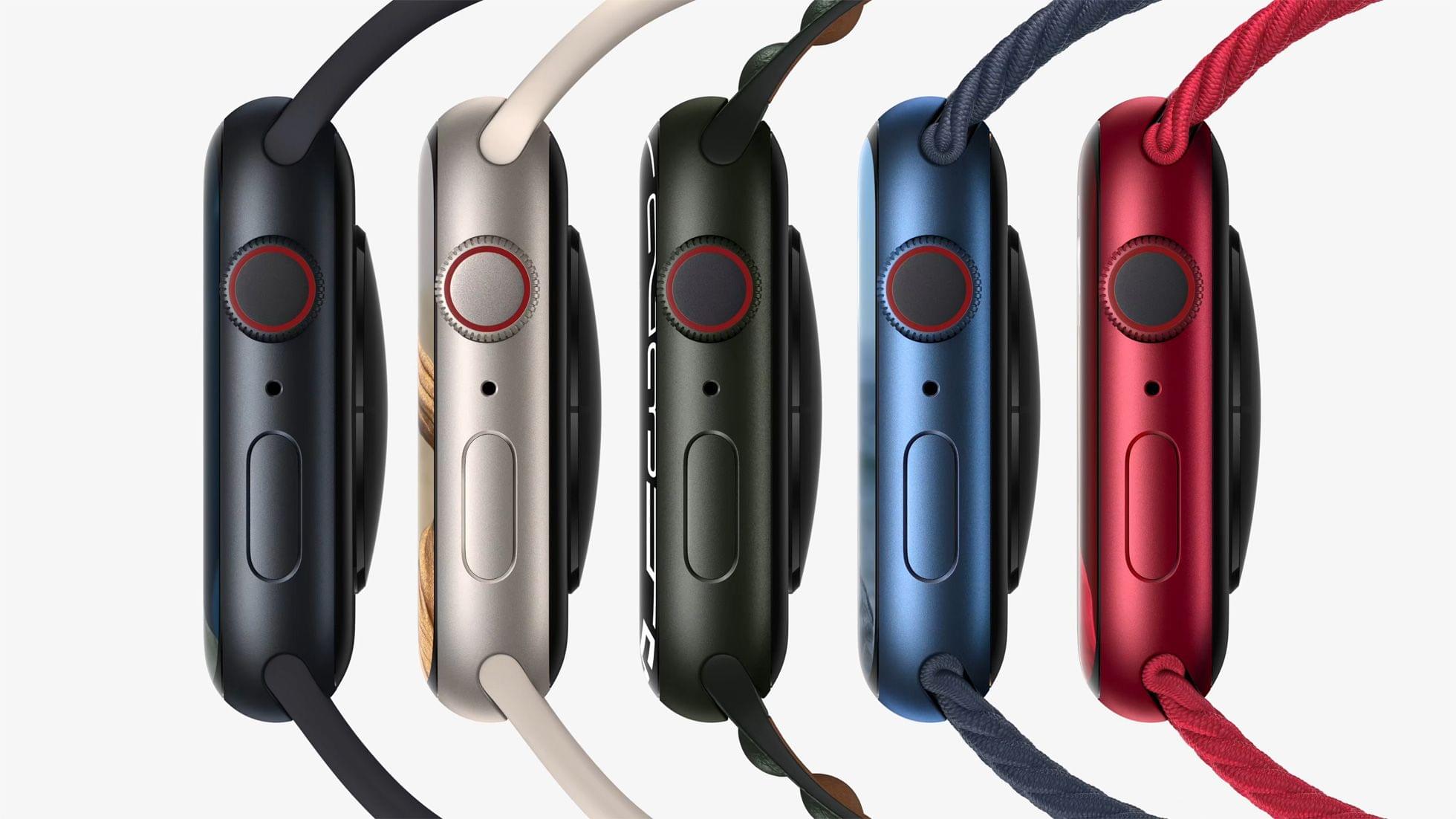 Shirking rumors of a flat-sided case design, the Series 7 maintains the classic rounded-corner Apple Watch look. The corners and curves have in fact been rounded off to an even greater degree, creating a subtly more seamless curve for the device. The display itself also curves at the edges to increase the effect that the case is a single plane. From afar, it doesn't look like these changes from older models will be particularly noticeable, but they're nice to admire up close.
What will be noticeable are the new options for Apple Watch Series 7 case colors. The aluminum models have 5 options: blue, green, (PRODUCT)RED, starlight, and midnight. Stainless steel Series 7s come in silver, graphite, and gold steel. Rounding out the top of the line are "natural" and space black titanium models.
Apple Watch Nike and Hermès models will be available as usual, and include new band options and special watch faces.
Fitness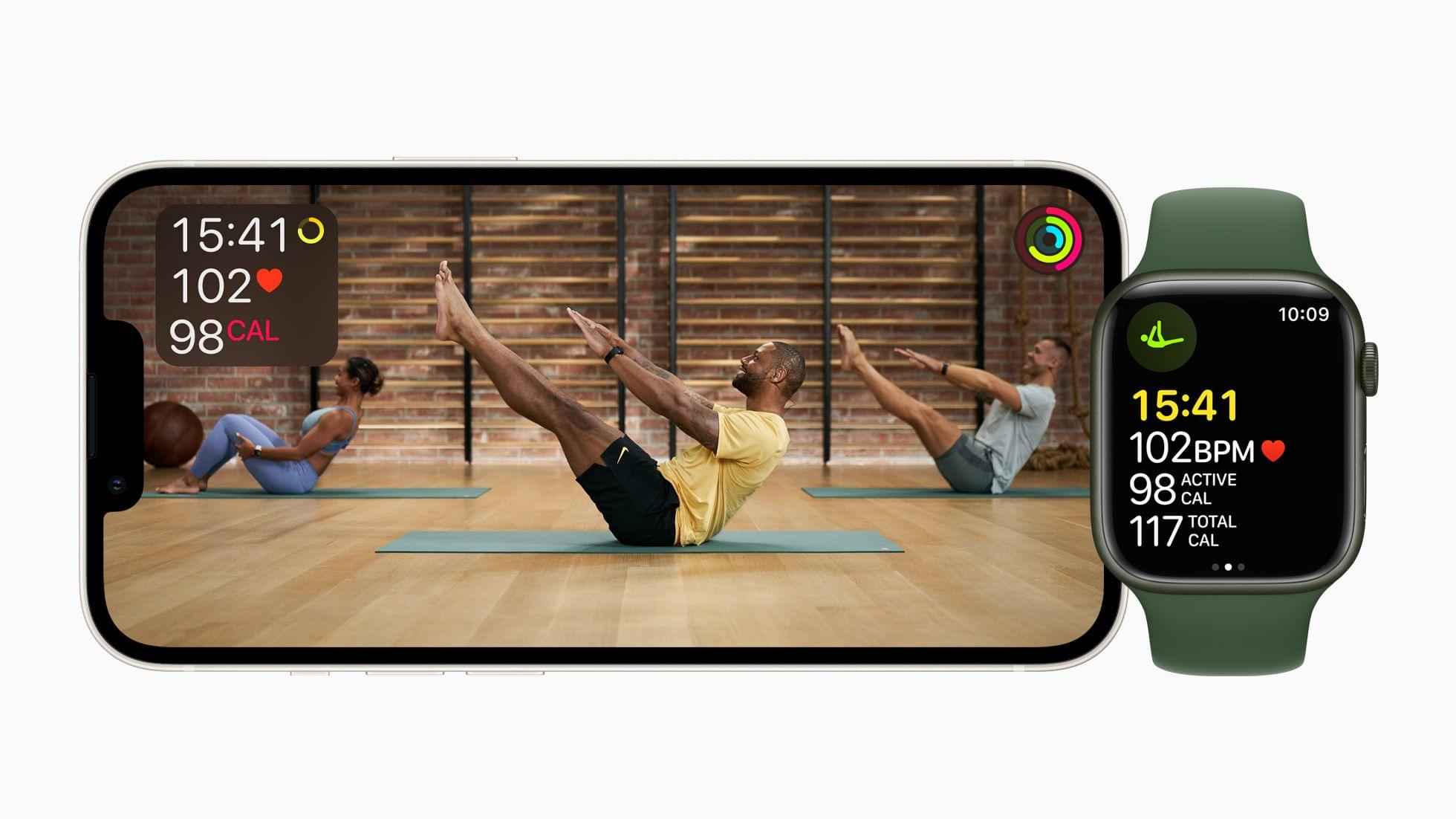 Although this appears to be a software feature in watchOS 8 — and thus not necessarily bound to the Series 7 Watch – Apple today announced a series of new features for cyclists. When wearing an Apple Watch on the bike, the Workouts app will now automatically detect the beginning and end of bike rides and prompt users to start a cycling workout on their watch. There will also be improved fall detection for bike accidents, which is an excellent addition that will hopefully help more people make it away safely from dangerous crashes.
The Apple Watch is deeply tied into Apple's Fitness+ subscription workout service, so it's no surprise that announcements for the service continue to be paired with Apple Watch updates. Today, Apple announced that Fitness+ is coming to 15 new countries later this fall. Workouts will be available in English with subtitling in six different languages.
Coming to Fitness+ next are a series of brand-new workout types: pilates, guided meditation, and a "get ready for snow season" workout series. There will also be a new feature for group workouts, allowing you to work out with your friends no matter where they are in the world. This is powered by the new SharePlay feature of iOS and iPadOS 15, and it will support up to 32 simultaneous workout participants.
Conclusion
The Series 7 Apple Watch isn't a particularly groundbreaking update, but all of the changes are welcome improvements. The new display looks like an exceptionally nice upgrade, and the improved resistance to cracks and dust will keep this line of Apple Watches pristine. Overall, while I'm not entirely sure how enticing the Series 7 is for users who already have a Series 5 or 6 Apple Watch, it still looks like an excellent device for anyone who buys it.
The Series 7 line starts at $399 and will available later this fall. The Apple Watch SE also remains around at a lower $279 price point. For some inexplicable reason, the Series 3 Apple Watch continues to be sold for $199.
---
You can follow all of our September Apple event coverage through our September 2021 event hub, or subscribe to the dedicated RSS feed.