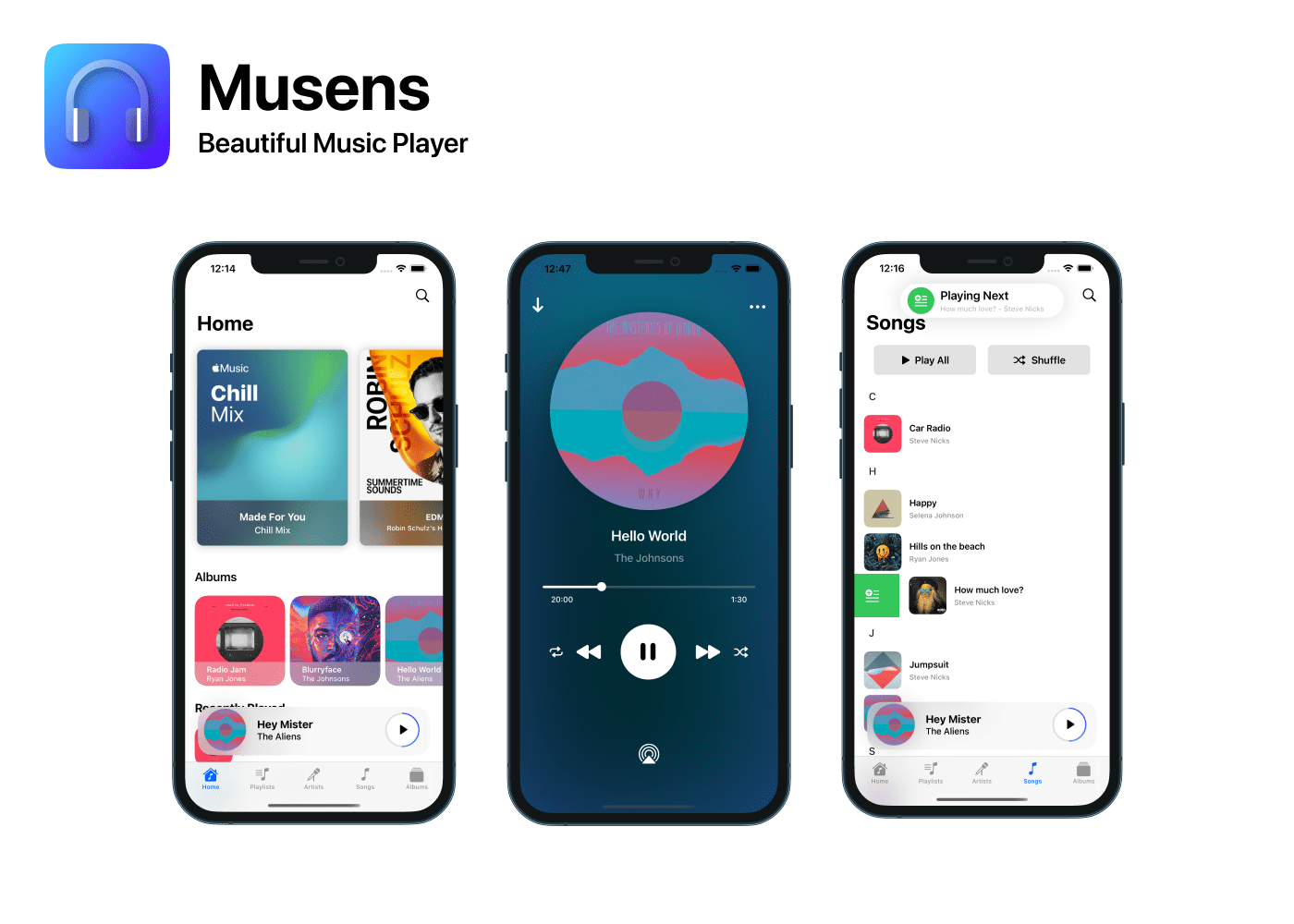 Musens is a beautiful, customizable music player for the iPhone that brings your music collection and Apple Music's entire catalog to life with stunning animated artwork. The app has been built from the ground up to take advantage of Apple's latest Swift UI frameworks and modern features. Whether you're playing your favorite albums from your own library or trying something new on Apple Music, Musens lets you do so in a simple, elegant way.
Musen's Home tab is the perfect place to start listening with its thoughtfully organized sections that feature playlists, albums, recently played material, top charts, recommendations, and more. It's a deep well of music tuned to your tastes that makes picking something fast and simple because all of Apple Music's extensive selection of music is available to browse and add to your own library.
Outstanding design is what sets Musens apart. Tap an album, and it opens with a delightful animation that reveals a vinyl record emerging from the artwork. Start playback, and the album art on the now playing screen rotates, providing a fun, dynamic turntable-like experience. The playback view is completely customizable, allowing you to enjoy static square art and three different background options too.
Musens also makes great use of intuitive gestures, making it effortless to build your playback queue. Of course, the app has dedicated tabs for easy access to your and Apple Music's playlists, artists, songs, and albums as well as support for dark mode. Together, the attractive design and deep feature set make Musens an outstanding way to enjoy your favorite music.
Musens is the creation of Alec Attie, an iOS developer and the founder of Cybertiks, who won a WWDC scholarship in 2018 and currently works as a backend developer making apps for big companies like Miniso and the SEP, which is a governmental branch in Mexico.
Download Musens today, and start enjoying your music collection and the millions of songs available on Apple Music for just $3.99.
Our thanks to Musens for sponsoring MacStories this week.