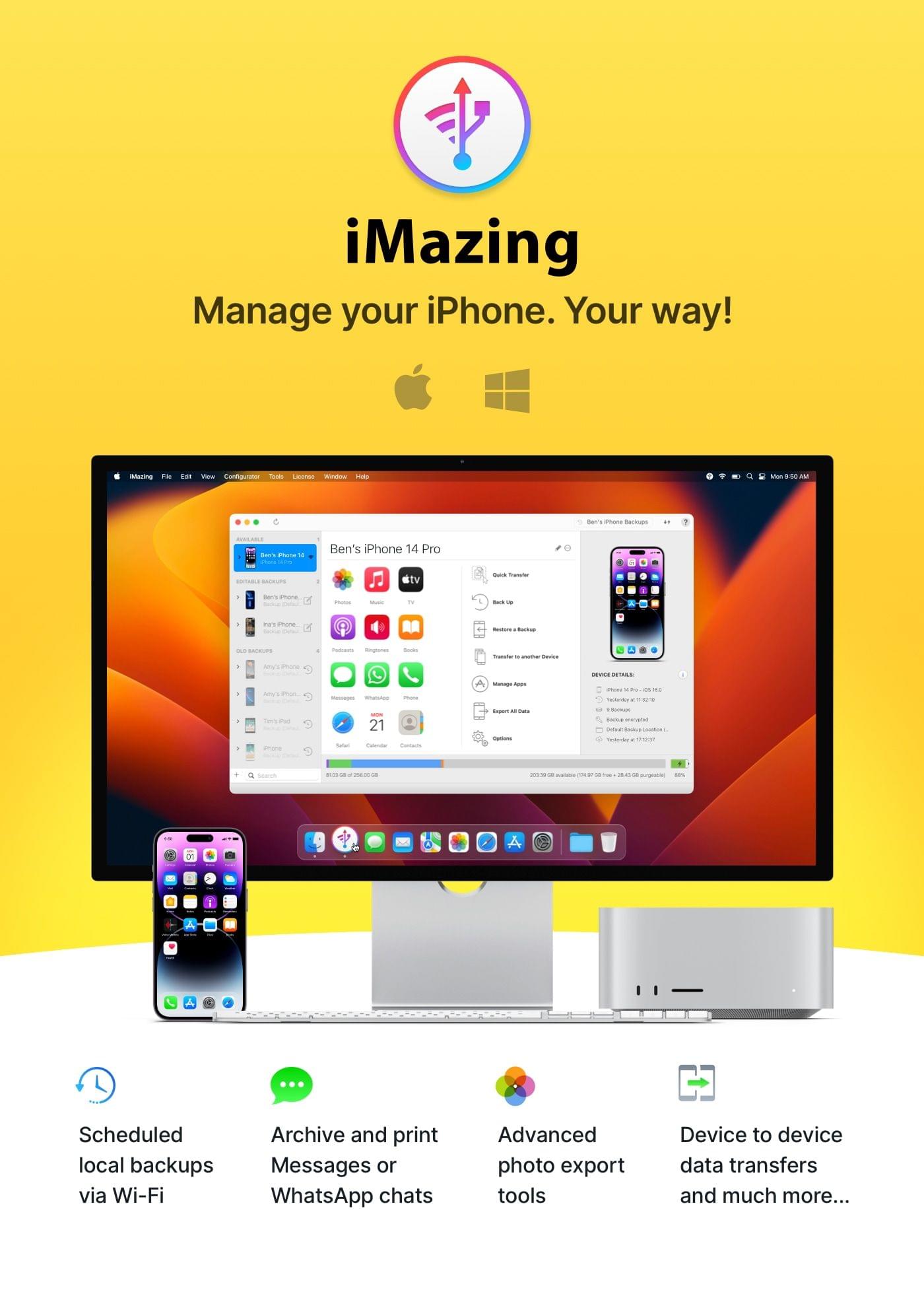 iMazing is the must-have multi-tool for everyone who prefers or needs to manage iPhone or iPad devices locally from their Mac or PC.
Whether you're an individual, family, small business, or enterprise, iMazing delivers powerful and easy-to-use solutions for working with your Apple mobile devices and their contents.
These features include:
backup iPhone or iPad to external storage or NAS volumes, with snapshot support (like TimeMachine for iOS devices)
browse the contents of old device backups; export any data from them
export or print SMS, MMS, iMessage, and WhatsApp messages, including attachments and metadata (great for memories or business purposes)
easily place a device in kiosk mode (use old iPads as photo frames or dedicated FaceTime devices)
create blueprints and bulk configure devices locally with iMazing Configurator
migrate your business from one MDM solution to another without losing any device data
iMazing also packs powerful media transfer capabilities, enabling you to browse and export photos and videos from your devices faster and with more options than Apple's own Image Capture. iMazing can also export music and playlists from any Apple mobile device to your computer, so that special recording that only survives on your old iPod can be enjoyed elsewhere.
Many iMazing features are also available free of charge, including Spyware Analyzer and QuickTransfer, the faster way to transfer files from your computer to a device with just a single drag-and-drop.
iMazing provides the power and flexibility that pro users demand with the ease of use and flexible export features that all users will love. Try iMazing today for free by visiting their website and taking it for a spin.
Our thanks to iMazing for sponsoring MacStories this week.