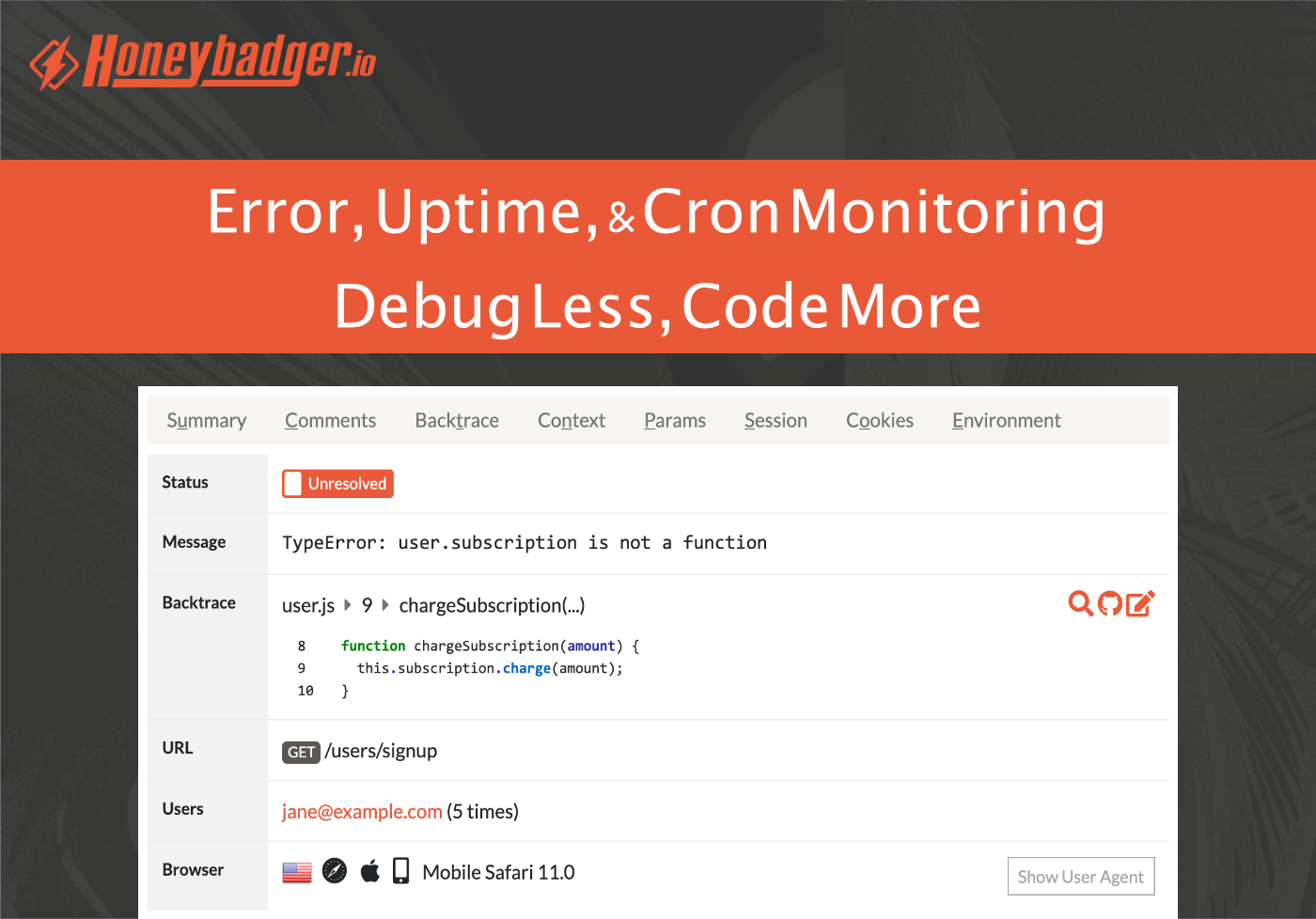 Honeybadger is your one-stop solution for error tracking that combines error monitoring, uptime monitoring, and cron monitoring into a single, simple-to-use platform. It's the only service that combines all those elements into one elegant solution that has your back when you need it most.
If your production site goes down, the last thing you want is to hear about it first on Twitter or by email from unhappy customers. With Honeybadger, you know the instant a problem arises. The included uptime and cron monitoring also let you know when your external services are having issues or your background jobs go missing or silently fail.
What's more, Honeybadger is easy to set up, taking just minutes, not hours. The service hooks into popular web frameworks, job systems, authentication libraries, and front-end JavaScript. Most installations are just a few lines of code. Honeybadger also includes a comprehensive online dashboard and context-rich reporting system that helps you diagnose and resolve issues quickly.
Honeybadger is a bootstrapped company built from the ground up to serve developers. They answer to you, not VCs, and their mission is straightforward: tame production and make you a better, more productive developer.
Honeybadger is used by tens of thousands of customers of all sizes, including eBay, DigitalOcean, heroku, thoughtbot, and even MacStories. Sign up for Honeybadger's 15-day free trial today and join the growing list of companies whose developers swear by Honeybadger. There's no credit card required to sign up, so you've got nothing to lose. Give Honeybadger a try and see how it feels to stop wasting time tailing logs and spend more time doing the development work you love.
Our thanks to Honeybadger for sponsoring MacStories this week.