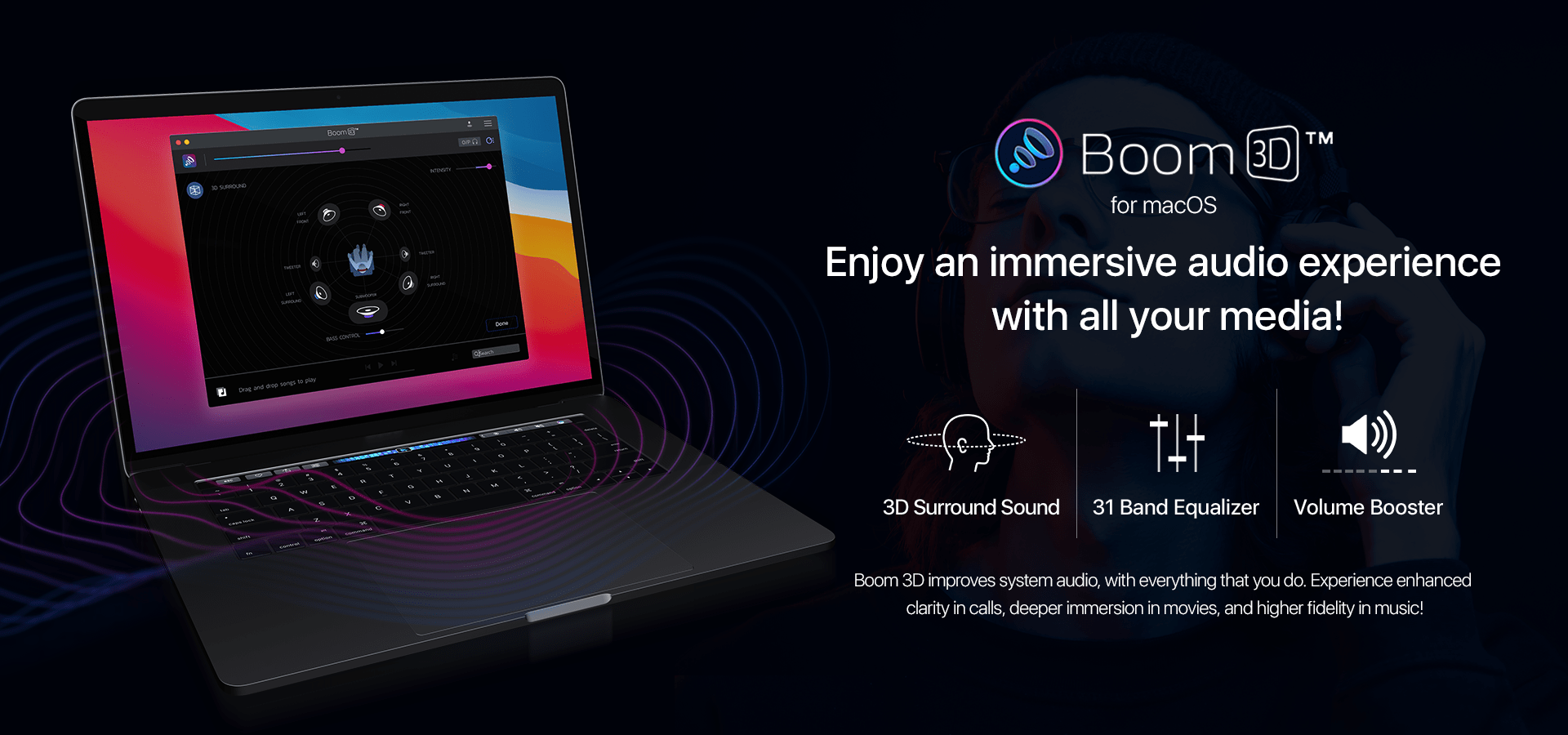 Boom 3D by Global Delight is the premier app for enhancing your Mac's audio whether it's music, movies, games, or other content. The app produces exceptionally clear, clean, 3D sound without the need for added hardware – just use the headphones you already own.
The app's 3D effect brings pro audio enhancement to all of your favorite apps on the Mac and Windows too. Boom 3D is the culmination of years of careful refinement by the team behind a long list of award-winning audio, video, and photography apps like Boom for mobile, Boom and Boom 2, Vizmato, Capto, and Camera Plus.
Boom 3D has been carefully crafted to take audio to the next level. The effect is the sort of thing that once you try it, everything else sounds lifeless and flat by comparison. It's truly remarkable. Even if your source audio is only recorded in stereo, it will be up-mixed into an incredibly immersive audio experience.
In addition to its patented audio technology, the app features a 31-band equalizer that allows you to precisely tune your Mac's audio to your tastes. The app has also received praise from hearing-impaired users who can adjust audio to boost frequencies they have trouble hearing. The app features its own audio player that supports a wide range of file formats, and it offers access to over 20,000 Internet radio stations. There's even a mobile version for iOS and Android, which enhances audio played using the app.
Right now, MacStories readers can get a huge 70% off on Boom 3D by visiting the app's website. Visit the site today to learn more and take advantage of this terrific offer. Boom 3D is also available on the Mac App Store, and the mobile version is available on the iOS App Store and the Google Play Store.
Our thanks to Boom 3D by Global Delight for sponsoring MacStories this week.