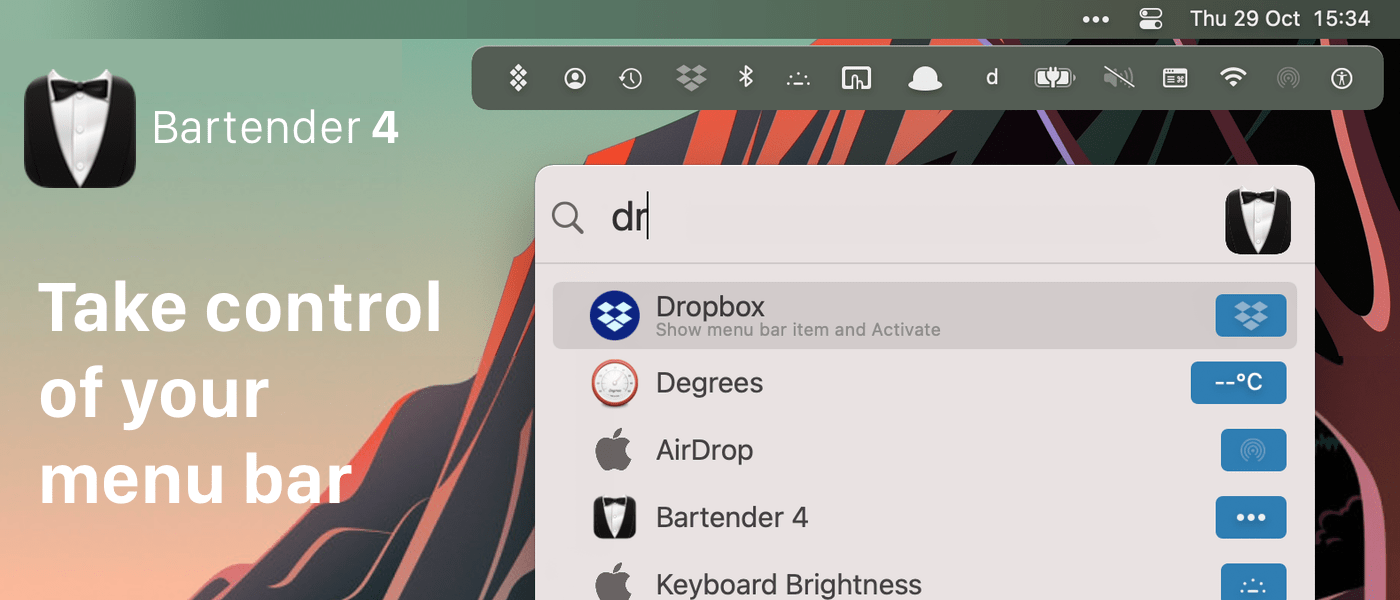 Bartender 4 is the premier app for bringing order to your Mac's menu bar. With more apps adding items to your menu bar than ever before, it doesn't take long for it to become a disorganized jumble of everything from standalone apps to shortcuts to your Mac's settings. With Bartender 4, you can take control of your menu bar, saving space, eliminating distractions, and creating a system that fits with the way you work.
Bartender 4 puts you in complete control of everything in the menu bar. You can reorder items, hide what you don't need, and even set them to only appear when their status changes. With the latest update, Bartender added Quick Reveal. Simply hover the pointer over your menu bar, and hidden items appear instantly in the menu bar or, if you prefer, in the Bartender Bar, a bar that appears just below your menu bar. Also, with Quick Search, you can find and activate menu bar items instantly using nothing but your keyboard. It's a compelling new way to access menu bar items that you'll love.
The app is also highly customizable. You can adjust the spacing between items, include dedicated spacers to separate them, rearrange them, assign keyboard shortcuts to them, and assign triggers that reveal a menu bar item based on changes, scripts, and other conditions. Of course, Bartender also supports AppleScript.
This week only, MacStories readers who are first-time purchasers of Bartender 4 can get an exclusive 20% discount on this fantastic app by using the code MACSTORIES20OFF at checkout. So, download Bartender today, give it a try, and be sure to take advantage of this special 1-week offer to take back control of your menu bar.
Our thanks to Bartender 4 for sponsoring MacStories this week.