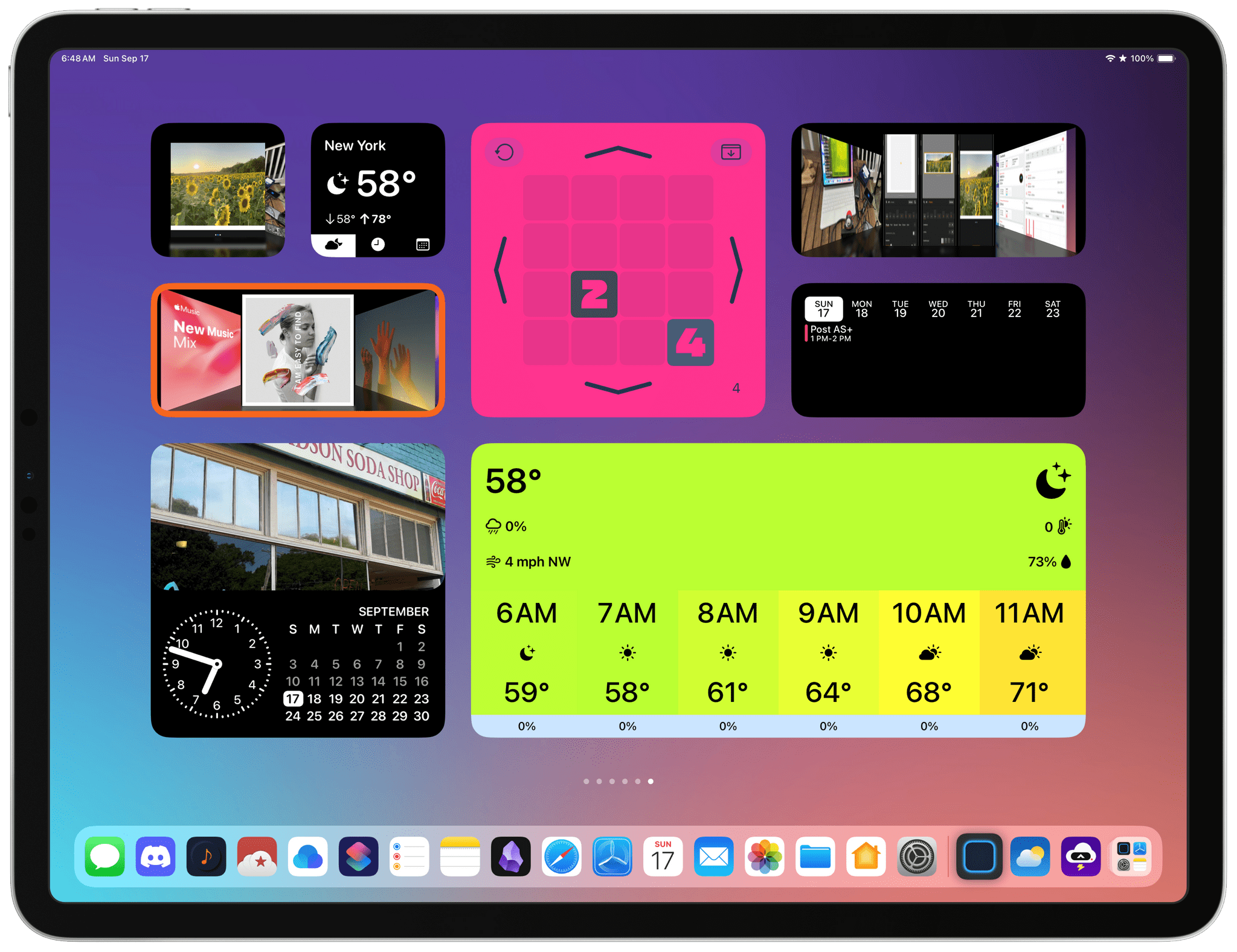 It's clear from David Smith's iOS 17 update to Widgetsmith that he intends for the app to hold its position among the most customizable widget creation tools available. That's exactly what he's done with a long list of new widgets, customization options, and features that push interactivity to the limit of the technologies Apple provides.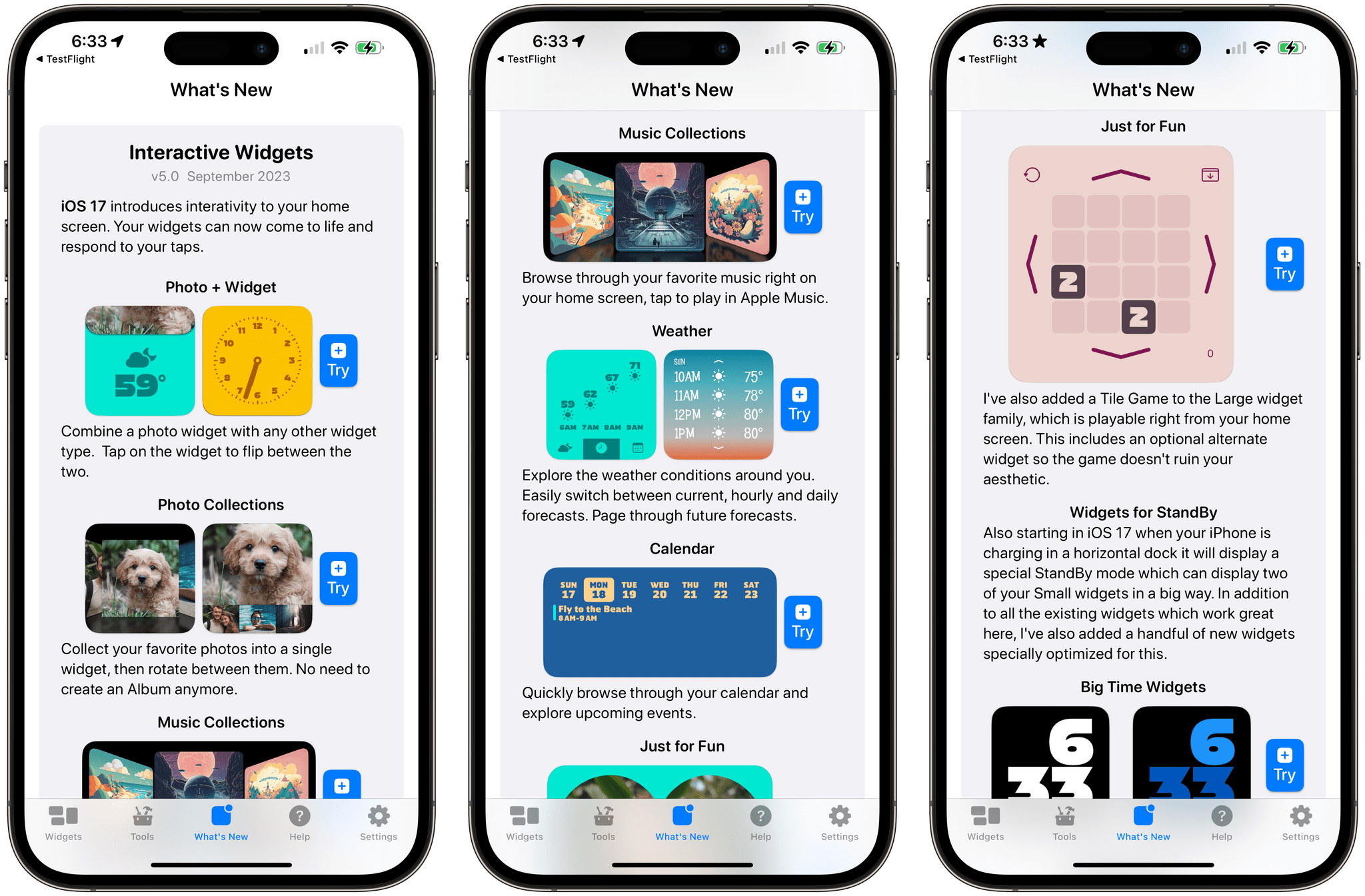 The new widgets focus on weather, calendar events, photos, and a game. The number of permutations available is vast because there's so much to customize. The image at the beginning of this story is just a small sample of what is possible, but with adjustable colors, fonts, and other elements, the combinations that can be created are nearly endless. So, let's dig into the highlights.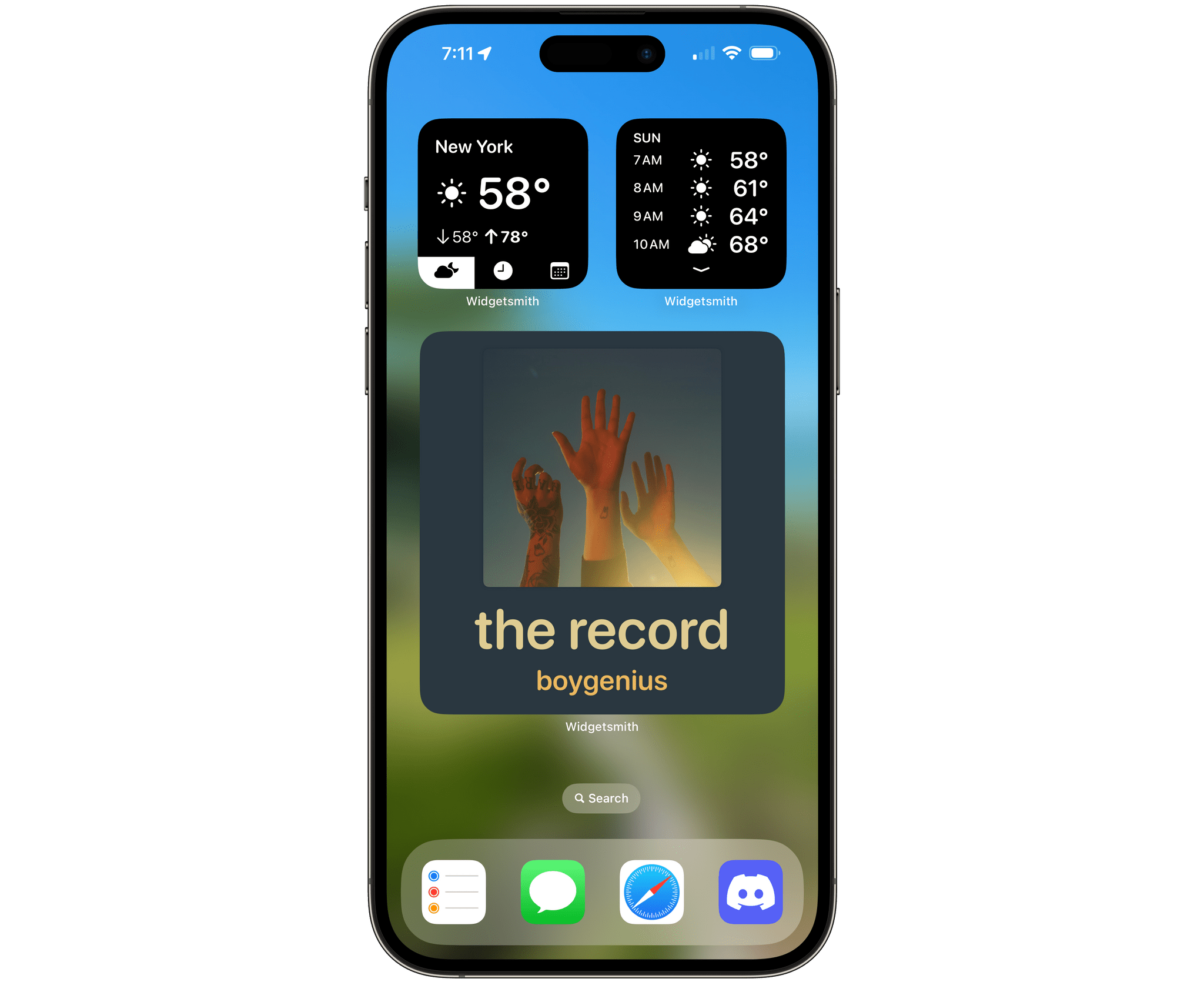 The new small weather widgets are a few of my favorites. One includes what is effectively a widget tab bar letting you switch between current, hourly, and daily data. Another lets you 'scroll' an hourly forecast using arrow buttons along the top and bottom edges of the widget. There's a graph-style version of the same hourly weather widget that 'scrolls' horizontally, too. I put 'scroll' in quotes here for a reason. As I'll discuss below, the interactivity of widgets is limited, which means there are constraints on what Widgetsmith can do that you won't find in apps. Here, that means scrolling with buttons instead of swipe gestures. Still, both widgets pack far more information into a small form factor widget than was ever possible before, which is great, especially on smaller screens.
I'm also a fan of Widgetsmith's new interactive calendar widget. It comes in medium, large, and extra-large sizes and shows your events for each of the next seven days. Tapping the date at the top of the widget switches to showing the events for that date in the space below. Tap the part of the widget where you see your events, and it opens Widgetsmith to its built-in calendar interface.
One of the more popular uses of Widgetsmith is to display photos as widgets. Here, Widgetsmith has added the ability to tap through photos using a Cover Flow-like interface. Another interactive version of the photos widget uses a tab bar-like interface similar to the one used in the app's interactive weather widget, putting the focus on one photo that can be changed by tapping the photo thumbnails along the bottom edge of the widget. Plus, there is an interactive photo locket and carousel widget.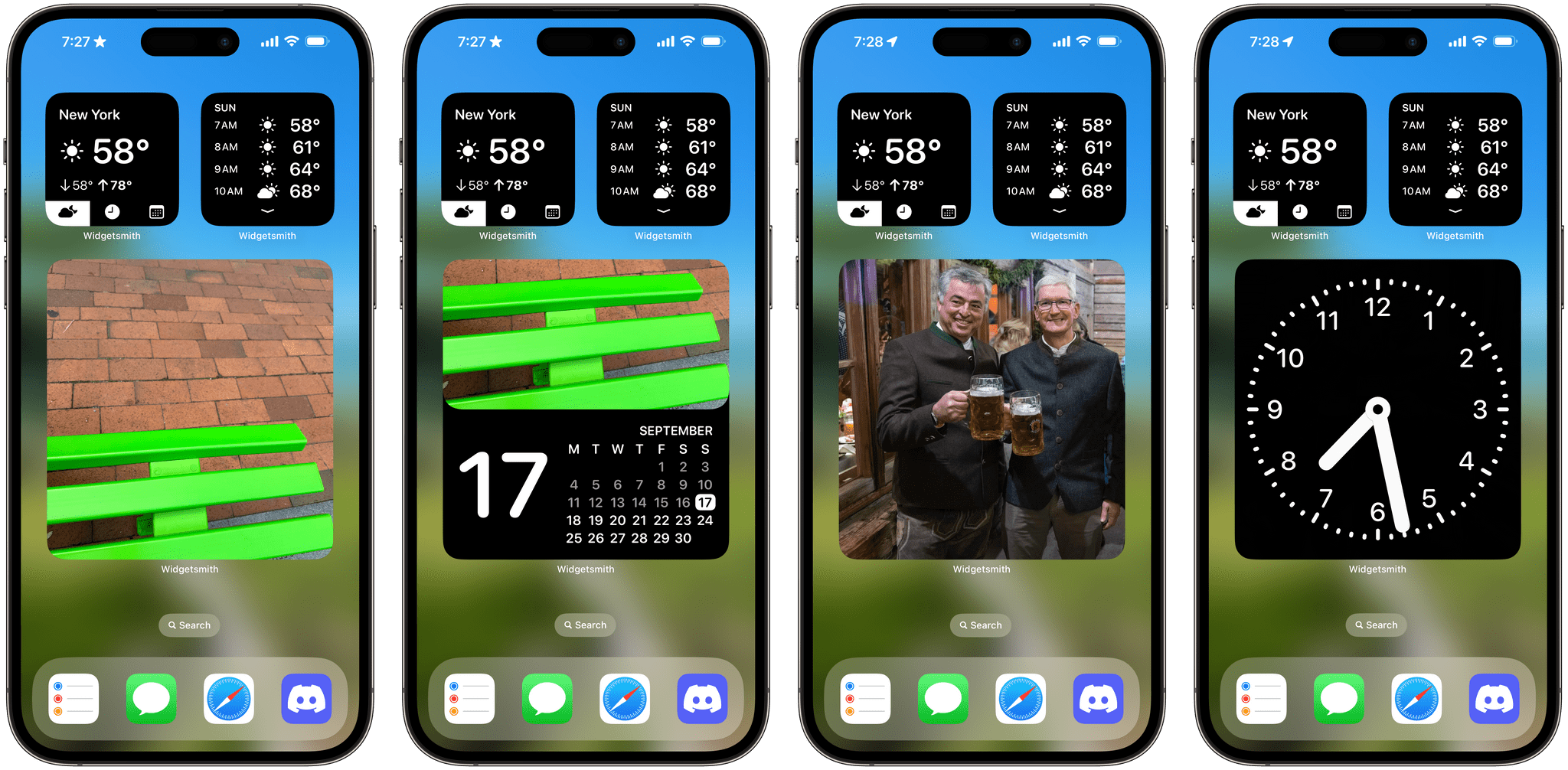 The app does something else unique with photos, allowing a single photo to be combined with another widget. There are two types, but both are activated by tapping on the photo you pick. When tapped, the photo of the first variant slides up, revealing a 'drawer' containing the second widget. The other version flips over to show the second widget. It's a very clever way to enjoy a favorite photo most of the time but see the weather, time, or other information with a single tap.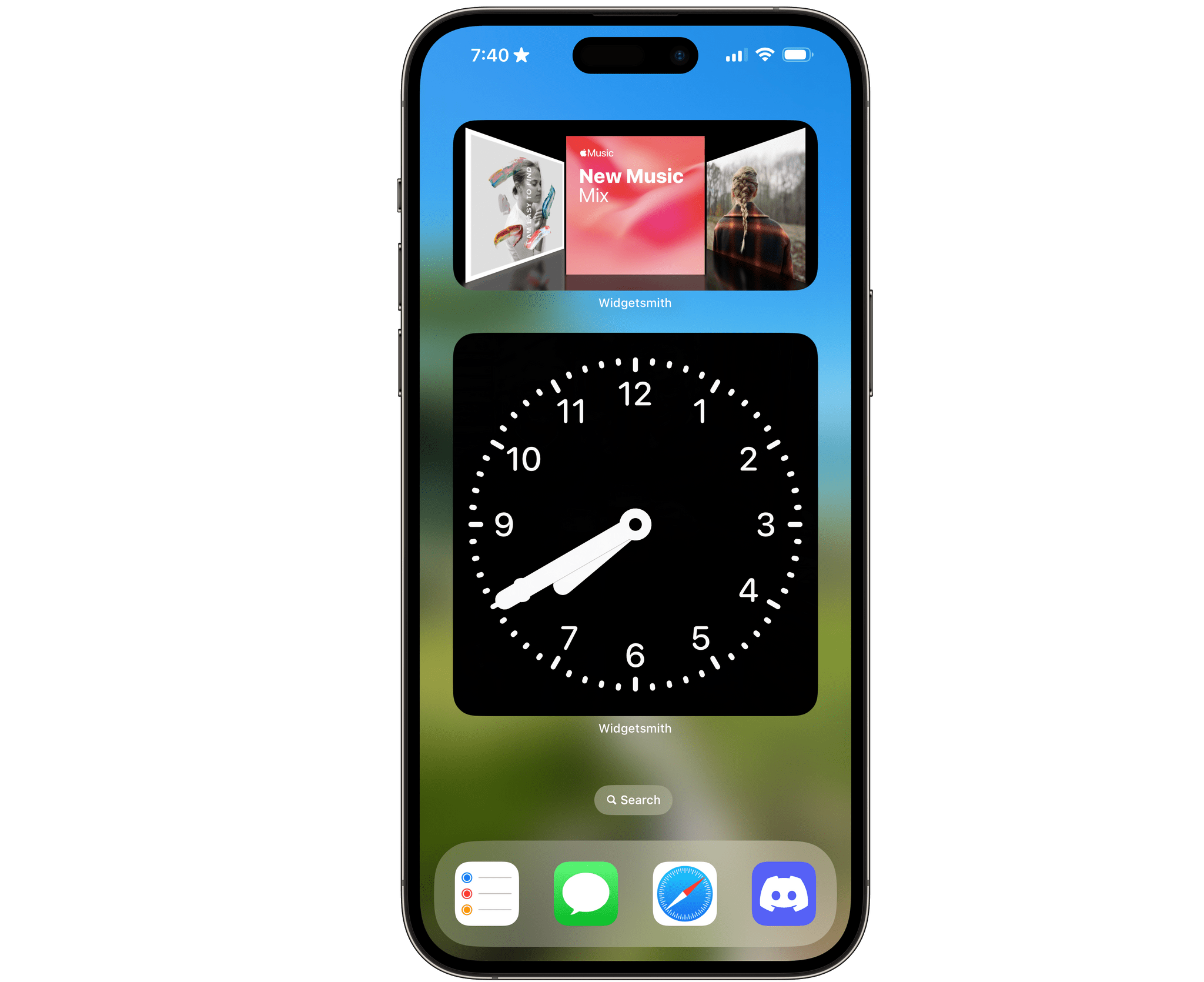 Widgetsmith has always been an excellent way to quickly access favorite albums and playlists, but now there's also an interactive version. Like one of the new photo widgets, the interactive music widget uses a Cover Flow-like interface that allows you to tap among several albums and playlists. Tapping on an album or playlist starts playback. Tapping a second time restarts playback instead of pausing it, which may be a limitation of the way the widget is built, but it was still unexpected.
The app adds an interactive tile game, too. It's a little like a simplified version of Threes, where the object is to line up matching numbers and slide them together, which adds them together. This isn't the first game we've seen implemented as an interactive widget, and I'm sure it won't be the last by any stretch of the imagination. The limitations on widget interactions mean that all widget-based games will be simple, but they can still be a fun way to pass the time.
Speaking of interaction limitations, it's worth noting how they impact interactions with Widgetsmith widgets and all other interactive widgets. Widgets can be interacted with using buttons and toggles only. For example, that means when you see a Cover Flow-style widget in Widgetsmith and try to swipe from one album or photo to another, it won't work. It also means you can't swipe down to close the app's drawer-style widget either. Instead, you'll invoke Spotlight Search. That's a limitation of interactive widgets that can take some getting used to if an app pushes the boundaries of what's possible the way Widgetsmith does. Instead of swiping, you have to remember to tap. It makes some widgets feel broken at first, but over time, it's possible to get used to it.
In addition to the Home Screen widgets that I've highlighted above, Widgetsmith's new widgets are available as Lock Screen widgets in the new large Lock Screen size, too. Photo widgets aren't very effective in monochrome, but others, like the weather widget above, are clear, handy to have on your iPad Lock Screen, and fully interactive.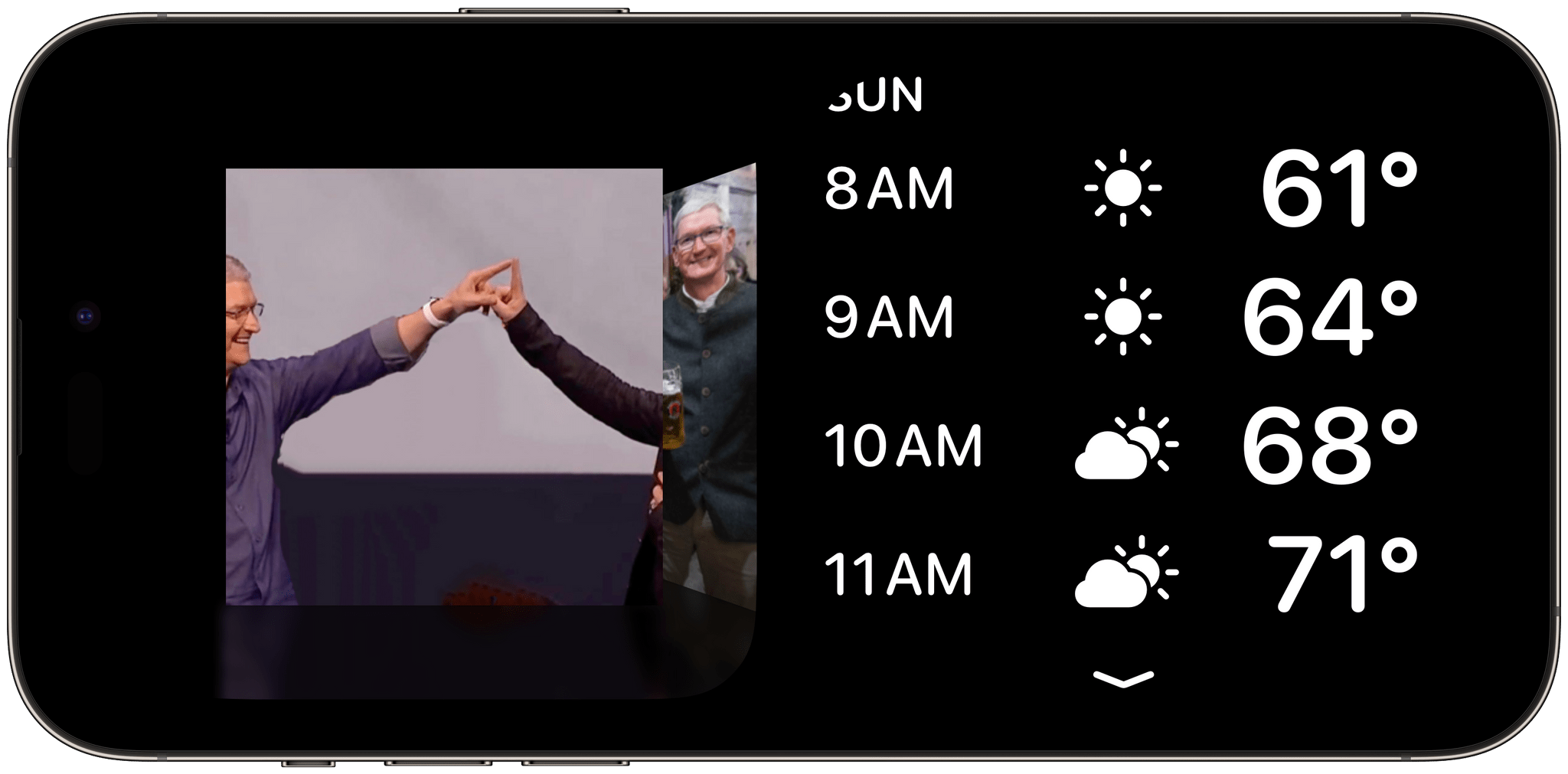 Finally, Widgetsmith also supports iOS 17's new StandBy mode, allowing you to add small-sized interactive widgets for when your iPhone is charging and in landscape mode.
It's remarkable what an app like Widgetsmith has been able to achieve, even within the relatively tight system constraints of widget interaction. Over time, I'd love to see Apple loosen the reigns on widgets, but it makes sense to start slow, see how developers use interactivity, and expand from there. If you're into customizing your Home Screen and Lock Screen, Widgetsmith's new interactive widgets are some of the first you should check out.
Widgetsmith is available on the App Store as a free download. However, certain features require a subscription.