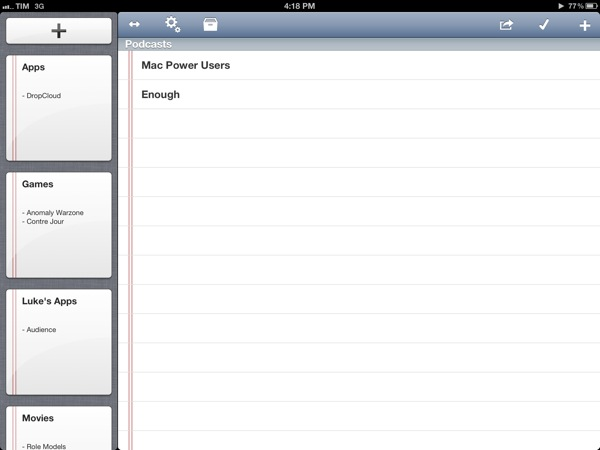 In the past few months, I have been refining my Dropbox-powered writing workflow, adding new tools and checking out updates to existing ones in order to achieve a reliable, yet seamless environment for quick notes, longer articles, and lists. In particular, I mentioned TaskAgent, an iOS app to manage lists through easily formatted text files inside Dropbox.
In TaskAgent, I keep lists of apps I want to buy or update, and lists of stories I want to work on. These lists can be archived and retrieved later, and they exist as standalone .txt files in my Dropbox. If I want, I can add items to my lists using TextDrop, GoodReader, or TextEdit on my Mac; I guess it'd be nice to have a dedicated TaskAgent Mac app with the possibility of entering items with keyboard shortcuts.
See, on my computer and iOS devices, I keep lists. I have the aforementioned work-oriented lists of apps and posts I'd like to work on. I have lists of apps I want to recommend for our Inspiring UI series, and I have lists of developers I want to interview. But I also keep lists of podcasts I want to check out, movies I want to buy, groceries I need to pick up, and ideas I want to submit to a developer as feedback for his beta app.
In my mind and in my workflow, lists and tasks are separate entities. A list may contain items that will become tasks; my OmniFocus keeps the things I know I have to do – neatly organized and synced to the cloud. Over time, I have found the separation of lists and tasks to be necessary to properly divide my organization skills in two distinct areas: remembering Vs. doing. And I have found TaskAgent 2.2, released today, to be the best app at enhancing this text-based setup on the iPhone and iPad.
From a core functionality standpoint, TaskAgent 2.2 isn't too dissimilar from the versions we have previously covered here at MacStories. However, alongside a much simpler formatting syntax and a slew of new features, TaskAgent 2.2 impressed me thanks to its completely redesigned interface and Dropbox sync engine.
On the iPad, large "notebook thumbnail previews" adorn a sidebar that can be dismissed with a button in the upper toolbar. On the iPhone, lists are shown through a Facebook-like panel that also contains shortcuts to create a new lists, enter the Settings, or open Archived lists (which aren't permanently deleted). TaskAgent 2.2 cleverly uses these new list previews to bring up functionalities that would have otherwise been buried in sub-menus within the main interface. A tap & hold on a list will reveal options to quickly delete, rename, duplicate, or archive a list. To avoid the guilty remorse of having too many items in a list, TaskAgent now lets you hide the "0 out of x completed" description, so you'll focus exclusively on managing your lists without feeling bad about having too many items inside them.
One of TaskAgent's previously often criticized feature was its New Item dialog. Version 2.2 does away with uninspired blue alert boxes and introduces a new quick way of entering items one after the another: on the iPad, that's a popover, while on the iPhone the menu has been rendered as another panel on the right. Depending on your settings, new items will be added at the top or bottom of a list, and you can enter multiple ones in a row without having to tap Done every time. The overall workflow is incredibly faster.
TaskAgent 2.2 is unarguably a better version of the app, and, to me, the best solution to manage lists on iOS while retaining the capability of editing them anywhere as long as I can open a .txt file. I can access my lists from my browser with TextDrop or from iOS using GoodReader and ReaddleDocs. I can associate TaskAgent's folder (which can be moved anywhere inside Dropbox) with a text editor and start editing right away. I can quickly append new items to a specific list file using Alfred, and if I want, I can share a list to Evernote as well, as TaskAgent supports that service, too.
TaskAgent makes lists "open" and available anywhere. Only $1.99 for a limited time.