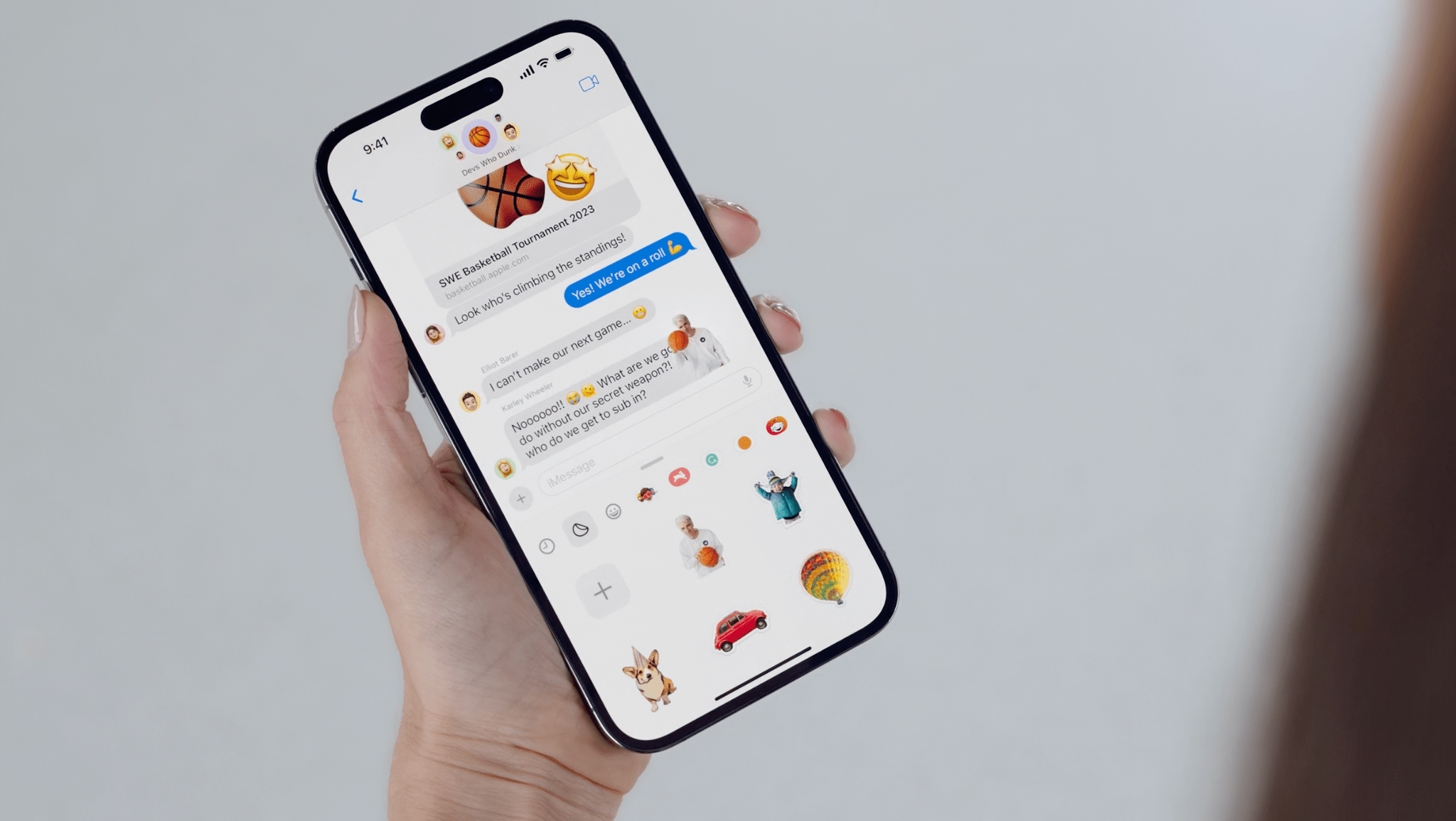 iOS 17 is coming this fall, and Apple has once again directed a significant amount of attention to one of the iPhone's most popular apps: Messages. This year we're getting another round of minor UI tweaks, most notably shifting the positioning of iMessage apps again: they will now pop up in a new full-screen overlay. The two-page overlay starts with your most frequently used iMessage apps, which is where you'll find Camera and Photos. Swiping the first page up will reveal any further apps you have installed beyond your top six.
The new overlay isn't the most efficient use of screen real estate, but it does look less confusing to access since there's now a single button to get to all iMessage apps. The previous version of Messages showed two separate interface rows, with the top row containing only the Camera app and a button to show or hide the bottom row. The Photos app was in the second row, and I can't count the number of times I've tried to access the Photos iMessage app only to accidentally press the toggle button and hide its entire row.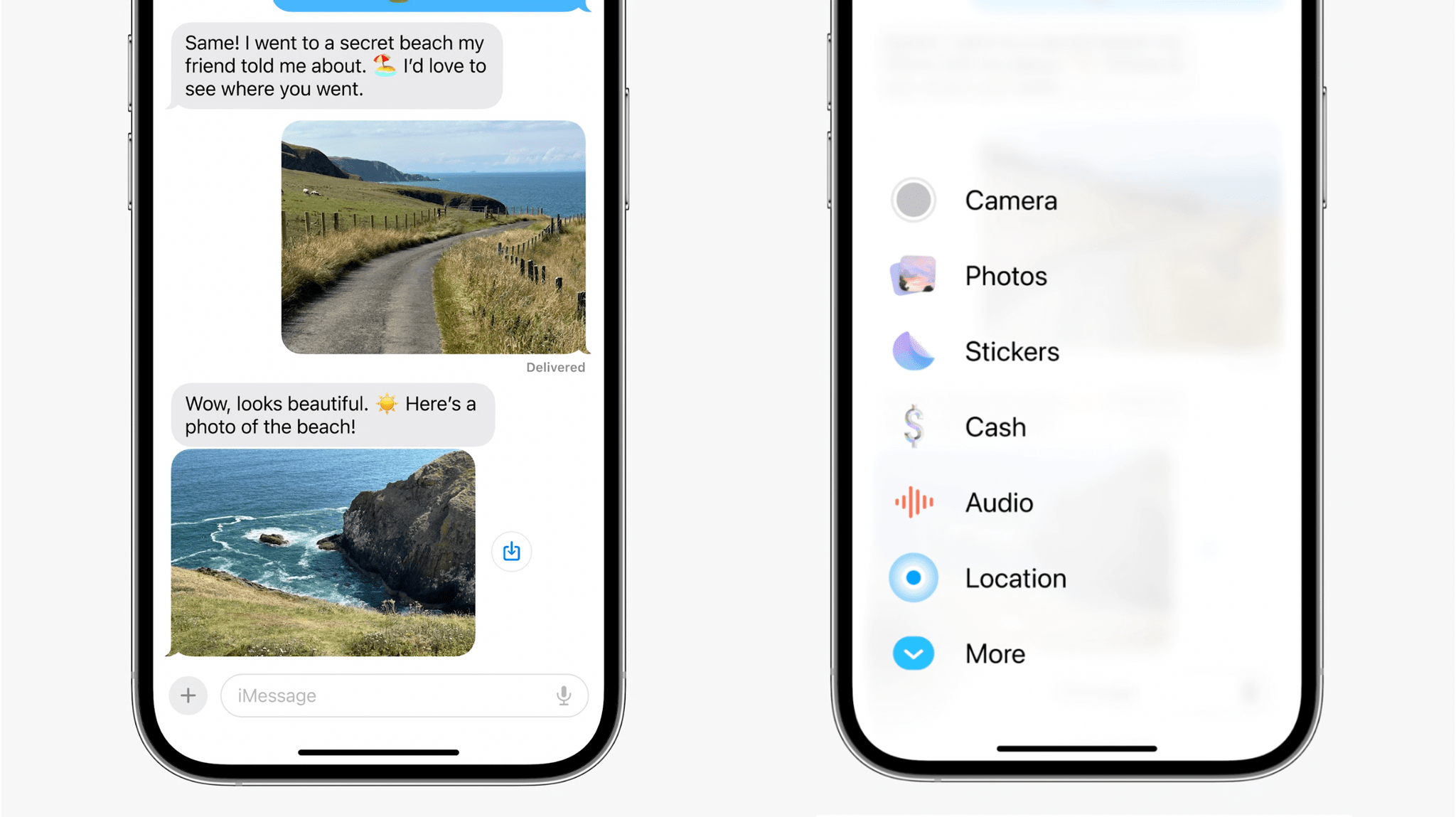 In the new iOS 17 interface, a single '+' button will pop up both the Camera and Photos iMessage apps. This will add one extra tap to get to Camera, but I think that's a decent trade-off to make it less confusing to access everything else. By default, the overlay also appears to include the Stickers, Cash, Audio, and Location iMessage apps. It's unclear whether this first-page grouping will fully sort itself based on your most-used apps, or if you'll be able to manually sort it. I'm hoping for the latter.
New iMessage Apps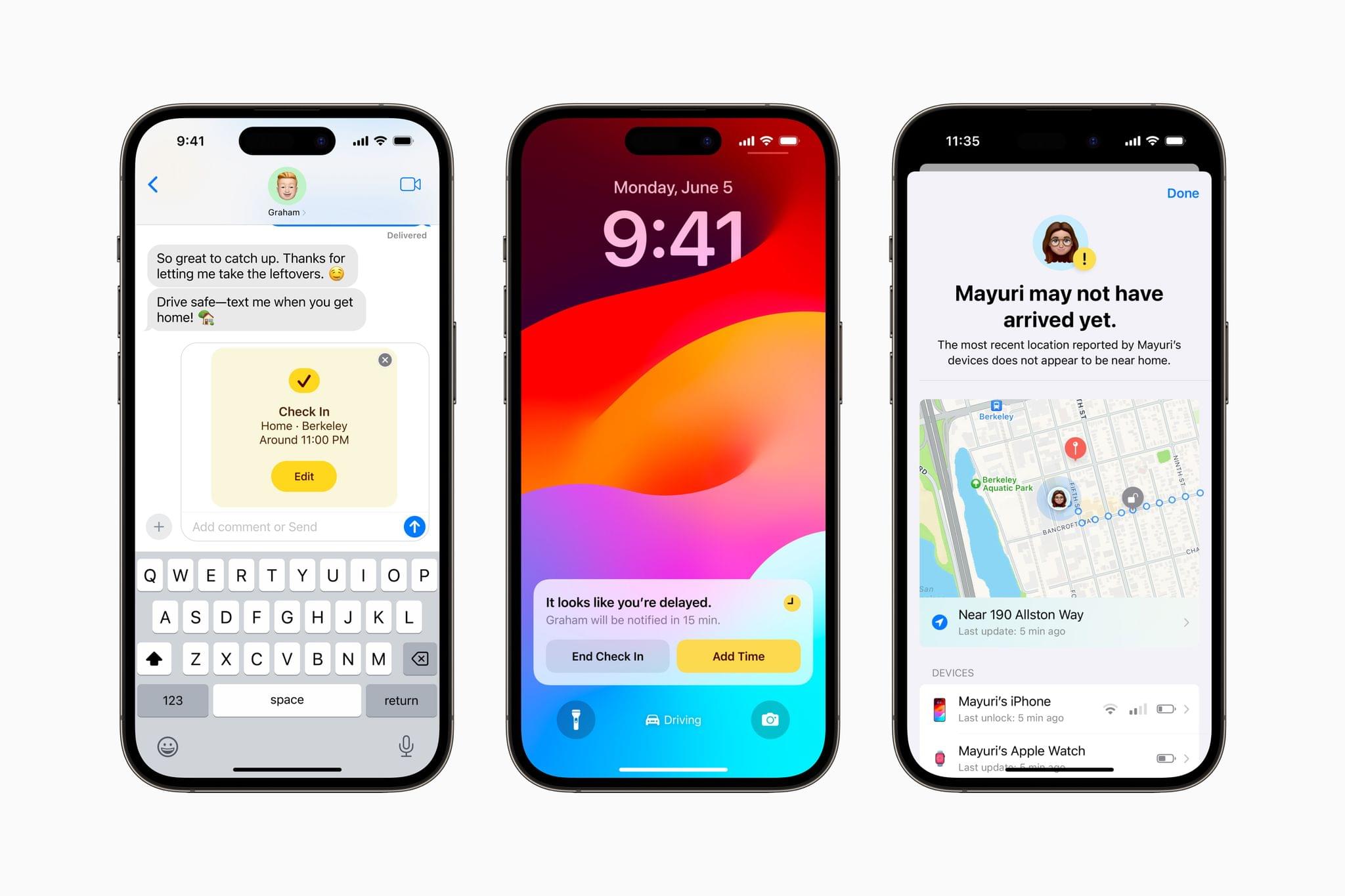 Apple is also introducing some new first-party iMessage apps in iOS 17. A new Location app will temporarily display yours or a friend's location inside your Messages conversation. This looks like a great addition to make it more convenient to set up a temporary location share when you're on your way to meet someone. Especially if you're a perpetually late-running person like myself.
The new Check In iMessage app allows you to schedule a time when you're supposed to be at a location, such as when you're arriving back home late at night. Once you've set up a Check In, your friends or family in the Messages conversation will be automatically notified when you make it safely to your location. Check In monitors your location as the designated time approaches, and if it determines that you can't possibly make it to your destination in time, it will prompt you to add more time so that your family knows it's a non-problematic delay. If it doesn't hear back from you, it will share some information with your family or friends — including your location, your phone's battery level, and your cell service status. All of this data is end-to-end encrypted.
Both Check In and Location seem like great additions to Messages core feature set, and it's good to see Apple continuing to invest in iMessage apps rather than let that platform fade away.
Stickers and Custom Sticker Reactions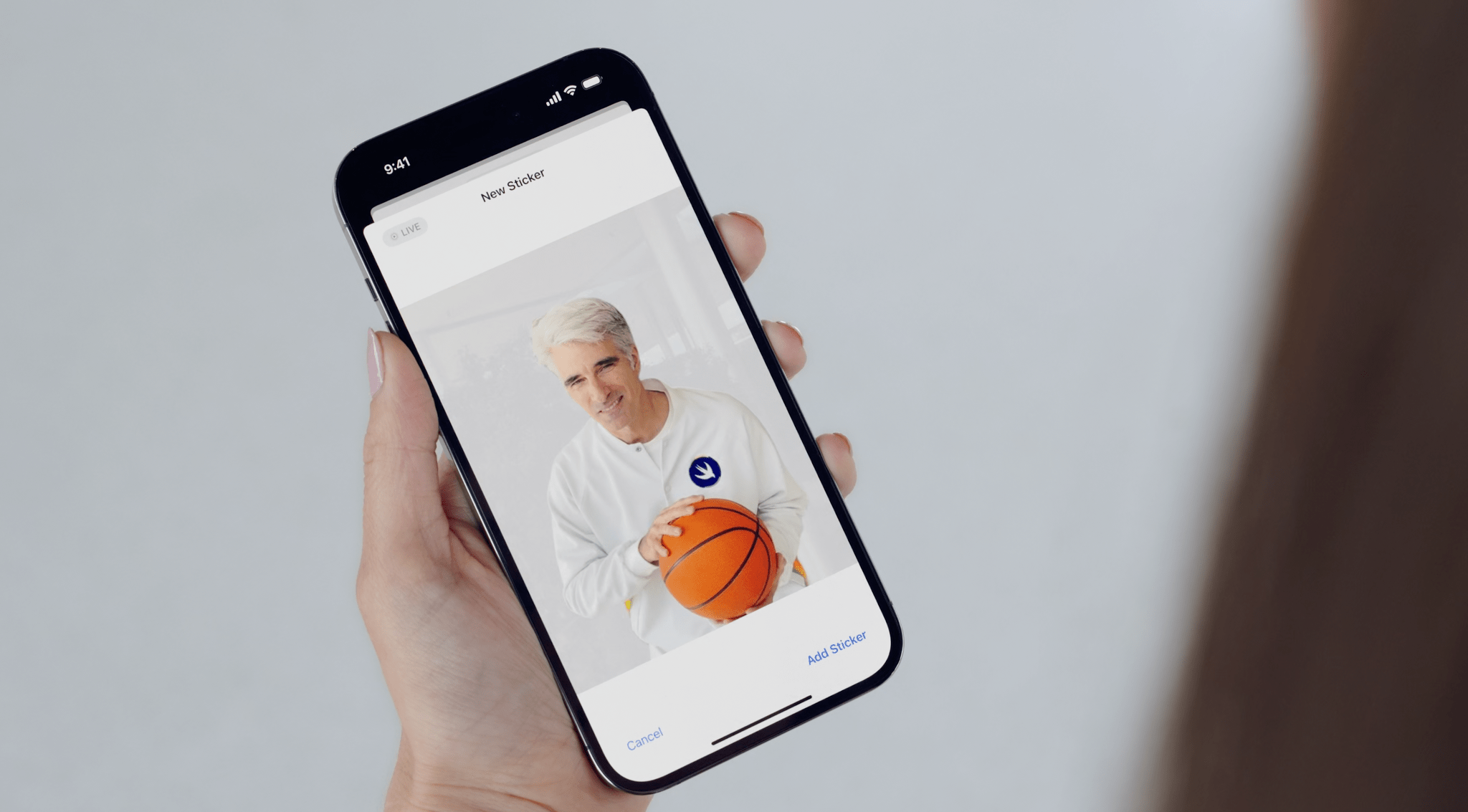 Stickers is another new iMessage app in iOS 17, but its feature set extends even further into the app since it integrates with the existing sticker functionality, and adds even more. For starters, you can now use the Stickers iMessage app to create new stickers using photos from your collection. Stickers from photos are created using the same technology as last year's feature where you could tap and hold on the subject of a photo to pop it out of the background. You can then save and reuse these stickers, and you can even pop out animated stickers from Live Photos. Memoji and other third-party sticker apps now live in the Apple Stickers iMessage app as well, and you can even create stickers from any standard emoji.
Best of all, Stickers can now be used as reactions to messages. A new 'Add Sticker' button now exists in the tap-back menu when you tap and hold on a message. Choosing a sticker will apply it to the message in the bottom-right corner, just like the set of five previously-boring tap-back icons. I still wish that Apple would just replace the boring tap-back icons with your most recently used stickers (or let you select a set of favorites), but at least it's now possible to react with something other than a gray heart, thumbs up, or strange textual "HA HA".
Improved Autocorrect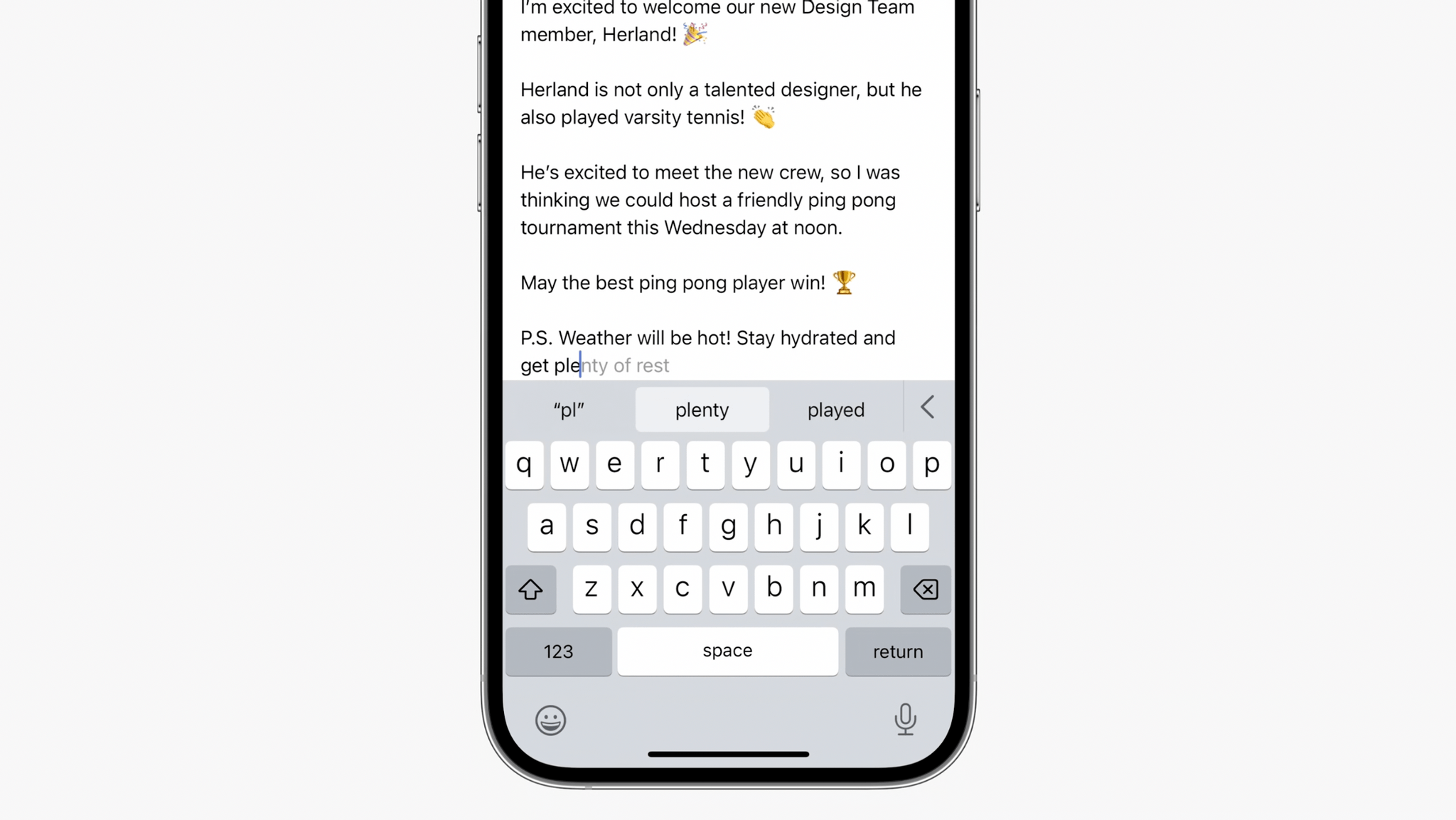 This feature obviously spreads far beyond just Messages, but I am too excited about the prospect of autocorrect being significantly improved to not highlight it here. Apple has integrated a new language model technology into autocorrect, allowing it to better learn your personal style and the words that you like to use. It can also now correct at the sentence level rather than just the word or phrase level. This should make it more adept at understanding the full context of what you're trying to say before it, for example, errantly changes your "well" to a "we'll".
Autocorrect has been in fairly bad shape in recent times, so I'm definitely taking this news with a grain of salt until I can start testing it personally. But, while Apple didn't use the keyword "AI", it does sound like the improvements to autocorrect have been made using a related technology to the large language models that have powered the recent AI craze. This gives me hope, as does Craig Federighi's perfectly delivered keynote joke which made it clear that autocorrect will finally be willing to learn curse words.
Miscellany
The new Messages app in iOS 17 also includes the ability to swipe a message to the right to start an inline reply to it.
Audio messages are now transcribed like voicemails, so if you aren't able to listen to an audio message, you can still read its contents in the meantime.
Messages search has been significantly improved with the addition of search filters. These allow you to apply multiple disconnected filters rather than only being able to search a particular word or phrase. For instance, you can filter by messages from a specific contact, and then search for the actual text of a message and only see results from that contact.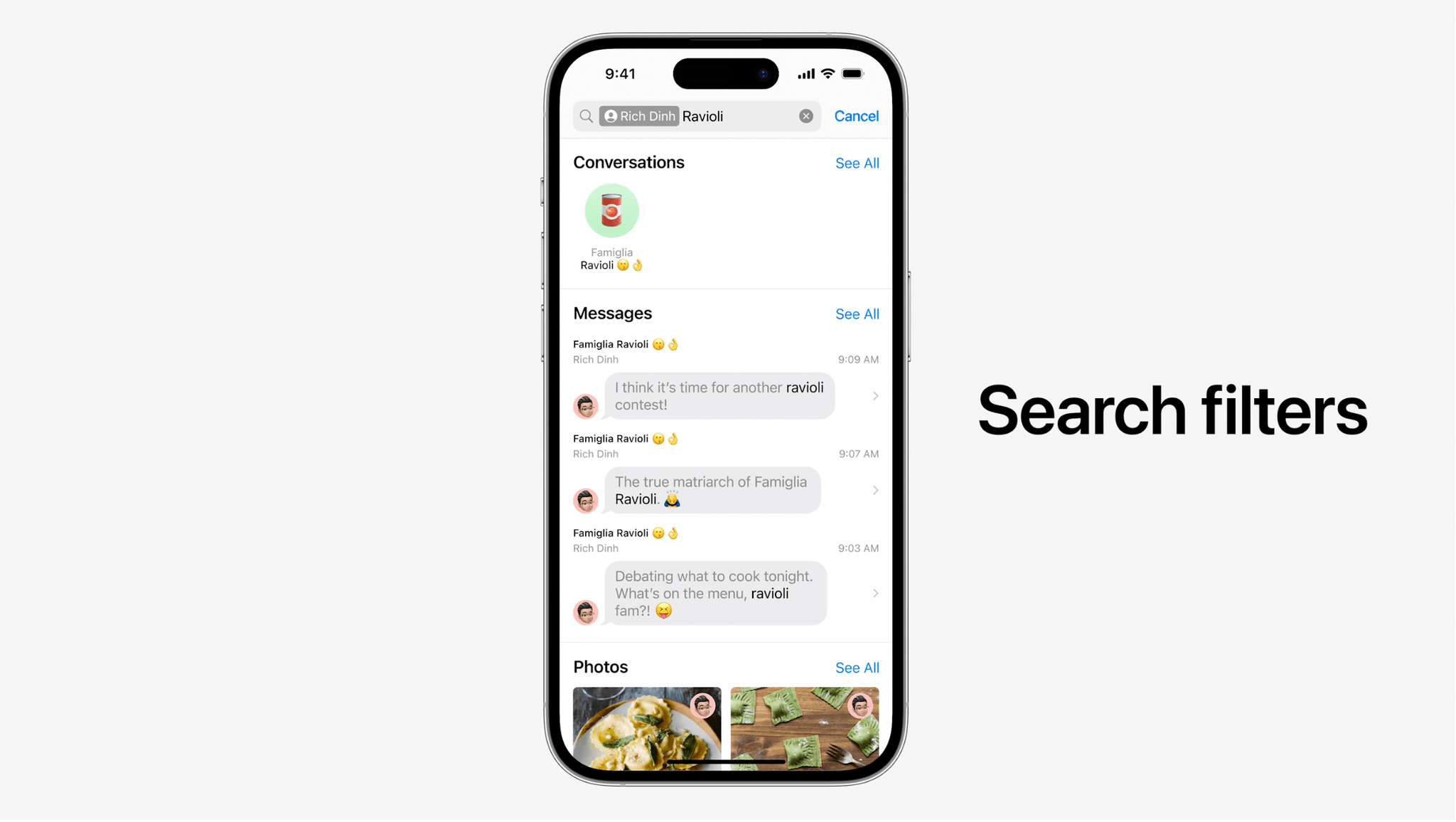 All of these iOS 17 Messages features should also be coming to iPadOS 17 and macOS Sonoma, making it a great year for Messages users across all of Apple's platforms. We can't wait to get our hands on these updates to dig into the details, and will have more on Messages later this summer.
In the meantime, developer betas of Apple's new OSes are live today, and public betas will be released in July. Non-beta public releases are, as usual, dropping in the Fall.
---
You can follow all of our WWDC coverage through our WWDC 2023 hub or subscribe to the dedicated WWDC 2023 RSS feed.