Consider this: you're watching only the most important football game between the Oakland Raiders and the Tampa Bay Buccaneers in the 2011 Superbowl. Your chicken-wing-sauce encrusted fingers clench as Stroughter penetrates the red zone. Jaws drop. A beer bottle passes hands into unknown territory. And just as the moment of disbelief strikes a cord with the goal line, a lamp shade is tossed through the center of the 30" plasma. Instinctively, you reach for the iPad tucked between the salsa bowl and the guacamole, launch the Verizon FiOS app, and within seconds, catch the touchdown of cosmic proportions while the TV is still reeling from your best friend's misplaced wide-arm. Anything is possible with the new Verizon FIOS app for the iPad.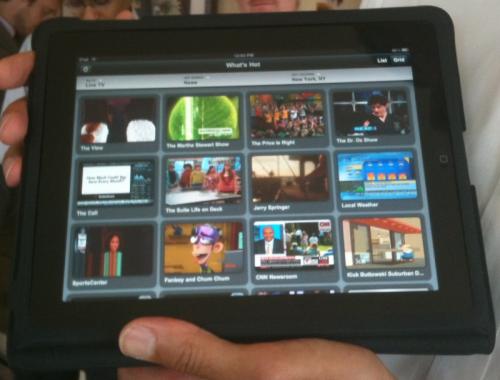 Before I patent this commercial idea (and fix my awful pre-season bracket), I've been kind of wanting something like this for a while now. Say the kids are watching Spongebob or I'm only learning the greatest recipe to come from the Neelys, and the wife is requiring everyone to pack the van for a Tuesday burger trip. Riding shotgun, I can continue streaming the most mouth-watering of episodes ever gifted on Southern TV. Well… I wish.
At first customers will only be able to watch TV in their homes (streaming content to your iPad); you have to have the FiOS cable service. The iPad would also effectively function as a DVR programming app. Essentially the iPad just becomes another TV in the house, which is fine since this enables the family to bring their TV into the kitchen, into the den, onto the the back porch, or wherever they want to enjoy content where a unit is too big to be installed or the installation of cables is required. It doesn't seem so great when you can't take TV everywhere (which was my initial though), but the ability to watch TV anywhere in your home as a convenience is actually pretty nice.
For for people like me who don't have or want a cable service, Hulu Plus is still a viable option for those who want to watch English subbed animes and occasionally late TV episodes. But for those who already have FiOS or are looking for a new provider, would Verizon's friendliness towards the iPad be a big purchasing factor? Let us know in the comments!