Skitch, the image annotation and sharing tool that Evernote acquired in the summer of 2011, has today been updated on iOS to include support for PDF annotations. I have been testing the new feature for the past few months, and, while not as full-featured as a dedicated PDF annotation app, I believe it is a solid addition to Skitch.
PDF support comes with a free 30-day preview, but premium Evernote users will have full access to it without paying additional fees. There are two ways to get PDFs into Skitch: you can use the default iOS "Open In" menu from other apps to forward documents to Skitch, or you can use the new "Create from PDF" menu within Skitch to load an existing PDF from your Evernote account. Skitch will find every single PDF you have in Evernote, independently from notebooks and tags; to start annotating a PDF, tap on it, and Skitch will bring up the new PDF editing view. Edited PDFs will show up in Skitch's library with a special "PDF" badge on them to differentiate them from regular images.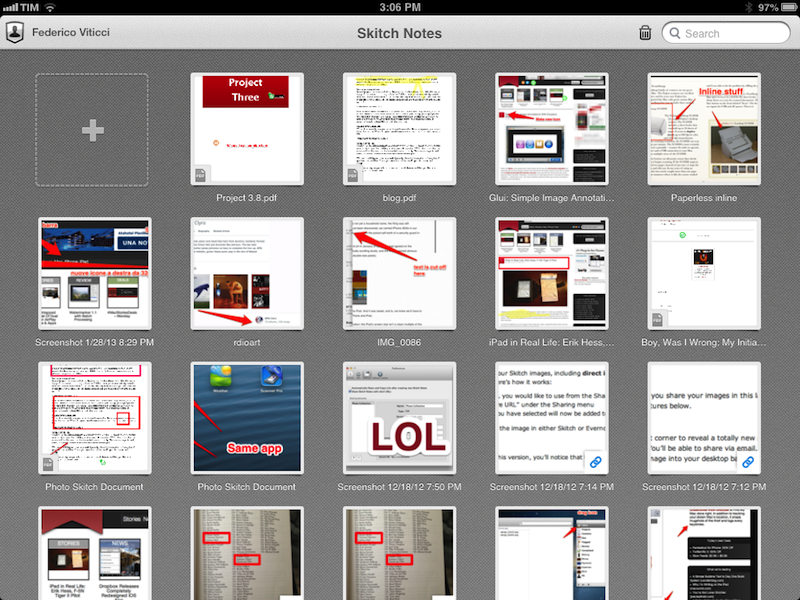 Annotating PDFs is similar to images, with a couple of differences. The usual editing tools are available in a right sidebar: you can add arrows, text, highlights, and various shapes choosing from a set of 8 colors and 5 sizes. In addition to that, Skitch 2.5 lets you add stamps to PDF documents: meant for collaboration and feedback purposes, Skitch comes with 5 stamps to indicate approval, rejection, or to call attention to parts of a PDF. Clearly, this feature was built with teams in mind, as I don't know why an individual would want to apply feedback stamps for himself.
Stamps can be dragged and dropped onto documents, and you can tap on them to add additional text, move them around, or give them a pointing shape. The animations for drag & drop are fairly smooth, and any shape or stamp that you add to a PDF can be removed by hitting the Delete button in the bottom right corner.
On the left side of the screen, a sidebar shows thumbnail previews for pages of a PDF, and you can choose to view only annotated pages with a toggle at the bottom. A nice touch that I like is that, upon sharing a PDF via email, Skitch will attach the full annotated PDF but also show a quick summary with a count of the text annotations and stamps that you inserted to give a quick overview of your changes to someone else.
I'm a fan of Evernote's latest changes to Skitch, both on iOS and OS X (our previous coverage here). The new PDF annotations won't replace your existing PDF reader/annotation app, but I believe they are a solid addition for teams using Evernote and constantly sharing PDF documents in shared or Business notebooks. Skitch 2.5 is live on the App Store.