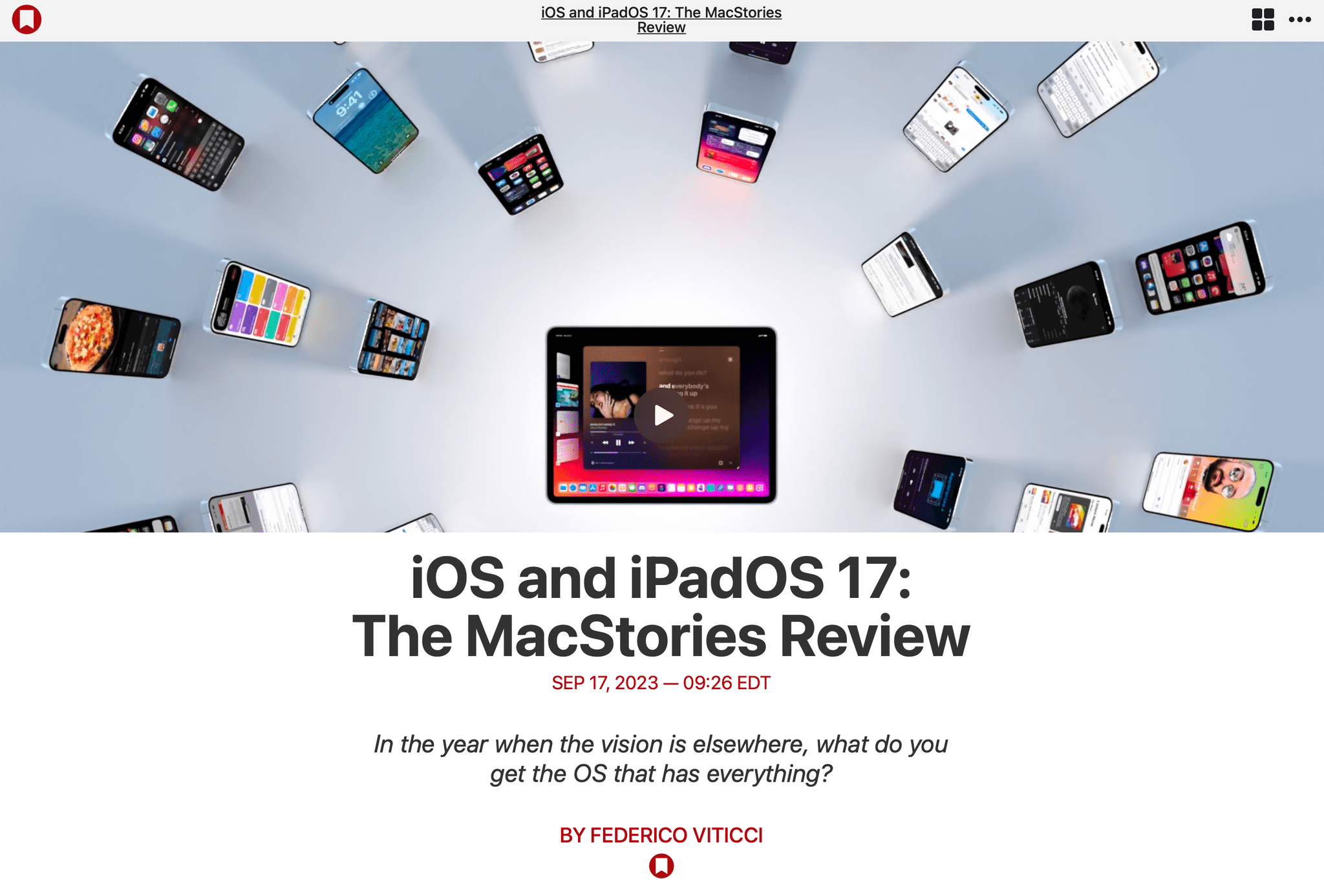 Today, Federico published his iOS and iPadOS 17 review. As in past years, we're releasing a wide variety of perks exclusively for Club MacStories members throughout the week, including an eBook version of the review, a special 'making of' edition of MacStories Weekly, a behind-the-scenes AppStories+ segment, and two new Club-exclusive Obsidian plugins.
Club-Wide Perks
The Club-wide extras this year are:
An eBook version of Federico's iOS and iPadOS 17 review
A special edition of MacStories Weekly featuring:

Federico's annual in-depth look at the making of the review
A special guest column by Michael Steeber, who created the beautiful 3D iPhone and iPad renders you'll find throughout Federico's review
The eBook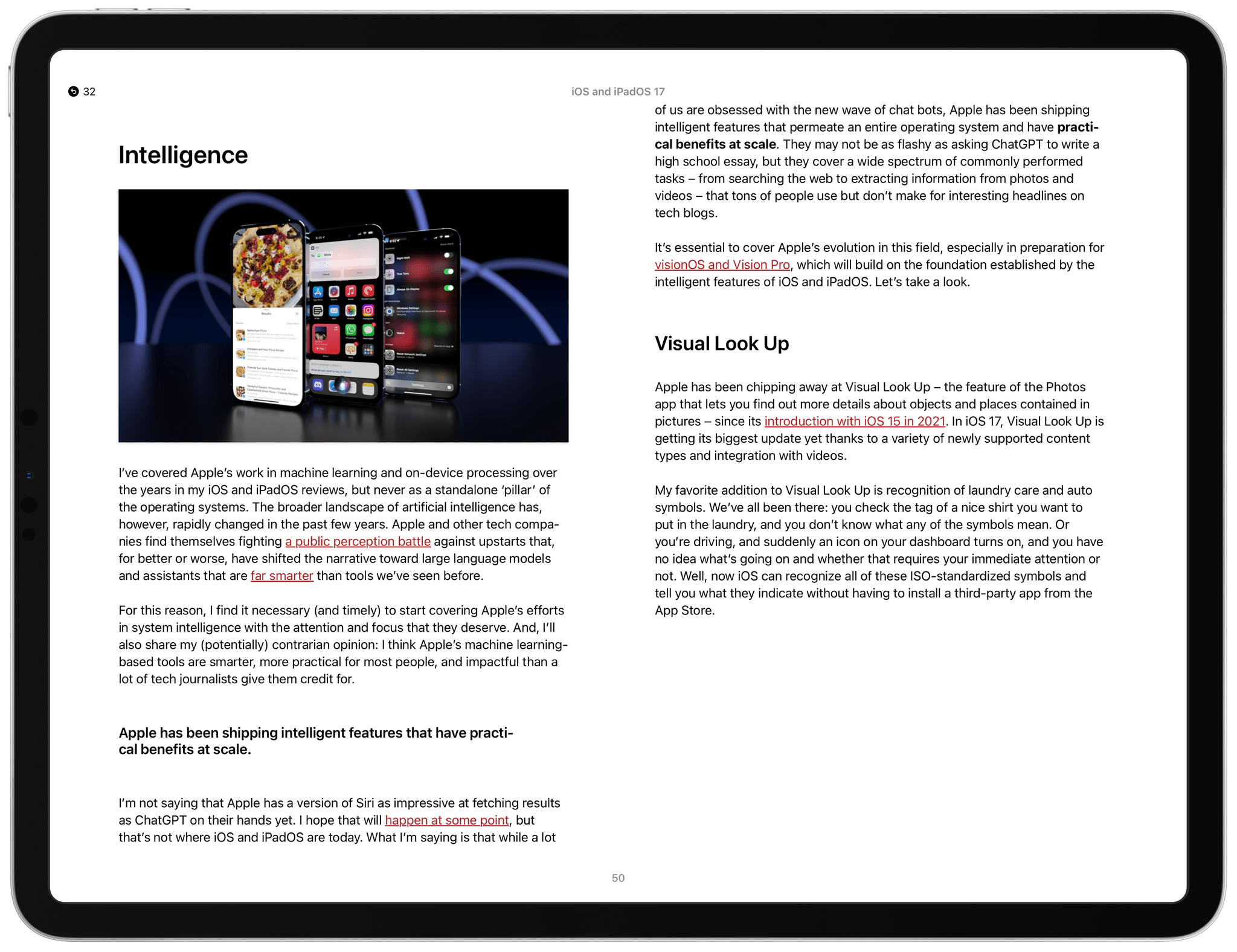 iOS and iPadOS 17: The MacStories Review. The eBook version of Federico's review is fully interactive, complete with all the images and videos. The review is a great read on the web, where you can enjoy its opening animation and special navigation features, but the eBook is an excellent alternative, especially for sitting back with your iPad and Apple Books, where you can take notes and highlight passages.
Also (because we are asked this a lot), if you read the eBooks in Apple Books and want to zoom in to get a close look at any of the screenshots, double-tap images on iOS devices (or double-click on the Mac) to open a full-sized version.
Federico's iOS and iPadOS 17 review is available now as a free download exclusively for members of Club MacStories who can access them from their member downloads page.
MacStories Weekly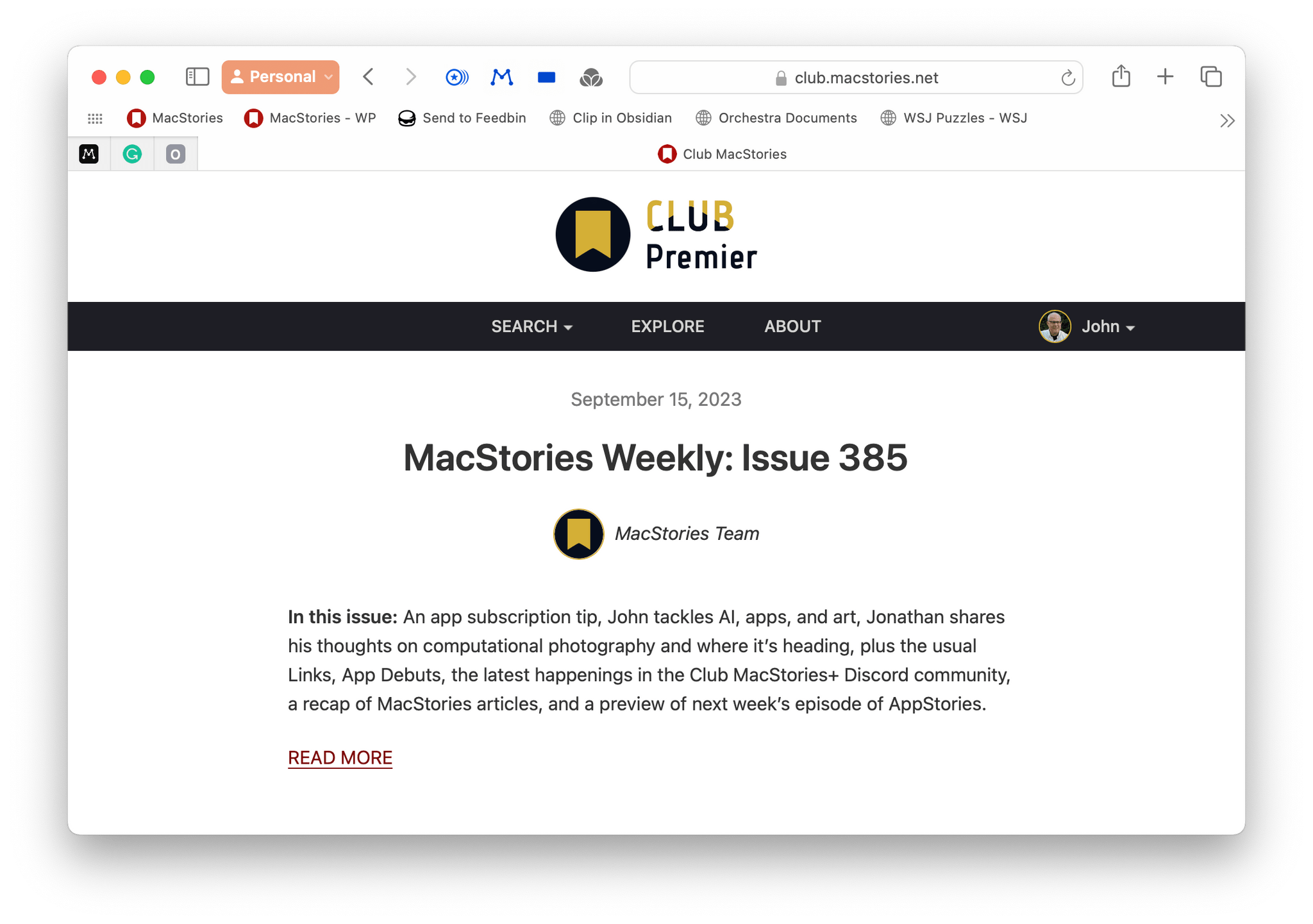 In Friday's edition of MacStories Weekly, Federico will share his annual 'Making Of' story. This year's review includes some fascinating refinements to last year's workflow related to Obsidian. In his column, Federico will explain the shortcuts, Obsidian plugins, apps, and other tools that helped him pull together this year's review on a compressed time schedule.
MacStories Weekly will also feature a special column by Michael Steeber, who designed the cover animation art and other artwork throughout Federico's review that brings the marquee features of iOS and iPadOS 17 to life.
You can read more on Club MacStories here and sign up using the buttons below.
Club MacStories+ and Club Premier Perks
We've got exclusive perks for Club MacStories+ and Club Premier members, too.
AppStories+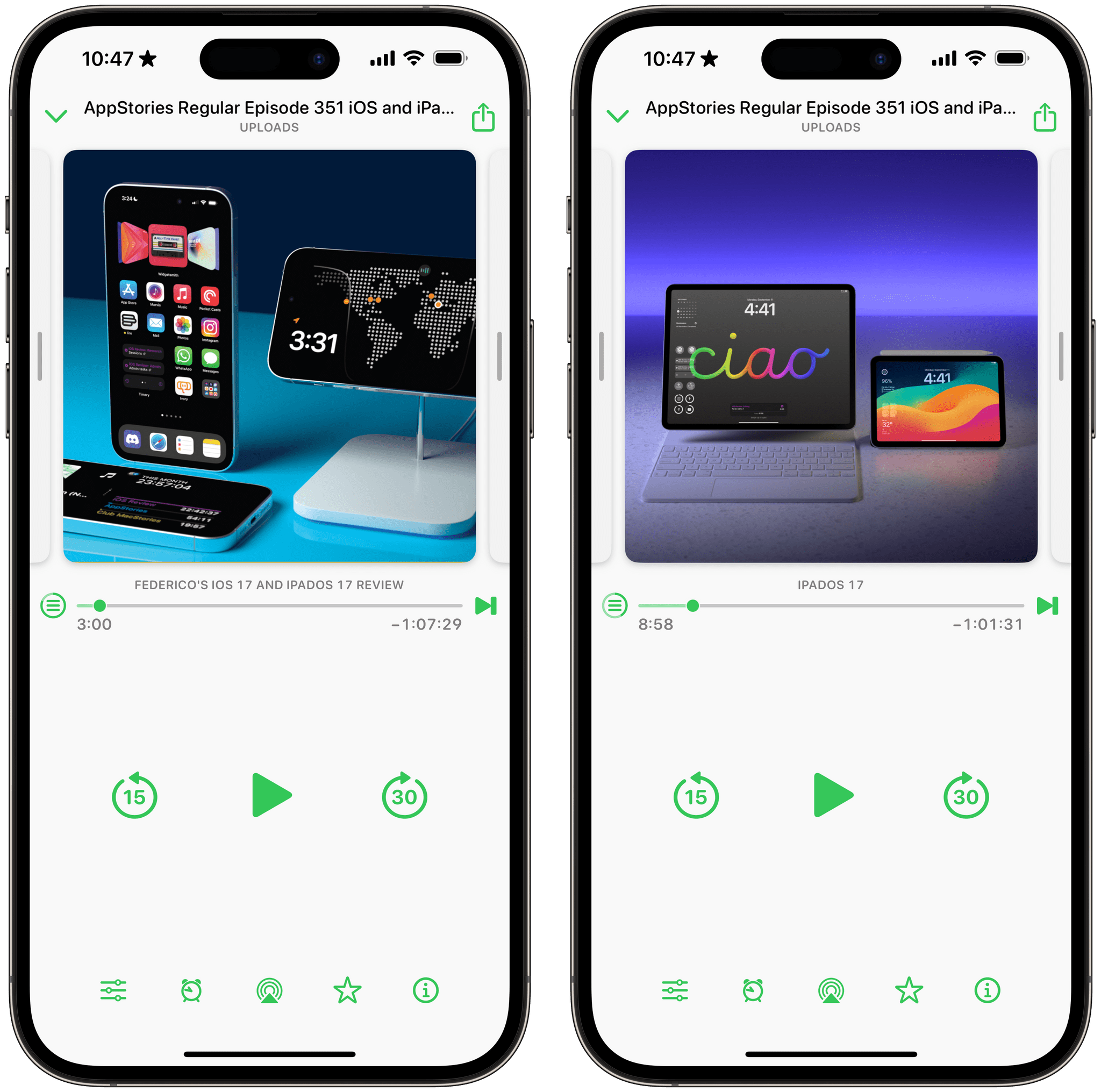 First, we released an extended version of AppStories today that is available now, covering Federico's iOS and iPadOS 17 review workflow. As always, AppStories+ is also ad-free, released one day early most weeks, and delivered in high-bitrate audio. for Club Premier members and AppStories+ subscribers.
Two Obsidian Plugins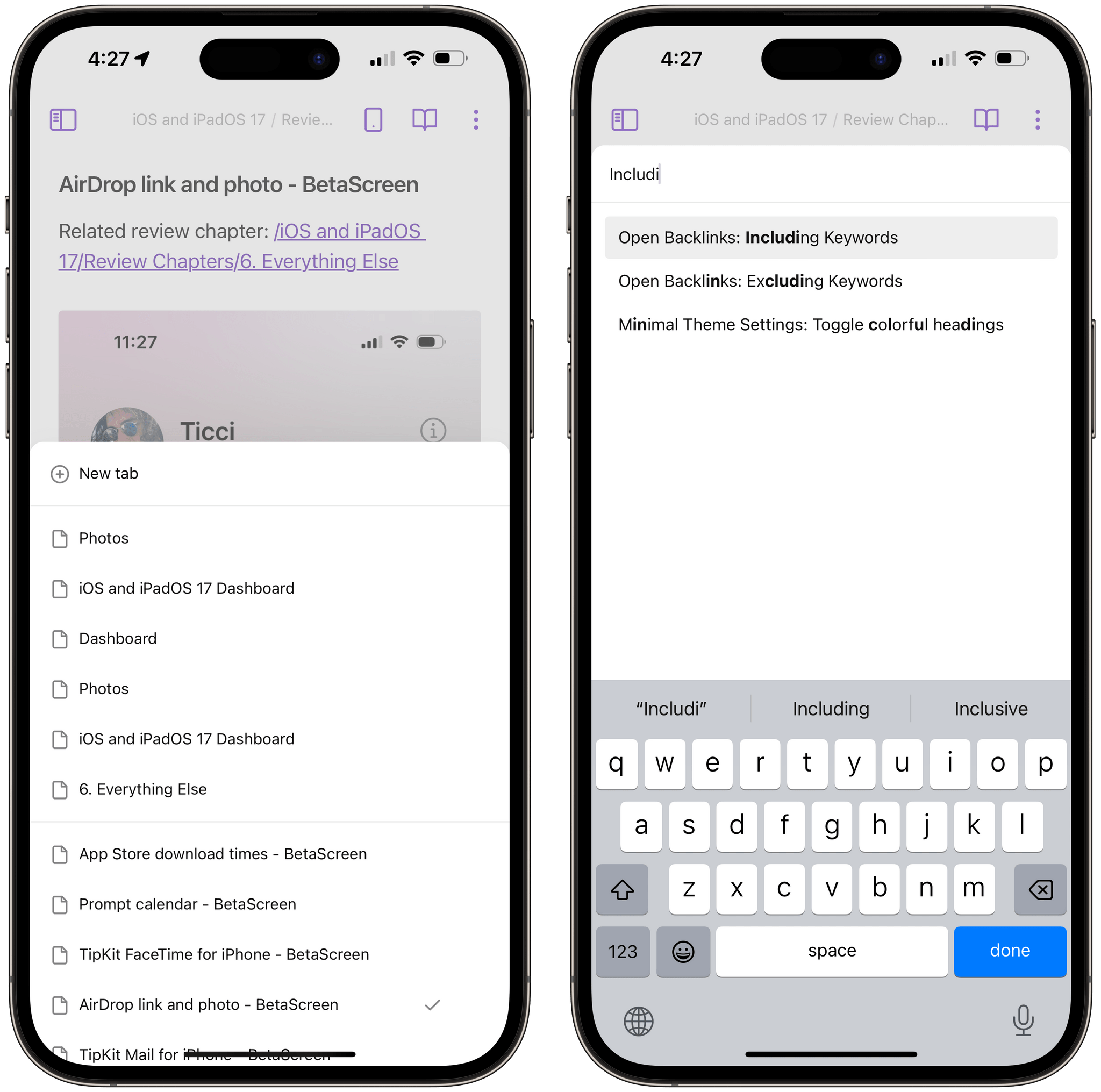 Like last year, Federico and my son, Finn, have teamed up again this year to produce two Obsidian plugins just for Club MacStories+ and Club Premier members. Both plugins will be available later this week.
Backlinker is a powerful plugin that allows you to open all backlinks to a document as separate tabs with a single command. The plugin also includes advanced options for filtering backlinks based on the document's title.
Image Inserter is a super fast way to insert images in Obsidian with the native image picker on Apple platforms or by pasting an image from the clipboard.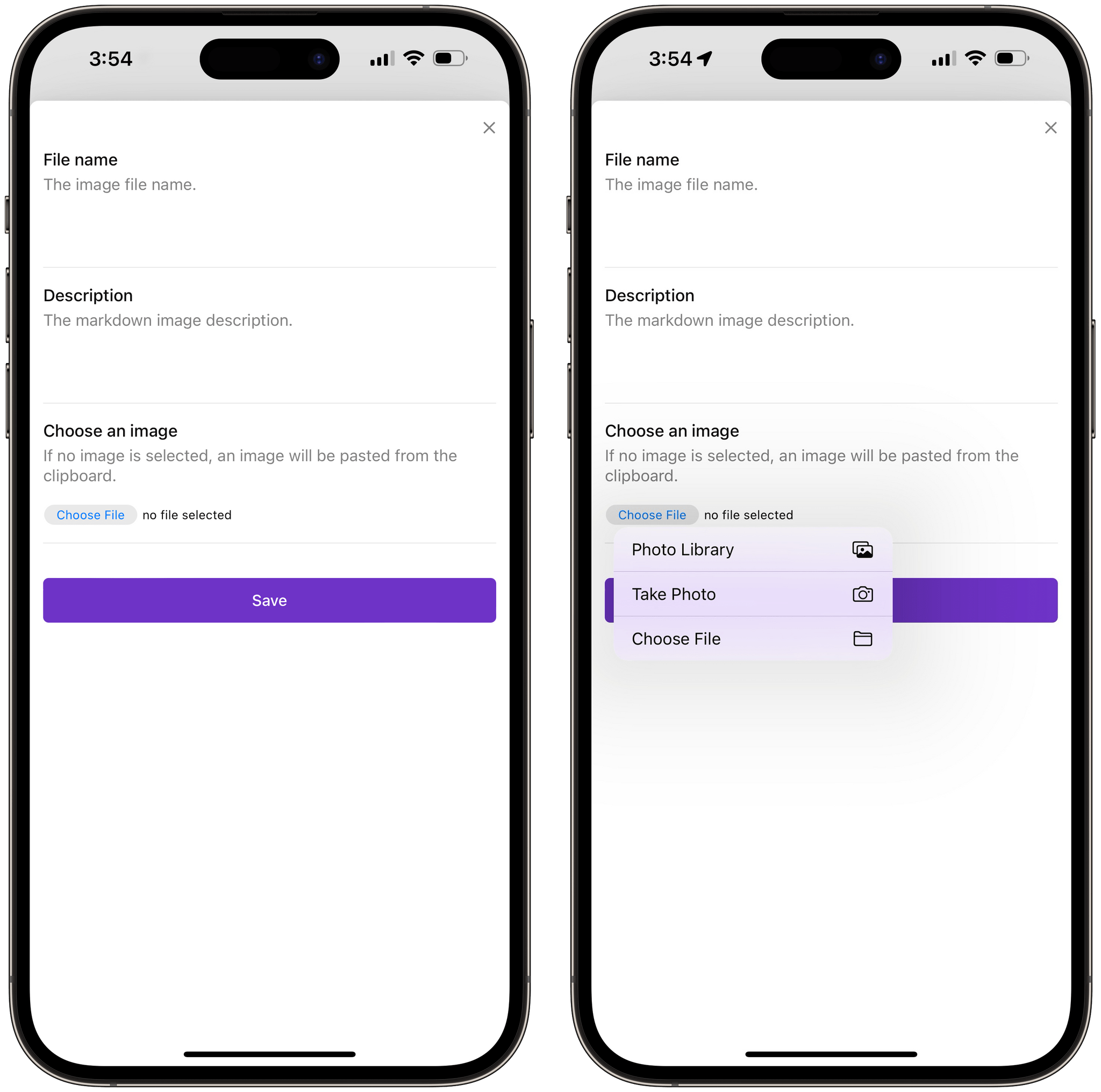 Club Premier adds AppStories+, the extended, ad-free version of our flagship podcast, to a long list of other perks like our Discord community, exclusive columns from Federico and John, advanced web search and filtering of Club content, and lots more.
---
You can read more about Club MacStories+ and Club Premier, then sign up or upgrade your account using the buttons below:
Join Club MacStories+:
Join Club Premier:
---
Today's iOS and iPadOS 17 review is the culmination of a lot of work by Federico. Every year, we try to make it extra special for readers of the site and Club members who want even more of the iOS, iPadOS, macOS, and watchOS coverage that we're known for. Thanks as always for reading MacStories, and a special thanks to our Club members who help us continue to do what we love.