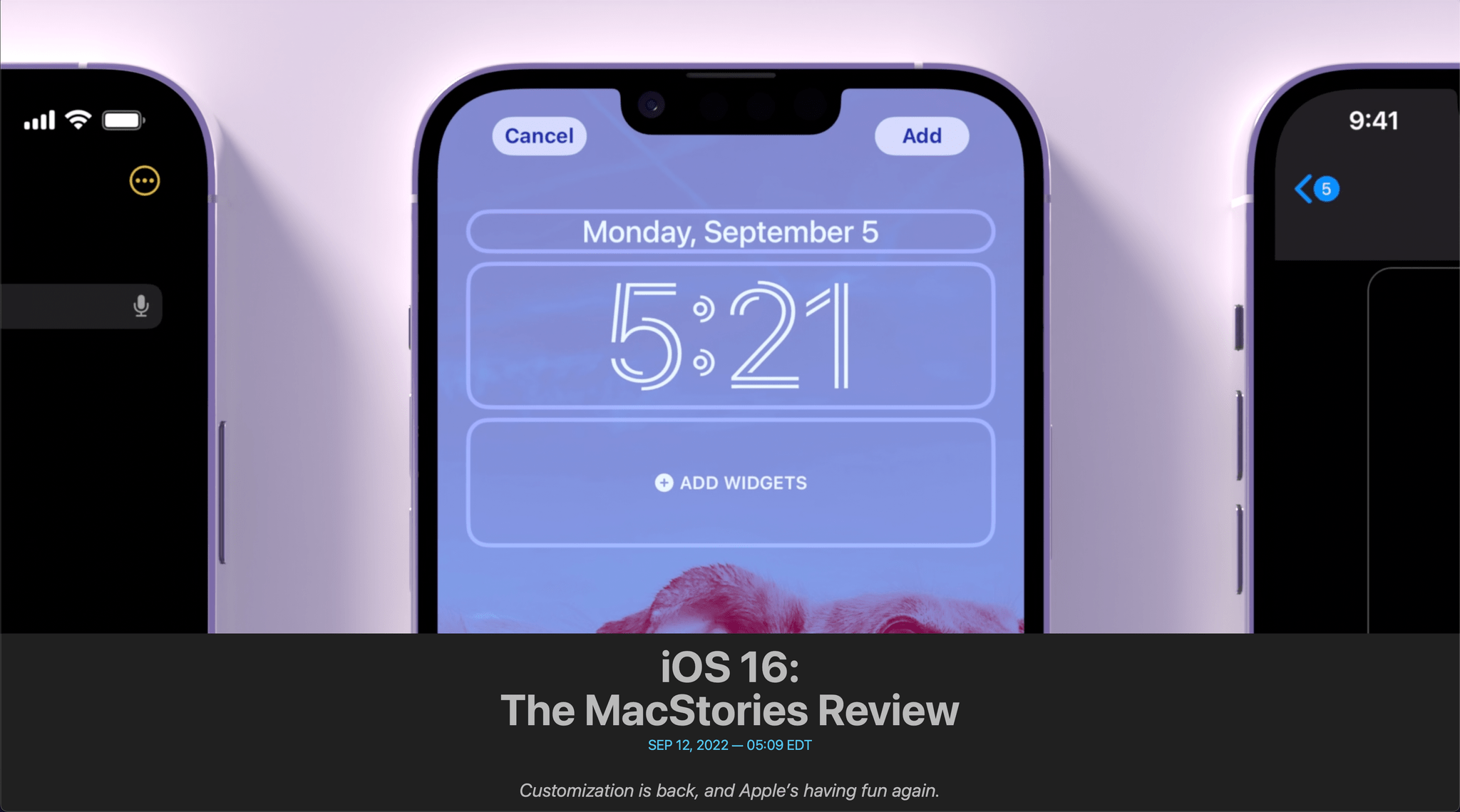 Today, Federico published his iOS 16 review. As in past years, we're releasing a wide variety of perks exclusively for Club MacStories members throughout the week, including an eBook version of the review, an eBook compilation of our 2022 OS Preview Series, two advanced shortcuts, two behind-the-scenes making of the review stories, and an update to one of our Club-exclusive Obsidian plugin.
What's more, because Apple won't be releasing iPadOS 16 until later this fall, we'll have more perks for Club members when it's released too.
Club-Wide Perks
Among the Club-wide extras this year are:
An eBook version of Federico's iOS 16 review
An eBook that collects the eight Summer OS Preview Series stories we published
Brand new exclusive advanced shortcuts that Federico will share in a special Saturday edition of MacStories Weekly
Federico's annual in-depth look at the making of the review
A special guest column by Michael Steeber, who created the beautiful 3D iPhone renders you'll find throughout Federico's review
Two eBooks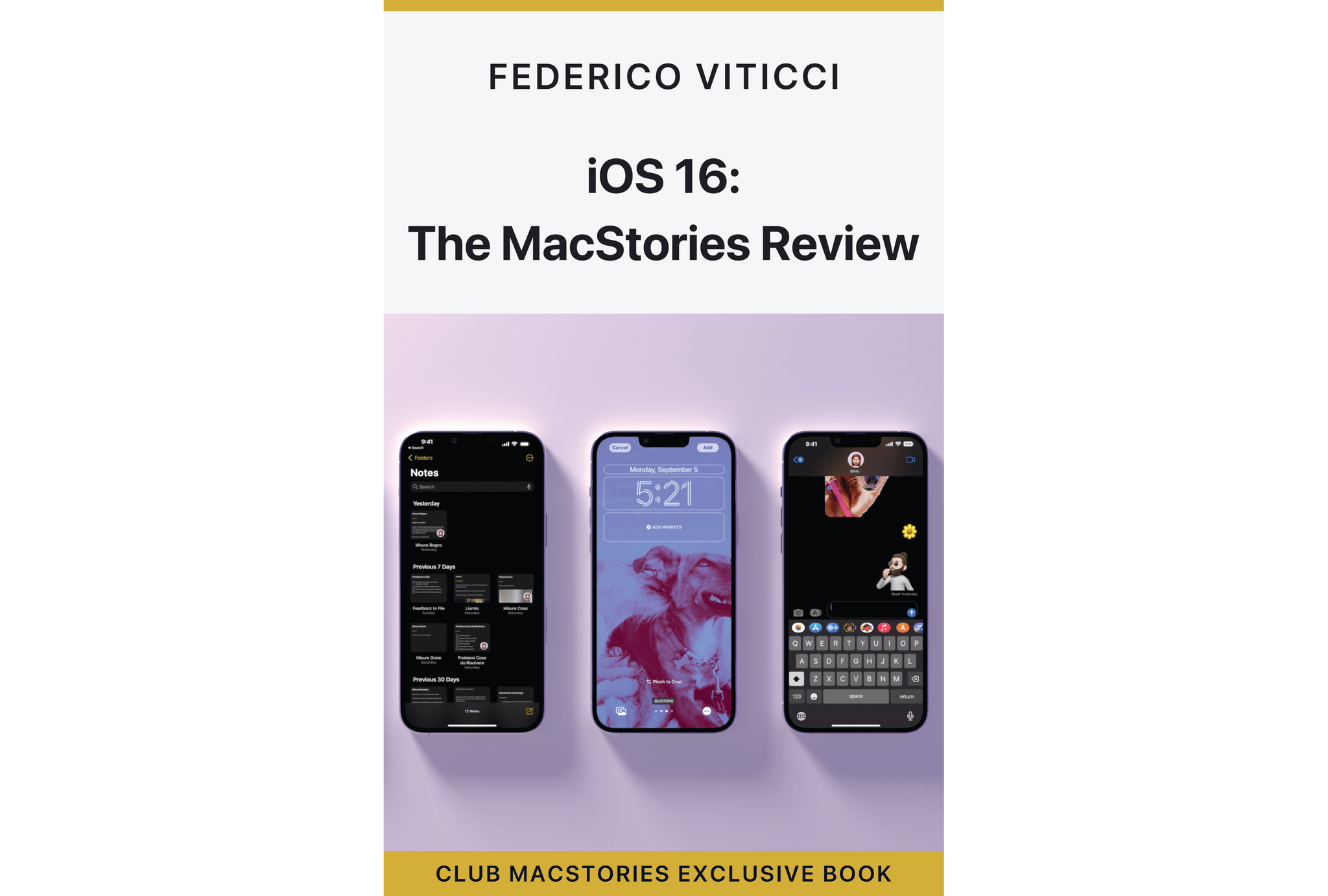 iOS 16: The MacStories Review. The first eBook is a fully-interactive version of Federico's review, complete with all the images and videos. The iOS 16 review is a great read on the web, where you can enjoy the review's opening animation and special navigation features, but the eBook is a great alternative, especially for sitting back with your iPad and Apple Books, so you can take notes and highlight passages.
2022 OS Preview Series: MacStories Extras. The second eBook is a compilation of the eight stories we published over the summer as part of our annual summer OS preview series. The book, written by Federico, Alex, and me, includes our iOS, iPadOS, watchOS, and macOS Ventura previews, plus comprehensive looks at Maps, CarPlay, the redesigned Home app, iCloud Shared Photo Library, Family Checklist, App Shortcuts, and Mail. The book is an excellent companion to Federico's review that goes into depth on some of the most interesting features coming in iOS 16 and Apple's other OS updates.
Also (because we are asked this a lot), if you read the eBooks in Apple Books and want to zoom in to get a close look at any of the screenshots, double-tap images on iOS devices (or double-click on the Mac) to open a full-sized version.
Federico's iOS 16 review is available now as a free download exclusively for members of Club MacStories who can access them from their member downloads page. The OS Preview Series eBook will be released Saturday and will also be available from the Club downloads page.
Club-Exclusive Advanced Shortcuts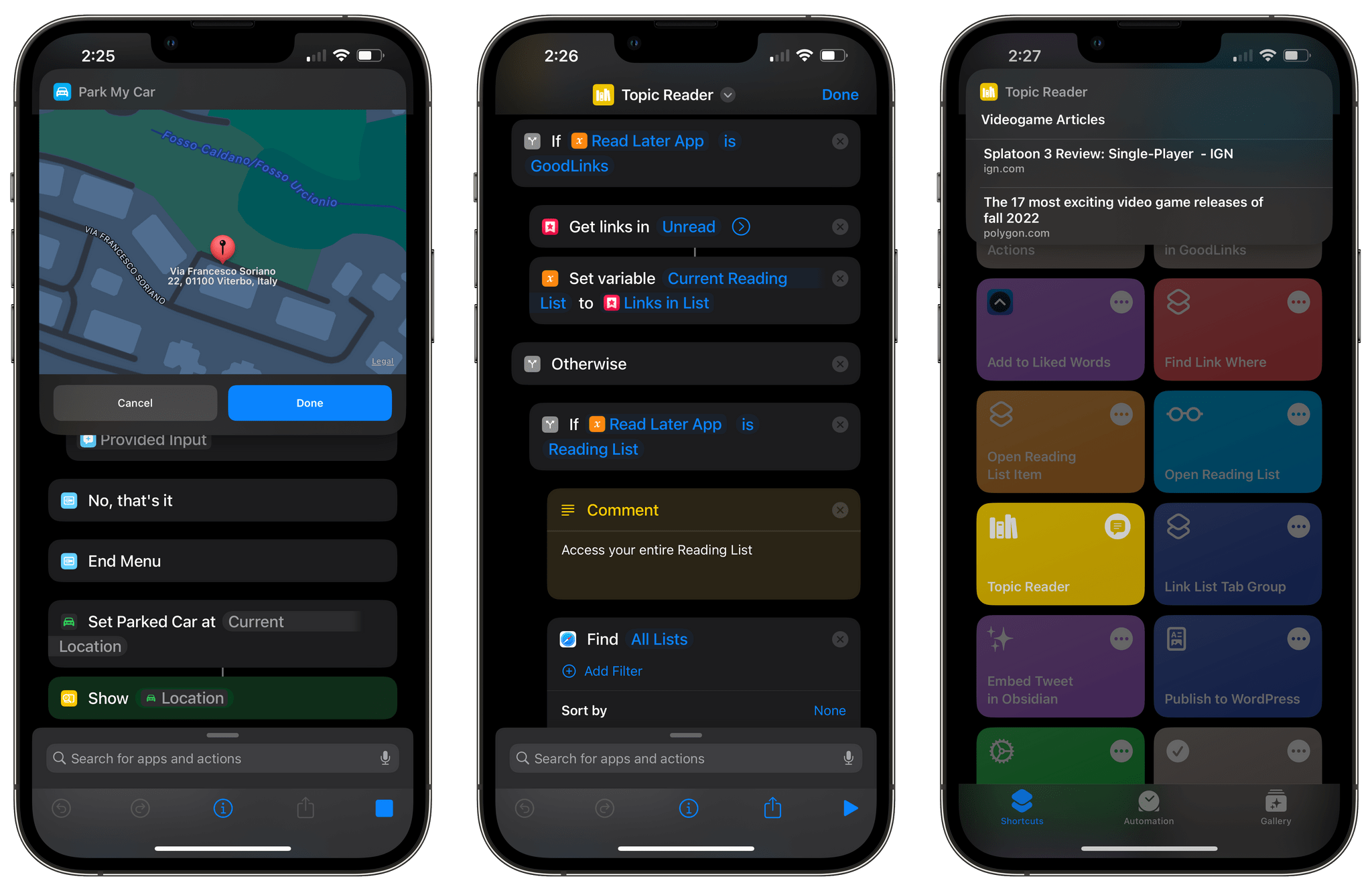 On Saturday, Federico will have two special shortcuts for Club members. The first is called Topic Reader. The advanced shortcut is a topic-based companion to your read-later workflow. With it, you can browse articles you've saved in Safari Reading List, GoodLinks, and Reeder by topic. Aside from the shortcut's own utility, it also highlights the power that can be employed by using Shortcuts' new predicate filtering capabilities.
The second Club-exclusive shortcut is Park My Car, which goes beyond CarPlay's ability to recall the location of your car in the Maps app. The shortcut takes advantage of Shortcuts' new Set Parked Car action to save the location of your vehicle, along with a note and photo, and works whether your car supports CarPlay or not.
Both shortcuts will be in MacStories Weekly for all Club members to download and enjoy on Saturday.
MacStories Weekly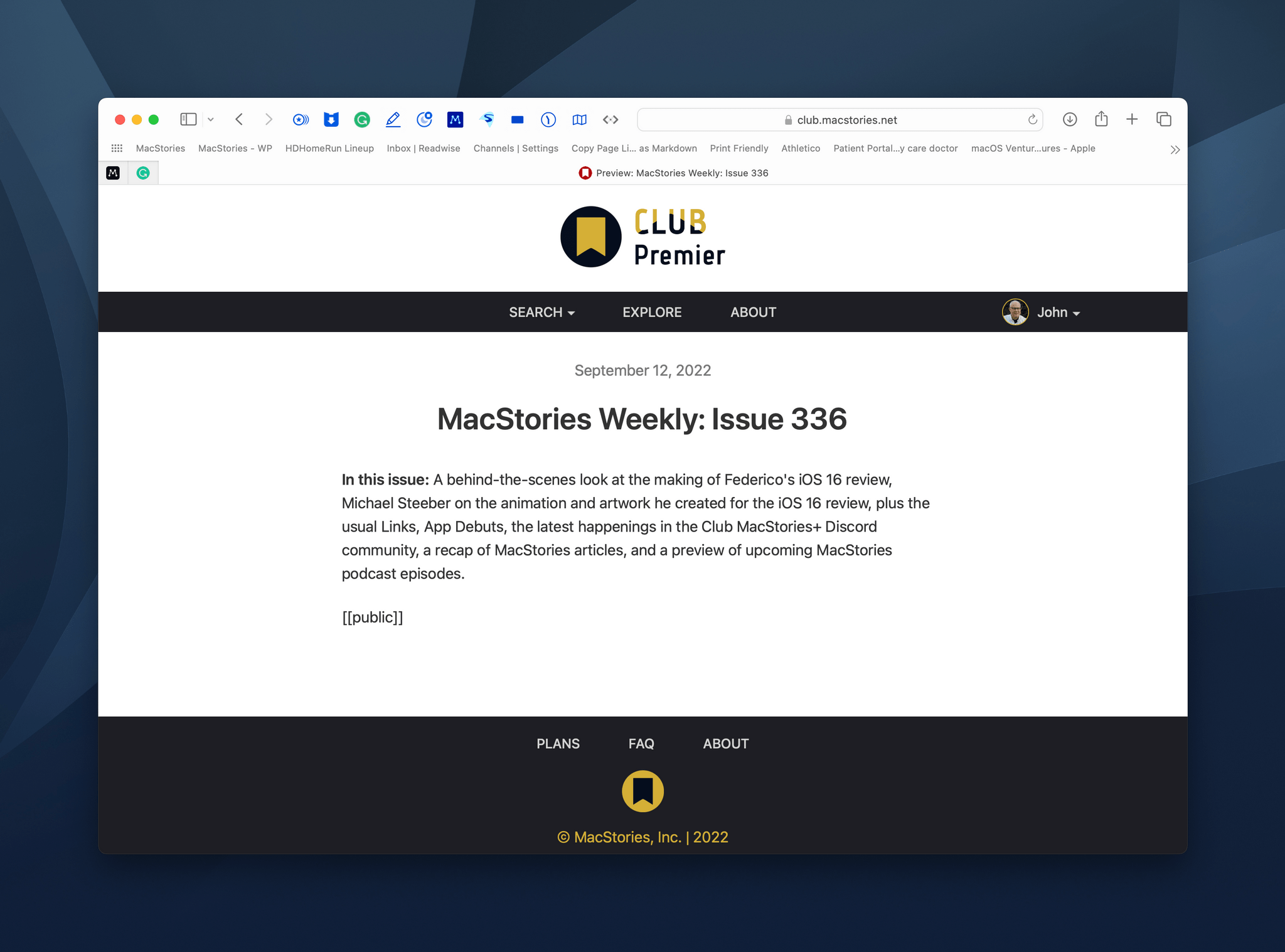 In addition to the exclusive shortcuts that Federico will share in MacStories Weekly on Saturday, he'll publish his annual 'Making Of' story. This year's iOS review includes some fascinating refinements to last year's workflow. In Saturday's column, Federico will explain the shortcuts, plugins, apps, and other tools that helped him pull together this year's review on a compressed time schedule.
MacStories Weekly will also feature a special column by Michael Steeber, who designed the cover animation art and other artwork throughout Federico's review that brings the marquee features of iOS 16 to life.
You can read more on Club MacStories here and sign up using the buttons below.
Club MacStories+ and Club Premier Perks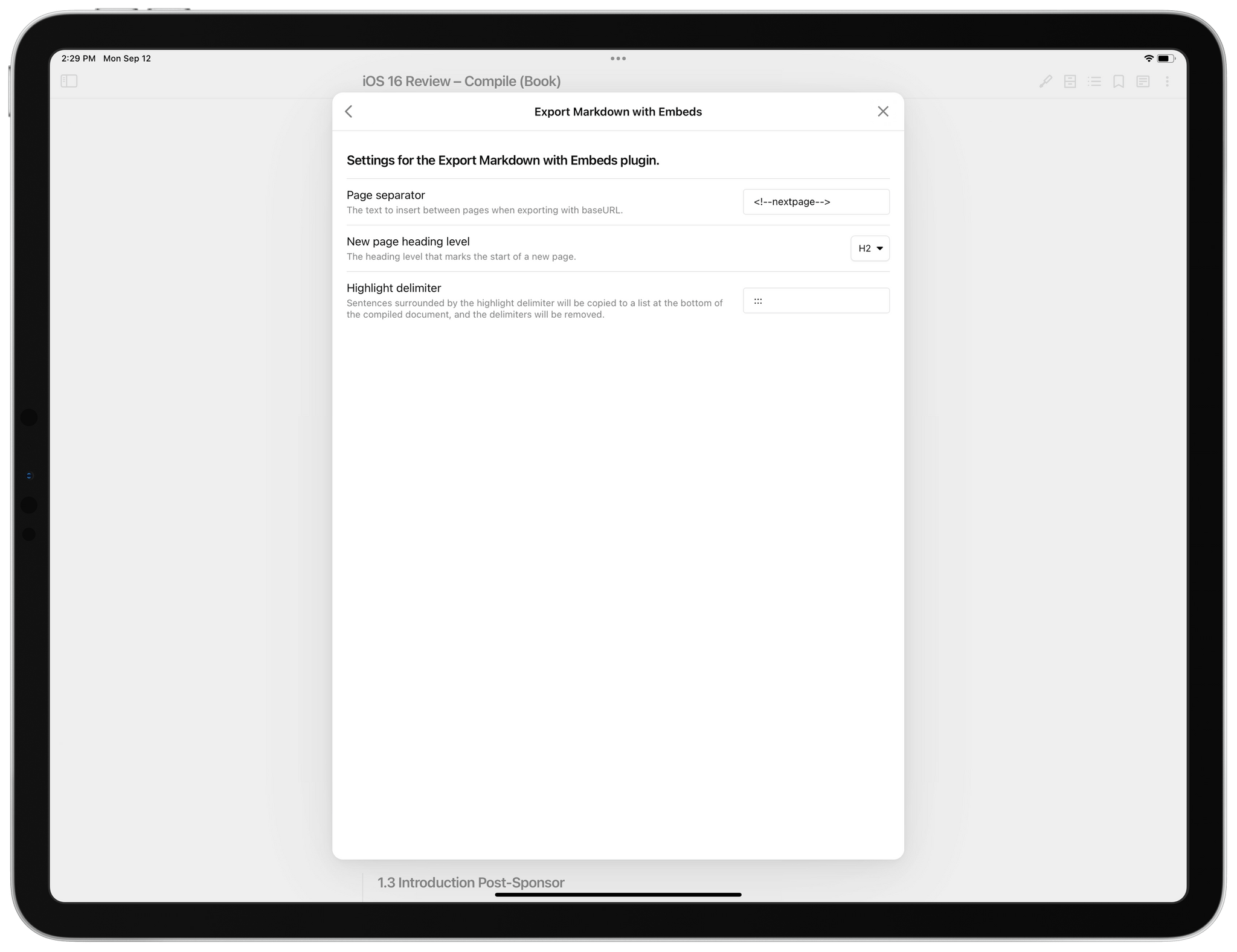 We've got exclusive perks for Club MacStories+ and Club Premier members too.
For both Club tiers, Federico and my son, Finn, have teamed up again this year to produce an updated version of Export Markdown with Embeds, an Obsidian plugin for longform writing.
The plugin, which debuted last fall, allows you to compile a single Markdown document from multiple Markdown files, even if they include multiple levels of nested note embeds. Note embedding is one of Obsidian's strengths. Using simple linking syntax, Obsidian lets you reference one Markdown document inside another. Export Markdown with Embeds parses a group of notes and intelligently imports all linked documents compiling a single Markdown file. The plugin allows you to work on a longer project in separate, more manageable chunks that the plugin compiles whenever you need the final single-file version.
This year, Export Markdown with Embeds has added new syntax for highlighting and compiling passages of text from a longform story. The new syntax surrounds text using a user-chosen highlight delimeter. When the final document is compiled, the delimiter characters are removed, and the passages they surrounded are copied to the end of the resulting Markdown document as a list. Federico used the new syntax to compile a list of his critiques of iOS 16, but it could be used to generate a list of tips and tricks or anything else you want to pull from a longer story.
The updated Export Markdown with Embeds plugin will be available Saturday on the Club MacStories member downloads page.
AppStories+ Episode 295, iOS 16: The MacStories Review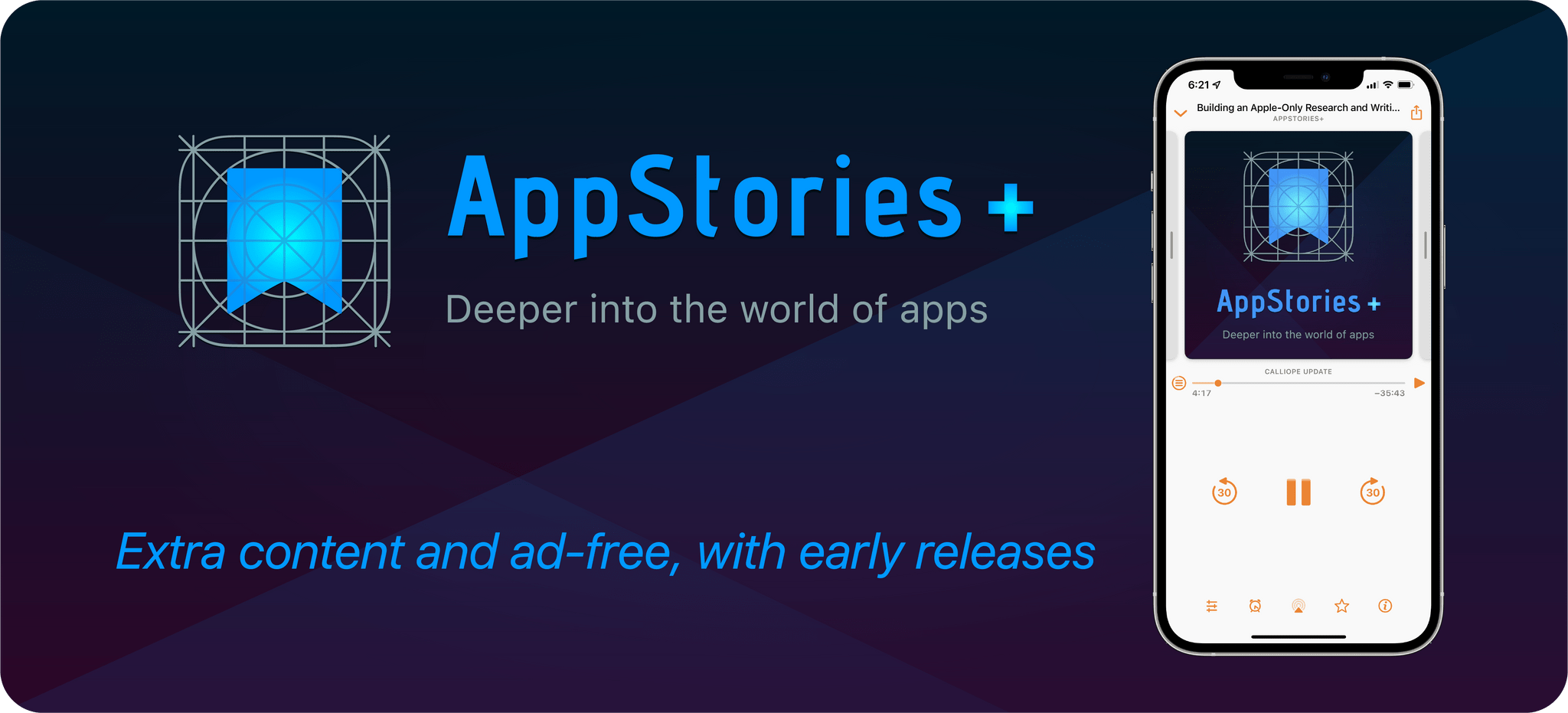 For Club Premier members, we've also got a special episode of AppStories that's out now. This week, Federico and I dive into the highlights of the review, including Lock Screen widgets, wallpaper creation, Focus modes and filters, App Shortcuts, some of the interesting iOS 16 tidbits you might not have heard about yet, and more. For Club Premier members and AppStories+ subscribers, we've also published an extended 'making-of' pre-show segment.
This summer posed unique challenges. iOS 16 is out earlier than usual, and Federico moved into his new home. This week, in the pre-show segment, Federico and I explore how the effect those things, along with Apple's splitting of the iOS and iPadOS 16 releases, had on the review. We also dug into Federico's writing process and the tweaks he made to his workflows this year. As always, this is one of my favorite episodes of AppStories every year because it gives me a chance to quiz Federico on the big picture themes of iOS, dig into the finer details of what the updates make possible, and take away some valuable writing tips and workflow ideas.
---
You can read more about Club MacStories+ and Club Premier, then sign up or upgrade your account using the buttons below:
Join Club MacStories+:
Join Club Premier:
---
Today's iOS 16 review is the culmination of months of work by Federico, made more complicated by the split release of iOS and iPadOS 16. Every year we try to make it extra special for readers of the site and Club members who want even more of the iOS, iPadOS, macOS, and watchOS coverage that we're known for. Thanks as always for reading MacStories, and a special thanks to our Club members who help us continue to do what we love.