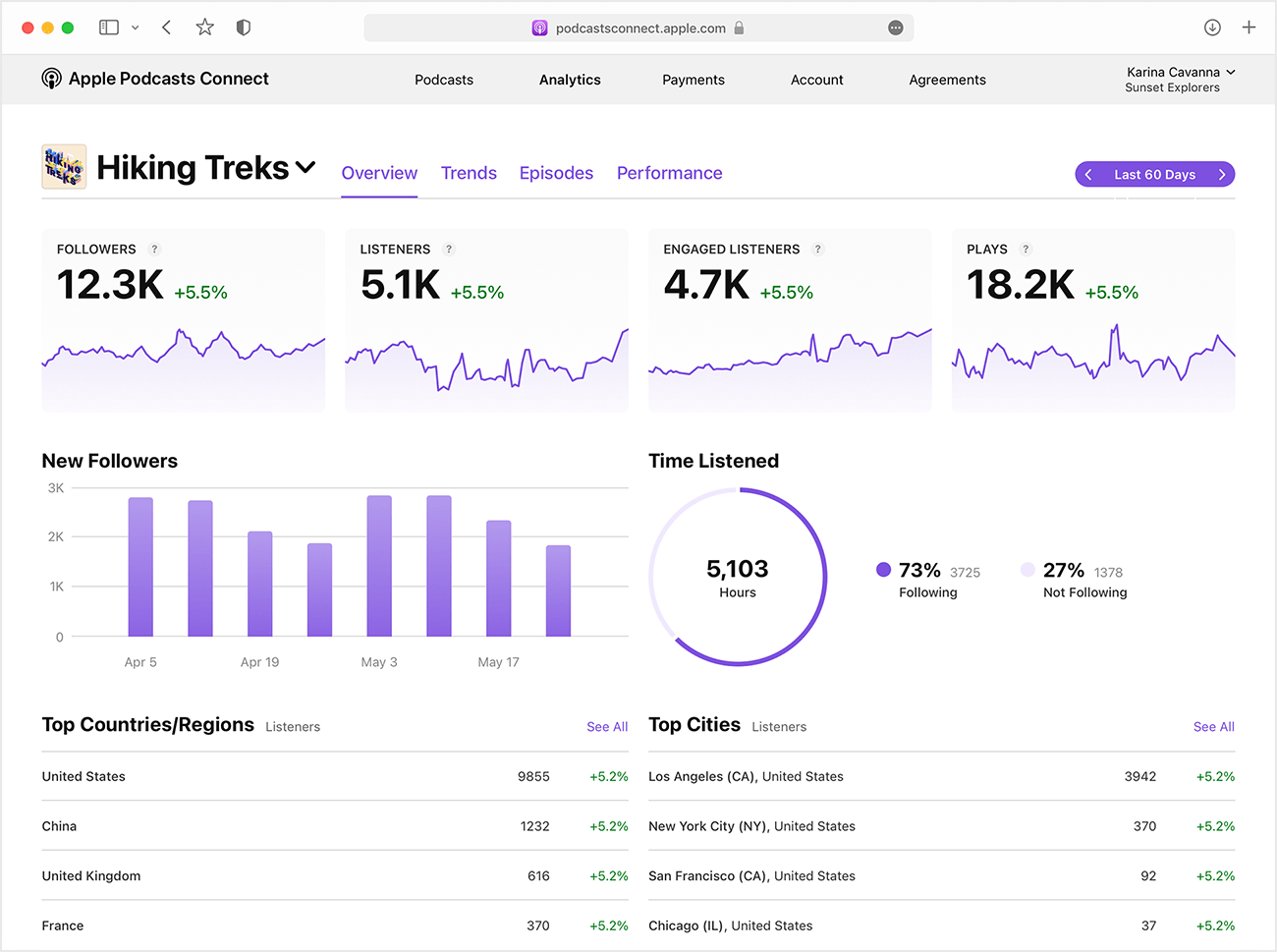 Today, in a post on the Apple Podcasts for Creators webpage, Apple announced an expansion of the podcast analytics it offers, which podcasters can sign up to use at Apple Podcasts Connect.
Apple is adding a new metric called Followers, the term Apple uses to describe listeners who subscribe to a free podcast. The company already provides analytics that track listener numbers, engagement, and plays. Still, Followers could give podcasters who are considering offering a paid subscription version of their podcast an idea of its potential audience. The new statistic will be available next month from the Analytics tab of Podcasts Connect and can be viewed over 60 days, a week, a month, or all time.
Apple will also provide a chart showing the total time a show has been listened to for a chosen period and what percentage of those listeners are followers of the show. A graph of a show's followers over time and the gains or declines in followers will be available in the Trends tab too.
Until now, subscription-based podcasts had to be uploaded as WAV or FLAC files and processed on Apple's end before being available for subscribers. Podcasters can now upload MP3 versions of their shows instead, which is a welcome change. We offer a subscription version of AppStories on Apple Podcasts. Although producing a WAV version of each episode isn't a burden, uploading such a large file and waiting for it to process on Apple's servers has been one of the few points of friction in the process, so I'm glad that has been eliminated.
If you offer subscriber podcasts through Apple Podcasts, Apple has also added new customization options for the subscription banners in the Apple Podcasts app. Finally, for podcasters who want help getting a podcast and subscription set up, the Apple Podcasts team is available to provide direct assistance.
It's nice to see Apple continue to evolve its subscription offerings. I don't pay much attention to metrics, but I know for some podcasters, they are crucial for attracting advertising. Still, over longer periods, analytics like those Apple will offer next month should make it easier to spot audience and listening trends, even if it is only from the Apple Podcasts slice of a show's audience.