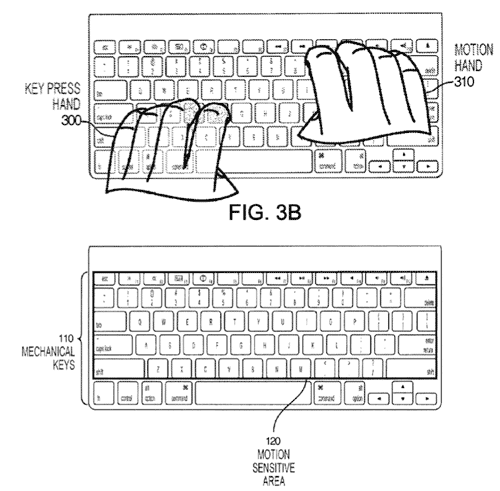 Apple is awarded many fascinating patents each year and a lot of those give potential insights into future technologies in Apple's 'next big thing'. One of the recurring themes in some of Apple's patents for the past few years has been relating to various innovations surrounding input devices such as the recent multi-touch display on a Magic Mouse.
A new Apple patent uncovered by MacRumors that is authored by John Elias (co-founder of FingerWorks, a company Apple acquired in 2005) covers the technology and ideas surrounding a physical keyboard that also has motion-sensitive input. Prior to being acquired the FingerWorks, the multi-touch technology company, produced several touch sensitive keyboards, which although receiving praise were unsuccessful, likely due to the lack of tactile response.
In this patent Apple seems to try and resolve the issues that FingerWorks had by keeping the tactile physical keyboard the primary input but supplement it with the ability to use motion gestures, explaining that;
Over the last forty years there have been numerous attempts made to introduce an alternative to the standard keyboard. The changes include, but are not limited to, non-QWERTY layouts, concave and convex surfaces, capacitive keys, split designs, membrane keys, etc. However, although such alternative keyboards may provide improved usability or ergonomics, they have failed to replace or duplicate the commercial success of the conventional mechanical keyboard.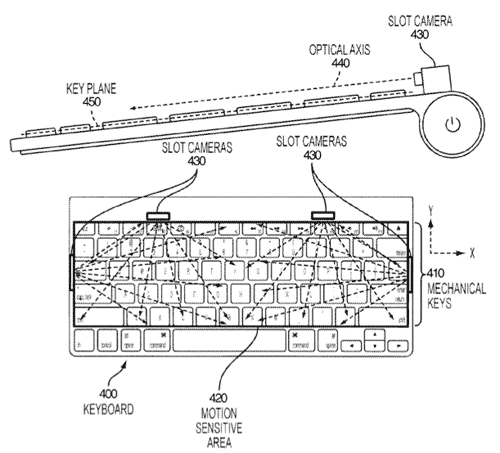 The keyboard would have four "slot camera's" around the perimeter of the keyboard that would enable tracking of the user's finger movements in order to provide the normal mouse or trackpad cursor tracking or scrolling. In the patent Apple explains the keyboard would likely have two modes; a keyboard and a mouse mode that could be toggled to switch between them. The two modes could then mean that a mouse or trackpad could be rendered obsolete by the use of this keyboard and it's motion gestures.
Whether this patent actually becomes part of a product remains to be seen, Apple has had many patents that have never been utilized in an actual product.
[Via MacRumors]