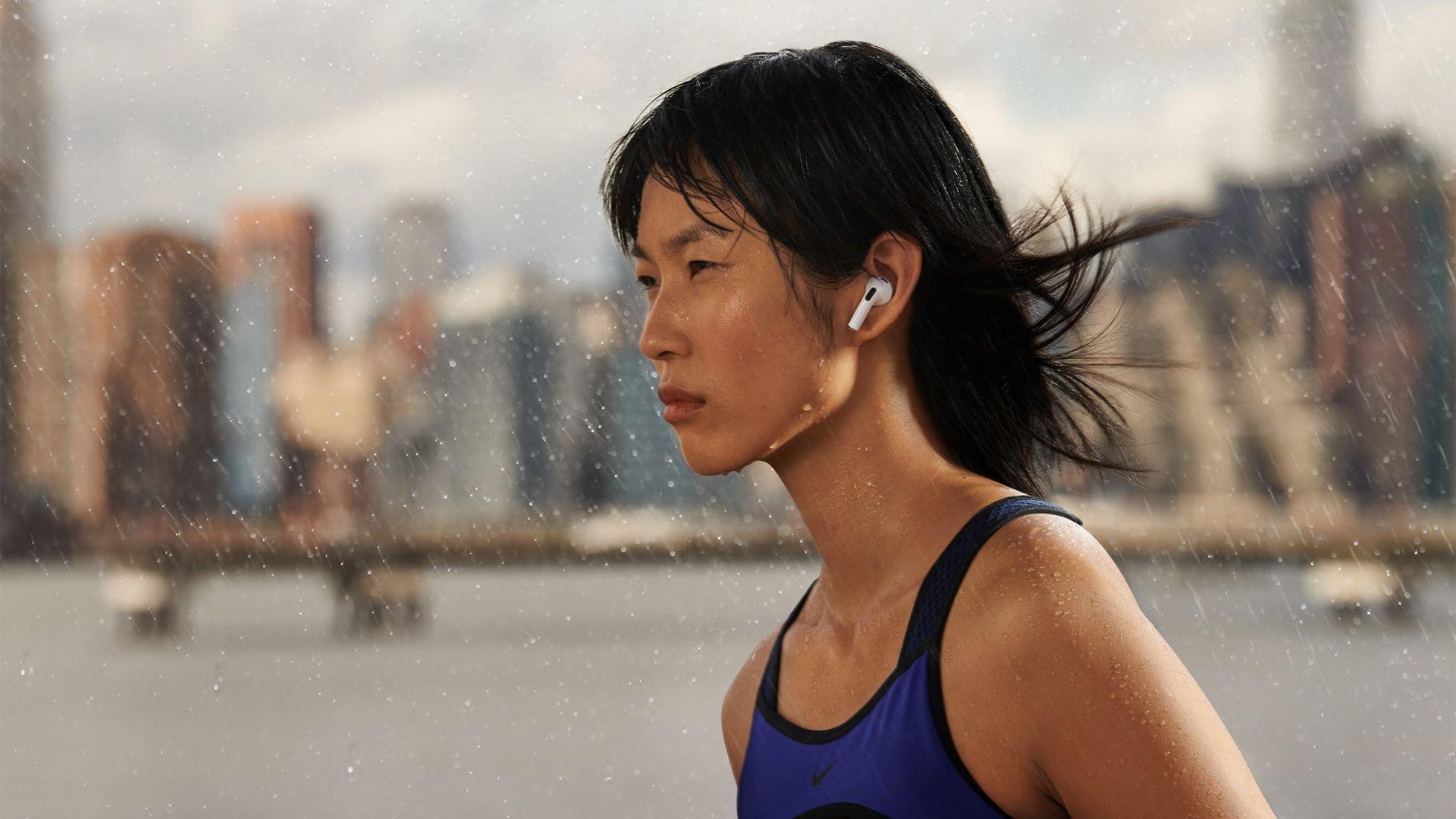 At this morning's keynote event, Apple announced the third-generation of its standard AirPods. The new devices feature a smaller design that is much more akin to the AirPods Pro. True to form for the non-Pro version, the new AirPods hook inside the base of your ear rather than being in-ear headphones. As such, they continue to not support the advanced noise cancelling features of their Pro siblings.
Despite the lack of noise cancelling, the new AirPods introduce Apple's Spatial Audio technology to the non-Pro line for the first time. Spatial Audio creates the illusion of surround-sound audio for supporting media, and can even simulate the direction of that audio's origin so that it changes when you turn your head. To aid this advanced audio experience, the new device also includes a brand-new low-distortion driver, which Apple claims will provide more powerful bass, and cleaner high frequencies.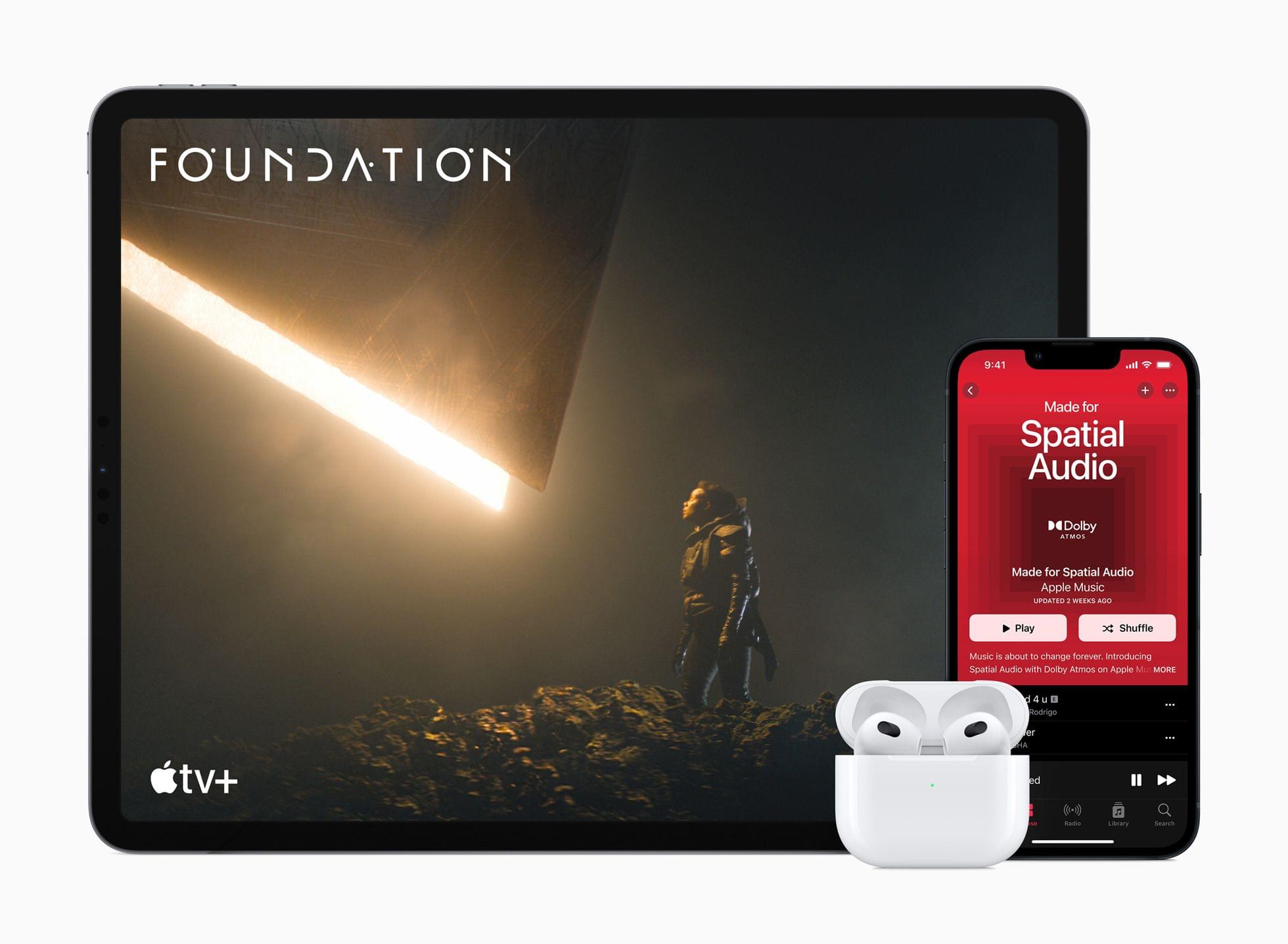 Since everyone's ears are shaped differently, headphone sounds don't necessarily come out the same way for each of us. The third-generation AirPods attempt to solve this by bringing Apple's Adaptive EQ feature down the line. Previously limited to AirPods Pro, Adaptive EQ monitors sound waves inside of your ear in order to automatically equalize the audio based on your ear shape. The goal is to make sounds come out similarly for everyone.
Rounding out the AirPods Pro-inspired improvements are sweat and water resistance, and the force sensor for playback control. While the new AirPods aren't explicitly waterproof, they're more than capable of surviving a sweaty workout or light rain while in use (Apple advises against charging them while they're wet, though). The force sensor means you can squeeze the stems to play or pause audio. Squeeze multiple times in a row or squeeze-and-hold to fast forward, rewind, or activate Siri. These controls are a vast improvement over the previous AirPods' clunky ear-tap strategy for command input.
The new AirPods have improved battery life too, with six hours of playback from a full charge. The battery case can recharge the AirPods four times in a row, resulting in a a total of 30 hours of battery life from a single case charge. When the AirPods themselves run out of juice, charging them for just five minutes in the case will give you a full hour of playback.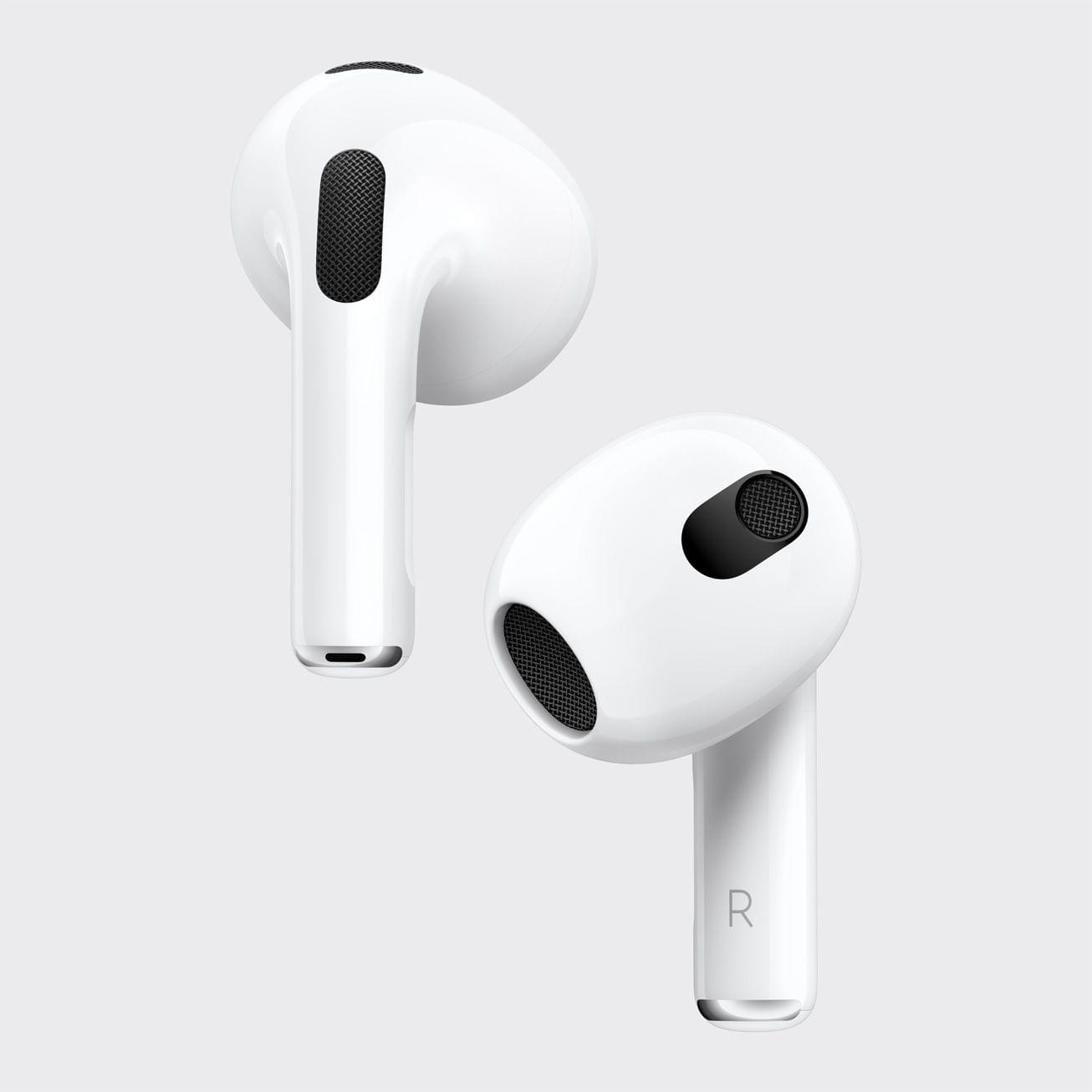 While you're on a phone call, a new acoustic mesh covering over the inset microphone helps to mute out wind noises. The new AirPods also feature an improved speech codec which boosts voice quality when speaking into their microphones.
Finally, Apple's new AirPods debut a skin-detection sensor which more accurately determines when they're in your ear. This way, when you place your unused AirPods in your pocket or on a table, they won't start playback back up after incorrectly determining that they're in an ear.
All things considered, the third-generation AirPods are an excellent upgrade over their previous model. They bring the standard AirPods far more into line with the AirPods Pro than they used to be. At this point, the only real difference between the two models is noise cancellation. Customers who simply don't like the feel of in-ear headphones like the AirPods Pro now have a great alternative. Furthermore, the $179 price tag on the standard AirPods feels a lot more reasonable than it did yesterday.
Apple's new third-generation AirPods are available for preorder starting today, and begin shipping and arriving in stores next week. The second-generation AirPods are still available as well, with a price cut to $129.
---
You can follow all of our October Apple event coverage through our October 2021 event hub, or subscribe to the dedicated RSS feed.