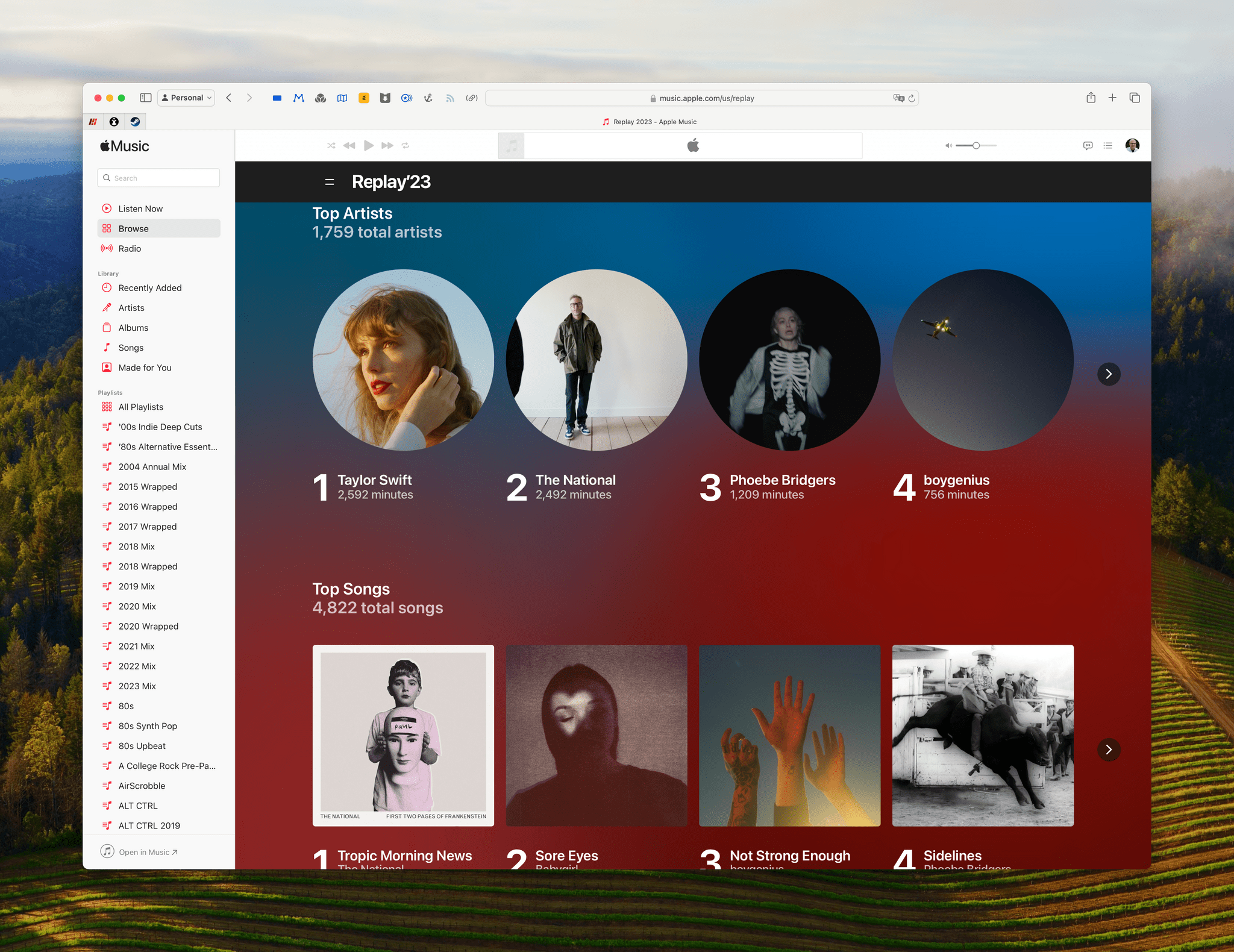 Yesterday, Apple released Apple Music Replay, its annual recap of Apple Music subscribers' listening habits. The site is beautifully designed with images of artists coming to life with video when you're not scrolling the page. Included this year are:
A highlight reel
Top artists
Top songs
Top albums
Top genres
Top playlists
Top radio stations
Listening milestones
As I scroll through my lists, there isn't anything surprising here. I could have guessed my top artists, songs, and albums and put at least the top five or so in the correct order, which goes to the heart of what I and others have faulted Apple Music Replay for in the past.
The site looks great, and the listening milestones, which explain things like the fact that I crossed 25,000 minutes of listening in early August, are interesting, but they don't go deep enough. I'd like to know things like which of the artists that I didn't listen to prior to 2023, did I listen to the most in 2023? What's a favorite album or band from years ago that I rediscovered? How did the genres I listened to evolve over the course of the year? Which artists took off in my regular rotation compared to past years? There are a million questions that could be answered by Apple Music that aren't, and that's a shame.
Spotify does a better job at surfacing interesting data with Wrapped, but if you're like me and prefer other aspects of Apple Music, sign up for Last.fm, use one of the many excellent indie apps, like Marvis Pro, Soor, Albums, Longplay, Doppler, and Air Scrobble that support the service, and then enjoy your weekly, monthly, and annual reports in Last.fm's app or on its website.
To view your own Replay 2023 statistics, visit replay.music.apple.com.