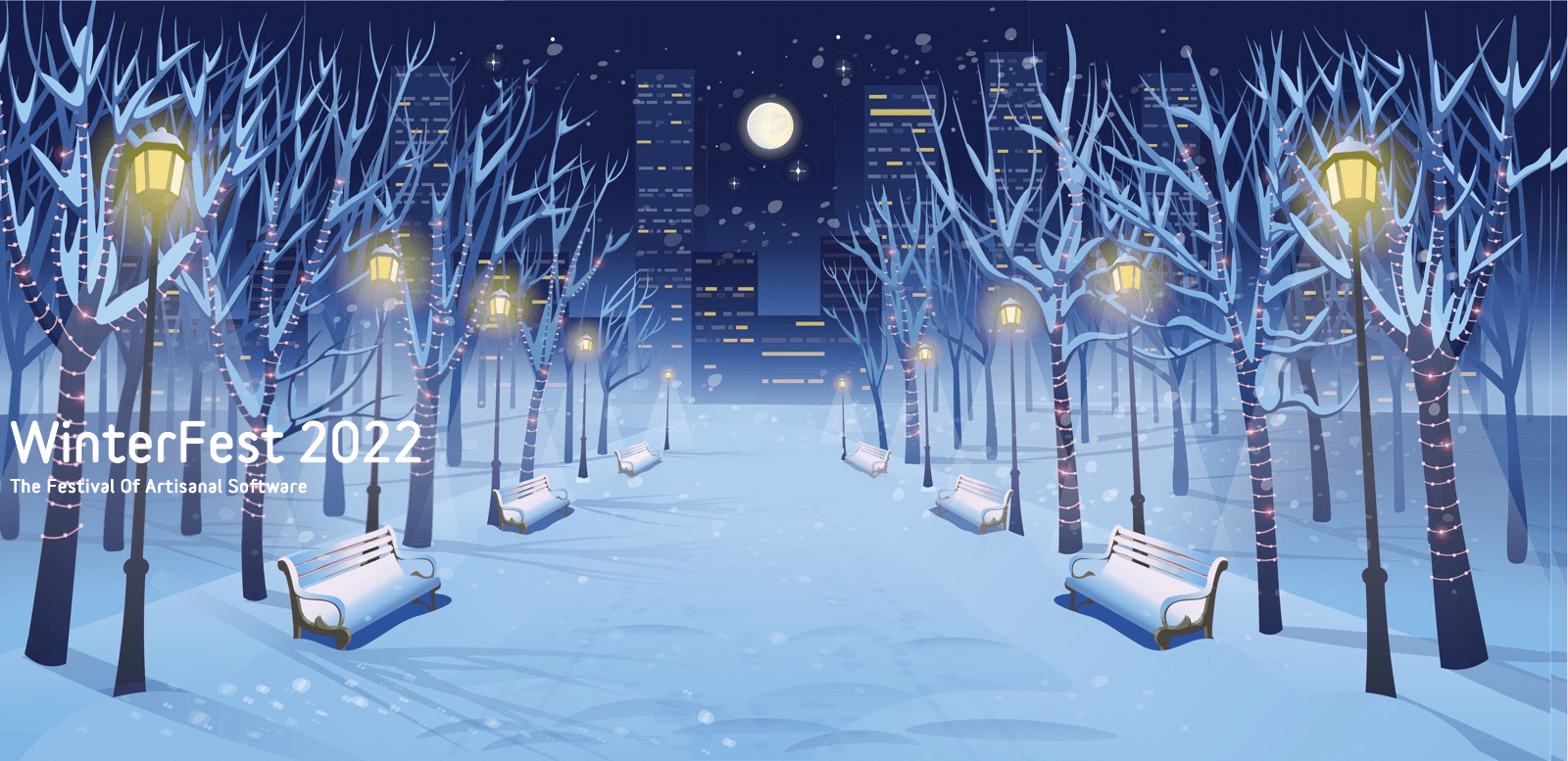 WinterFest 2022: The Festival of Artisanal Software is back with a fantastic collection of carefully-crafted software for writing, research, thinking, and more at tremendous prices. As in past years, software artisans from around the globe come together to offer discounts direct to you on 19 carefully-crafted apps and a book collection to assist you with everyday knowledge work:
Aeon Timeline: The timeline tool for creative thinking
BBEdit: The leading text and code editor for the Mac
Bookends: The reference manager you've been looking for
DEVONagent Pro: Your smart research assistant
DEVONthink: Your powerful information and knowledge manager
Easy Data Transform: Merge, clean, reformat data without coding
Hookmark: Supplies the missing links
HoudahGeo: Photo geotagging for Mac
HoudahSpot: Powerful file search
HyperPlan: Flexible visual planner
ImageFramer Pro: Add creative borders and frames to photos
Panorama X: Collect, organize, and understand your data
Scapple: Quickly capture and connect ideas
Scrivener: Your complete writing studio
SmallCubed Mail Suite: Manage mail like a maven
Take Control Books: eBooks from top authors that help you navigate the latest Apple tech and apps
Tinderbox: Visualize and organize your notes, plans, and ideas
Trickster: Your recently used files, at your fingertips
Yojimbo: The Mac app that empowers users to effortlessly and securely manage the onslaught of information
There are no gimmicks, no bundles, no gotchas – just saving of hundreds of dollars on great software from thoughtful developers.
Visit the WinterFest website now for links to these amazing deals or use the coupon code Winterfest2022 at checkout.
---
Also, in mid-January, the WinterFest folks are organizing an online symposium about the art and craft of software. There will be interviews and panel discussions with leading designers and thinkers, tackling the big issues in software design, including:
Interlinked systems
Tiny methods, tiny objects
Software ecologies
AI, agents, and self-organizing documents
Test-driven development and Improvisatory architecture
Community and synergy
Digital humanities
Stay tuned for more information soon.
Our thanks to WinterFest 2022 for its support of MacStories this week.