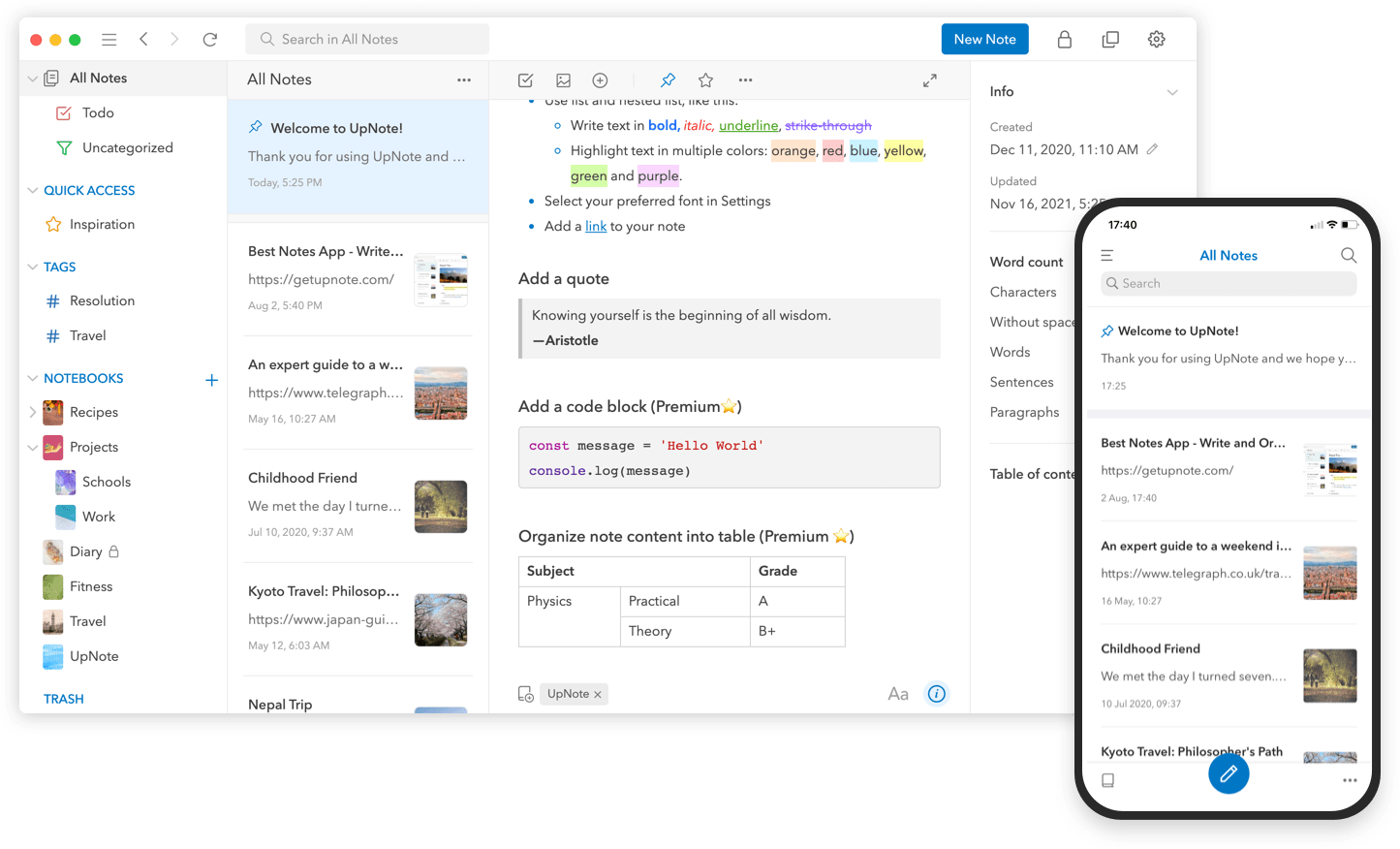 UpNote is an elegant and powerful note-taking app that works across every major platform, making it the perfect solution for your note-taking needs. Designed to make it easy to take notes anywhere and stay focused, UpNote combines a beautiful interface with a fast, fluid workflow for a refined and reliable note-taking experience. The app is also continuously updated to support the latest technologies on all platforms with new and innovative features.
The app works on iOS, Android, the Mac, and Windows, making it an excellent solution for anyone who needs access to their notes across multiple platforms thanks to the app's fast, reliable sync. UpNote works online and off, too, so you're always able to capture your thoughts. With colorful themes and many font choices, you can make UpNote your very own, organizing notes into notebooks, which can be nested, adding hashtags to notes, and pinning and bookmarking notes for quick access. It's a structure that's supplemented by powerful search and sorting to make navigating even the largest collections of notes a breeze.
UpNote has all of your note-taking needs covered. The app offers a web clipper extension so you can quickly save links and content as you browse and research on the web. There's a focus mode that eliminates distractions, so you can capture your thoughts quickly and efficiently, too. There's even a great solution for longer notes: a table of contents feature that makes navigating long notes a breeze. The app can also be locked, which makes it perfect for journaling.
Switching to UpNote is easy, with powerful import functionality that can handle Evernote, Markdown, and other formats. UpNote's text editor is fully featured, too, with support for rich-text, bi-directional linking, to-do lists, images, attachments, tables, and code blocks. Of course, the app supports Markdown syntax as well. And, when you need to use your notes elsewhere, you can export them as Markdown text, HTML, or PDFs. Combined with its cross-platform support and its stunning design, UpNote is a powerhouse note-taking app like none other.
Now is the perfect time to try UpNote. The app includes subscription and lifetime upgrade options, and for a limited time, MacStories readers can purchase UpNote's lifetime premium upgrade for 30% off. This is an amazing deal, so don't delay. Go check out UpNote now and take advantage of this offer.
Our thanks to UpNote for sponsoring MacStories this week.