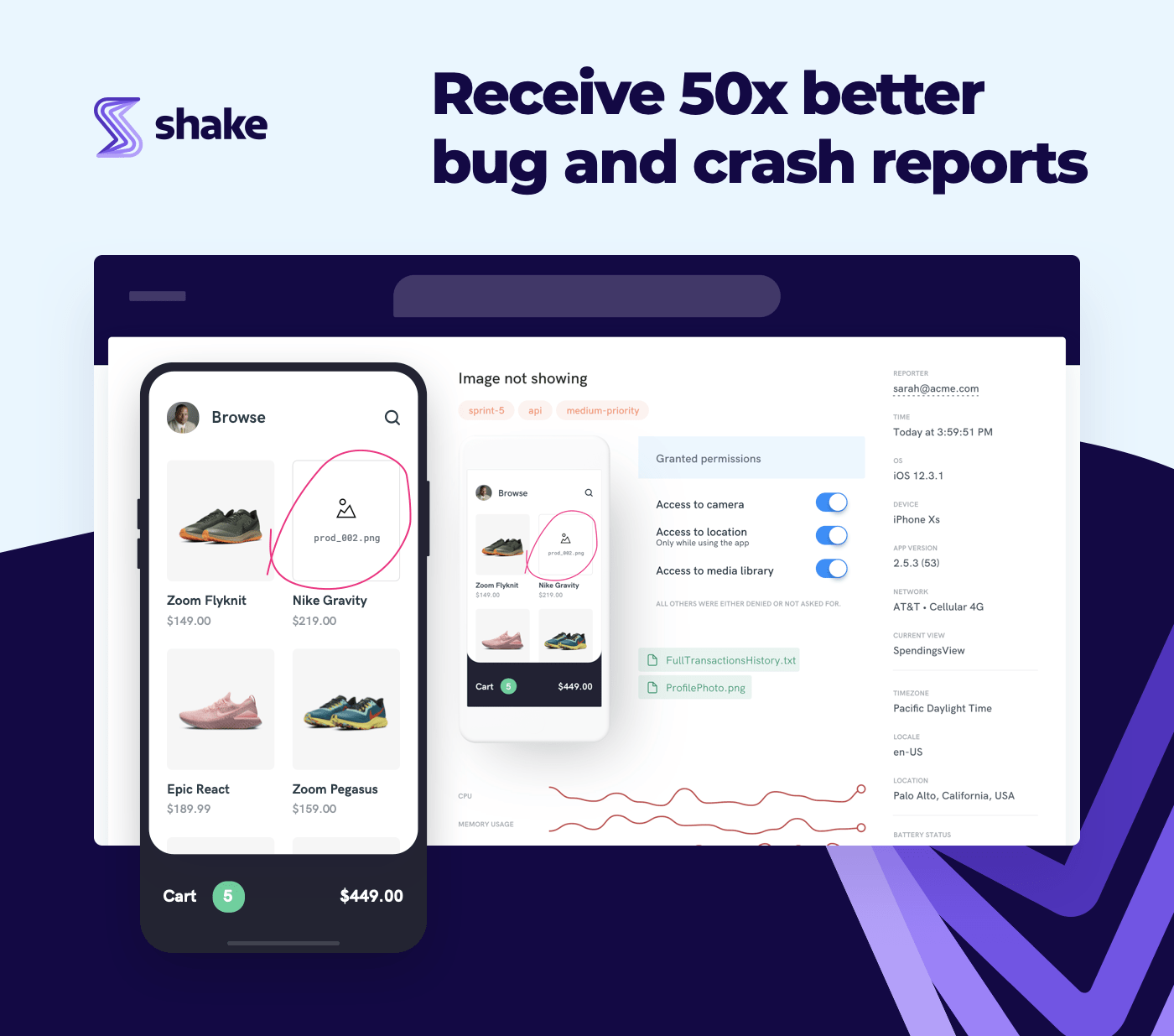 Shake eliminates the headaches and hassles of processing bug reports in your mobile app. Tracking down bugs and fixing them is critical to your app's success, but too often, identifying and resolving them is an inefficient mess. With the Shake SDK, you can streamline the process and get better data, allowing you to resolve more issues quickly and effectively.
Just add Shake to your app, and your users can submit a comprehensive bug report in seconds simply by shaking their device. Shake eliminates incomplete, vague bug reports so often submitted over email, social media, and word of mouth. With Shake, your users not only can communicate problems with screenshots but with screen recordings and markup tools, all presented inside your app.
Bug reports and crash reports are supplemented with loads of useful data that's delivered instantly and automatically to a beautifully designed web dashboard that lets your team chat about the reported bugs, review logs, assign priorities, and tag them. Shake also integrates seamlessly with the other tools you already use, like Jira, Slack, GitHub, Azure DevOps, and Trello. Developers can customize Shake to suit their particular needs delivering any variable value they want from users' devices too. It's a powerful set of tools that will help you debug issues in your apps 50 times faster than before.
Shake is free to try without any time limitations on its standard features, and you can upgrade to a premium plan any time to add more attachments per bug, unlimited tags and bug reports, and full activity history for up to 30,000 MAU. Try Shake today to learn how fast, efficient bug reporting and tracking can accelerate your app development process.
Our thanks to Shake for sponsoring MacStories this week.