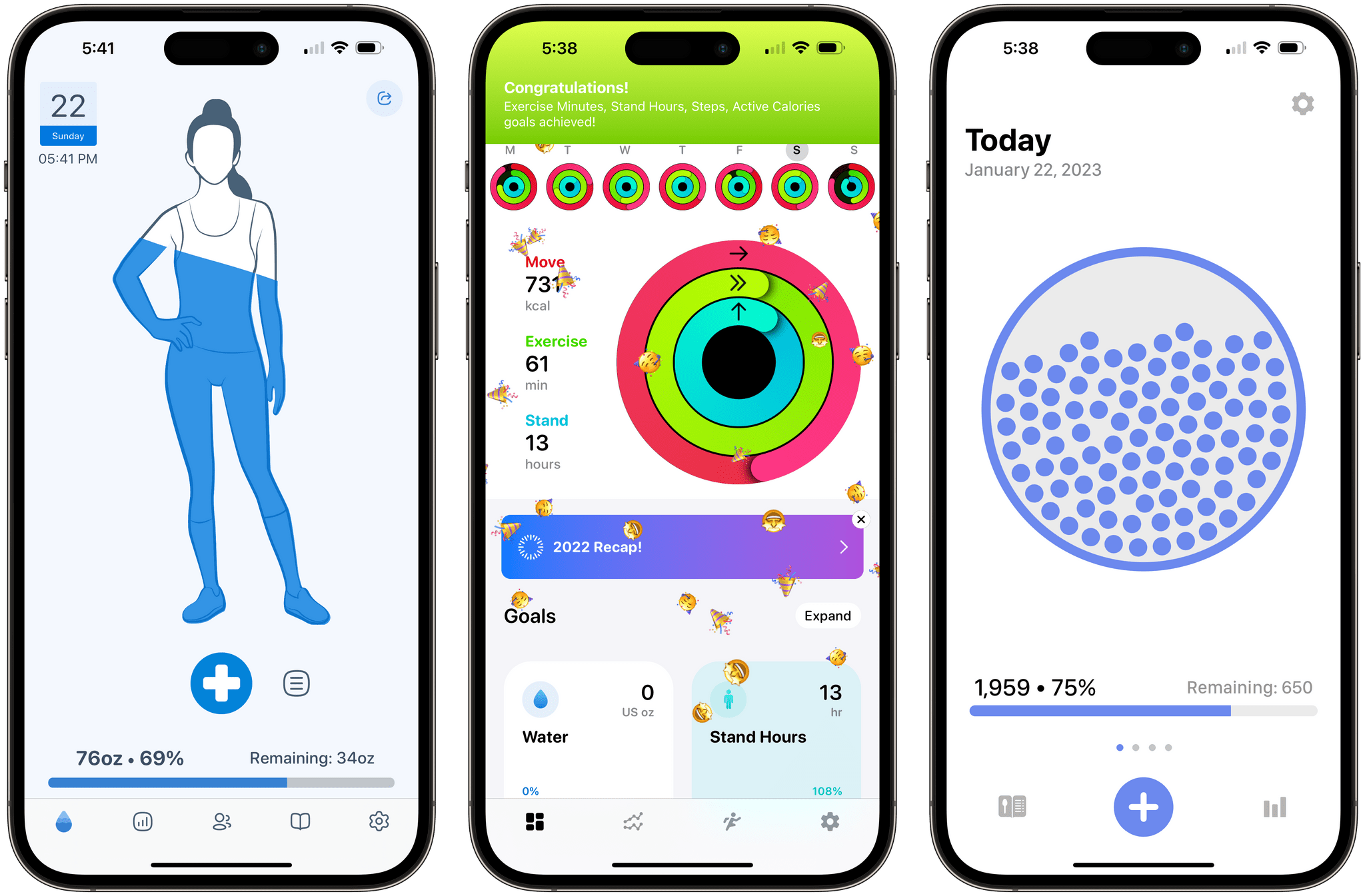 Embarking on a healthy 2023 is easy with Funn Media's trio of top-rated health and fitness apps: WaterMinder, FitnessView, and Calory. Together, they'll help you track what you eat and drink and push your fitness to new levels.
WaterMinder makes tracking hydration simple. The app features an elegant interface and myriad ways to input the water and other drinks you consume throughout the day. The app is available on all of Apple's platforms, is highly customizable, and includes support for Shortcuts, widgets, and Apple Watch complications. With WaterMinder's rich charts for tracking, hydration reminders, and integration with Apple Health, you'll have your hydration on track in no time flat.
Fitness tracking is essential to maintaining healthy habits and preventing injury. FitnessView has you covered on both fronts with deep insights into every workout, along with trend-spotting that lets you train smarter than ever before. The app, which is available on the iPhone and Apple Watch, offers deep integration with Apple Health. With extensive stats and goal tracking, FitnessView provides a holistic overview of where your fitness stands today and where you're heading. The fully-customizable app also includes Home Screen widgets for monitoring your progress at a glance, a long list of workout types, and workout sharing with friends.
Calory rounds out Funn Media's health and fitness trio with the most intuitive calorie tracker on the App Store. The app's rich visualization of the calories you've consumed and easy input system remove the friction from tracking your goals. Available on all Apple platforms, Calory lets you log what you eat from anywhere, so you never forget to log a meal. Coupled with glanceable charts plotting your progress and access to more detailed stats and a journal view, Calory offers a complete overview of the food and drink you consume, along with deep nutritional data.
Get started down the road to health and fitness with WaterMinder, FitnessView, and Calory by visiting Funn Media's website today to learn more about these fantastic apps.
Our thanks to Funn Media for sponsoring MacStories this week.