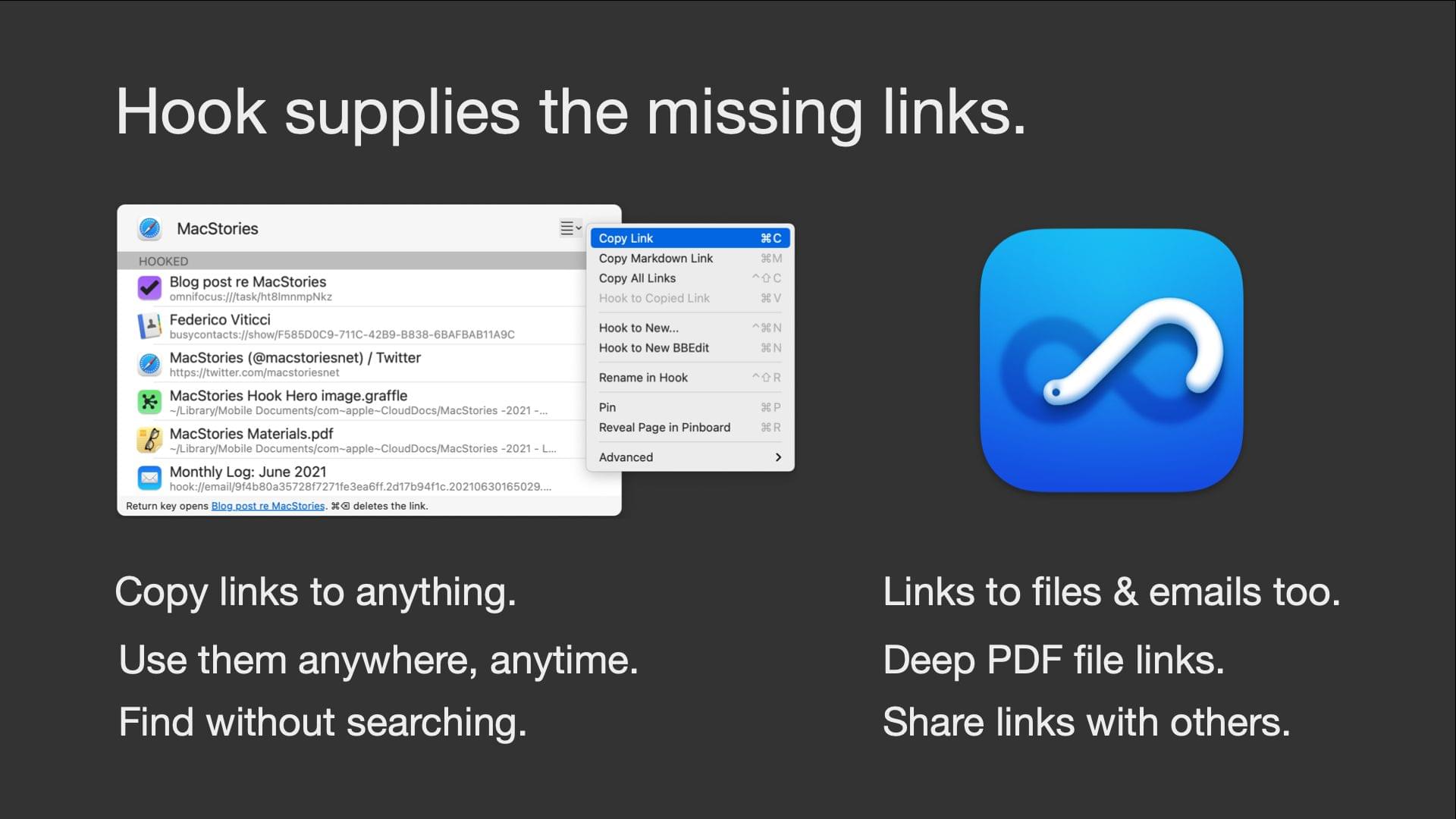 Hook is a revolutionary CogSci Apps® invention that links your digital work. Its contextual window enables you to link items between your favorite Mac apps and to instantly open linked items — without searching.
Immediacy. Hook's Copy Link (⌘C) instantly copies a properly labeled hotlink to the foreground app's selected/open item. No more manually editing links with ⌘K!
Universal Copy Link Most apps don't have a command for copying links️. Hook solves that: its 'Copy Link' works not only with entire webpages but with almost any item in any app: files, objects, tasks, calendar entries, emails, etc.
Consistency. Unfortunately, different apps use different names, locations, and shortcuts for their Copy Link command (that's if they support copying links)️. Hook's 'Copy Link' uniformly solves that. Use the same simple habit everywhere.
Ubiquity. Paste links to any linkable object into any app, anywhere.
Two-way links ("hooks"). Hook can bi-directionally link information from any linkable app, so you can remain in context.
Context sensitivity. Our "hooks" are context-sensitive; no need to search.
Robust file links. macOS file:// links are brittle️. Contrast: Hook's file links work even after you move or rename the files they reference.
Deep PDF links. Hook can even copy links to specific locations in a PDF.
Shareable links. Send links to shared files or links to mutual emails to your recipients. When your recipients click on the link, Hook will reveal the file (even to the specific location in a PDF!) or open the email on their Mac! Hook Lite activates links and is free. Your recipients will save time and love you for it.
Copy Markdown Link. Instantly create a Markdown-formatted link to the foreground app's current item (webpage, file, etc.)
Reveal it. Hook's Reveal File in Finder command works across all compatible apps.
Automatic bookmarking. Copying links is the best signal of future relevance! So Hook bookmarks automatically what you link (files, emails, etc.) It can also sync to services like Pinboard.
Hook is an extensible native macOS app that augments you and your favorite apps! Your data stays on your devices and can be synced.
Visit https://hookproductivity.com/ to better understand why Mac users get hooked on Hook. Take advantage of a special 30% reader discount for Hook productivity.
Our thanks to Hook for sponsoring MacStories this week.