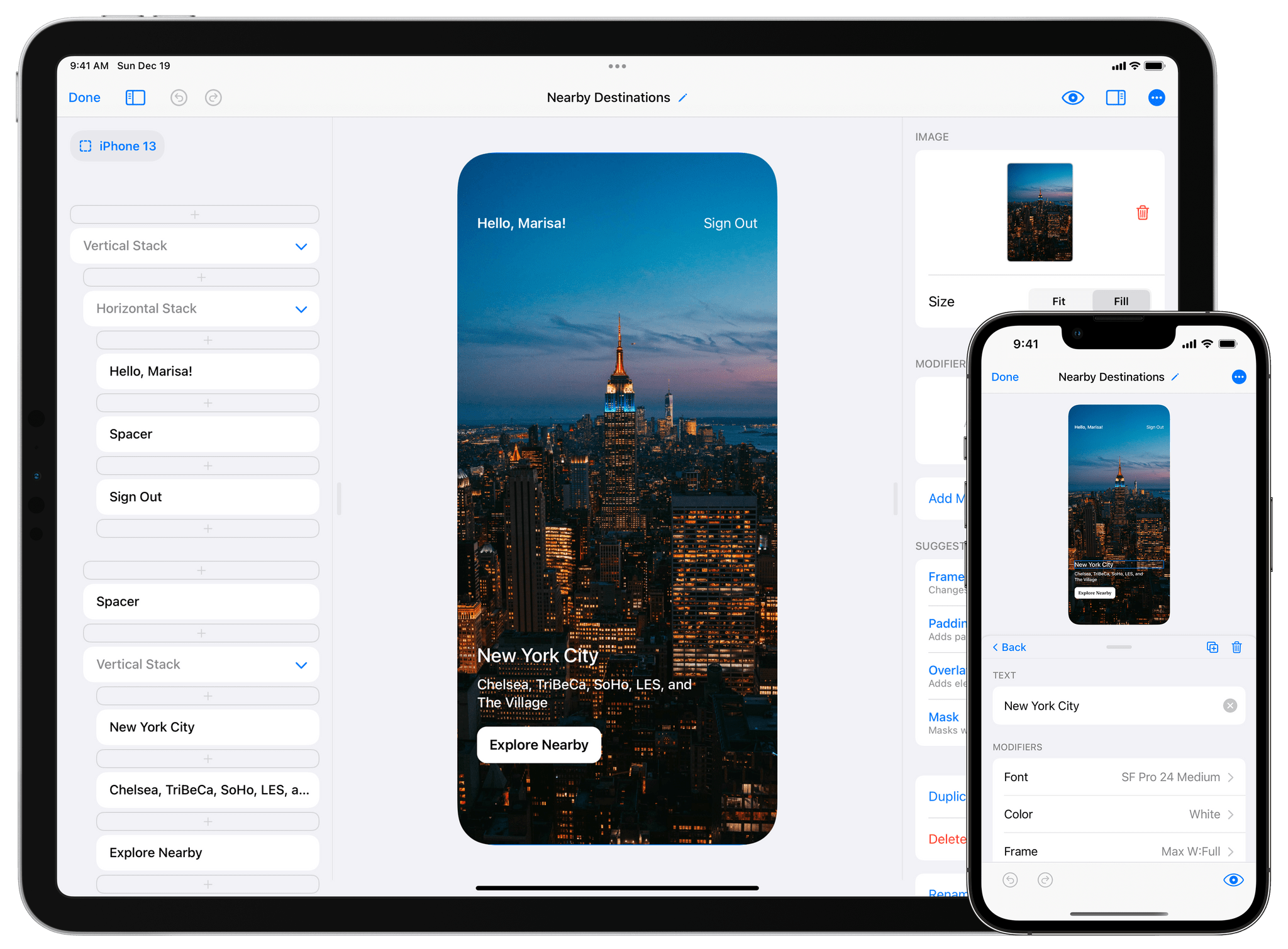 DetailsPro is the accessible, graphical tool for the iPhone, iPad, and Mac that brings your app designs to life with SwiftUI. The future of modern app design on Apple's platforms is SwiftUI, and with DetailsPro, you can be up and running immediately, designing UIs without typing a line of code.
DetailsPro uses a drag and drop interface to make designing app interfaces, widgets, and screens a completely graphical, natural experience. There are no multi-gigabyte downloads or any of the complexity you find in a tool like Xcode. Instead, DetailsPro focuses on your design first. The app is also a fantastic way to learn core SwiftUI concepts in an environment that provides immediate feedback. There's also a terrific DetailsPro community that offers in-app downloadable templates to learn, remix, or use as starting points for your own projects.
When you're happy with your design, simply export it to SwiftUI code to Swift Playgrounds or Xcode. That's the sort of design pipeline that makes handing your work off to your developers simple while ensuring that the fidelity of your designs is preserved in the process.
Built in SwiftUI itself by a former Apple Design Prototyper, DetailsPro is trusted industry-wide by designers at companies like Apple itself, Starbucks, Microsoft, Nike, and Porsche, and it's easy to see why. DetailsPro brings sophisticated SwiftUIs to life quickly and easily in a way that feels like magic.
If you've been looking for a way to get into designing with SwiftUI, your search is over. You can download DetailsPro today for free and use it with five files, but you can unlock unlimited files, MapKit maps, and upcoming features like versions, reusable components, designing with data, and more for just $19.99/year or a one-time payment of $49.99. That's a fantastic price for an app that will save you time and simplify your design process.
So, download DetailsPro today, and get started designing with SwiftUI.
Our thanks to DetailsPro for sponsoring MacStories this week.