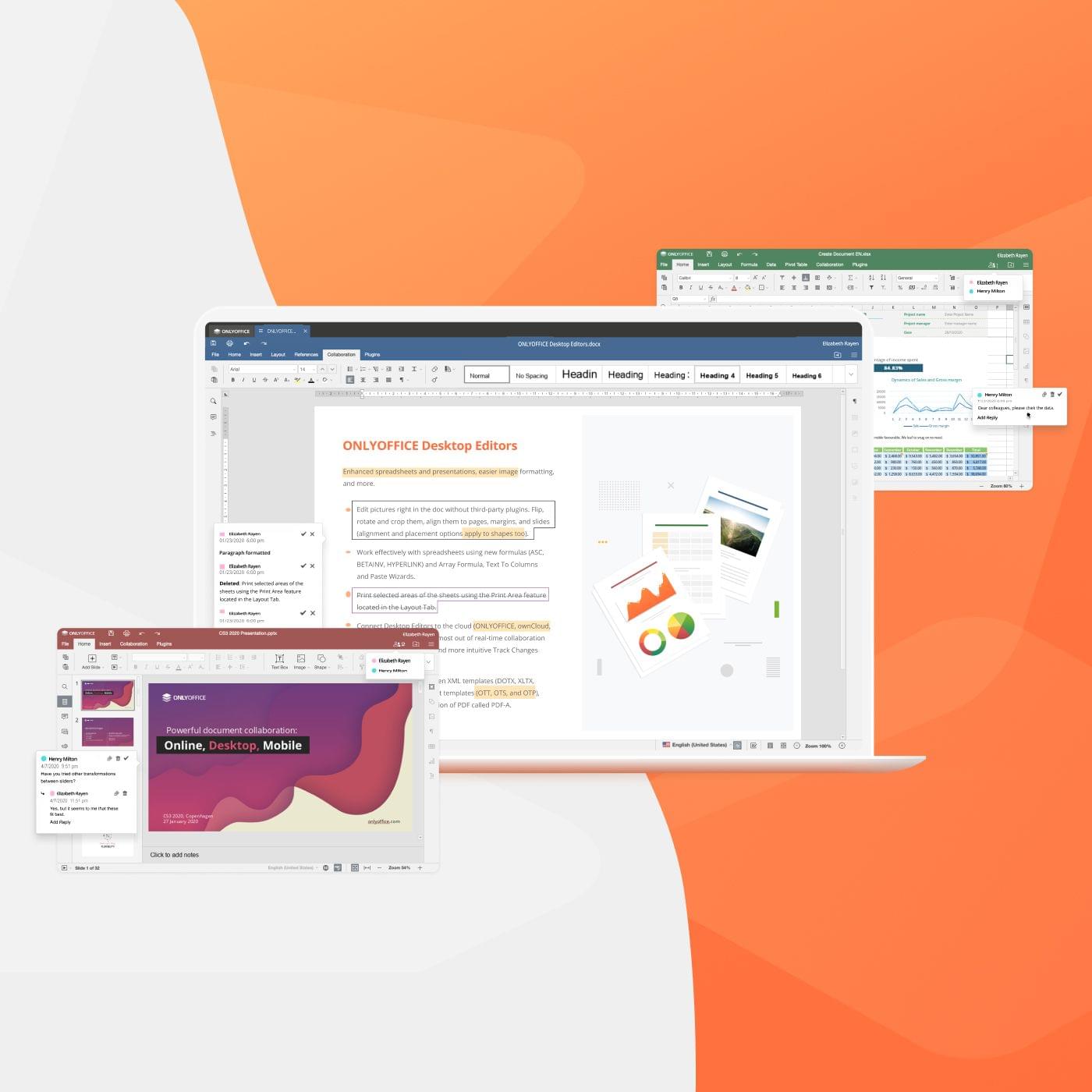 ONLYOFFICE is the premier productivity suite for desktop and mobile that's also open-source and free. The suite is a powerful choice for anyone who works across multiple devices, including Apple hardware and Windows and Linux devices. That means whatever device or system you're using, you've got ONLYOFFICE close at hand to help you get things done. ONLYOFFICE is fully-compatible with M1 Macs too, where it's blazingly fast.
ONLYOFFICE offers a complete set of word-processing, spreadsheet, and presentation tools that support all the file formats you'll need, including DOCX, ODT, XLSX, ODS, CSV, PPTX, ODP, and more. What's more, with its tabbed interface, ONLYOFFICE lets you work efficiently with multiple file types at one time. The suite also features a deep set of sophisticated tools for editing and formatting your documents, so your work always looks fantastic.
ONLYOFFICE is security and privacy-minded too. The suite includes password protection, digital signature support, watermarking, and more. They're features that provide the peace of mind that your data is yours and only shared by you when and how you choose.
Collaboration and extensibility are core to ONLYOFFICE. The suite features a rich ecosystem of third-party plugins that support other services like Google Translate, YouTube, DocuSign, cloud storage providers, WordPress, and many more. With ONLYOFFICE Workspace, Nexcloud, ownCloud, or Seafile, you can collaborate with your colleagues on documents too, editing, commenting, and reviewing together in real-time.
If you haven't checked out ONLYOFFICE yet, now is the time to do so. Visit ONLYOFFICE's website today to learn more about how you can integrate this powerful and free suite of open-source applications into your workflow.
Our thanks to ONLYOFFICE for sponsoring MacStories this week.