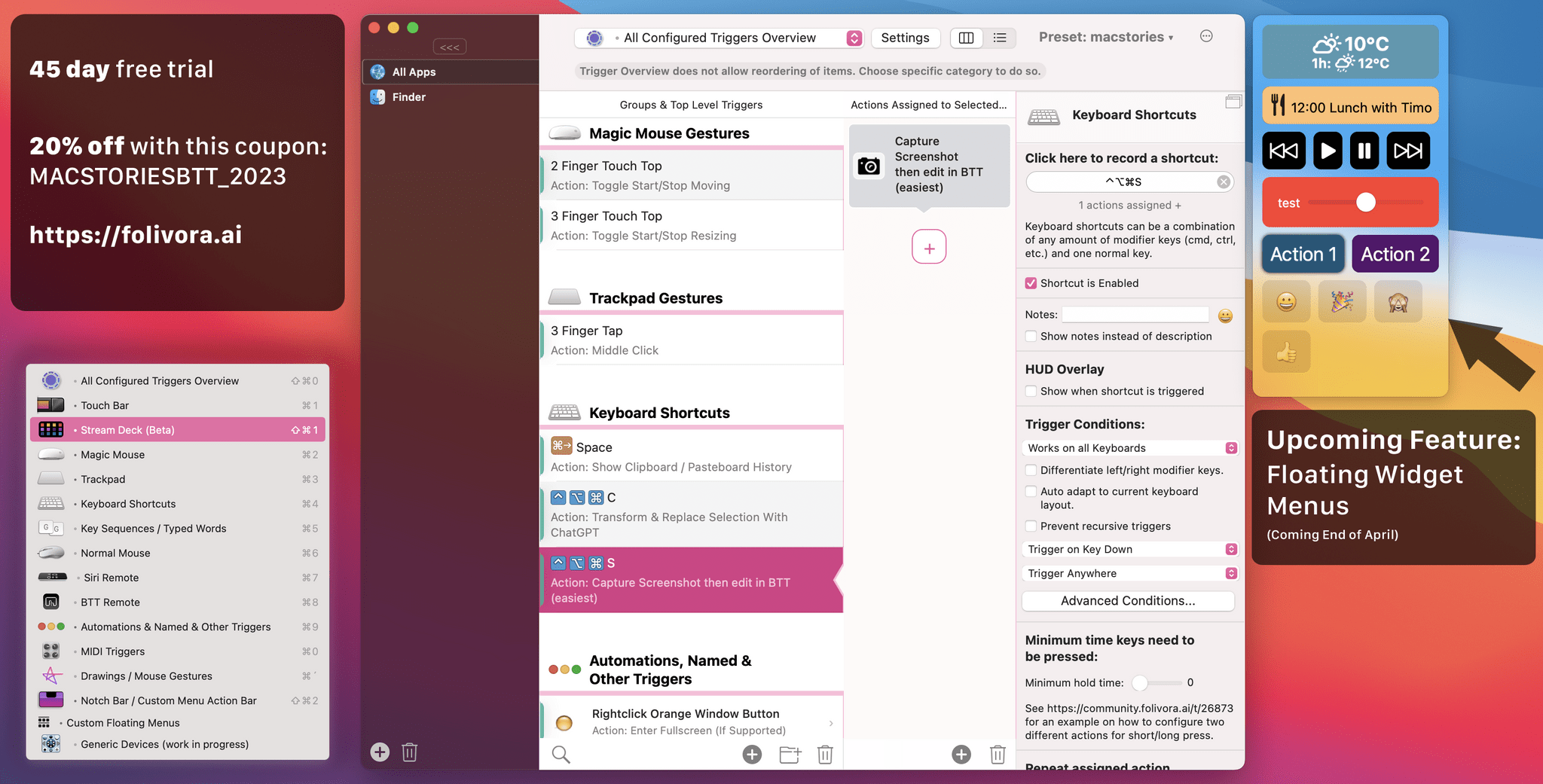 BetterTouchTool is an essential Mac application that has stood the test of time since it was one of the first to be covered by MacStories back in November 2009. In its early days, BetterTouchTool was a simple application primarily designed for adding customizable gestures to MacBook trackpads and Magic Mouse.
Today, BetterTouchTool has evolved to become a powerful tool that enables users to configure customizable gestures for Magic Mouse and Magic Trackpad (1-3), customize the Touch Bar and map keyboard shortcuts, bind mouse buttons, create custom mouse gestures, and customize the Siri Remote. Additionally, BetterTouchTool can connect and configure MIDI devices, works great with the Shortcuts app on macOS Monterey & Ventura, and comes with a plethora of predefined actions that can be combined to perform virtually any command on your Mac.
Recently, "Generic Devices" support has been added, enabling advanced users to add support for many devices on their own using simple JavaScript. For example, users have already created scripts even for exotic devices like the Griffin Power Mate, a Philips Foot Control, or the Microsoft Adaptive Controller.
Moreover, a fantastic feature that is currently being finalized and set to release by the end of April is the "Floating Widget Menus." These menus are scriptable and customizable and can be placed anywhere on the screen, attached to particular windows, or shown upon demand. With a unique plugin system in place, these menus can integrate custom SwiftUI-based widgets and will even work seamlessly with BTT Remote on iPhone and iPad in the future.
Also, check out the new "Transform & Replace Selection With ChatGPT" predefined action that lets you use ChatGPT directly in any of your apps.
BetterTouchTool comes with a 45-day trial, after which you can choose between a license that includes all updates for 2 years and a lifetime license.
For a limited time, MacStories readers can purchase BetterTouchTool for 20% off by using the coupon code MACSTORIESBTT_2023 at checkout. So, don't delay. Go to folivora.ai to learn more about this fantastic Mac app and take advantage of the special limited-time, 20% discount on BetterTouchTool.
Our thanks to BetterTouchTool for sponsoring MacStories this week.